Maldiverne / Det Indiske Ocean
ALL-INCLUSIVE RESORT I MAGISKE SOUTH ARI ATOLL,
HVOR DINE NABOER TÆLLER HVALHAJER, HAVSKILDPADDER OG ALVERDENS ROKKER
Glem alt om kæmpe resorts med tennis- og fodboldbaner, stort fitnesscenter, ekstravagante poolområder og fancy, oversized villaer med privat pool.
Diamonds Thudufushi er nemlig det ægte, autentiske Maldiverne. Her er der fokus på de gode, simple ting i livet.
Det hele starter med vandflyet fra Malé, som tager dig til denne perle i South Ari Atoll på blot 25 minutter. Thudufushi er nærmest perfekt rund, omkranset af hvide sandstrande og med smuk, kompakt vegetation i hjertet af øen.
Du går barfodet henad jettyen, hvor du får øje på resortets personale, klædt i traditionelle, særlige, maldiviske hvide klæder. Du bliver mødt af smil, og det er alt du har brug for, for at starte din uforglemmelige getaway. Øen er så naturligvis, som de kommer. Palmerne tager dig gennem denne lille ø, som du nemt kan kredse om på ikke mange minutter.
Her har du muligheder for at bo i en simpel og charmerende Beach Bungalow, en større Beach Junior Suite eller en af de helt chic og unikke Water Villas – en signatur for netop Diamonds Thudufushi. Uanset hvordan du vælger at forkæle dig selv, så vågner du op til funklende turkisblåt hav, en lun brise og lyden af paradis.
Læn dig tilbage og nyd resortets All-Inclusive, som byder på mad af god kvalitet, lækre drikkevarer, in-villa minibar mm. Sæt tænderne i hjemmelavede italienske pizzaer, friskfanget, grillet fisk, lokale maldiviske og indiske retter eller mørt kød. Når du er proppet, så tag en lur i skyggen efterfulgt af en snorkeltur over det eminente husrev. Thudufushi er nemlig velsignet med en af de bedste lokationer for både snorkling og dykning, i hele Maldiverne.
Grundet beliggenheden i udkanten af South Ari Atoll, så kan du på årlig basis være heldig at snorkle og dykke med alt fra hvalhajer til eagle rays, manta rays, havskildpadder og større, ufarlige hajer. Det her er ganske enkelt et paradis for undervandsinteresserede!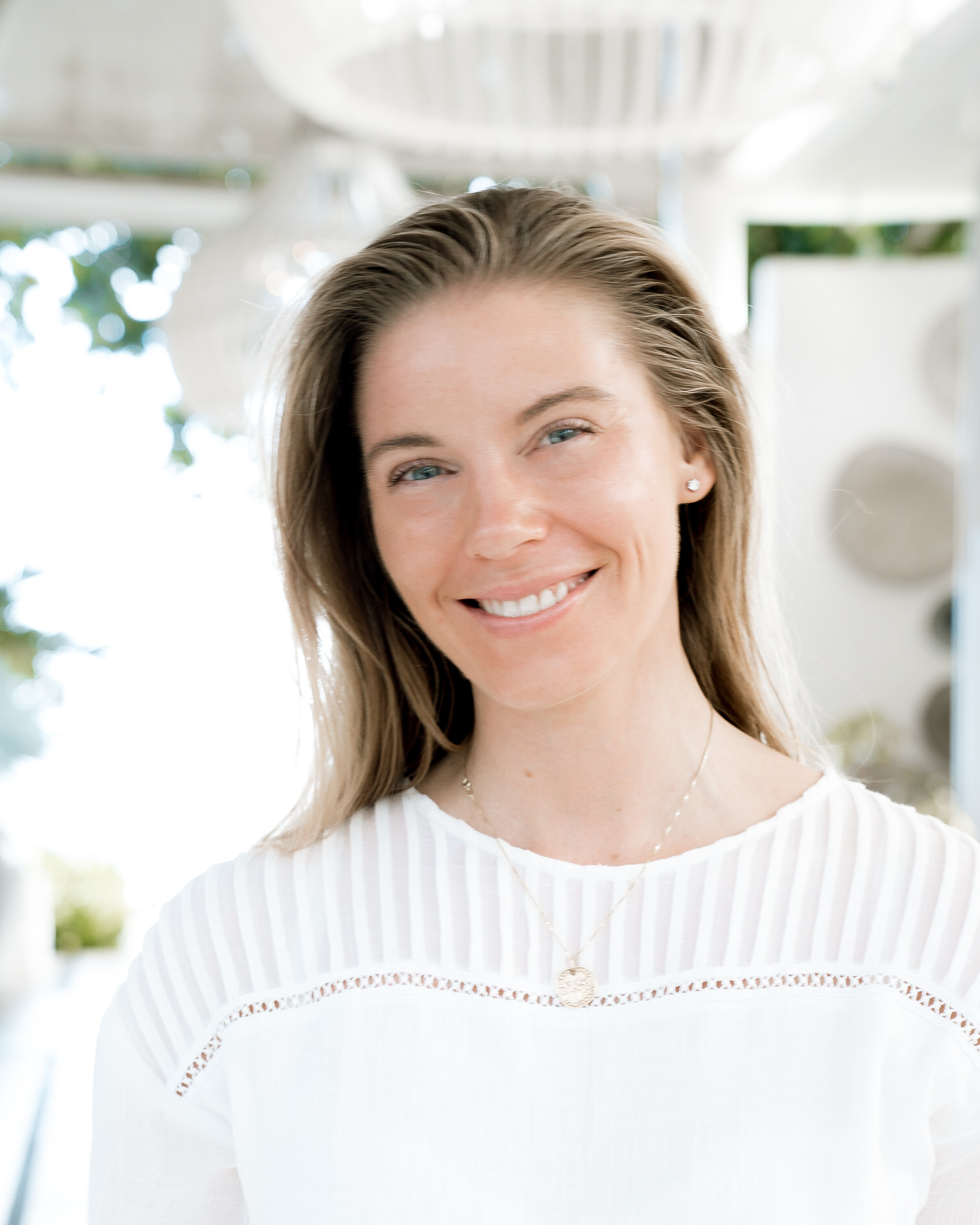 WENDIE PEDERSEN
CO-FOUNDER & TRAVEL DESIGNER
Personlig Rådgivning
Er du også vild med Diamonds Thudufushi? Lad os sammen realisere din rejse til Maldiverne.
Modtag tilbud
De mest populære faciliteter
68 Værelser | 3 Restauranter
Dykkervenligt
Parvenligt
All inklusive
Gratis vandsport
Husrev
Lille ø
Snorkling
Vandfly transfer
Highlights (8)
Exceptionel beliggenhed i South Ari Atoll
Lille, rund ø omkranset af et fantastisk husrev
Et af de bedste resorts for muligheden for at se, snorkle og dykke med hvalhajer
Resort med stort fokus på kulinariske oplevelser og kvalitetsvine
All-Inclusive resort med exceptionel værdi for pengene
Italiensk designede Water Villas med gigantiske terrasser og uforstyrret udsigt
Stor, turkisblå lagune perfekt til bøde svømmeture og vandsport
Transfer til og fra resortet med vandfly
Se flere
LIVET PÅ THUDUFUSHI
Dagene her i Maldivernes måske smukkeste atol går med at slentre gennem det finkornede sand, smage på et hav af retter fra alverdens køkkener, snorkle med havskildpadder og udforske det magiske husrev, dykke efter hvalhajer og manta rays, betragte smukke solopgange og solnedgange, bade i lagune, nyde vin på terrassen eller cocktails i en af resortets barer.
Med andre ord går dagene med alle de gode, simple ting her i livet, som i sidste ende er de vigtigste.
HIMMELSKE OPLEVELSER TIL HAVS
Diamonds Thudufushi nyder en fortræffelig beliggenhed i den vestlige del af South Ari Atoll. Og det er vigtigt at være så detaljeret og specifik omkring netop dette. Det er nemlig ensbetydende med, at resortet har en af de absolut bedste lokationer, når det kommer til dykning, men også snorkling.
Udkanten af hver af Maldivernes atoller er nemlig havets store væseners favoritsted at opholde sig. Og det gælder især for South Ari Atoll, som er kendt for som atollen, der er velsignet med hvalhajer året rundt. Det kan naturligvis aldrig garanteres, at du kommer til at opleve et af disse majestætiske kreaturer, men hvis ikke, så venter der alt fra betagende havskildpadder til fredfyldte eagle rays og finurlige, ufarlige hajer. Alt lige for fødderne af din villa, her på Diamonds Thudufushi.
GASTRONOMI I SMUKKE OMGIVELSER
Diamonds Thudufushi måler kun knap 240 meter i længden og 200 meter i bredden, men alligevel er der rigeligt med lækre restauranter og barer, som kan tage din ferie til helt nye højder.
Maakana er resortets hovedrestaurant, som disker op med et væld af muligheder til både morgen, middag og aften. Pizza, pasta, salater, BBQ, frisk seafood og meget mere. Her skifter temaet hver eneste dag.
Bor du i en af resortets Water Villas, så kan du også spise i Aqua Over Water Restaurant til aften, et moderne fusionskøkken, hvor der serveres a la carte, og hvor det europæiske møder det asiatiske.
Nyd lækre à la carte bidder fra Veli Beach Bar til frokost!
DE KARAKTERISTISKE VILLAER
Diamonds Thudufushi tilbyder 7 forskellige villatyper, hvor størstedelen af dem er fordelt på Beach Bungalows, Beach Junior Suites og Water Villas. Førstnævnte er resortets lead-in værelsestype, hvor du får simpelt interiør med smukke, mørke trægulve og beliggenhed tæt på vandet.
Vil du have mere plads, så gå efter en Beach Junior Suite eller en af de meget få, men eftertragtede, Sand Bank Junior Suites. Store familier kan med fordel gå efter de enorme 2 Bedroom Water Villas med egen pool.
Vores personlige favorit er resortets Water Villa (eller Jacuzzi Water Villa). Disse karakteristiske, maldiviske water villas lyser op over det turkisblå, betagende hav, og skaber den perfekte kontrast mellem de hvide ydre og de mørke sildebensgulve indenfor.
RESTAURANTER & BARER
3 RESTAURANTER OG 3 BARER
Diamonds Thudufushi har 3 restauranter, 2 "dining experiences"
og 3 barer, på denne spektakulære ø i South Ari Atoll.
MAAKANA RESTAURANT
Maakana er Diamonds Thudufushi's hovedrestaurant, og på mange måder centrum af øen. Her kan dy nyde alt fra frisk bagværk, lækre juices og omeletter til morgenmad, til italienske pizzaer og pastaretter, saftige salater og friskfanget fisk til frokost. Til aften kan du vælge mellem alt mellem himmel og jord, mens du her ikke må gå glip af resortets hjemmelavede "gelati".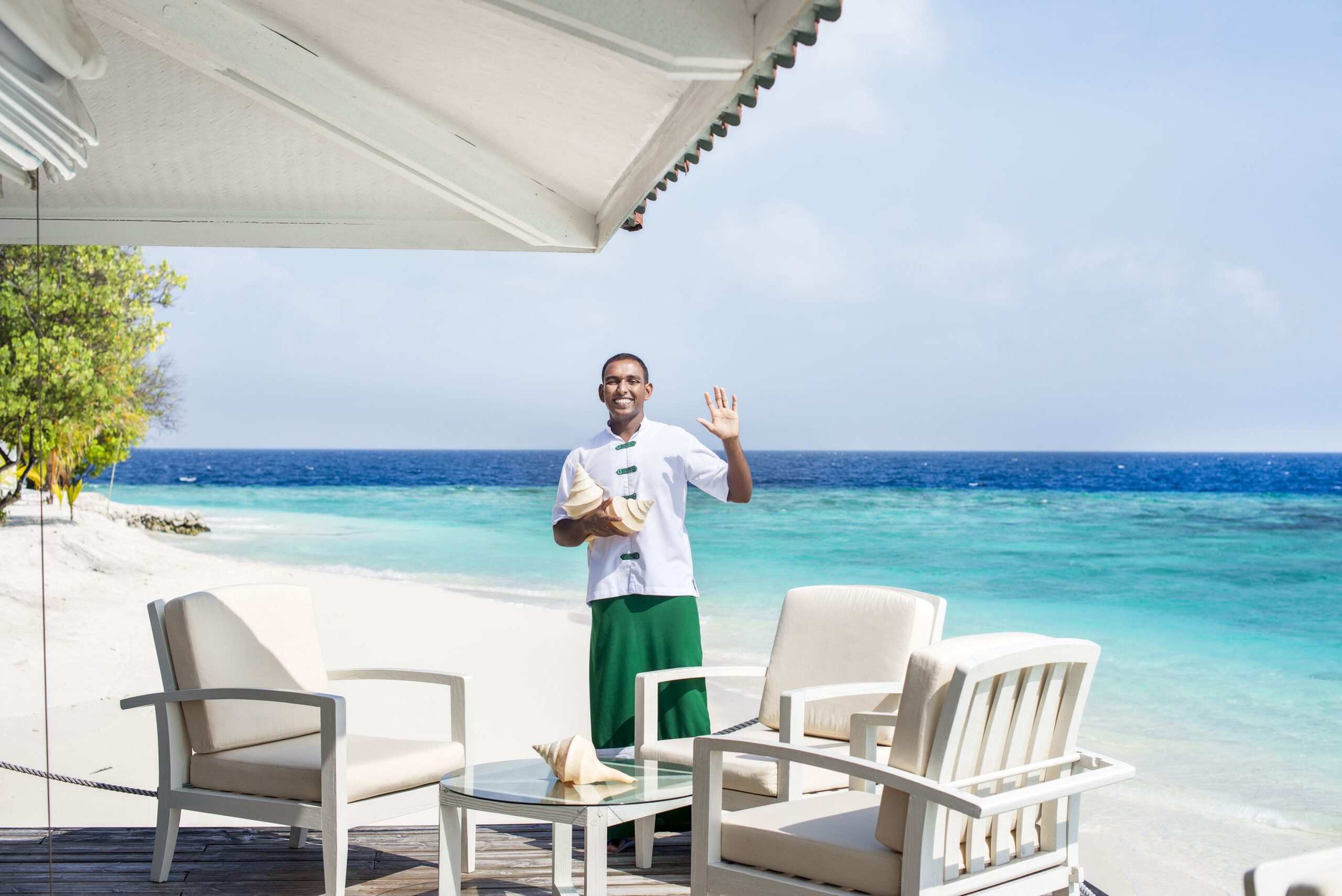 AQUA OVER WATER RESTAURANT
Aqua Over Water Restaurant byder på et la carte-fusionskøkken, hvor moderne europæiske og asiatiske retter mødes i fantastiske kombinationer. Gæster som bor i resortets Water Villas har denne restaurant inkluderet i All-Inclusive pakken. Der er vitterligt intet som at sidde over havet, og spejde ud over selvsamme, med et køligt glas italiensk vin i hånden.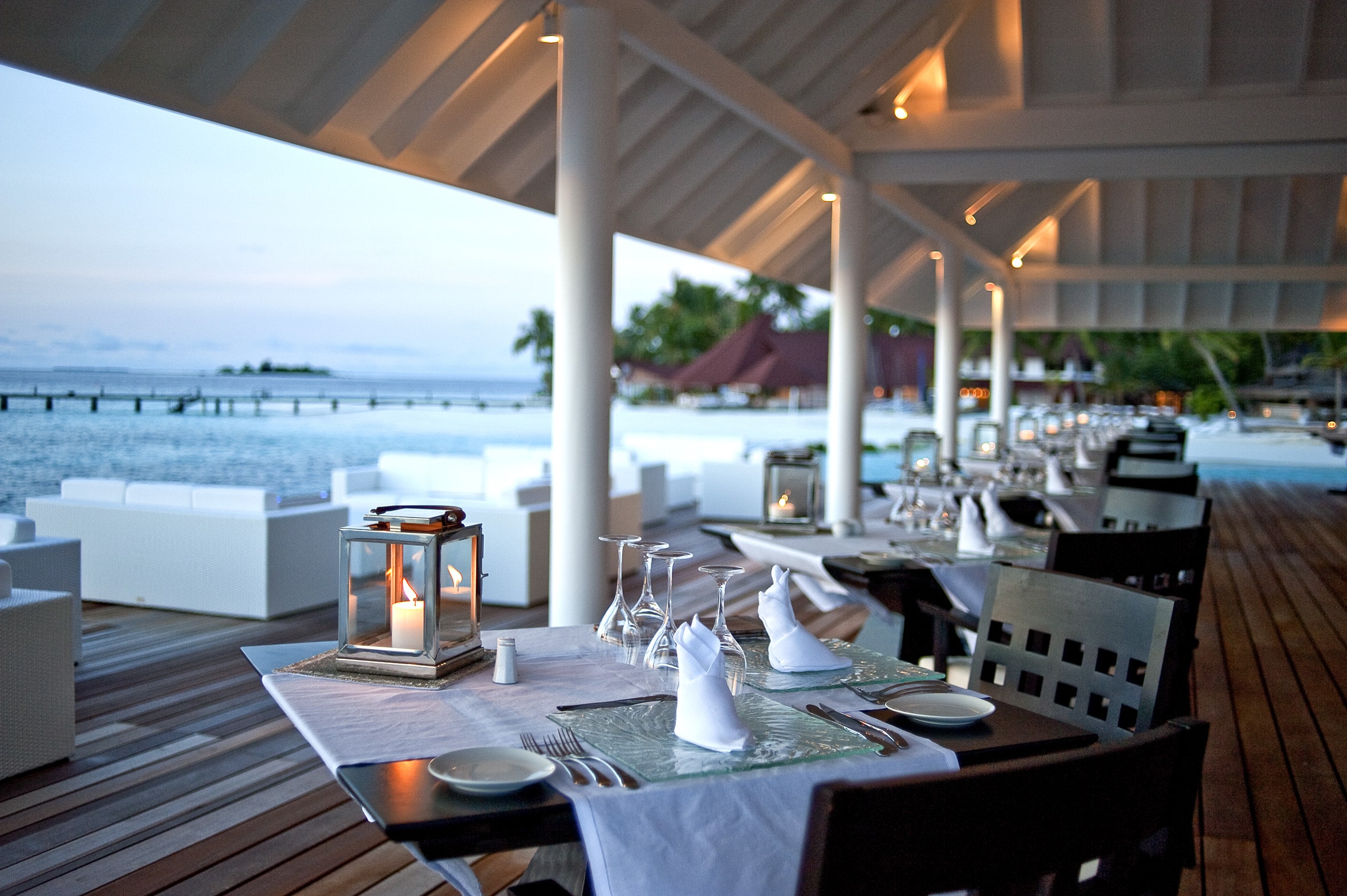 THILA JAPANESE RESTAURANT
En levende, unik og engagerende, men samtidig lækker japansk Teppanyaki-restaurant, der tilbyder en uforglemmelig live madoplevelse. I en udsøgt hytte med palmeblade og stråtag tilbereder den specialiserede kok et udvalg af fisk, skaldyr og kød på Teppanyaki-grillen.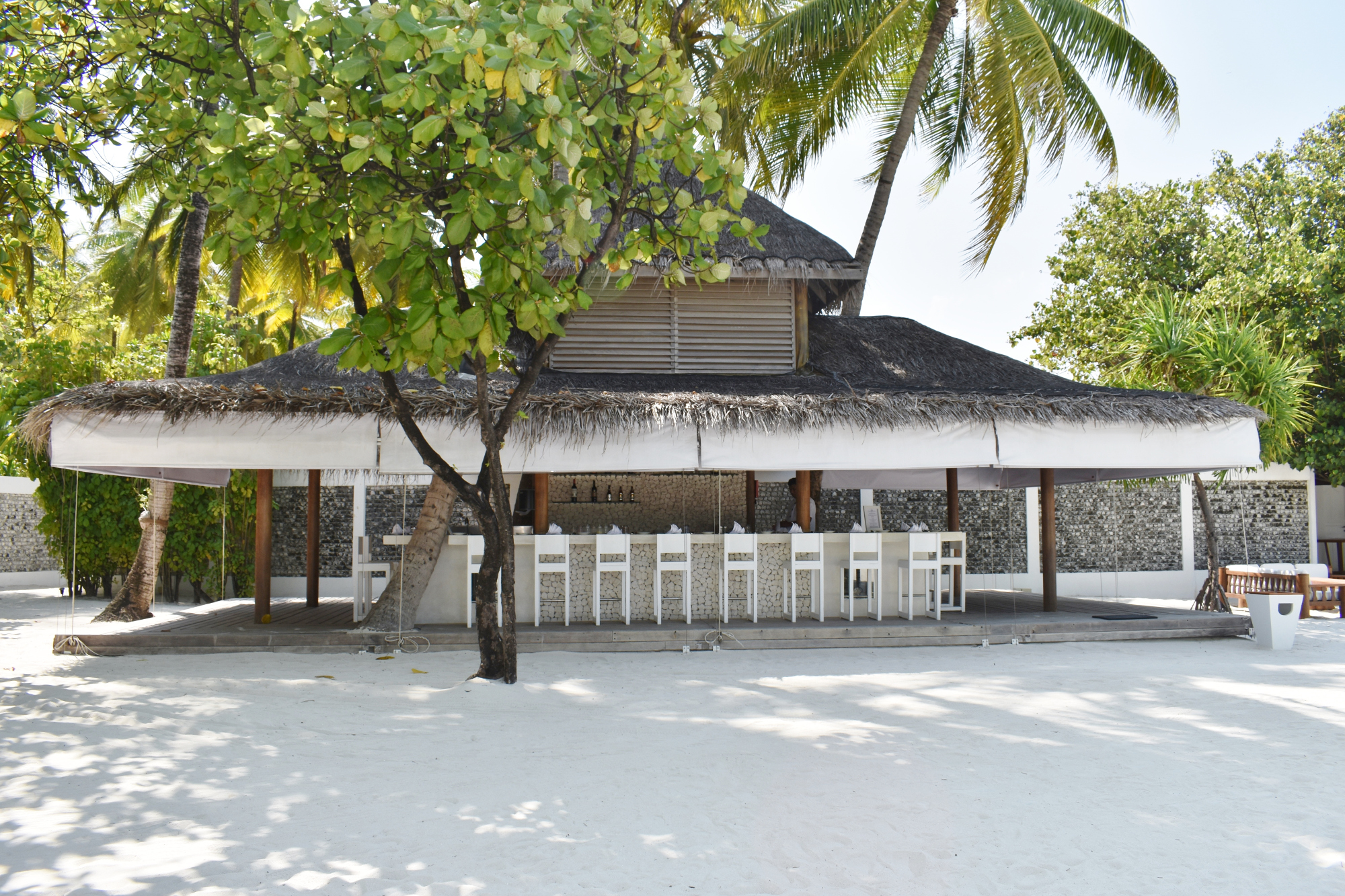 FARIVALHU MALDIVIAN DINING EXPERIENCE
Forkæl dig selv med en stjerneklar spiseoplevelse under palmerne i den tropiske have. Traditionelle maldiviske retter tilberedes af dedikerede kokke, som tager dig med på et maldivisk eventyr af smage, dufte og oplevelser. For at fuldende atmosfæren inviteres gæsterne til at bære den traditionelle maldiviske sarong, hvis de ønsker det.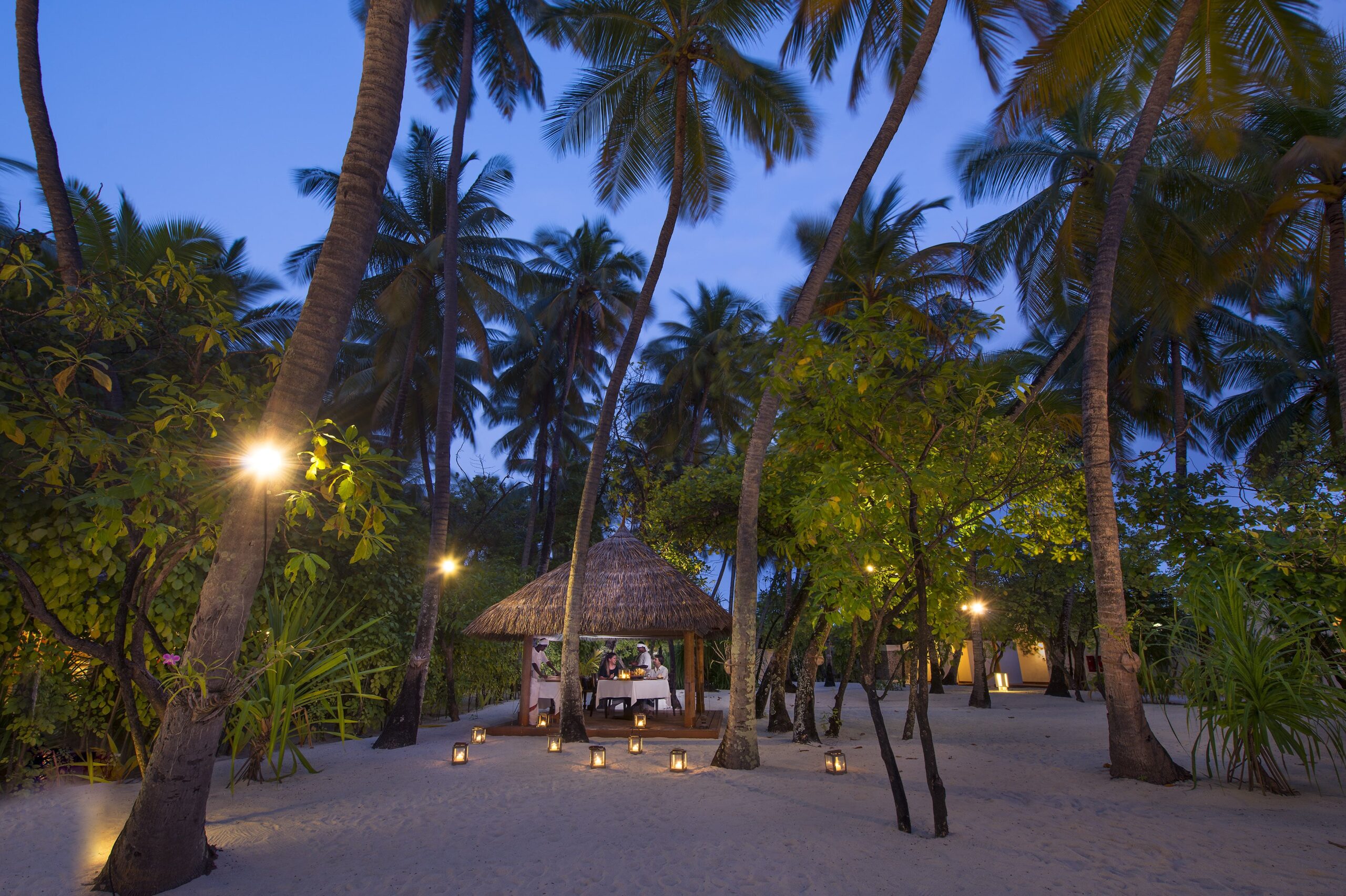 KAKUNI SEA FOOD DINING EXPERIENCE
Denne meget personlige dining experience finder sted i romantiske omgivelser, midt på stranden under måneskin. Her kan du udforske et hav af seafood, prepareret til perfektion. Der er også mulighed for at sætte tænderne i frisk hummer, tilberedt på forskellige måder.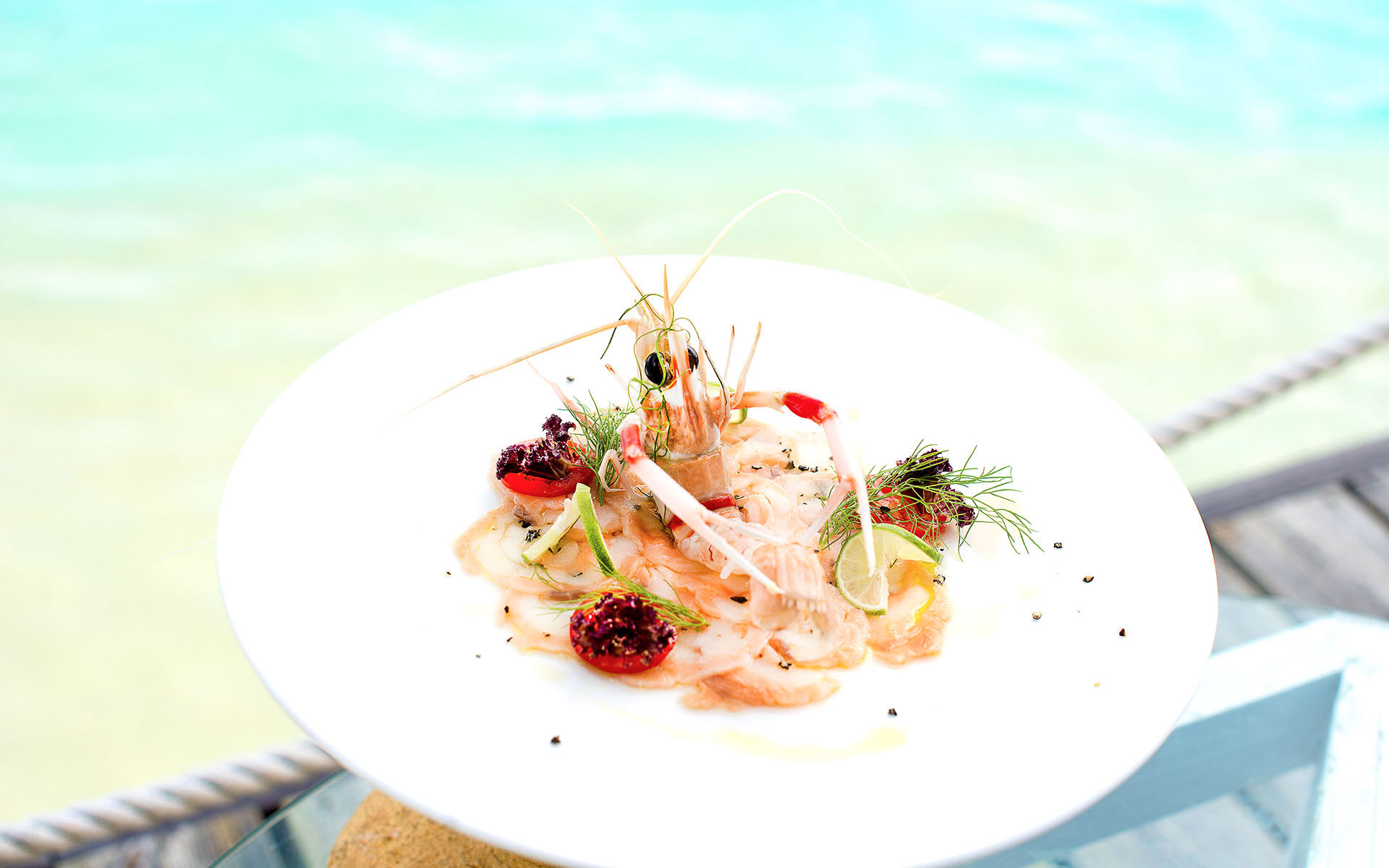 Uanset i hvilken af de 68 villaer på Diamonds Thudufushi du bor i, så er du sikret en beliggenhed på stranden eller over vandet. Ønsker du blot at kunne træde ud i det hvide sand om morgenen, og efter få sekunder stå i den turkisblå lagune, så er Beach Bungalow et fremragende valg. Er du derimod til chic indkvartering, masser af plads og at kunne gå/hoppe direkte ned i havet for at snorkle eller svømme en tur i solskinnet, så snup en fantastisk Water Villa.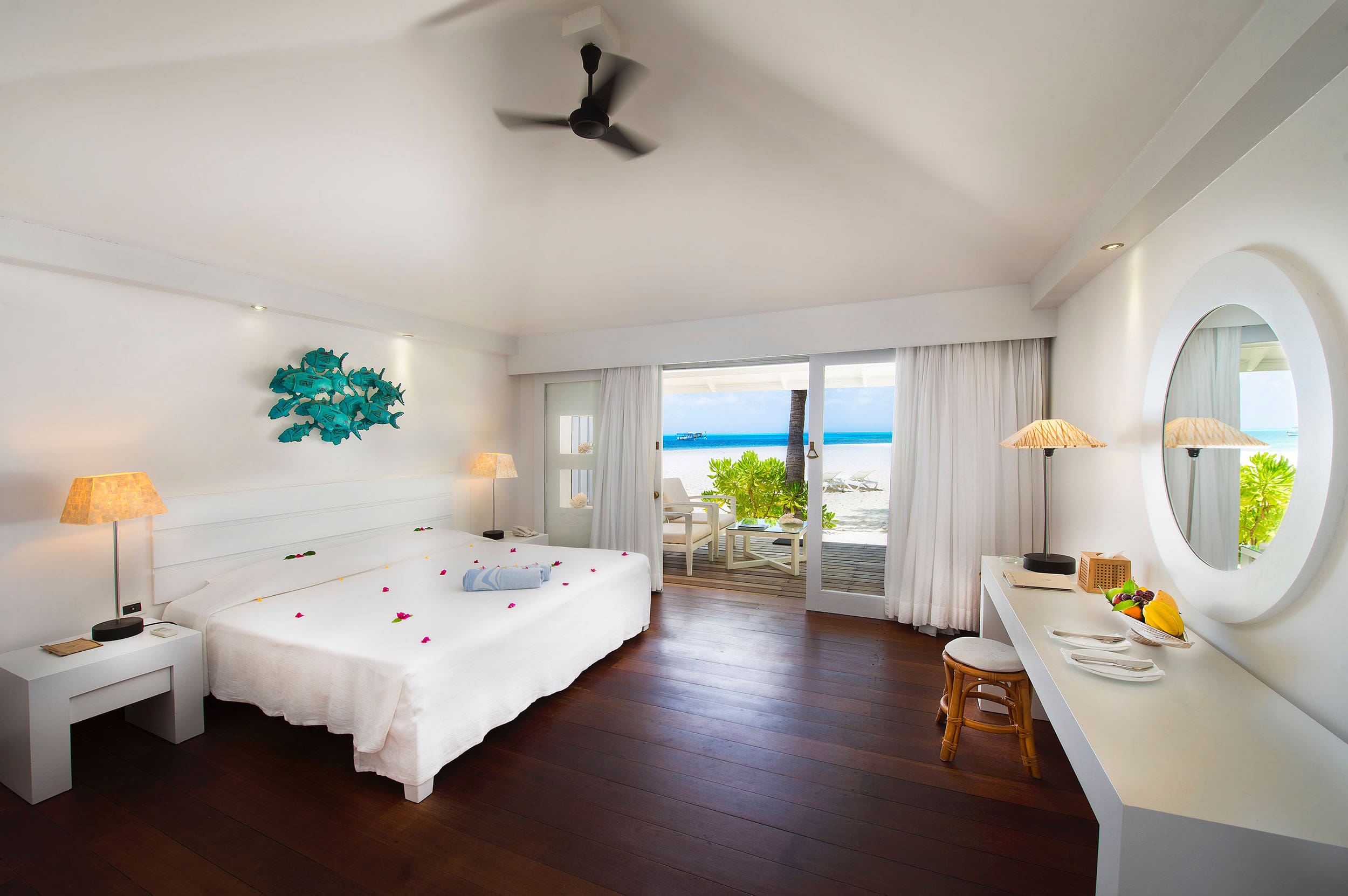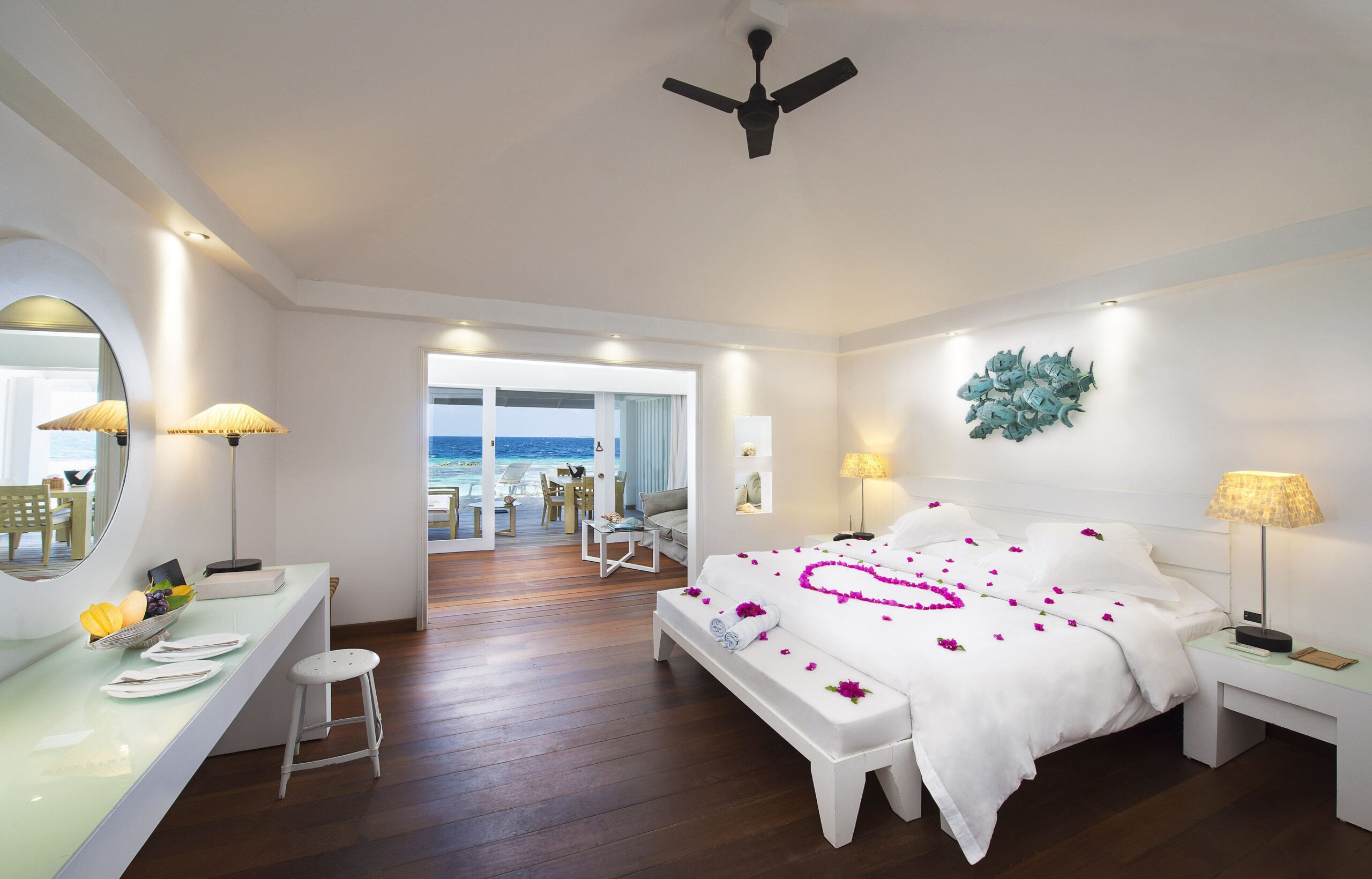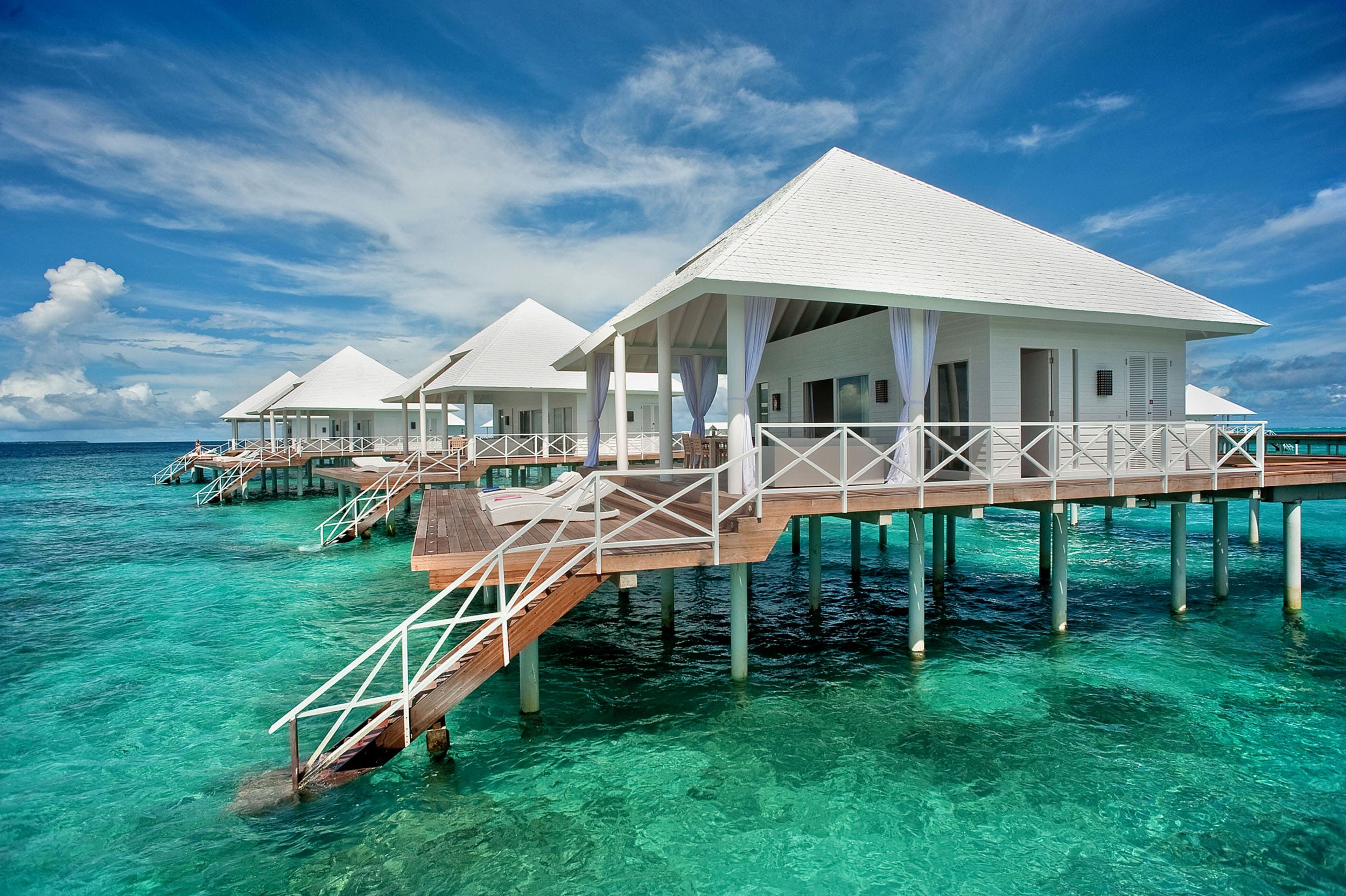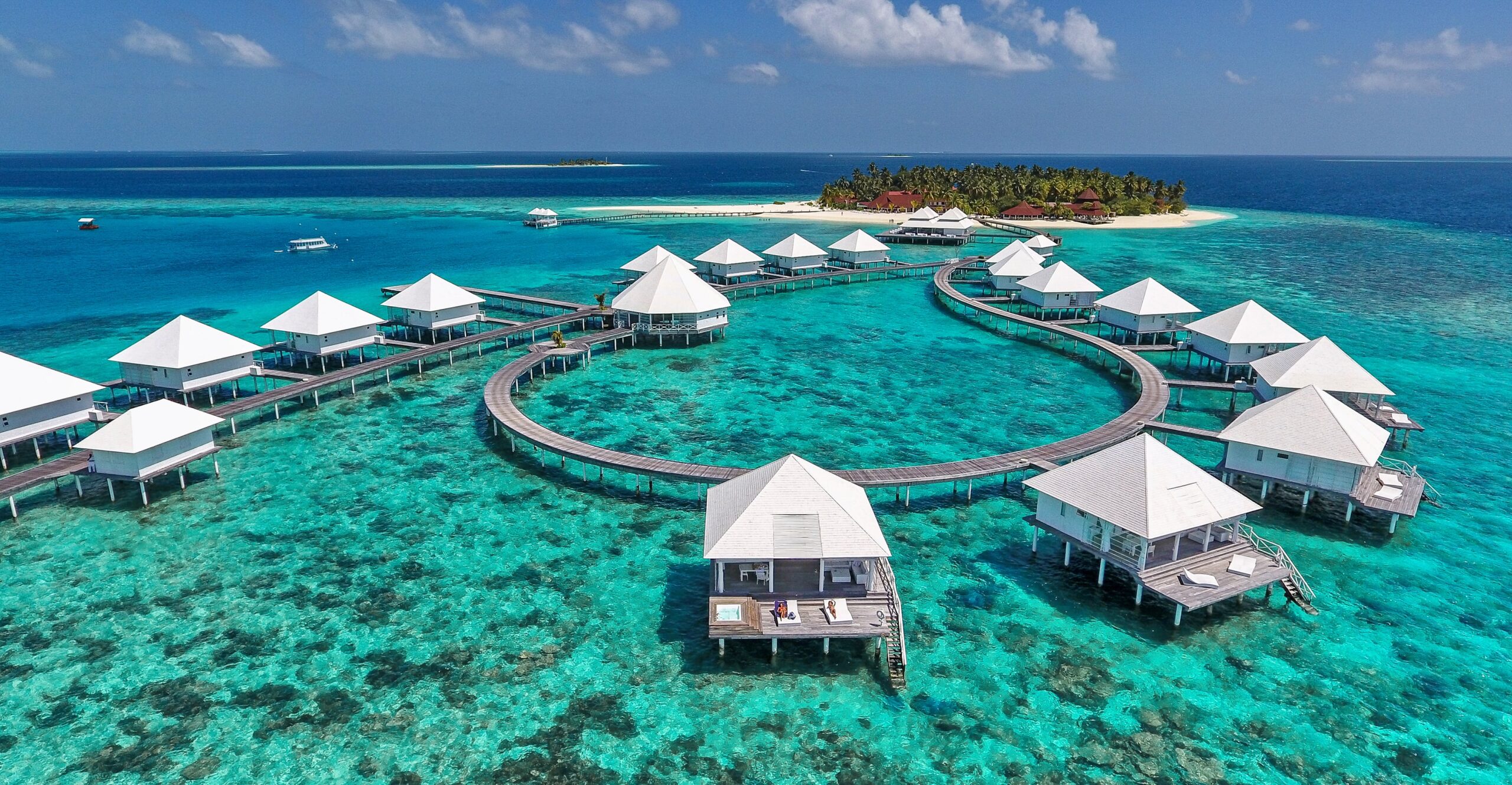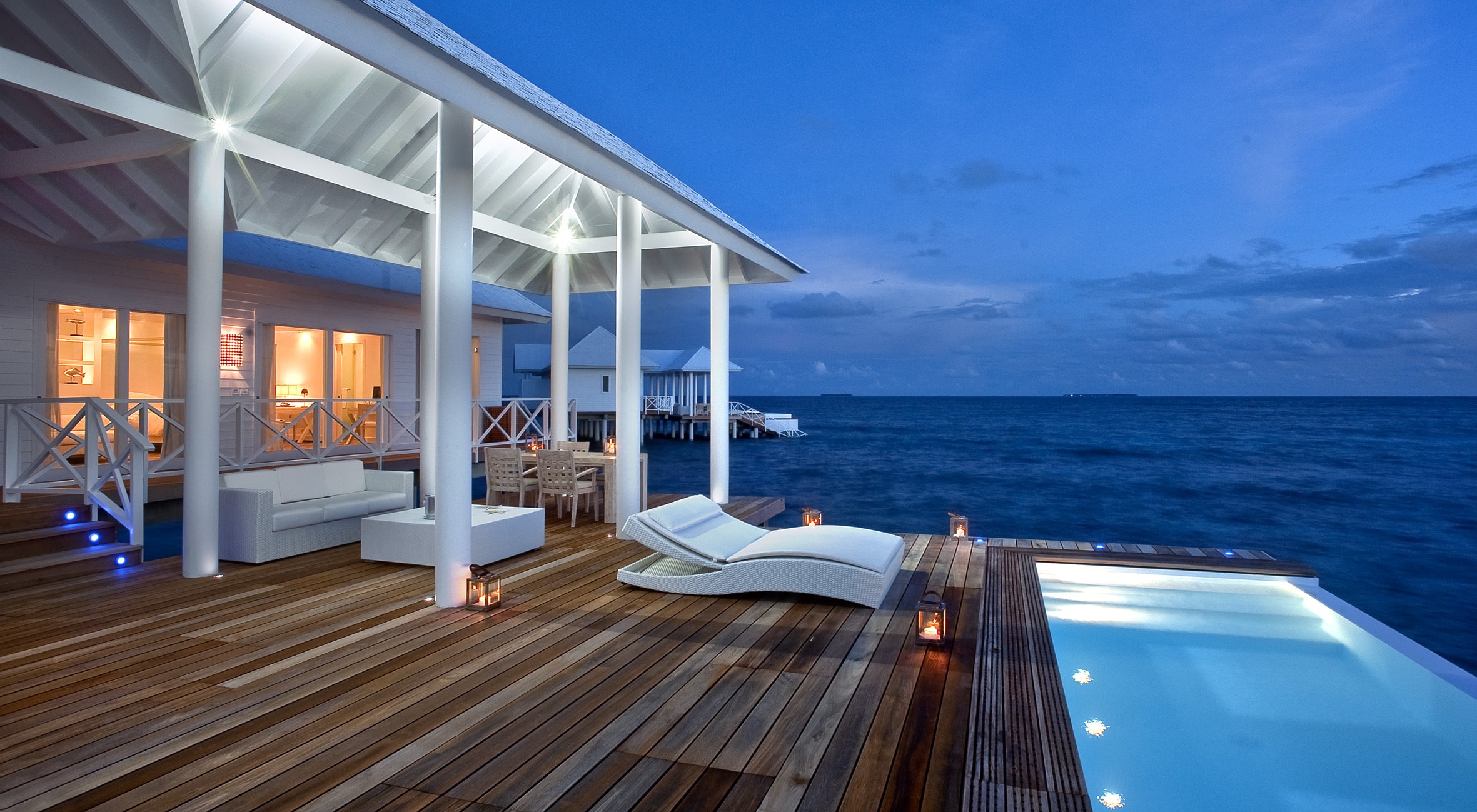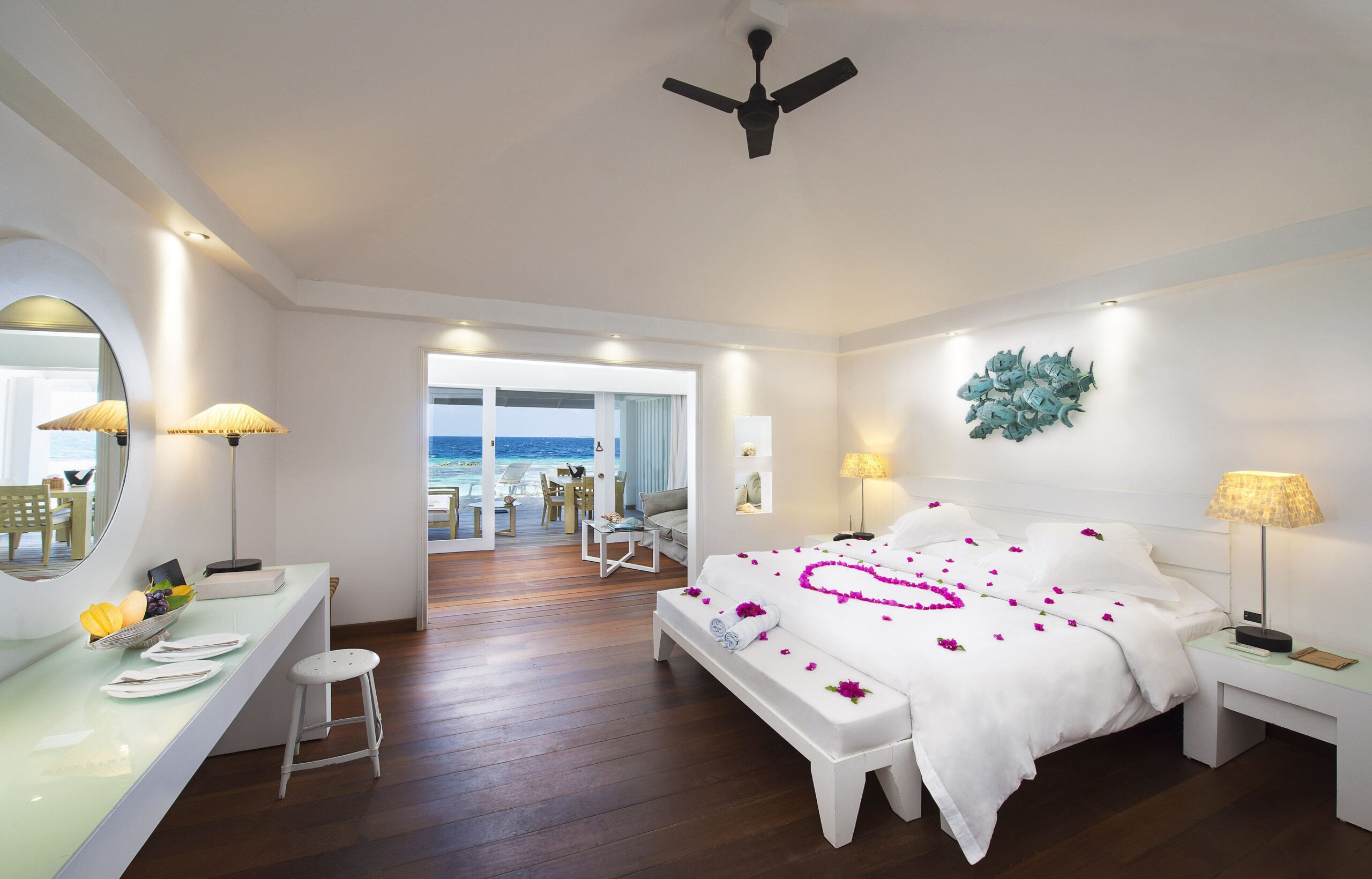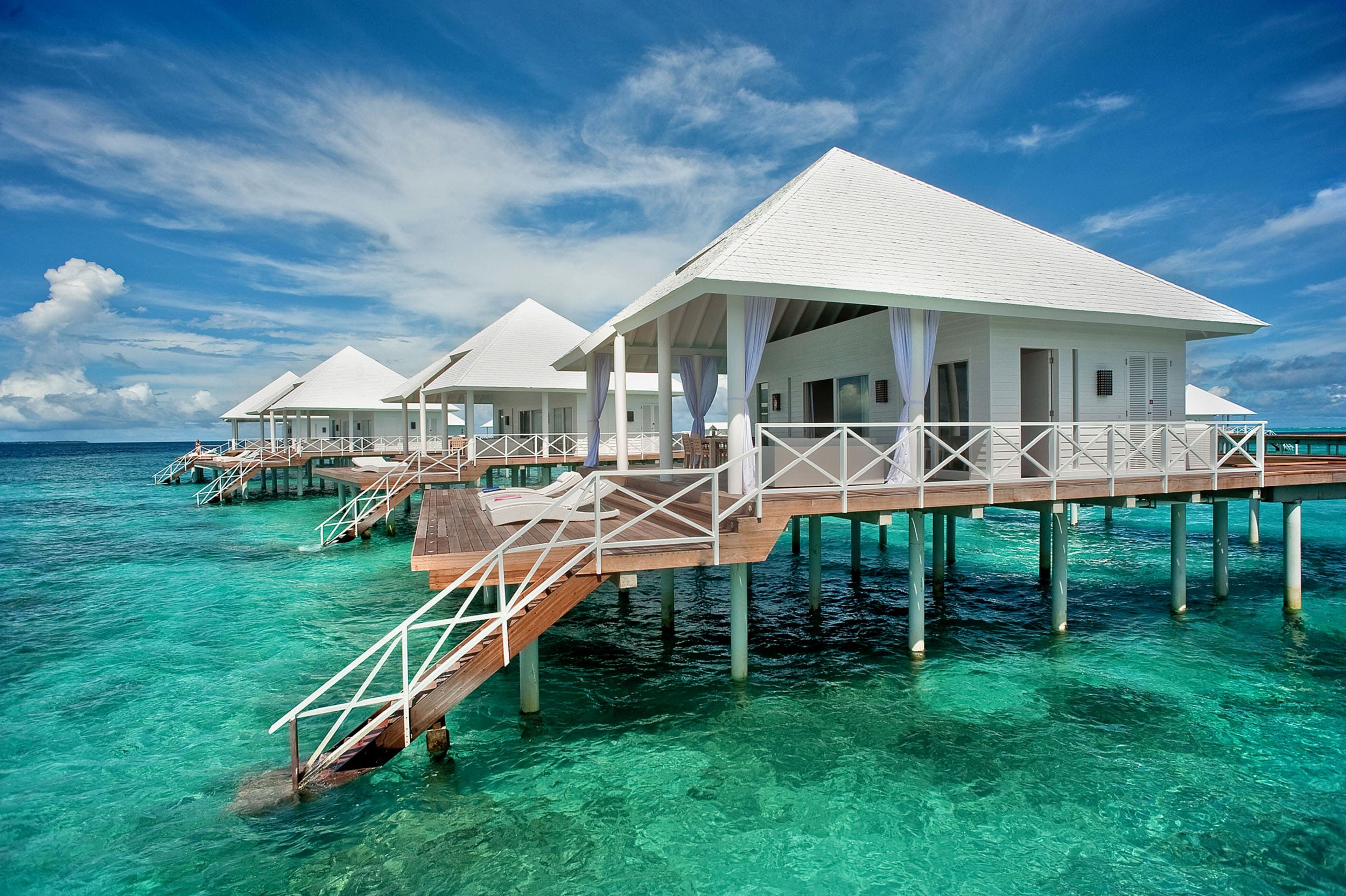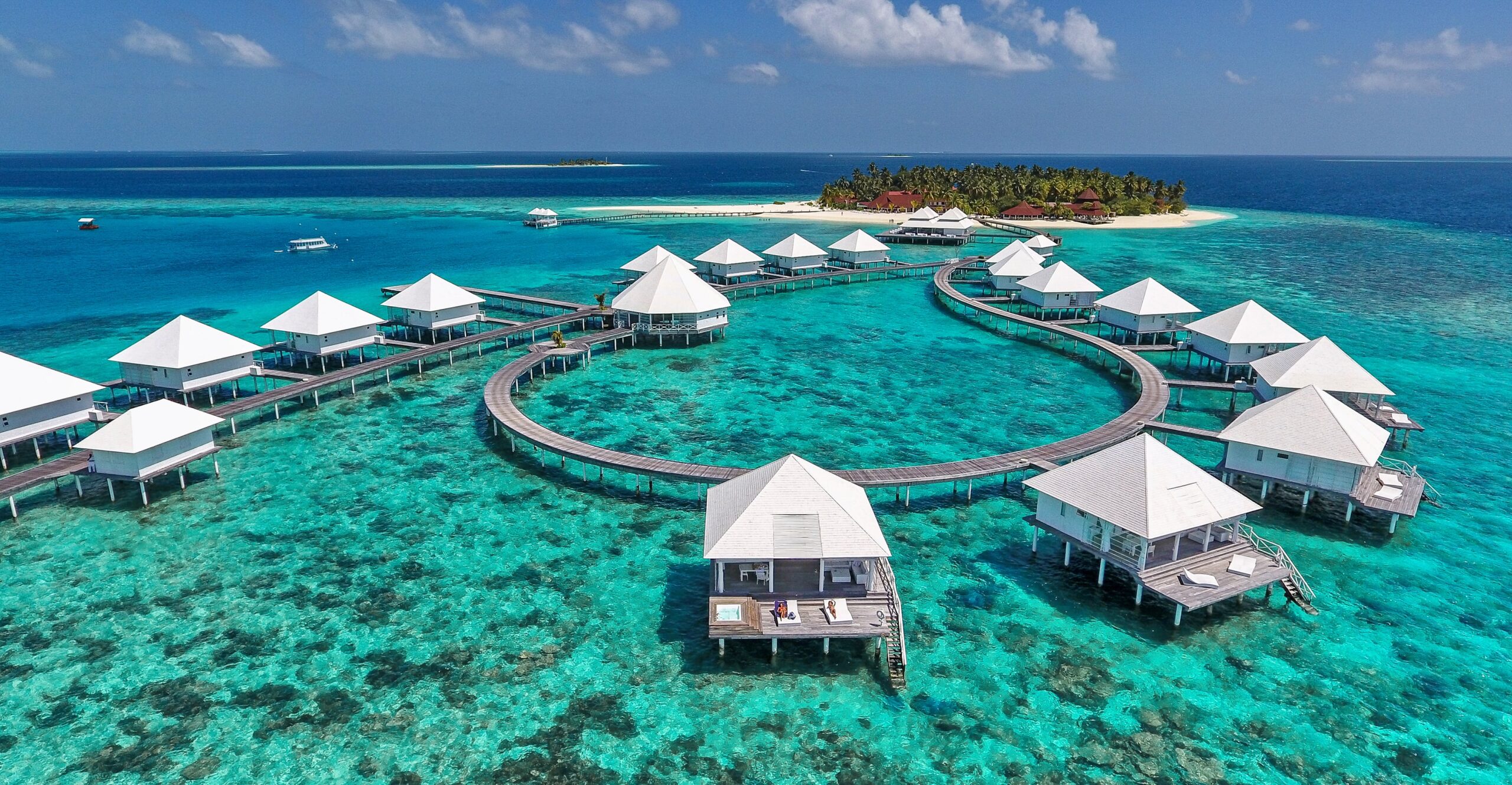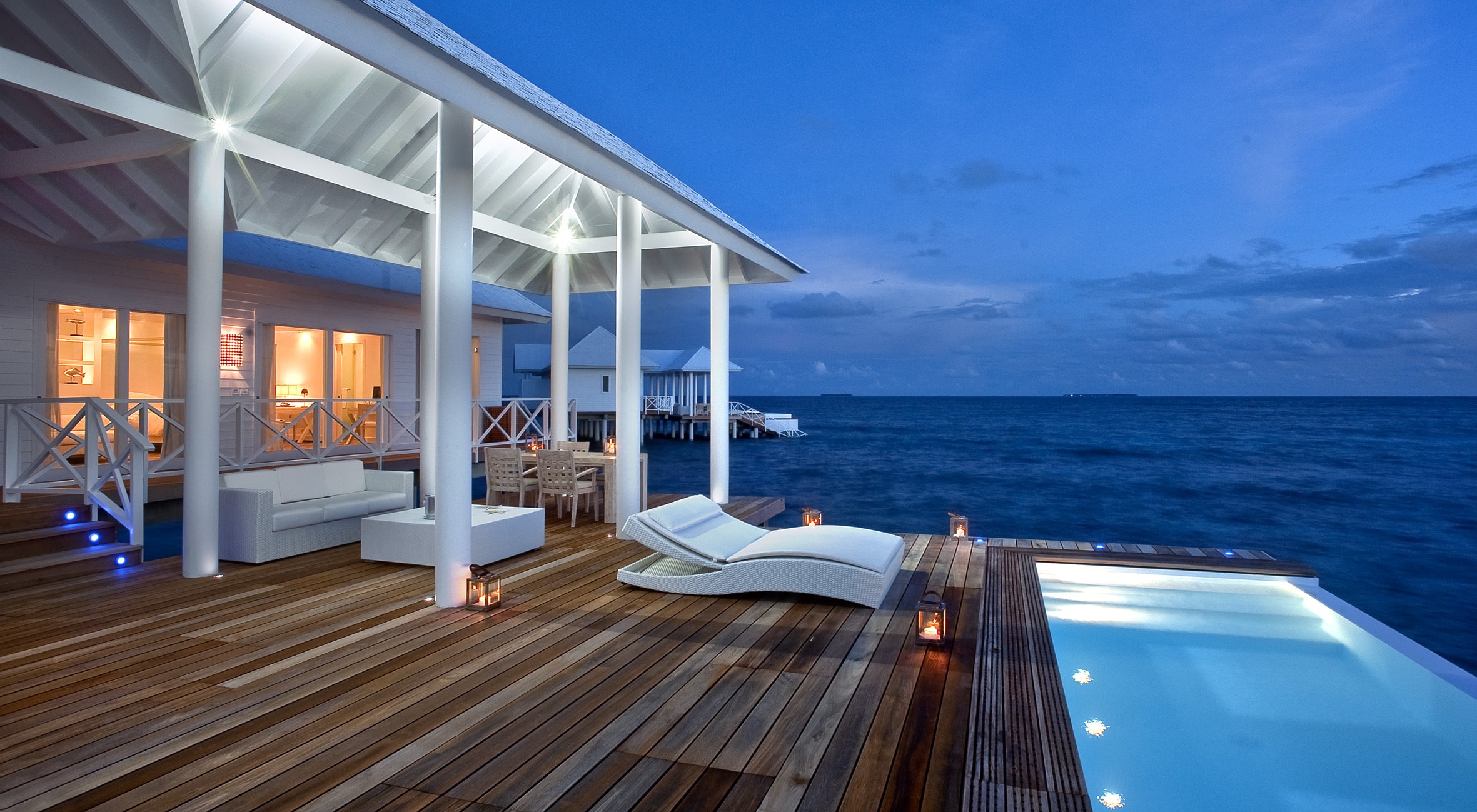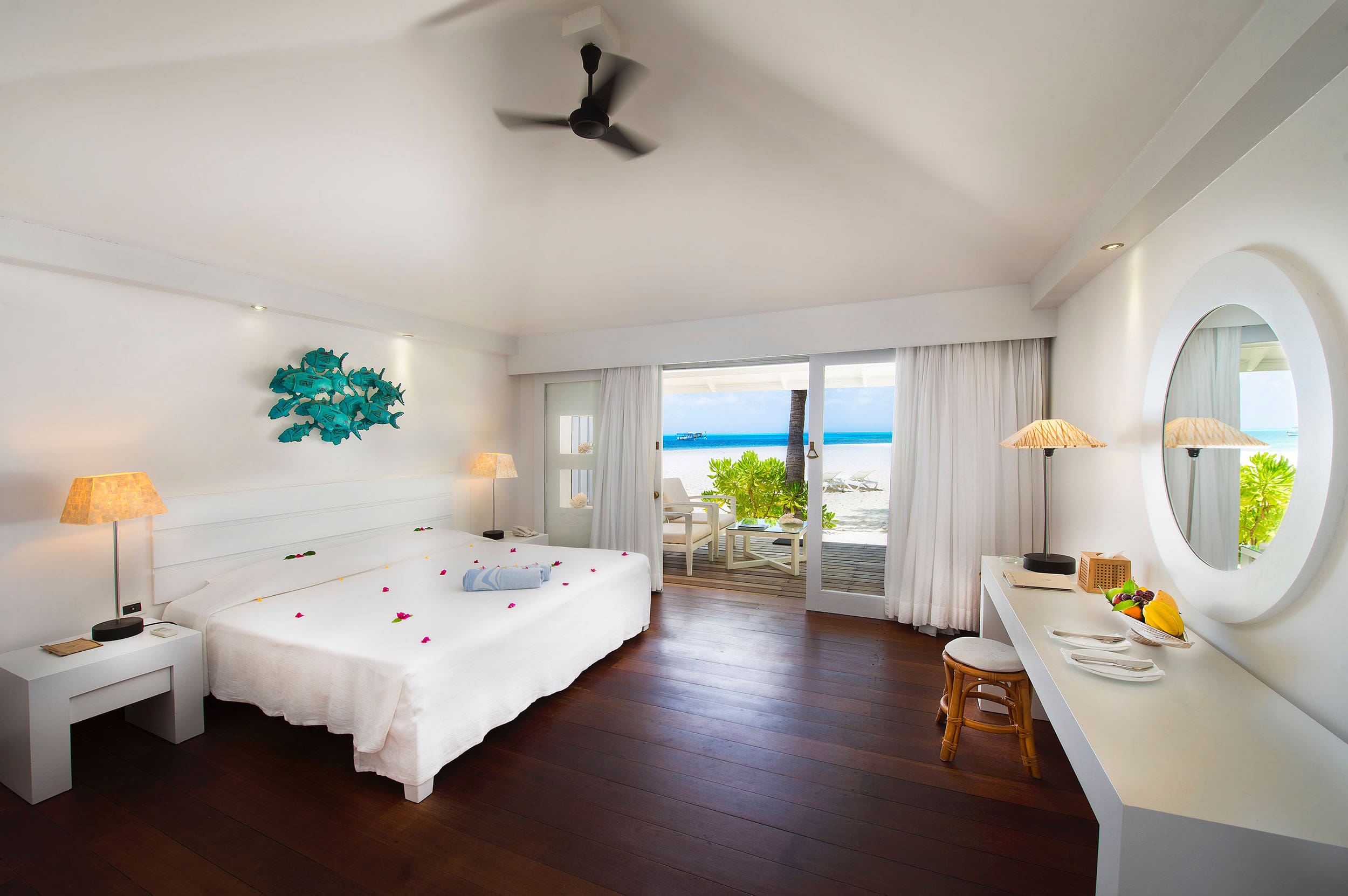 BEACH BUNGALOW
13 Beach Bungalows / Max. 2 voksne og 1 barn / 3 voksne
De 13 Beach Bungalows ligger ud til den uspolerede lagune og har direkte adgang til stranden. De er udstyret med verandaer med private terrasser med lænestole, borde og liggestole. Alle bungalows har udendørs bruser.
BEACH JUNIOR SUITE
32 Beach Junior Suites / Max. 2 voksne og 2 børn / 3 voksne og 1 barn
De elegant indrettede 32 Beach Junior Suites ligger direkte på stranden med udsigt over det smukke Indiske Ocean og har separat opholdsområde, sovesofa, udendørs bruser og en stor privat veranda med lænestole, borde og liggestole.
WATER VILLA
14 Water Villas / Max. 2 voksne og 1 barn / 3 voksne
De 14 Water Villas har en stor privat terrasse med direkte adgang til havet. Alle villaer har et stort opholdsområde, der er smagfuldt indrettet med elegante møbler, en himmelseng, en komfortabel sofa og hjørnebar, moderne italiensk belysning og smukke, mørke parketgulve.
JACUZZI WATER VILLA
7 Jacuzzi Water Villas / Max. 2 voksne og 1 barn / 3 voksne
De 7 Jacuzzi Water Villas har en stor privat terrasse med direkte adgang til havet og en privat jacuzzi med hydromassage. Alle villaer er smagfuldt indrettet med elegante møbler, moderne italiensk belysning og håndlavet parketgulv. Hver villa har en stor opholdsstue med en komfortabel sovesofa og en lille hjørnebar.
TWO BEDROOM WATER VILLA WITH POOL
2 Two Bedroom Water Villas w. Pool / Max. 6 voksne
De to Two Bedroom Water Villas with Pool nyder en eksklusiv beliggenhed for enden af jettyen og har to soveværelser med dobbeltsenge samt en stor fælles terrasse og privat pool. Villaerne er smagfuldt indrettet med skræddersyede møbler, moderne italiensk belysning og luksuriøse parketgulve. Hver villa har et stort opholdsområde med en komfortabel sovesofa og en lille hjørnebar.
MAKAI REALISERER
DIN REJSE TIL DIAMONDS THUDUFUSHI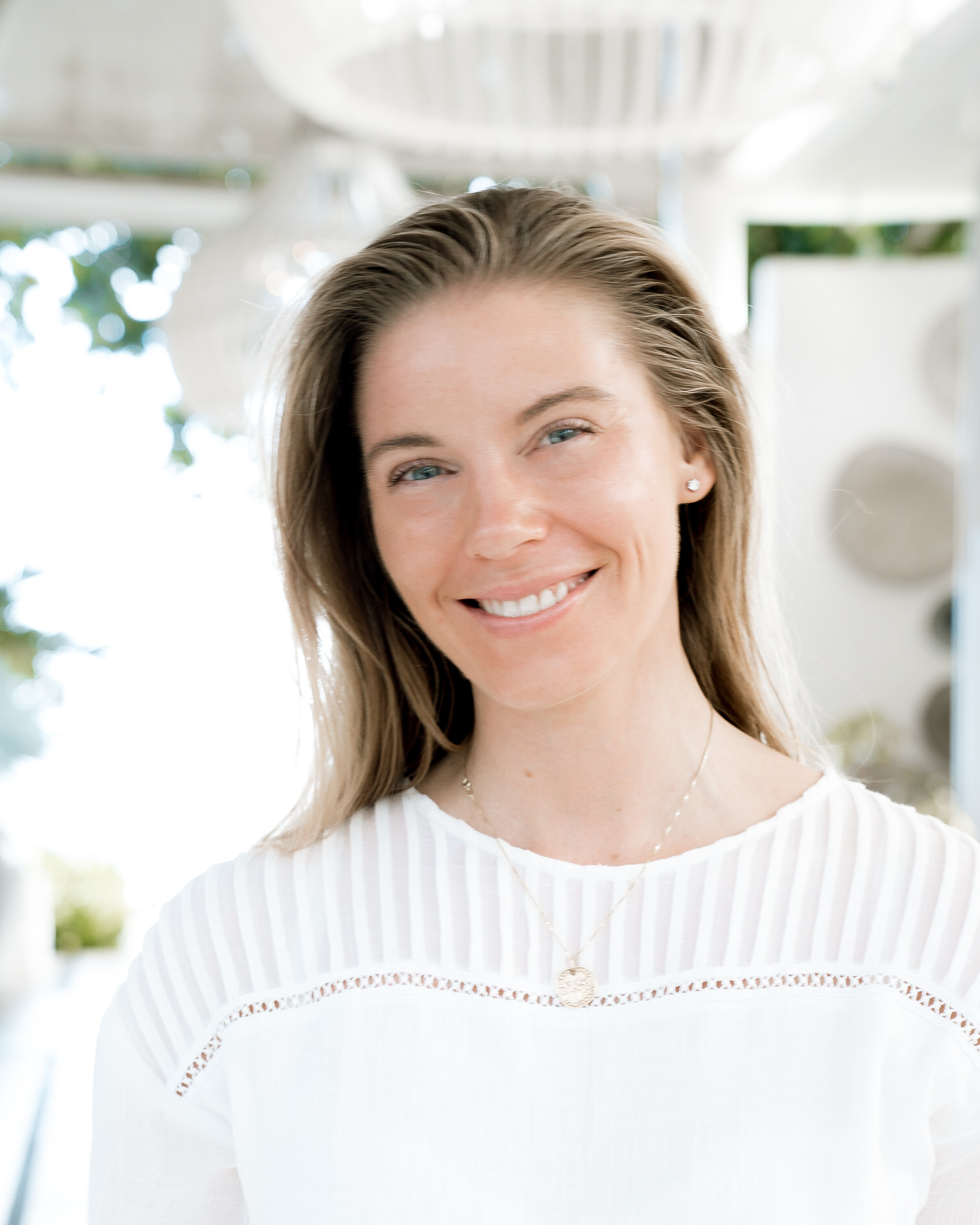 Diamonds Thudufushi tilbyder fantastisk værdi for pengene, og byder på en god kvalitets all-inclusive, charmerende maldiviske bungalows og villaer samt exceptionelt god dykning og snorkling. Især sidstnævnte gør, at jeg absolut skal tilbage igen i fremtiden.
Lad os sammen realisere din rejse til Maldiverne.
Wendie Pedersen
CO-FOUNDER & TRAVEL DESIGNER
Inspiration, eventyrlige rejseforslag og spændende nyheder, leveret direkte på mail.
FØLG MED PÅ INSTAGRAM
Enestående oplevelser er endnu bedre, når de deles med andre. Post dine rejseoplevelser med Makai på Instagram @makaitravels med hashtagget #makaitravels.
KONTAKT MAKAI TRAVELS
Har du brug for hjælp til at finde det helt rette rejsemål, det perfekte hotel eller kan du ikke finde det, som du søger, så er vi altid klar til at hjælpe dig. Hver eneste dag - 365 dage om året fra kl. 10-22.