Jumeirah Maldives Olhahali Island
5.5
Maldiverne / Det Indiske Ocean
JUMEIRAH MALDIVES BESTÅR AF 67 STORPOOLVILLAER, OG SKILLER SIG UD VED SIN SPEKTAKULÆRE BELIGGENHED OG SIT UNIKKE DESIGN MED BL.A. ROOFTOPS TIL HVER VILLA
Det hele starter med en 55 minutters tur i en af de mest luksuriøse speedbåde, du kan komme i nærheden af. Her er snacks, drikkevarer og en skøn udsigt, når I drøner fra Malé nordpå. Vil du opleve at drage mod din drømme-ø med vandfly, så er dette også en mulighed.
I nogle af de mest maleriske omgivelser, i den nordligste del af North Malé Atoll, ligger Jumeirah Maldives Olhahali Island. Den idylliske beliggenhed tiltrækker romantiske par fra nær og fjern, ligesom resortet også er attraktivt for dem, som elsker unikt, hipt design, og de aktivitetsglade!
Resortets sublime arkitektur og beroligende interiør er kreeret af prisvindende singaporeanske Miaja, som har skabt et elegant, moderne og betagende design.
Her ser du herligheder og detaljer, som intet andet sted i Maldiverne.
Jumeirah Maldives ligger midt i frodig grøn vegetation, hvor alle aspekter af resortets arkitektur og design er blevet overvejet for at levere magisk udsigt over det Indiske Ocean. Her er der blevet skabt en enestående barfodsluksus-oplevelse fra det øjeblik, du ankommer til dette ø-paradis. Som noget helt specielt er de karakteristiske, maldiviske villaer med stråtag erstattet med overdimensionerede penthouse-villaer, der viser at Maldiverne også er futuristisk.
Jumeirah Maldives er det første resort i Maldiverne, som byder på 120 kvm tagterrasse til hver villa, med dertilhørende himmelsk udsigt over lagunen, hvorfra gæsterne har et unikt perspektiv, samt mulighed for at nyde øen. Nyd et slag tennis helt ud mod havet, forkæl dig selv med en spabehandling fra resortets overwater spa, Talise, eller snup en solseng ved Jumeirah's oceanfront pool, hvorfra du har øens bedste udsigt.
Det her er rafineret kvalitet og design, når det er absolut bedst!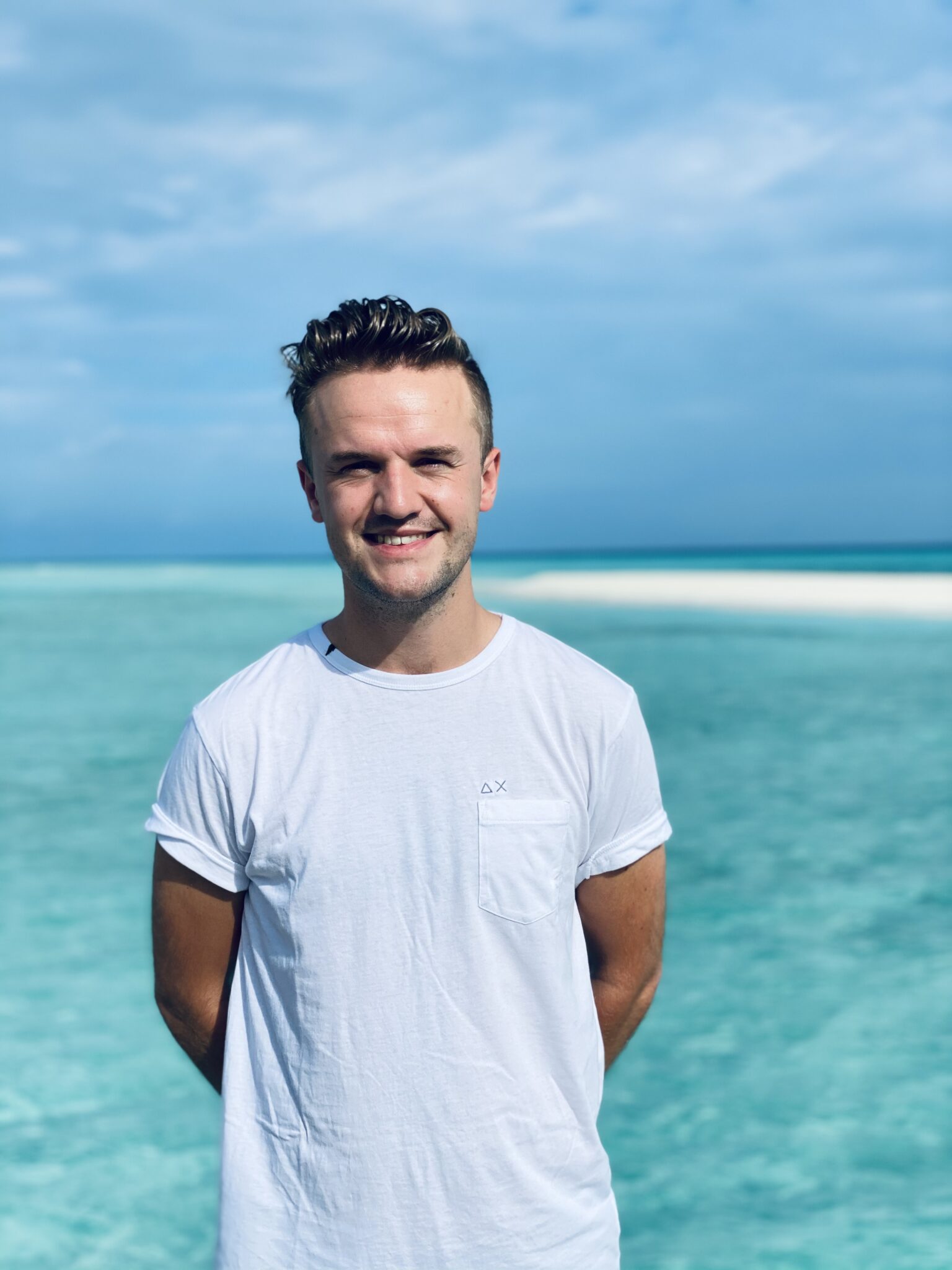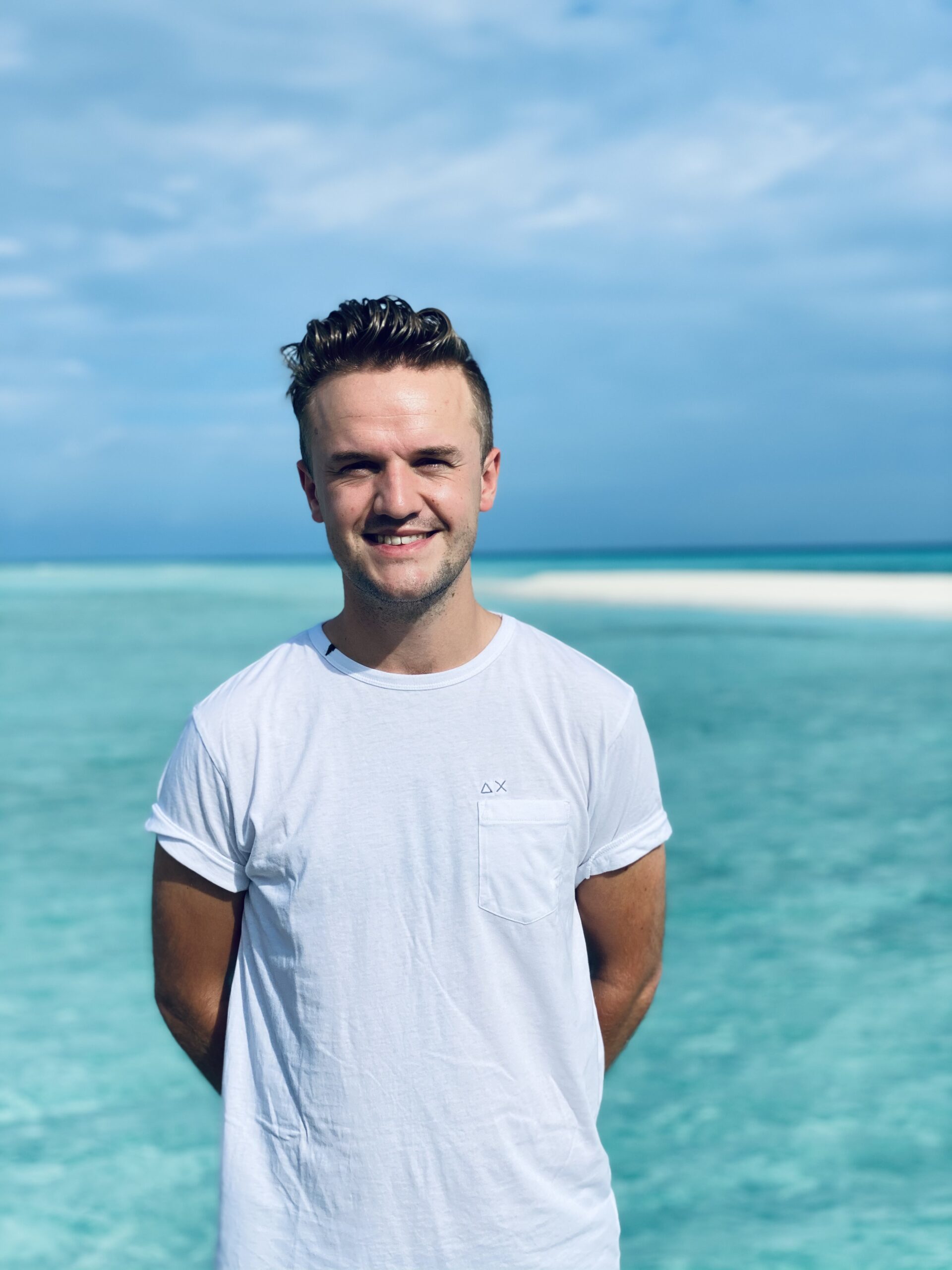 RASMUS KIRKETERP
CO-FOUNDER & TRAVEL DESIGNER
Personlig Rådgivning
Er du også vild med Jumeirah Maldives? Lad os sammen realisere din rejse til Maldiverne.
Modtag tilbud
De mest populære faciliteter
67 Værelser | 3 Restauranter
Børnevenligt
Dykkervenligt
Butlerservice
Parvenligt
Privat pool
Bæredygtigt fokus
Familievenlig
Gourmet
Gratis vandsport
Husrev
Børneklub
Snorkling
Speedbåd transfer
Vandfly transfer
Vi anbefaler
Wellness yoga
Highlights (12)
Et af Maldivernes mest high-end luksusresorts
Alle villaer er oversized, med stor privat pool og privat rooftop
Unikt futuristisk design med kridthvid eksteriør
Resort designet af singaporeanske Miaja
3 innovative, moderne og hippe restauranter
"Gelateria" serverer hjemmelavet is og frozen yougurt
Oceanfront pool med utrolig udsigt og til lyden af DJ beats
Beliggende i uspoleret område i North Malé Atoll
Smukke laguner og let tilgængeligt husrev
Udendørsbiograf, volleyball, vandsport mm.
Overwater Spa (Talise)
Fed Kids Club til de mindste
Se flere
LIVET PÅ JUMEIRAH
Drømmeferien starter allerede, når du nærmer dig med resortets luksuriøse speedbåd, eller vandflyet. De turkisblå laguner og de kridhvide megavillaer lyser op, og kreerer kombinationen mellem det moderne og autentiske Maldiverne. Rend barfodet rundt i resortets jungle, gå nedad trapperne til lagunen fra din Water Villa m. Pool eller løb direkte ud i det kridhvide sand, for at snuppe en maldivisk solopgang. Delfinerne springer i horisonten, bartenderen kommer med et kølig glas vin, og DJ'en disker op med fede hits. Bliver det mere luksuriøst end dette?
RESTAURANTER & BARER
3 SPISESTEDER OG BARER
Jumeirah Maldives har 3 restauranter
samt et Gelateria og en Café Lounge.
SHIMMERS
Denne middelhavsinspirerede restaurant byder på enestående kulinariske oplevelser i en "Beach Club" vibe. Shimmers' udsøgte middelhavskøkken, hvor du nyder smagfuld gourmet til synet af solnedgangen, byder også på resortets DJ, som bidrager med lette beats, til de utrolige omgivelser.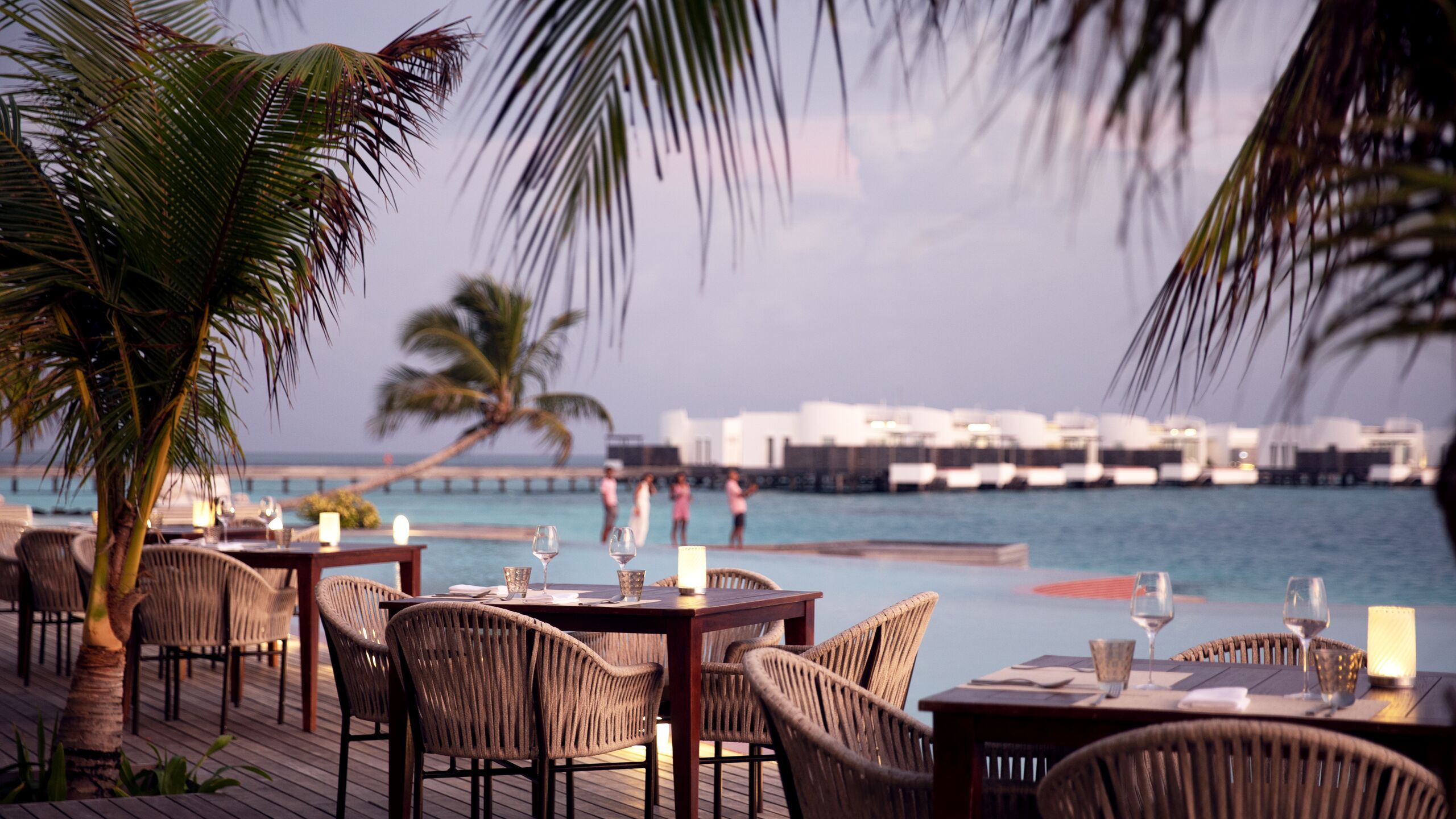 KAYTO
KAYTO tilbyder gæsterne en uforglemmelig spise oplevelse fra det peruvianske og japanske køkken, kendt som "Nikkei". Her får du at opleve ægte, kulinarisk håndværd, når det er allerbedst.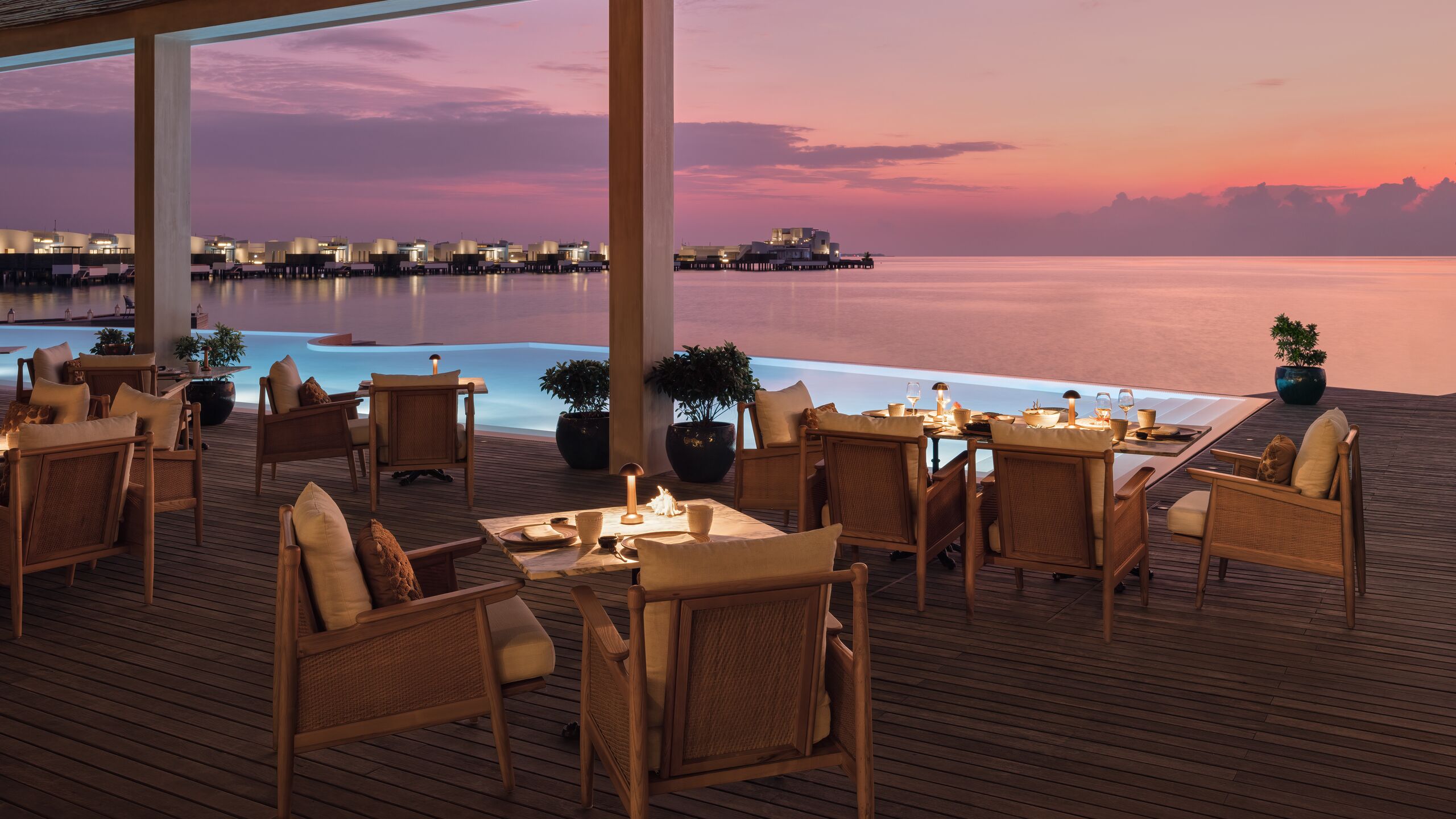 GLOW
Glow er resortets all-day dining restaurant, hvor du kan nyde et stort udvalg af smagfulde, internationale retter, hvor fokus er på sund mad og friske råvarer. Her får du en billedskøn beliggenhed samt udsigt over det krystalklare vand fra Det Indiske ocean. Den store terrasse tilbyder gæsterne en dejlig afslappet al fresco oplevelse, lige ved poolen, hvor du også kan nyde en af de magiske, maldiviske solnedgange.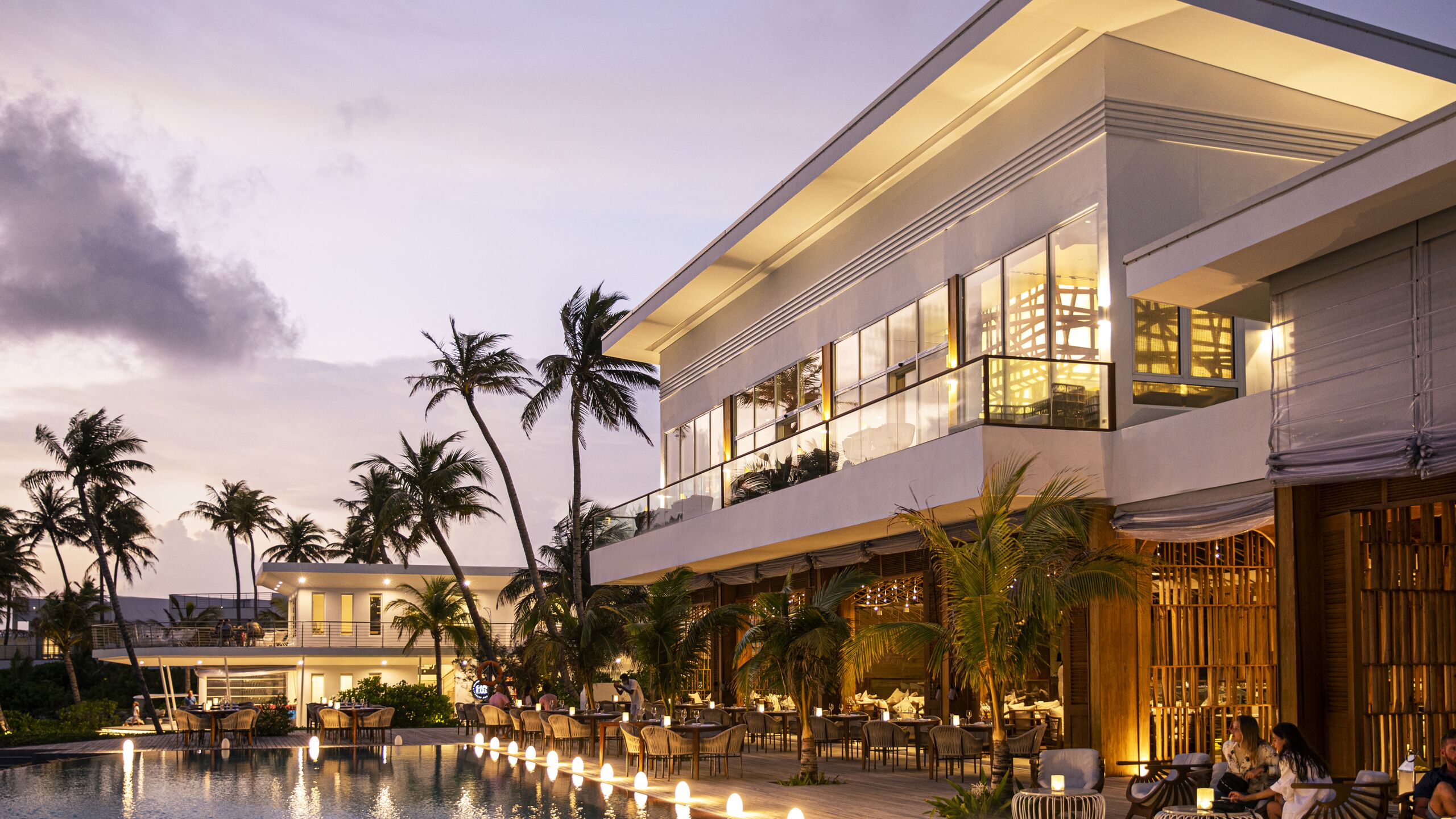 Jumeirah Maldives Olhahali Island er hjemsted for 67 oversized poolvillaer på mellem 351-997 kvm (totalt), som alle har egen privat rooftop, som de første i Maldiverne. Nyd din smukke pool, uanset om du bor over lagunen eller langs den kridhvide sandstrand, betragt det kridhvide ydre og varme inde, og snup en drink til synet af smukke solopgange og himmelske solnedgange.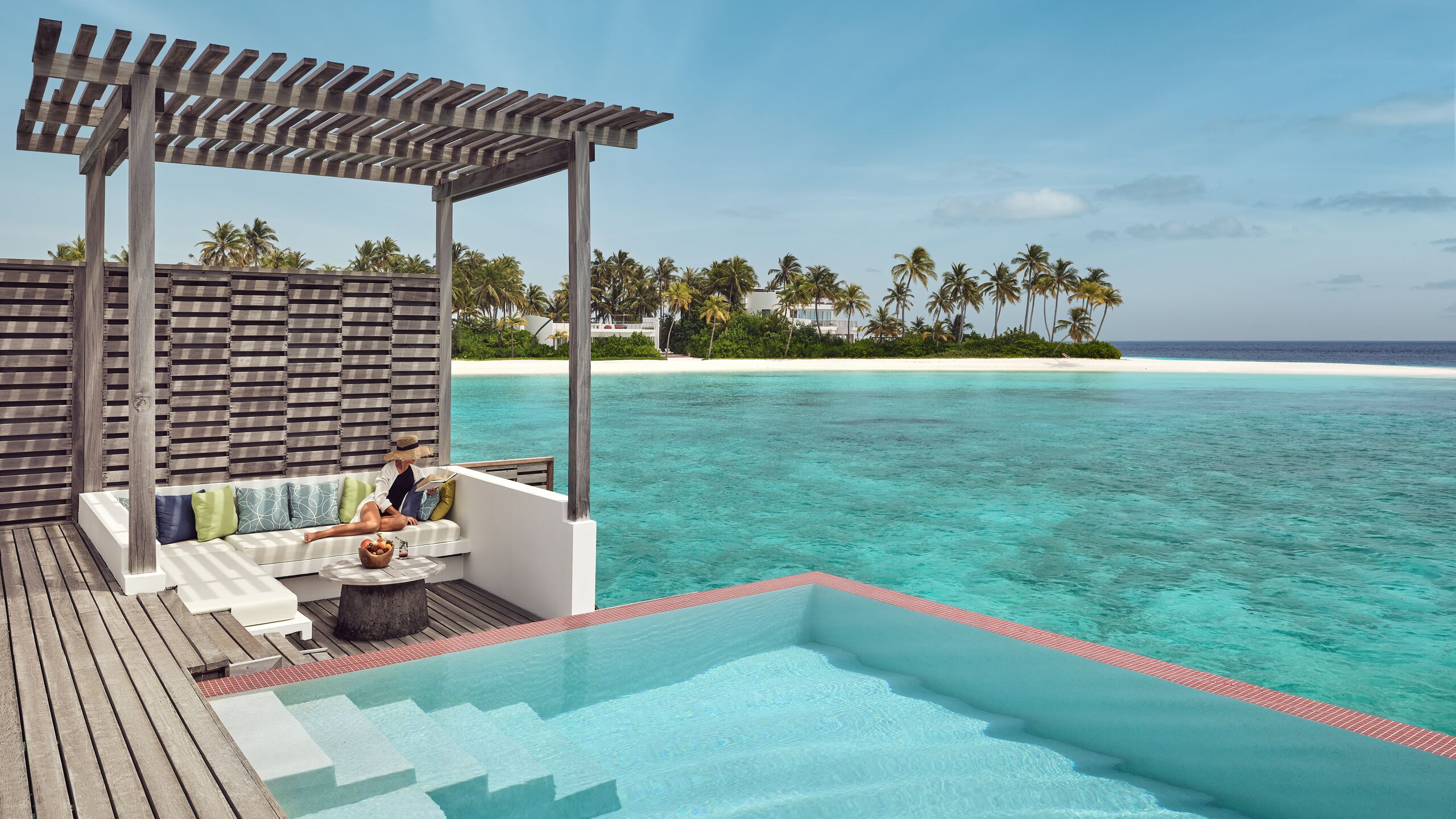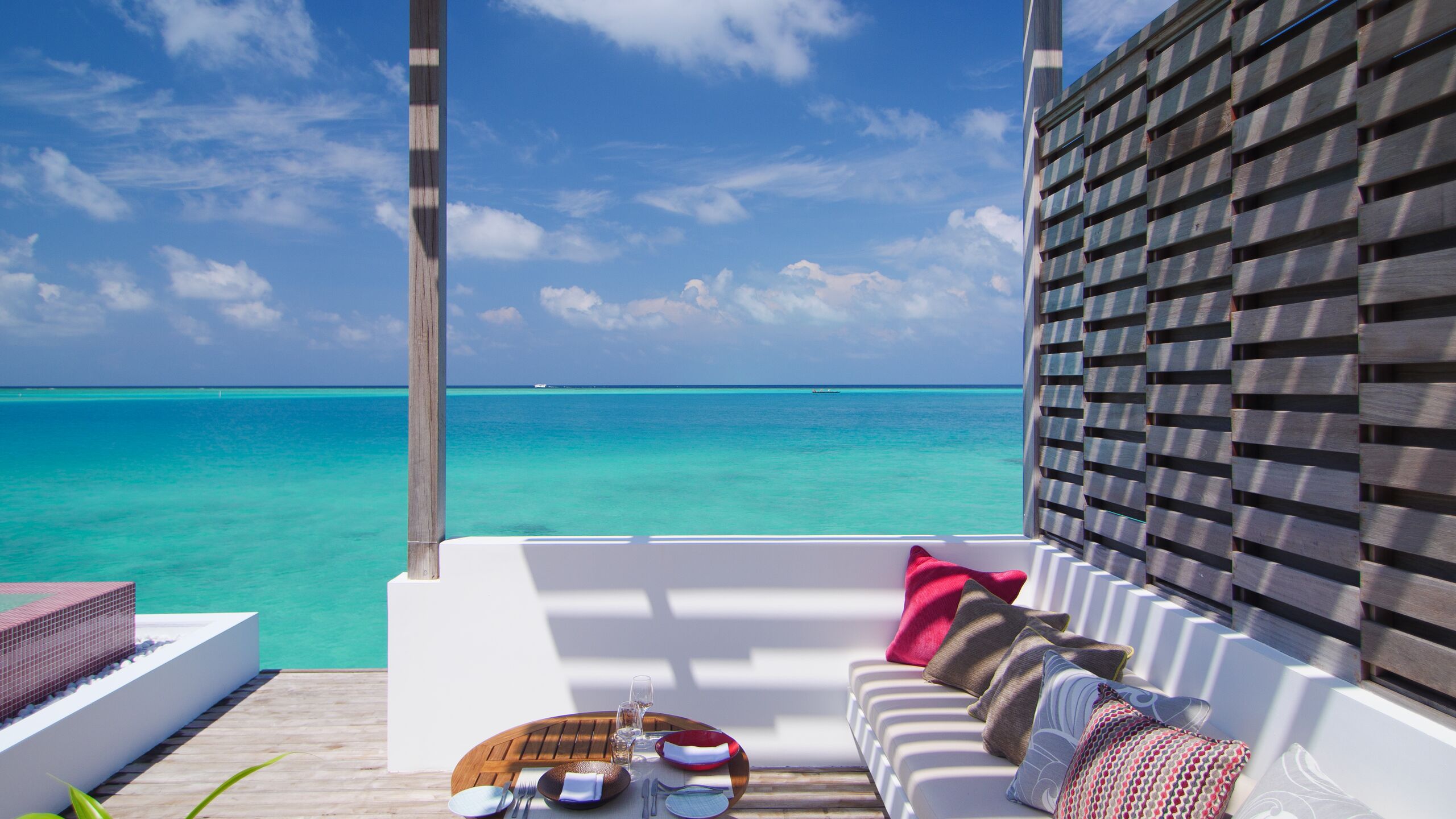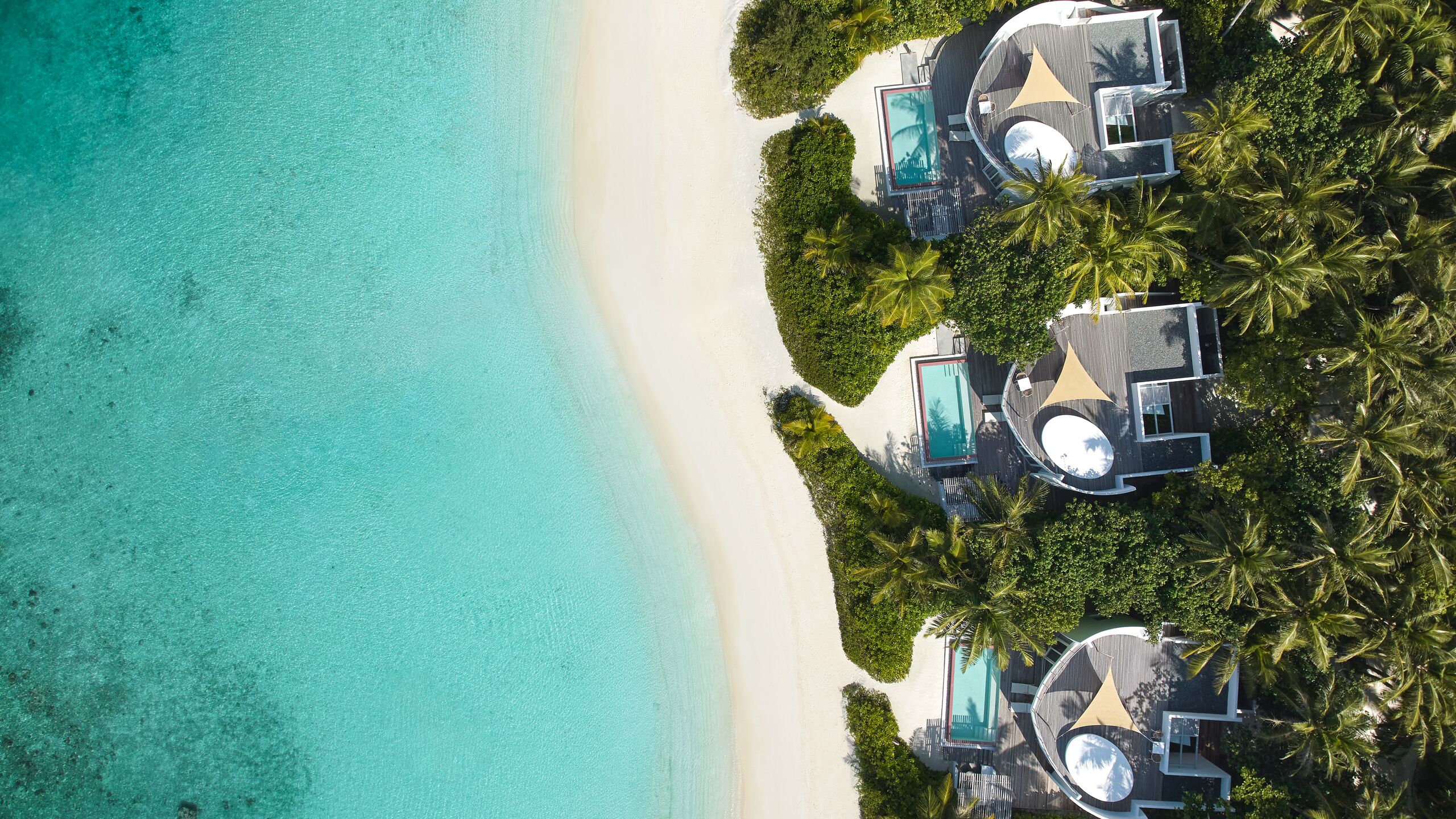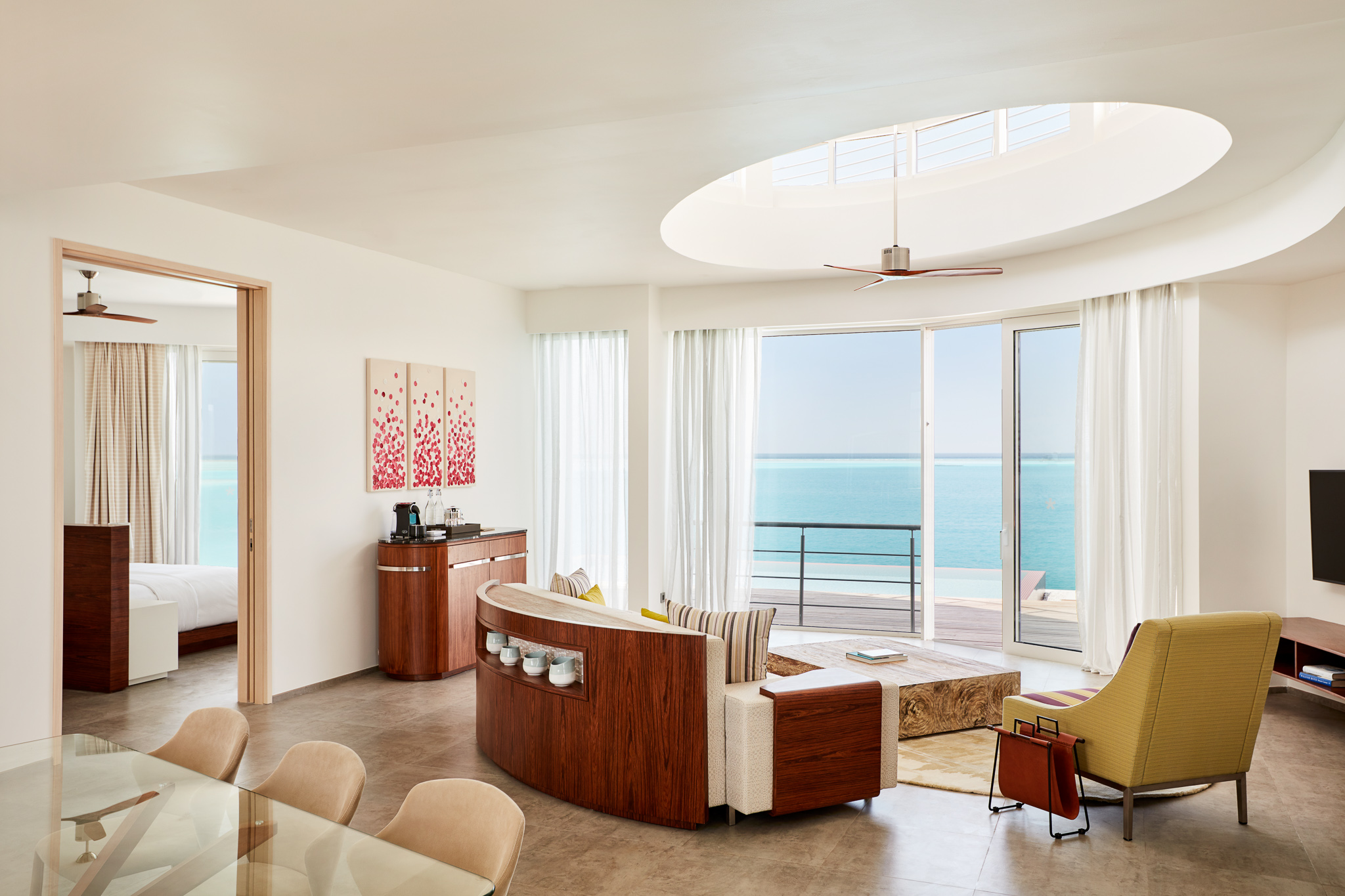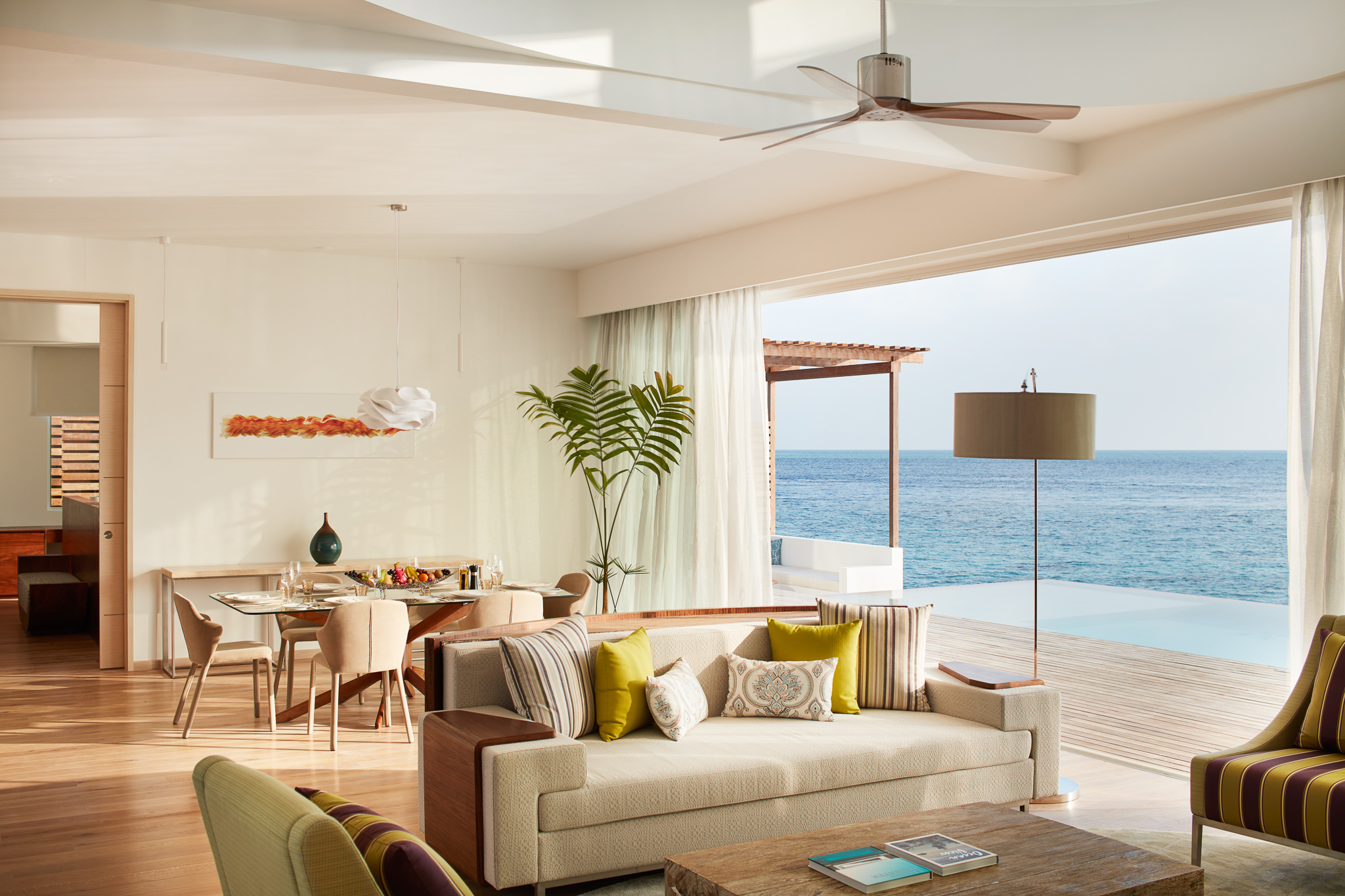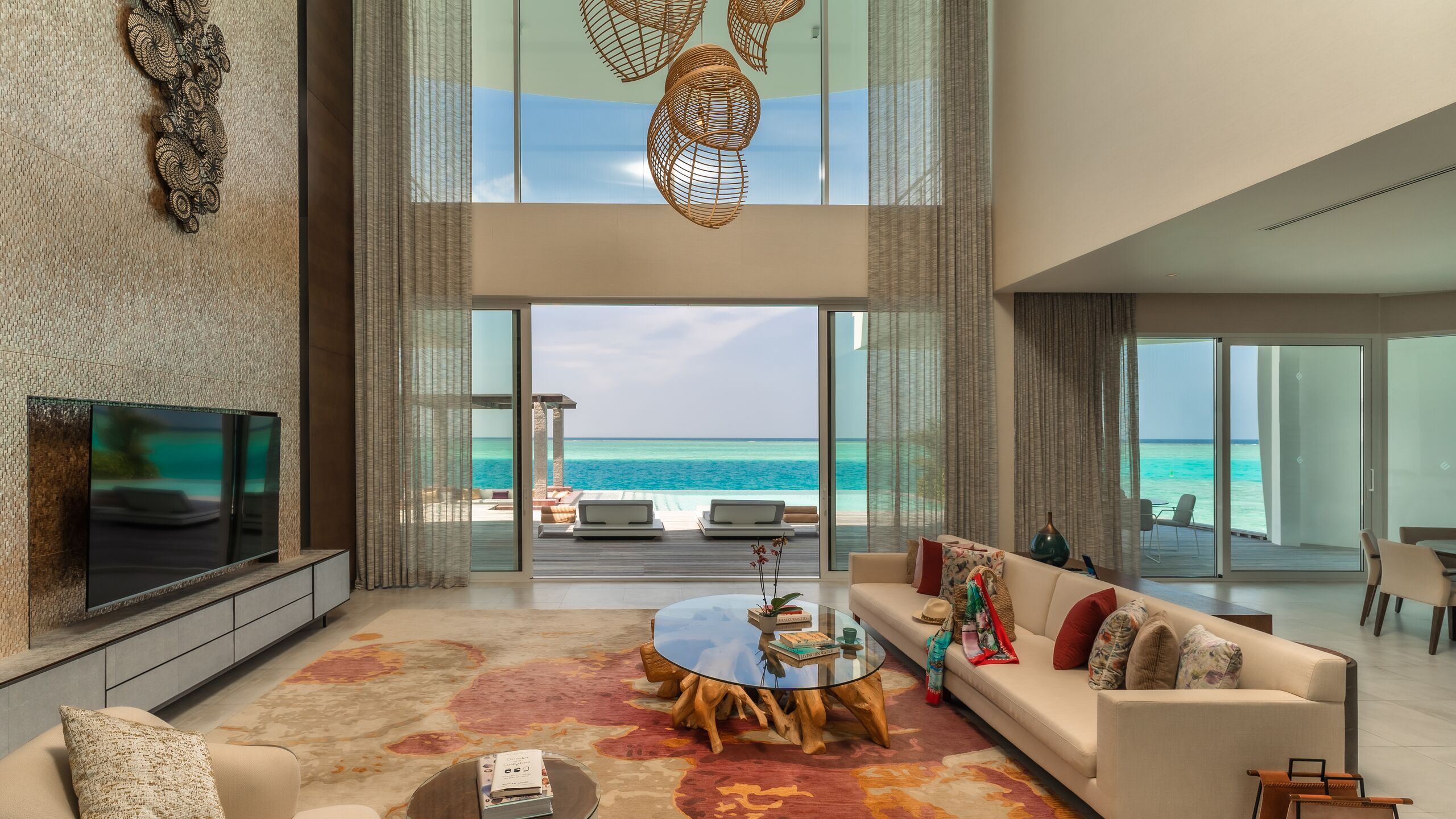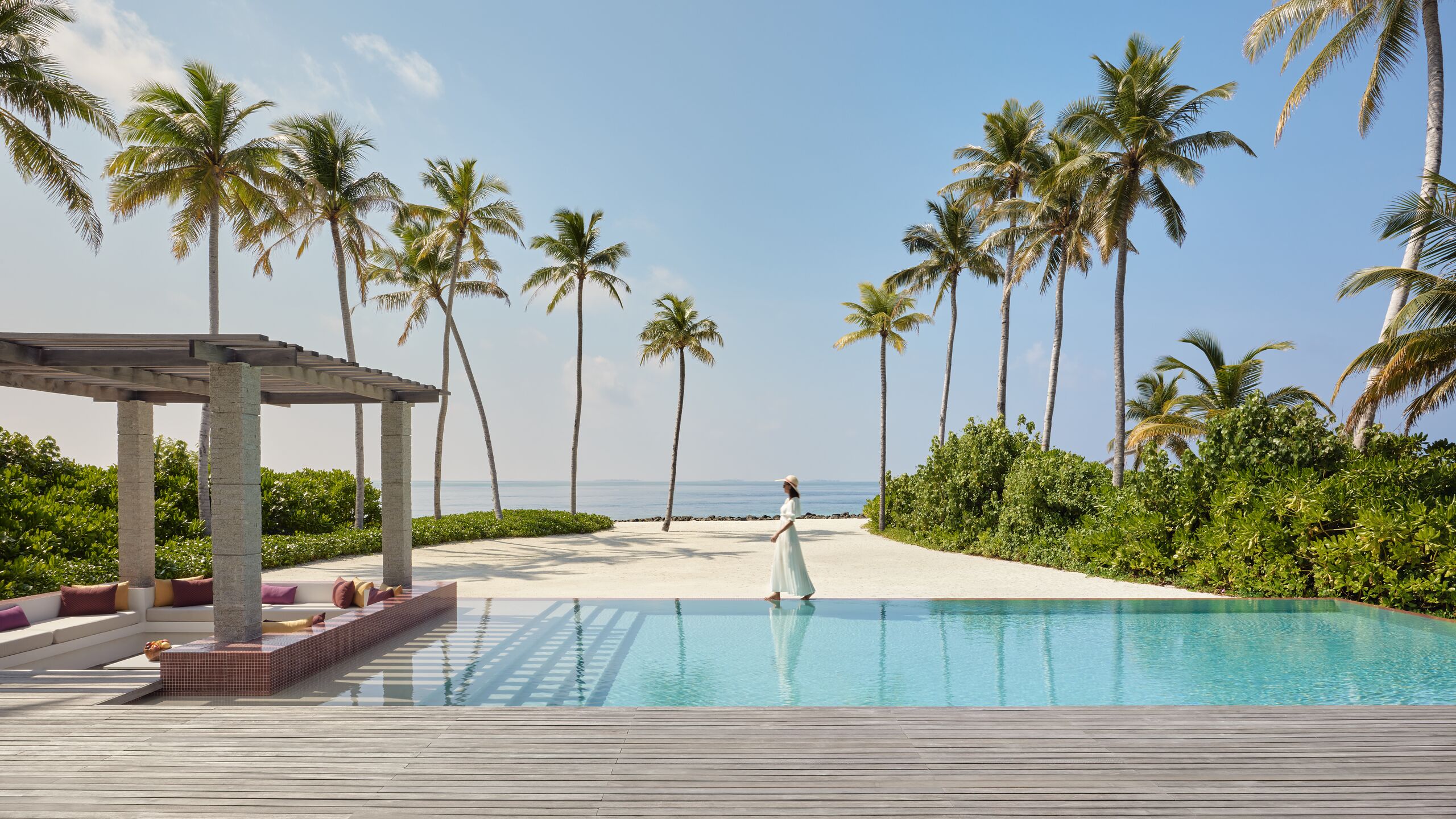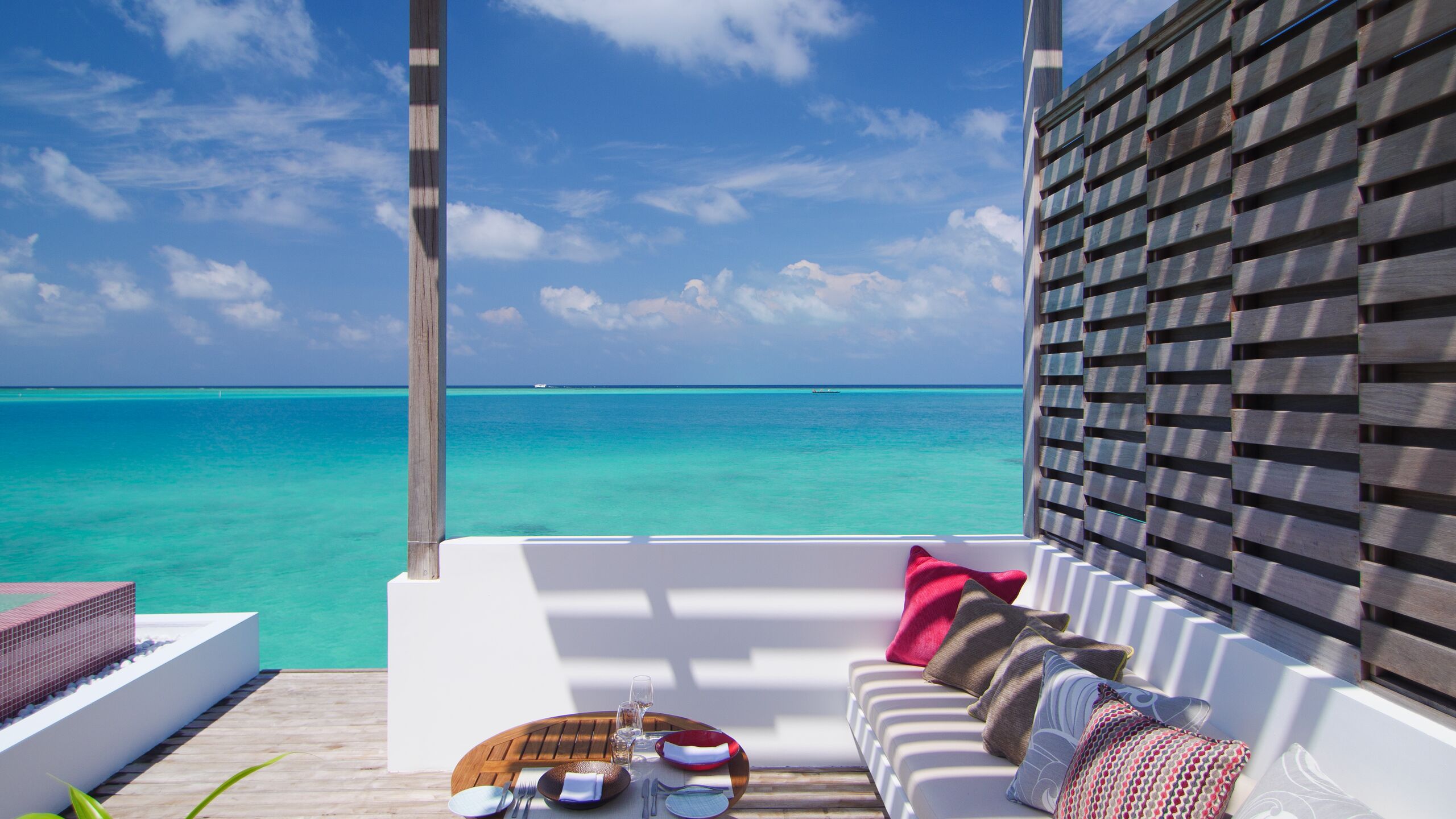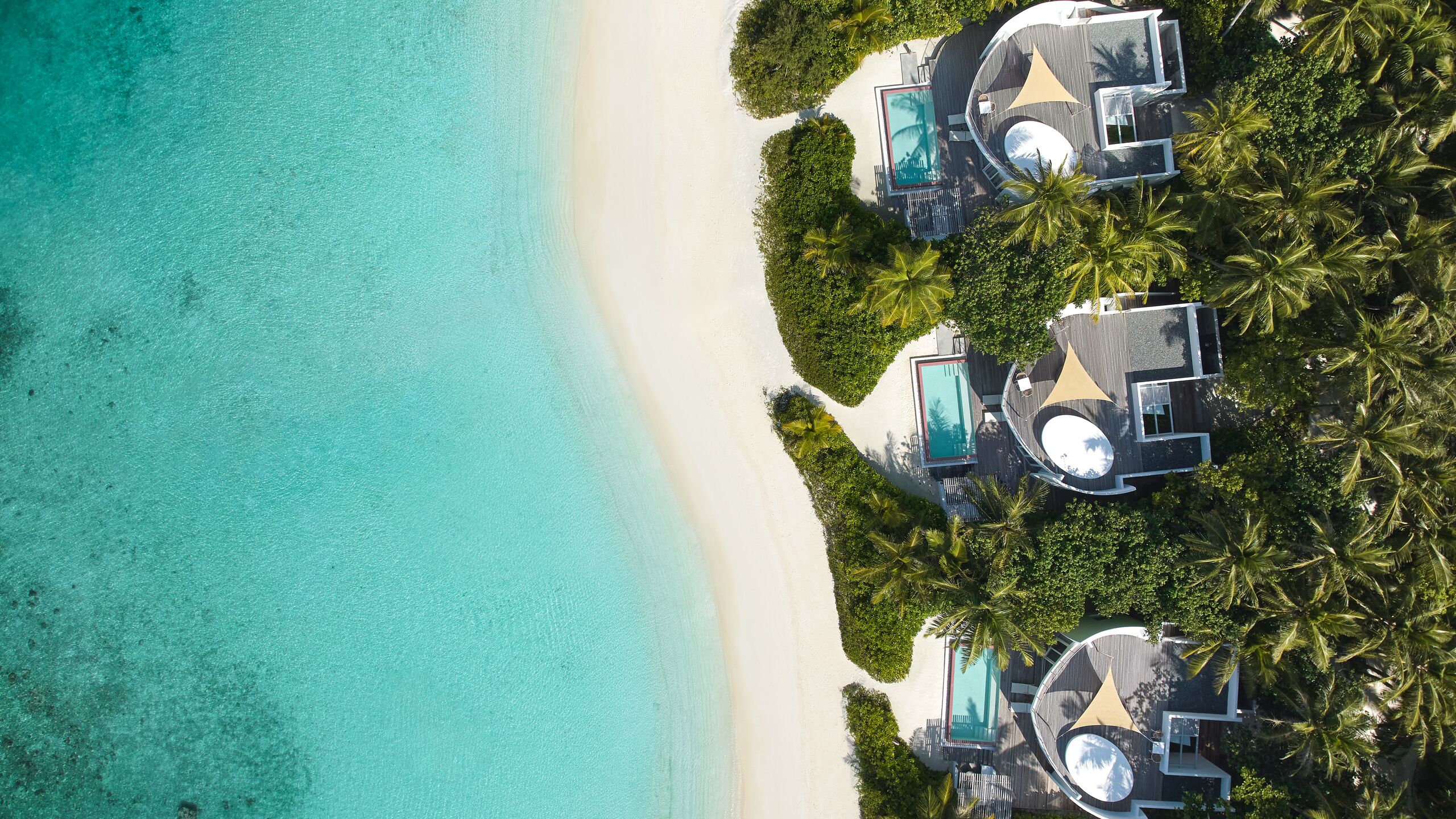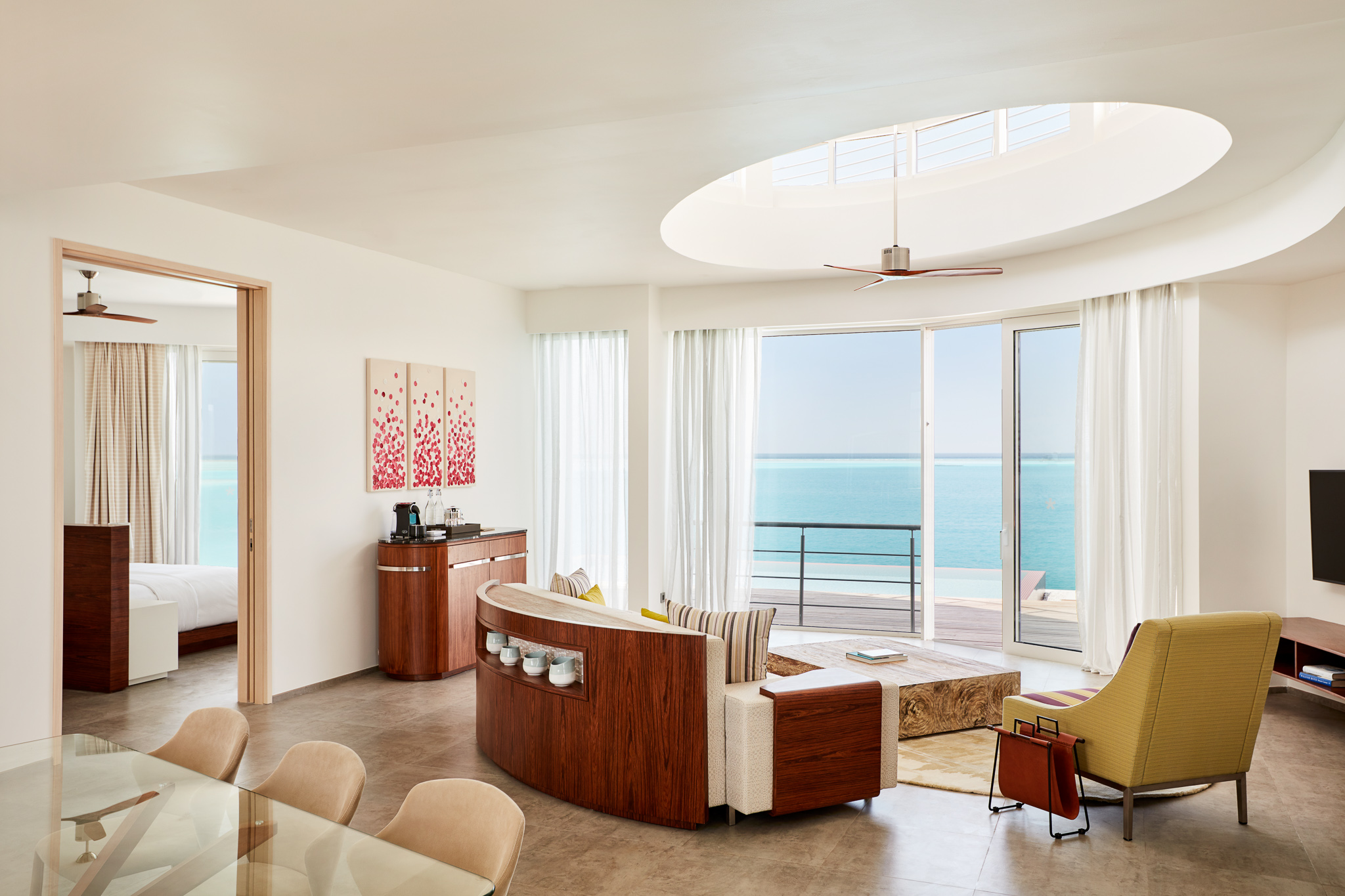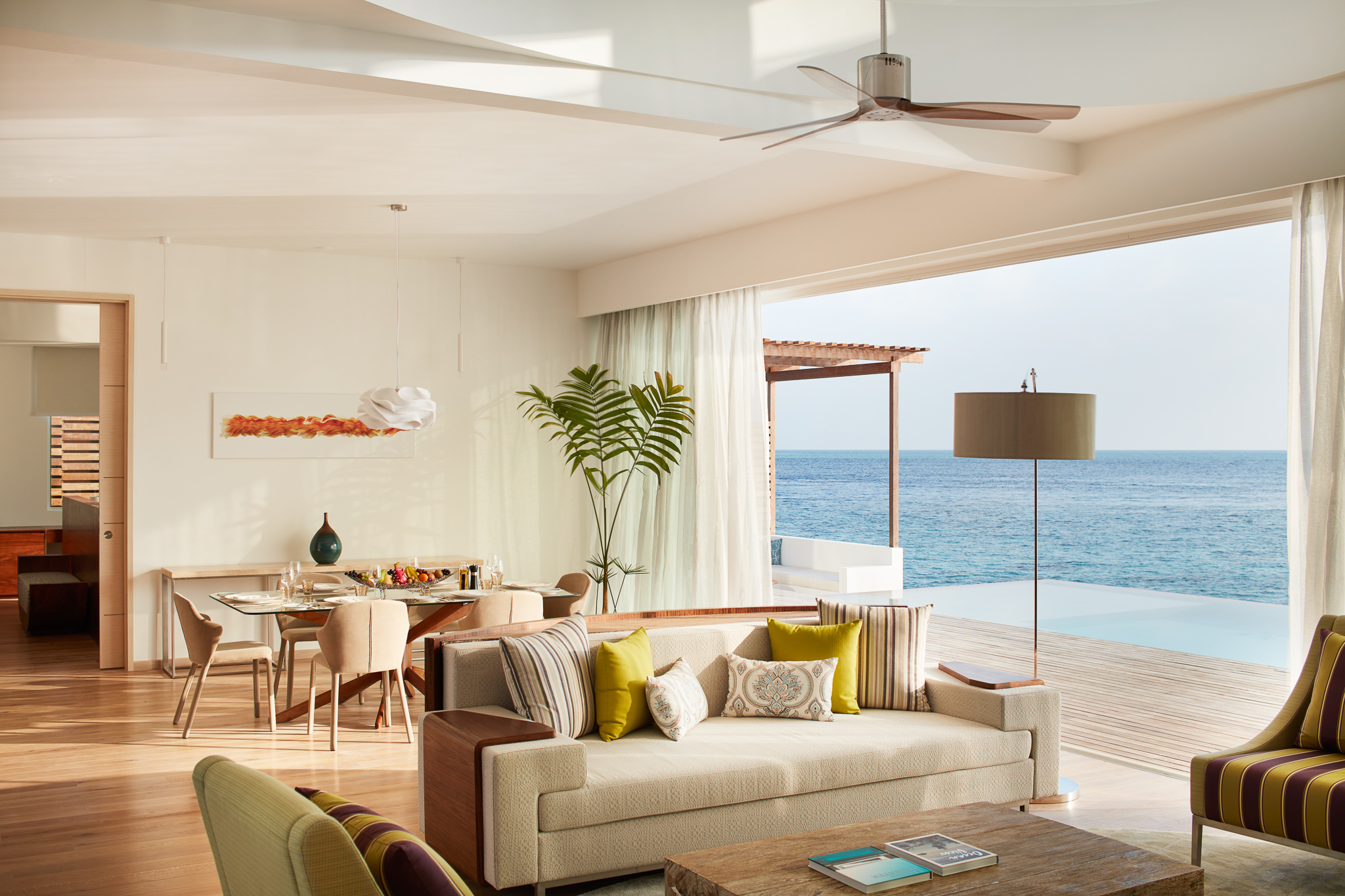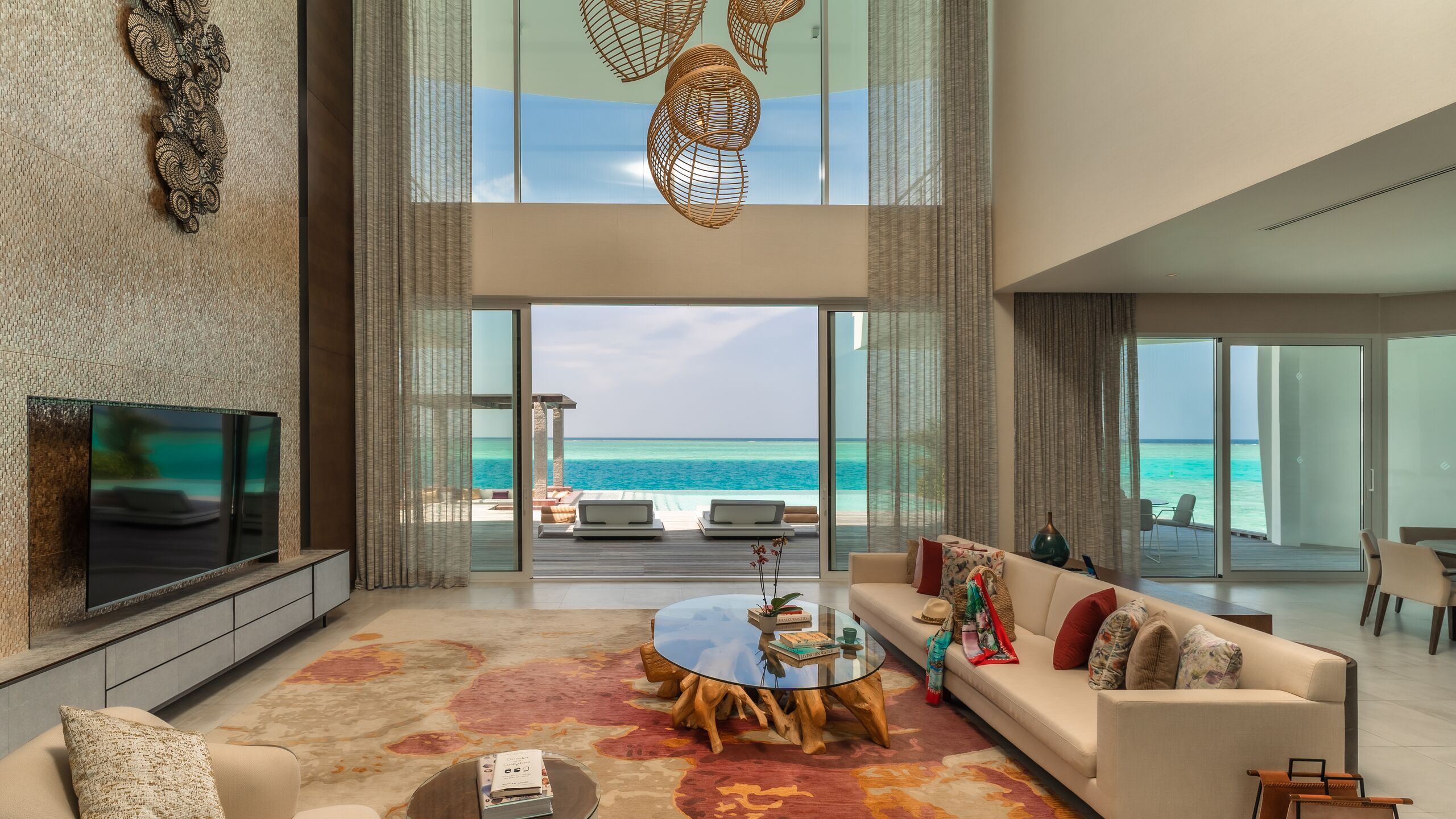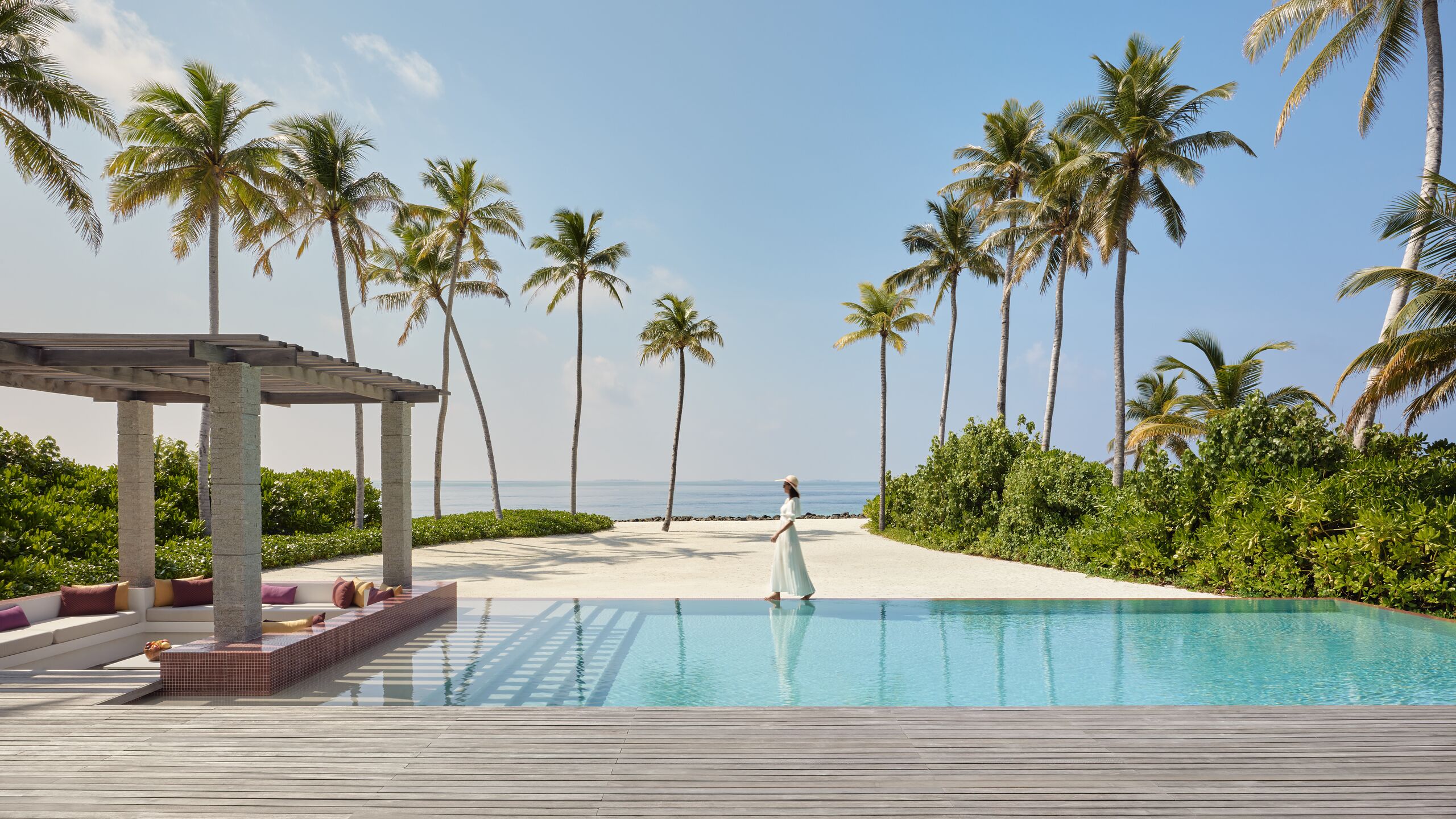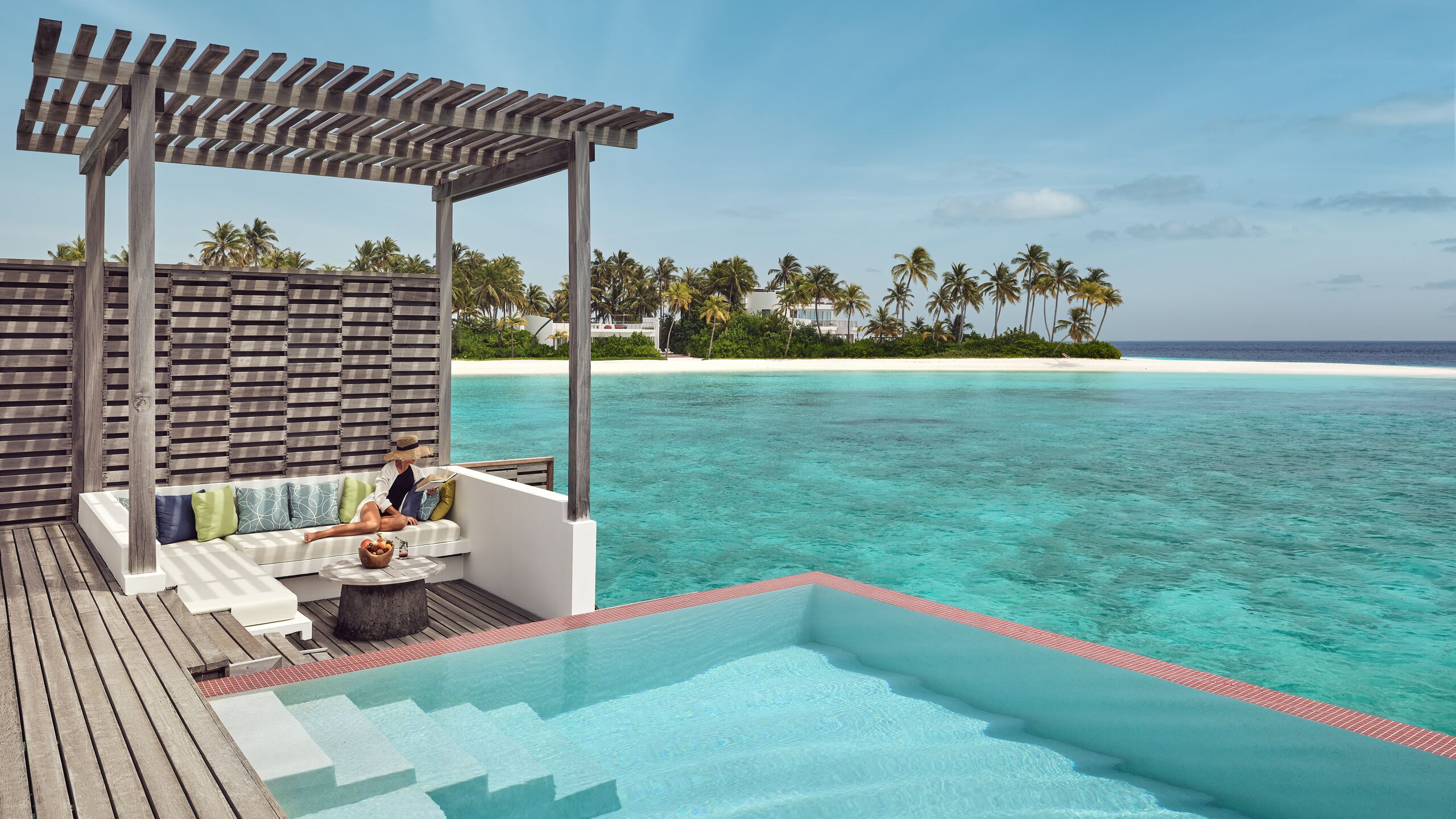 WATER VILLA WITH POOL
6 villaer / 351 kvadratmeter
Water Villa w. Pool ligger østkysten af Olhahali Island, hvorfra du kan nyde en fantastisk udsigt over den turkisblå lagune. De bedste views får du fra villaens rooftop, mens du nedenfor kan nyde en dukkert i din private pool.
DELUXE WATER VILLA WITH POOL
31 villaer / 351 kvadratmeter
Deluxe Water Villa w. Pool er en luksusoplevelse for par og små familier, der ønsker at falde i søvn til lyden af Det Indiske Ocean. Dette retreat med ét soveværelse strækker sig ud over Det Indiske Ocean, med en nedsænket privat pool ved et skyggefuldt loungeområde. Her får du ydermere en privat rooftop, hvor du kan nyde panoramaudsigt.
BEACH VILLA WITH POOL
15 villaer / 351 kvadratmeter
Beach Villa w. Pool er en helt særlig oplevelse på Jumeirah Maldives. Her får du en villa med ét soveværelse og egen infinity pool, der nærmest smelter i et med det kridhvide sand og turkisblå vand. Slap af på din tagterrasse eller ved poolen og nyd udsigten, som kun tilhører dig.
PRESTIGE WATER VILLA WITH POOL
5 villaer / 369 kvadratmeter
Prestige Water Villa w. Pool på Jumeirah Maldives er resortets største ét soveværelses villa, og ligger over lagunen mod vest. Nyd eget soldæk og infinity pool samt en stor tagterrasse, hvor du kan nyde in-villa dining eller bare læse en god bog.
TWO BEDROOM WATER RESIDENCE WITH POOL
4 villaer / 680 kvadratmeter
Two Bedroom Water Residence w. Pool er på hele 680 kvadratmeter totalt, og er den perfekte villa, for en uforglemmelig getaway, med venner eller familie. Forkæl dine kære med denne idylliske villa med gulv til loft-vinduer og udsigt til din private solterrasse og infinity pool. Den udvidede rooftop er det perfekte sted at samles for at nyde solnedgangen sammen.
TWO BEDROOM BEACH RESIDENCE WITH POOL
4 villaer / 680 kvadratmeter
Two Bedroom Beach Residence w. Pool byder på hele 680 kvm plads at boltre sig på. En uforglemmelig villa til at hylde livet sammen med venner og familie, der bare ønsker at koble fra, nyde verdens bedste udsigt og være afskåret fra resten af verden. Din enorme rooftop byder på mere plads end du har brug for, og indbyder til kølig vin og cocktails. Din infinity pool ved stranden er det første du møder, før du når ud til det uberørte turkise vand fra Det Indiske Ocean.
THREE BEDROOM WATER RETREAT WITH POOL
1 villa / 997 kvadratmeter
Three Bedroom Water Retreat w. Pool er en af de mest luksuriøse indkvarteringer i Maldiverne. Du bliver sejlet direkte til din villa, når du ankommer til Jumeirah Maldives. Nyd knap 1000 kvm plads, egne fitness faciliteter, sauna, enorm rooftop, en 18 meter lang, privat infinity pool og uendeligt meget mere.
THREE BEDROOM BEACH RETREAT WITH POOL
1 villa / 970 kvadratmeter
Three Bedroom Beach Retreat w. Pool er kongen af strandvillaer, og giver dig 970 kvm med plads at hygge sig på. Her har du adgang til privat strand, mens du i villaen finder eget fitness, sauna, højt til loftet, gigantisk stue og åbent layout, som fører jer direkte ud til juvelen - terrassen med privat pool (18 meter lang).
MAKAI REALISERER
DIN REJSE TIL JUMEIRAH MALDIVES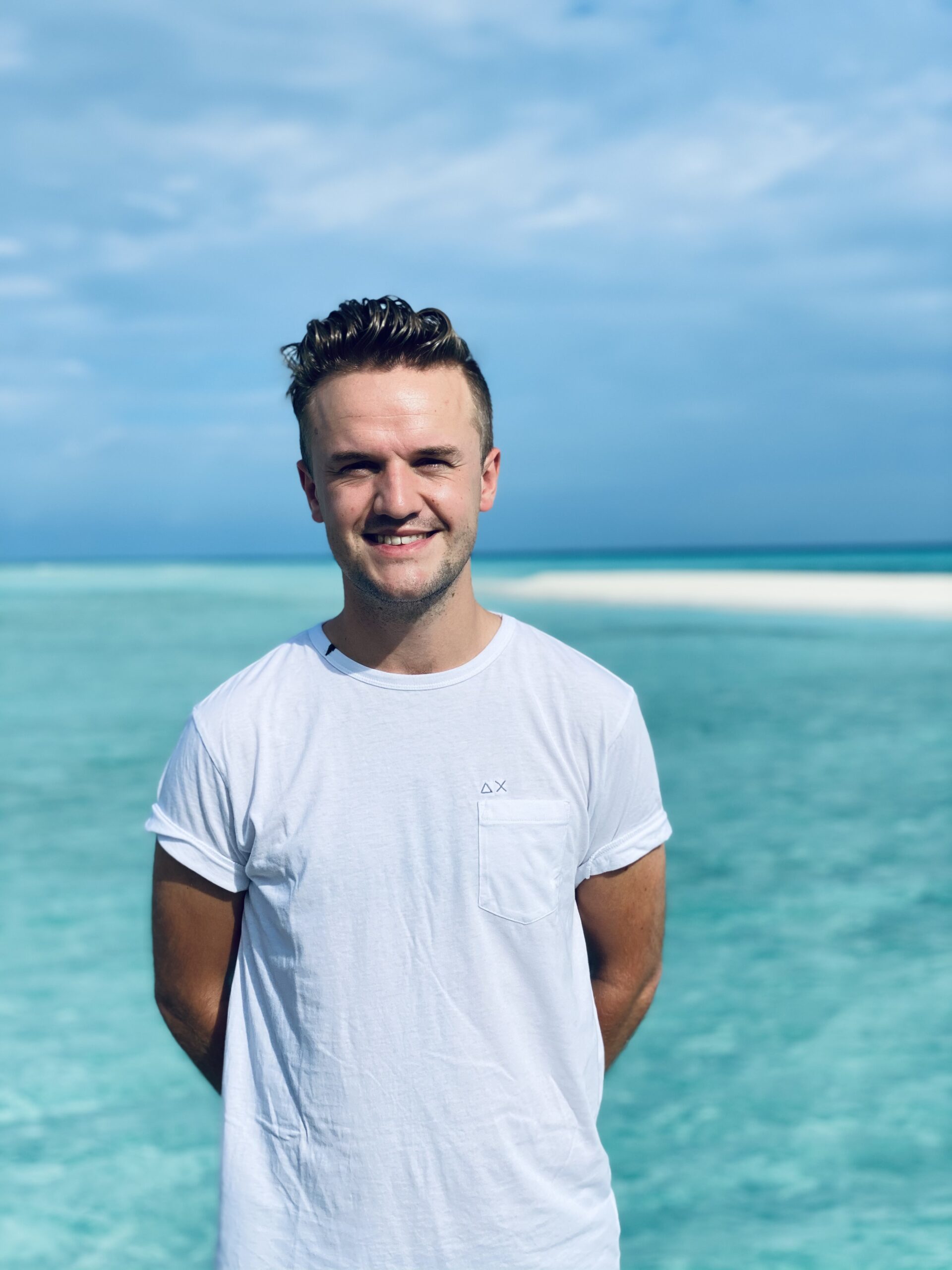 Jumeirah Maldives er et designmesterværk, og vi er helt vilde med de enorme villaer, alle med privat pool og egen rooftop. Arkitekturen smelter perfekt sammen med det funklende turkisblå hav, de lækre privat pools samt frodige, grønne vegetation.
Alt er i top på Jumeirah Maldives, og det inkluderer også faciliteter såsom bl.a. tennisbane, Kids Club samt naturligvis både service og kulinariske oplevelser.
Elsker du "Beach Club" vibes, moderne interiør og eksteriør samt et hipt sted med masser af aktiviteter, så vil du elske Jumeirah Maldives.
RASMUS KIRKETERP
CO-FOUNDER & TRAVEL DESIGNER
Inspiration, eventyrlige rejseforslag og spændende nyheder, leveret direkte på mail.
FØLG MED PÅ INSTAGRAM
Enestående oplevelser er endnu bedre, når de deles med andre. Post dine rejseoplevelser med Makai på Instagram @makaitravels med hashtagget #makaitravels.
KONTAKT MAKAI TRAVELS
Har du brug for hjælp til at finde det helt rette rejsemål, det perfekte hotel eller kan du ikke finde det, som du søger, så er vi altid klar til at hjælpe dig. Hver eneste dag - 365 dage om året fra kl. 10-22.