Maldiverne / Det Indiske Ocean
STOR Ø MED ET HAV AF RESTAURANTER, POOLS OG VILLAER
I HJERTET AF RASDHOO ATOLL
Kuramathi Maldives er mere end bare et resort. Faktisk plejede øen, for mange år siden, at husere 3 forskellige resorts.
I dag er resortet et af Maldivernes mest populære, hvilket blandt andet skyldes det livlige og let tilgængelige husrev, de mange aktiviteter og faciliteter inklusiv blandt andet tennisbaner og fodboldbane, samt de mange à la carte restauranter af høj kvalitet.
Fra det øjeblik, hvor speedbåden eller vandflyet nærmer sig Kuramathi, så får du øje på den knap 1,8 kilometer lange ø, som er spækket med frodig, smuk vegetation.
Meget få ting er bedre end at slentre rundt i junglen, til lyden af rislende palmer, svajende bananplanter og synet af mangefarvede blomster.
Overalt på øen findes der små stier, som tager dig videre ind til ældgamle banyan træer.
Øen er ideel til familier med børn i alle aldre, hvor især Bageecha Kids Club er et stort hit, men også til voksne par, som ønsker at forkæle sig selv med én af mange lækre à la carte restauranter, som Kuramathi isærdeleshed er kendt for. Familier vil elske resortets Two Bedroom Beach Houses, som ligger helt ud til vandkanten, er i to etager og huserer udendørsbadeværelser både oppe og nede. Par vil forelske sig i Kuramathi's villaer med pool, som gælder både Pool Villa på stranden og Water Villa, samt Thundi Water Villa, som alle tre byder på fede infinity pools, helt ud mod havet.
Så uanset om du er på jagt efter et væld af restauranter, ønsker at nyde iskolde cocktails fra chic barer, vil spille fodbold mod lokale eller bare vil slappe af og nyde komforten i en dejlig, rummelig villa, så er Kuramathi et fremragende valg.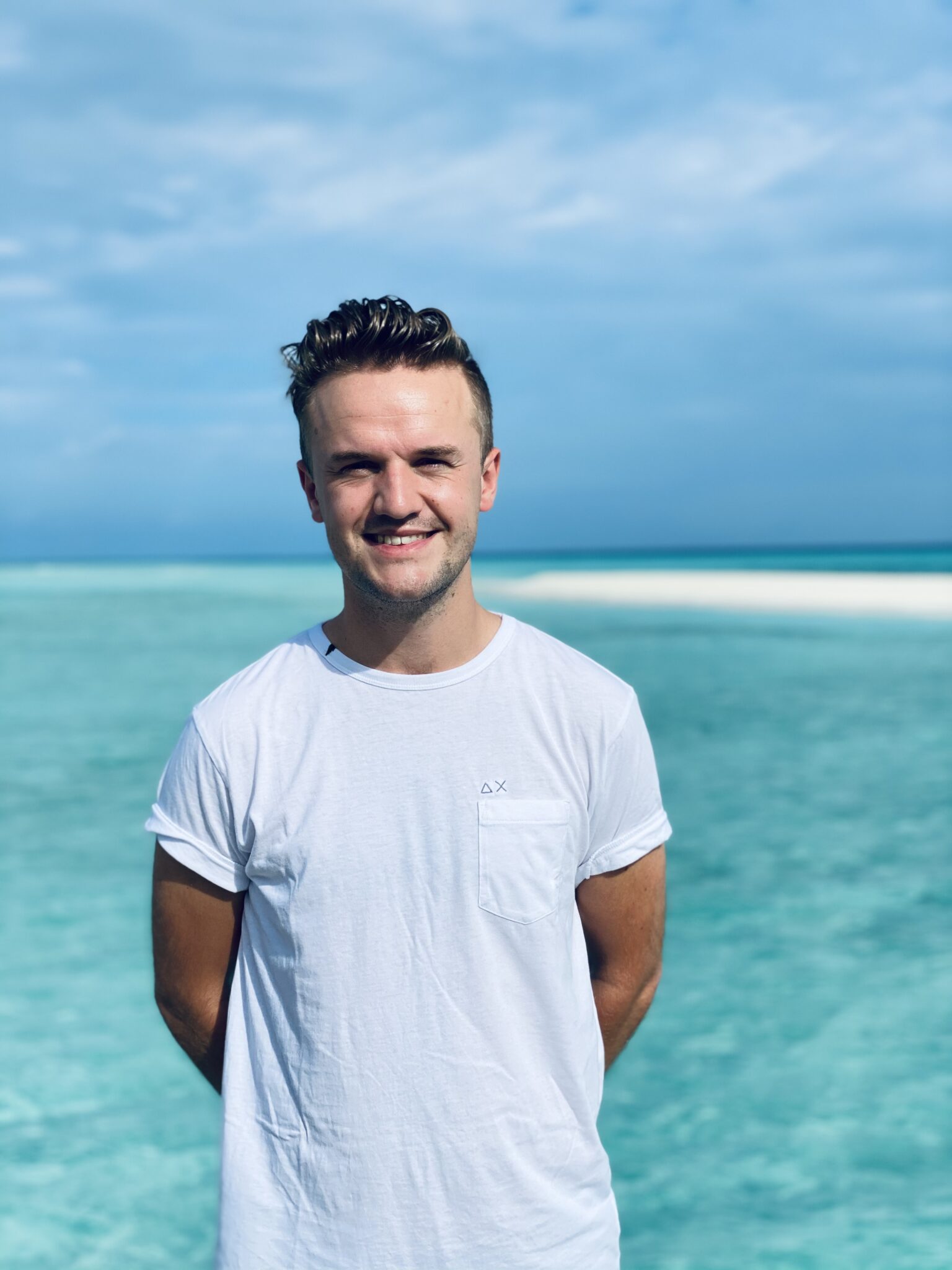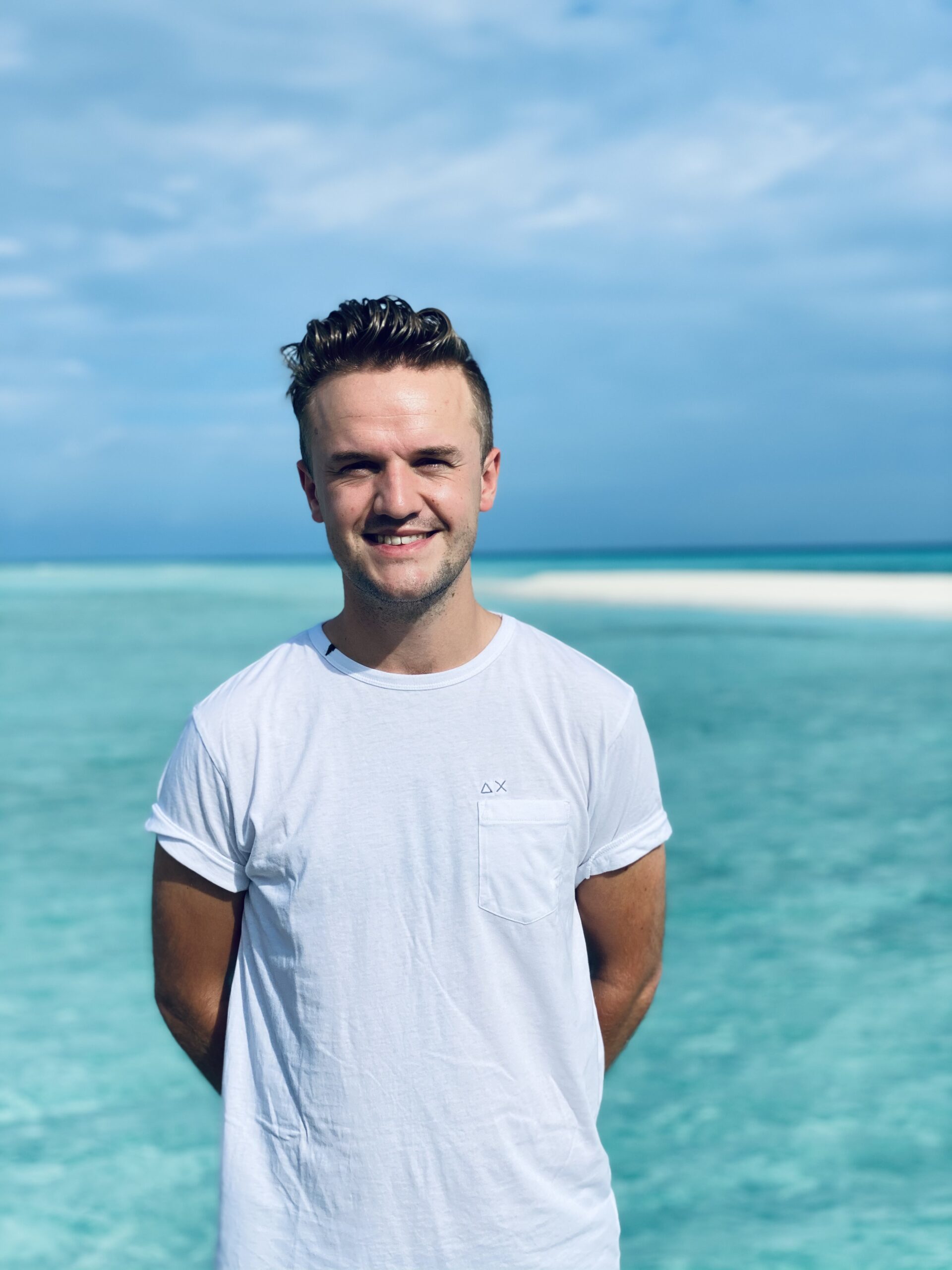 RASMUS KIRKETERP
CO-FOUNDER & TRAVEL DESIGNER
Personlig Rådgivning
Er du også vild med Kuramathi Maldives? Lad os sammen realisere din rejse til Maldiverne.
Modtag tilbud
De mest populære faciliteter
343 Værelser | 11 Restauranter
Børnevenligt
Dykkervenligt
Parvenligt
Privat pool
All inklusive
Familievenlig
Gratis vandsport
Husrev
Børneklub
Stor ø
Snorkling
Speedbåd transfer
Vandfly transfer
Vi anbefaler
Wellness yoga
Highlights (10)
Ikonisk sandbanke med omkransende, stor turkisblå lagune
Fantastisk husrev tilgængeligt direkte fra stranden
Frodig og smuk vegetation med alverdens planter, blomster og træer
8 à la carte restauranter af sublim kvalitet - inklusiv i Select All-Inclusive
Store Two-Bedroom Beach Houses med kapacitet på op til 6 voksne
Store Water Villa with Pool, med kæmpe terrasse og infinity pool
Et af de først-åbnede og mest ikoniske resorts i Maldiverne
Mange dykkersites inklusiv Shark Point i nærheden af resortet
Indbydende barer og lounges inklusiv Champagne Loft og Sky Bar
Fede pools med spektakulære lokationer såsom ved Sand og Laguna Bar
Se flere
LIVET PÅ KURAMATHI
Dagene på Kuramathi er skønne, og de går med at nyde måltider på fantastiske restauranter såsom The Reef (Seafood), Kobe (Teppanyaki) og Siam Garden (Thai). Snorklingen ved husrevet er fantastisk, og kan byde på havskildpadder, forskellige rokker, alverdens fisk og ufarlige hajer.
Læn dig tilbage i din villa, med eller uden pool, og lad dig forkæle på denne maldiviske perle.
FANTASTISKE RESTAURANTER & BARER
Kuramathi er spækket med highlights, og de kulinariske oplevelser er et af vigtigste. I tillæg til 3 hovedrestauranter af god kvalitet (buffeter med live cooking stations), så er der hele 9 á la carte spisesteder at nyde på øen.
Vælger du resortets prisvindende "Select All-Inclusive", så får du fri adgang til alle øens restauranter, som bl.a. inkluderer thai-specialiteter på Siam Garden, autentisk indisk på Tandoor Mahal, fransk fine-dining på Duniye og italiensk på Palm.
Vores favoritter er seafood restauranten "The Reef" samt teppanyaki på "Kobe". Er du vild med steaks, så er "Island Barbeque" et fantastisk valg!
KURAMATHI'S AKTIVITETER
Spil fodbold med og mod resortets gæster og personale (de er fodbold-fanatikere i Maldiverne). Send de mindste i resortets store Bageecha Kids Club, hvor der er pools og rig mulighed for at bruge kreative evner. Spil et slag tennis midt i junglen eller besøg Kuramathi's fitness center.
Er du pro-dykker, eller ønsker du at lære det, så besøg Rasdhoo Divers – et af de bedste dykkercentre i Maldiverne. Dykningen er sublim ved Kuramathi, hvor du kan være heldig at dykke side om side med alt fra større hajer til manta rays.
HUSREV, LAGUNE OG POOLS
Det er ikke kun dykningen, som er i top på Kuramathi. Øen er nemlig flankeret af et spektakulært husrev, som er let tilgængeligt via diverse kanaler direkte fra stranden.
Her kan du nemt snorkle i timevis, side om side med havskildpadder, diverse rokker og farverige, spændende fisk.
Mens den ene side af Kuramathi er et paradis for snorklere, så er den nord- og vestlige del af øen himmelsk for dem, som er kommet til Maldiverne for at opleve en af de mange smukke laguner. Lagunen her strækker sig så langt øjet kan se, og du kan vade flere hundrede meter ud, direkte fra øens ikoniske sandbanke.
Er du mere til pools, så har Kuramathi 3 af disse, beliggende forskellige steder på øen. Vi er især vilde med den tropiske pool i hjertet af øen, mens også infinity poolen ved Laguna Bar er et stort hit.
RESTAURANTER & BARER
11 RESTAURANTER OG 7 BARER
Kuramathi Maldives har hele 8 á la carte restauranter,
samt 7 barer på øen – alle af høj kvalitet.
SIAM GARDEN
Siam Garden ligger midt i den frodige vegetation på Kuramathi og giver gæsterne en autentisk thai-oplevelse. Her serveres nemlig smagfulde retter fra de fire regioner i Thailand. Menuen omfatter et bredt udvalg af fisk, skaldyr, vegetariske retter, oksekød og kylling samt lækre thailandske friske frugter, desserter og asiatisk urte-te.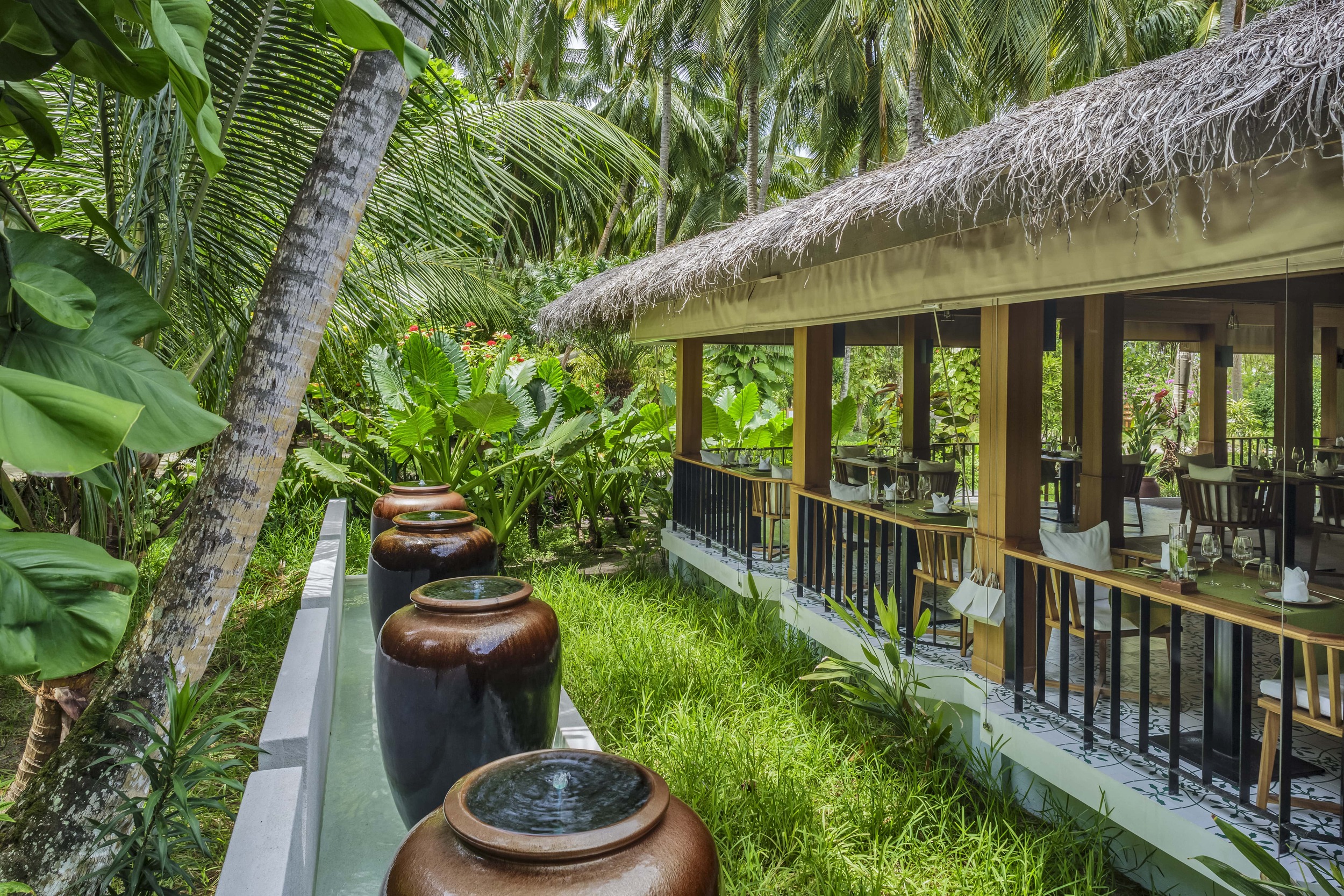 TANDOOR MAHAL
Tandoor Mahal er en indisk-inspireret restaurant, omgivet af en af Kuramathi's smukke, frodige haver, og giver gæsterne mulighed for at opleve det traditionelle, autentiske indiske køkken med lækre karryretter, ris, biriyani og et udvalg af smagfulde indisk brød.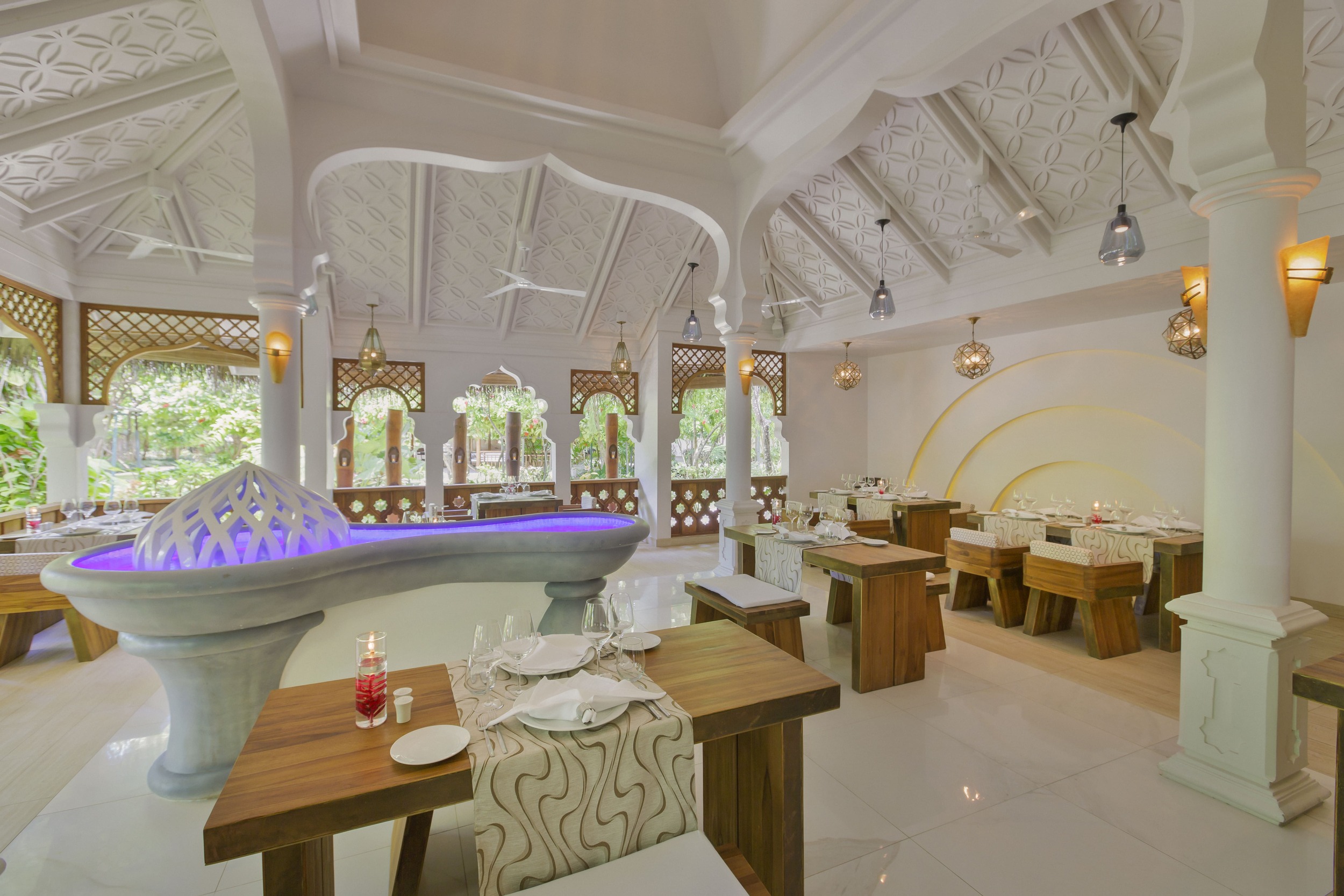 THE REEF
The Reef er en af vores favoritter på Kuramathi, og er en intim restaurant, som ligger over den turkise lagune. Det er Kuramathi's signatur-restaurant og specialiserer sig i fisk og skaldyr. Her får gæsterne frisk seafood fra det omkransende Indiske Ocean. Her kan du bl.a. nyde tun, grouper, snapper og kammuslinger.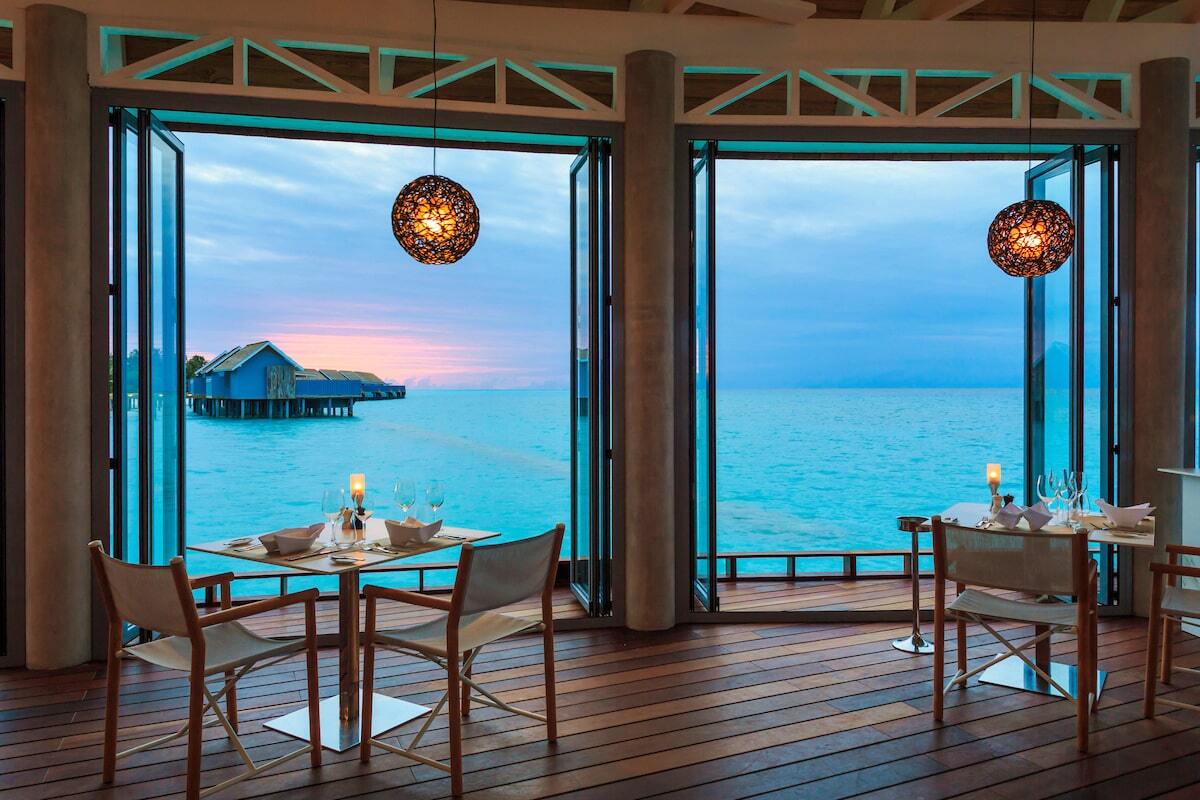 KOBE
Kobe er en teppanyaki-restaurant, beliggende i The Reef restauranten over vandet. Teppanyaki er en japansk køkkenstil, hvor retter med kød, fisk og skaldyr tilberedes "live", som en del af et kulinarisk show. En stor oplevelse og et must på Kuramathi.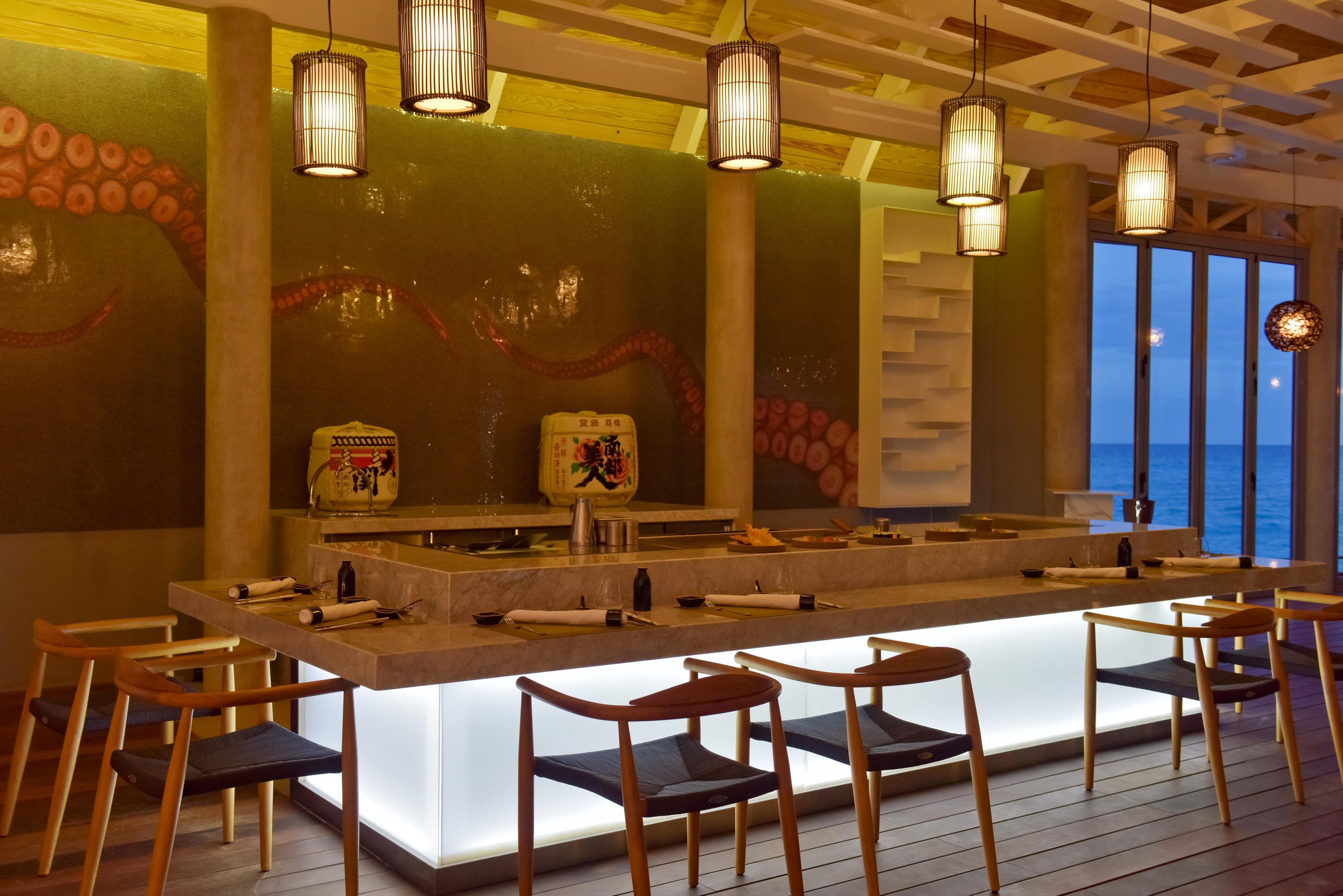 PALM
Palm byder på en kombination af kulinariske lækkerier fra Middelhavets kyster. Her serveres salater fra øens egen produktion, antipasti, pastaretter, traditionel italiensk pizza med sprød, tynd skorpe og hjemmelavet is med både tropiske og klassiske smagsvarianter. Når det bliver aften, forvandles Palm til en blanding af mad, vin, kultur og "joie de vivre".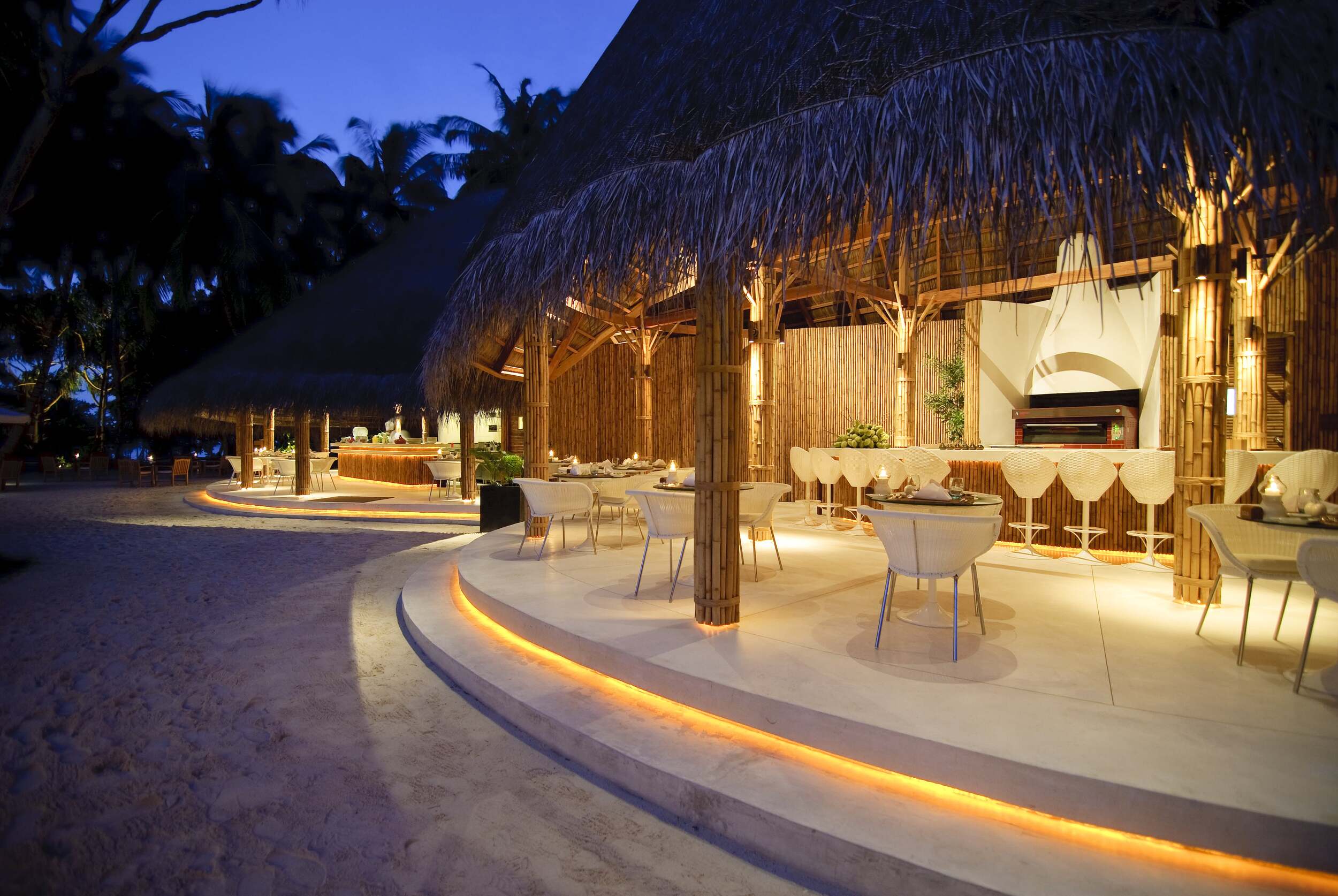 DUNIYE
Duniye, Kuramathi's fine-dining restaurant, ligger i hjertet af øen. Smag dig mæt i håndplukkede udvalg af forretter og velkendte vine fra verden over. Forkæl dig selv og dine smagsløg med specialiteter fra verdenskøkkener, når du begiver dig ud på dette gastronomiske eventyr.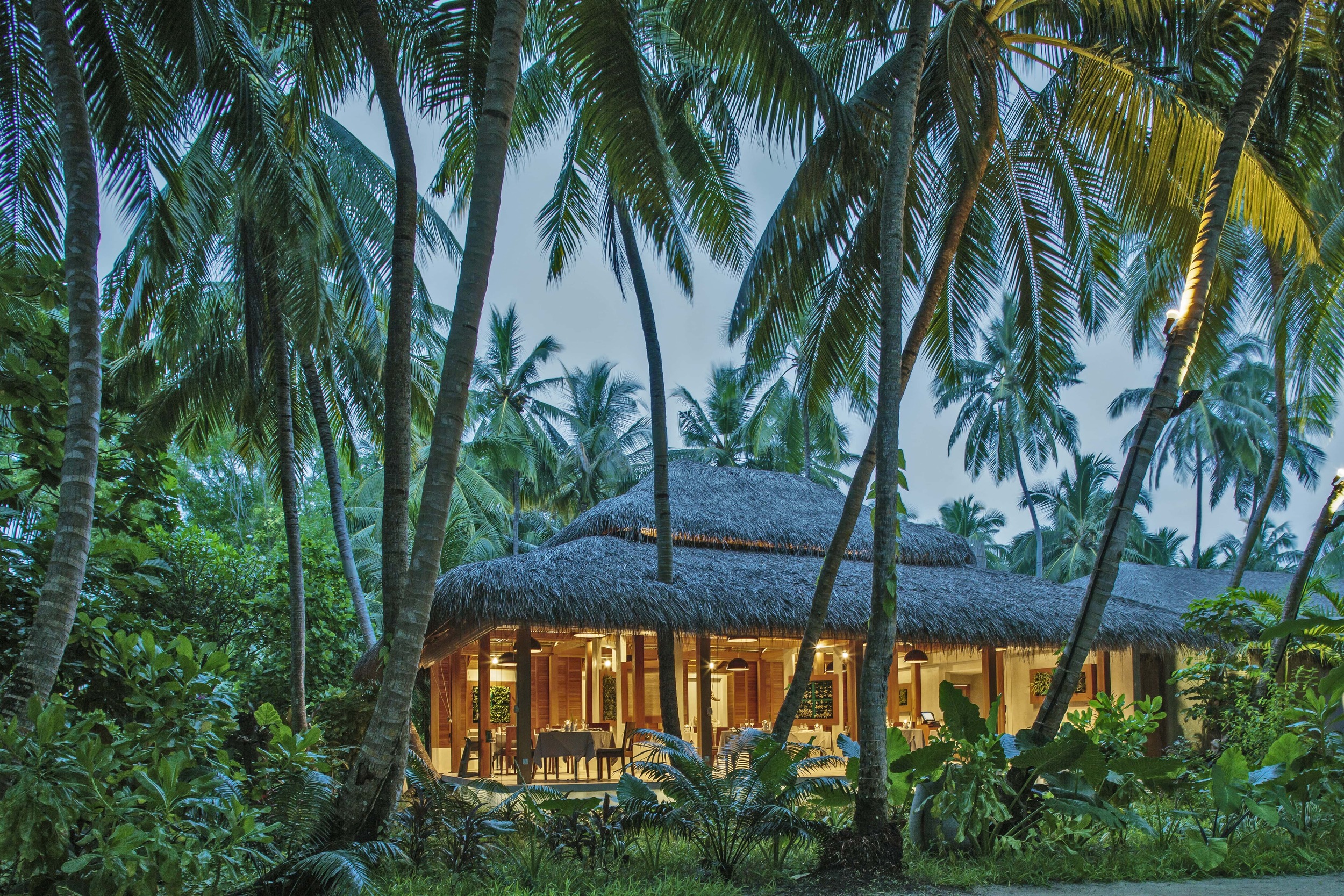 INGURU
Inguru ligger på lagunesiden af Kuramathi og har udsigt over det smukke Indiske Ocean. Her får du et stort udvalg af asiatiske retter med et let vestligt twist. Du kan nyde små snacks i løbet af dagen og det udsøgte asiatiske fusionskøkken til aften, med det fantastiske, omkransende hav som kulisse.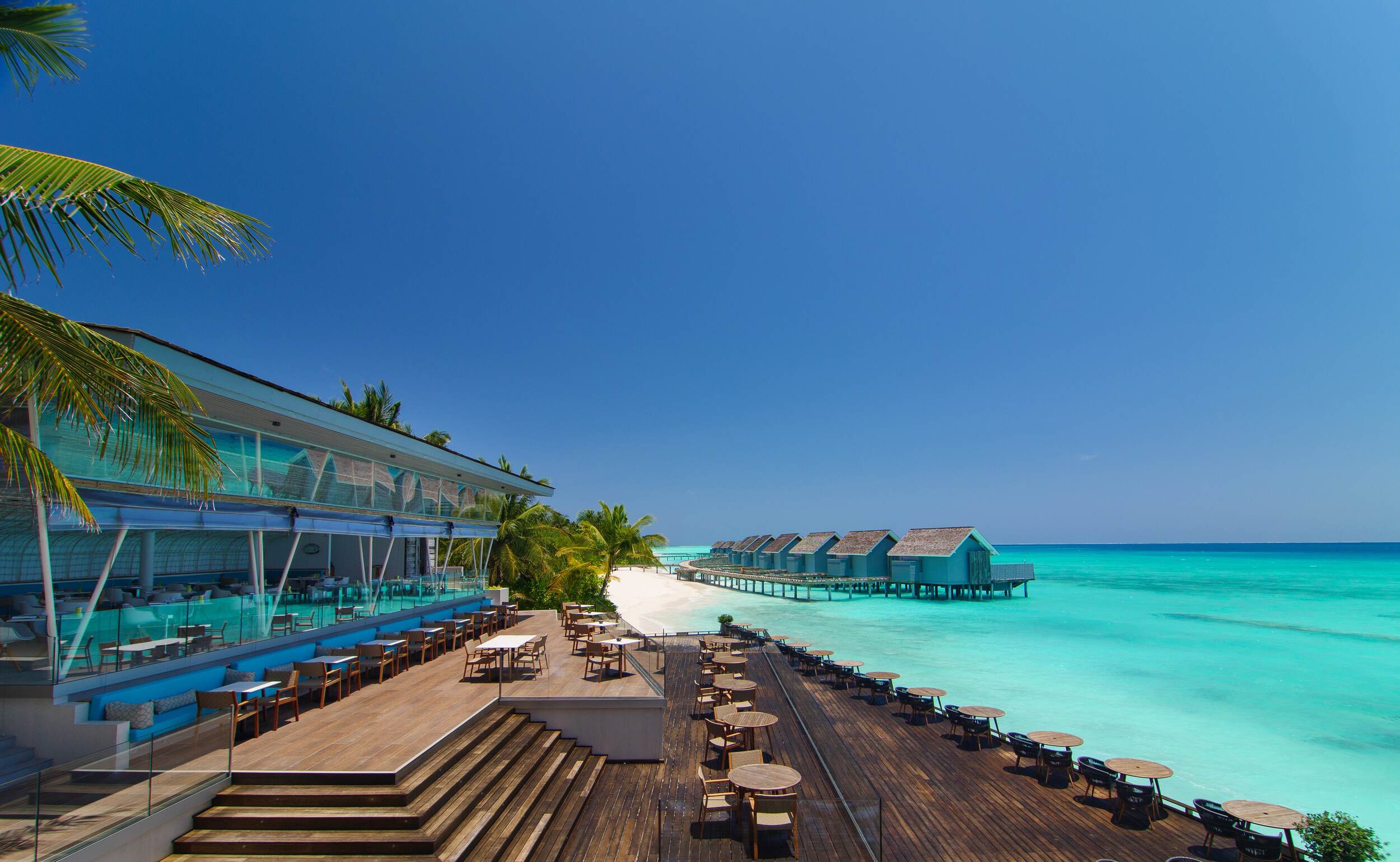 ISLAND BARBEQUE
Island Barbeque er på Kuramathi's version af et steakhouse, og er beliggende på stranden med udsigt til havet og infinitypoolen. Her serveres kød grillet over trækul, flamberede retter og et udvalg af økologiske grønsager fra øens indre. Disse herligheder suppleres med fine vine.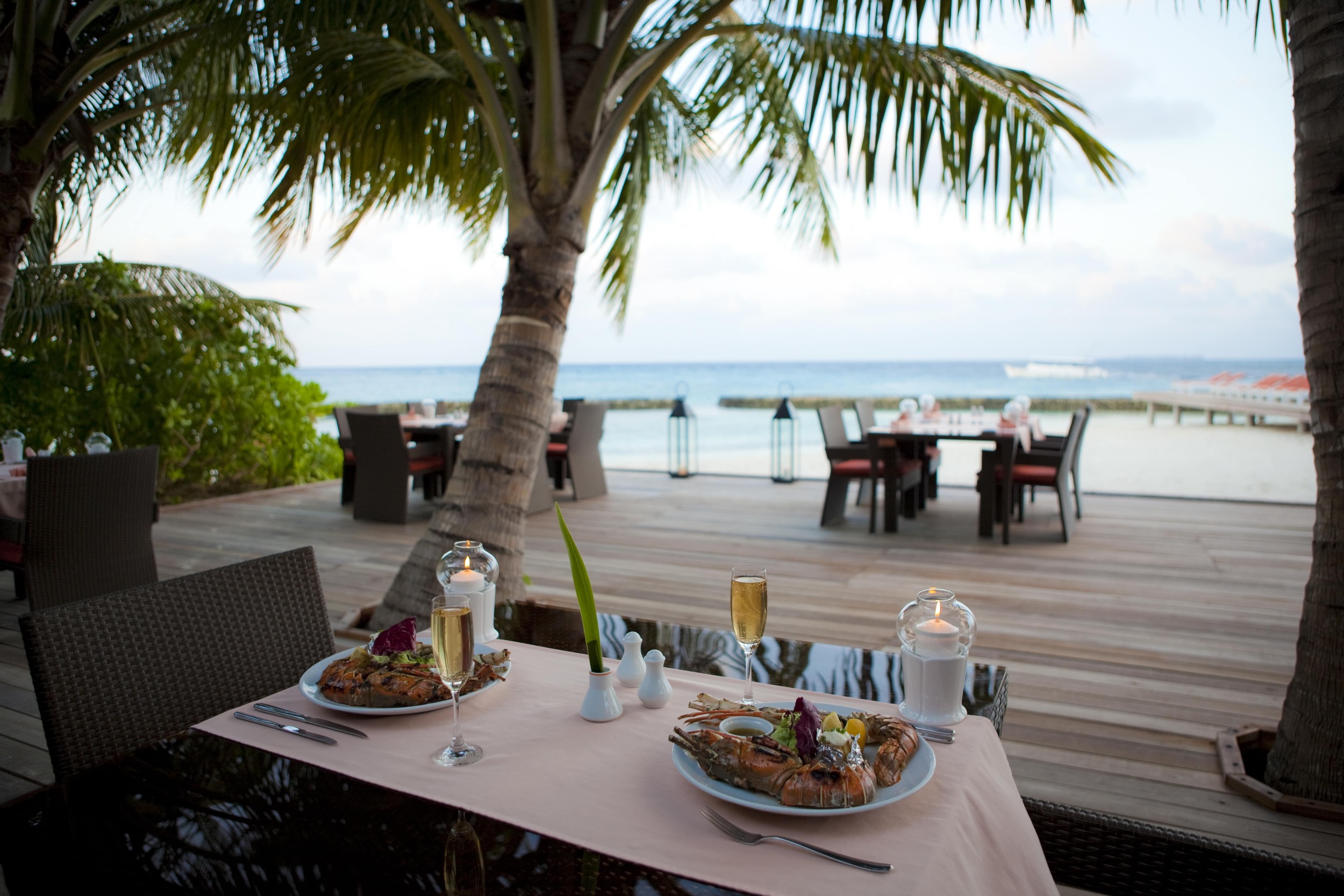 HARUGE / MALAAFAIY / FARIVALHU
Disse tre buffetrestauranter på Kuramathi ligger på forskellige dele af øen og er åbne til både morgenmad, frokost og aftensmad. Til alle måltider er der et stort udvalg af alt fra frisk bagværd og juices til smagfulde salater, lækre kødretter og dejlige desserter. Du bliver allokeret én af disse buffetrestauranter ud fra, hvor du bor på øen.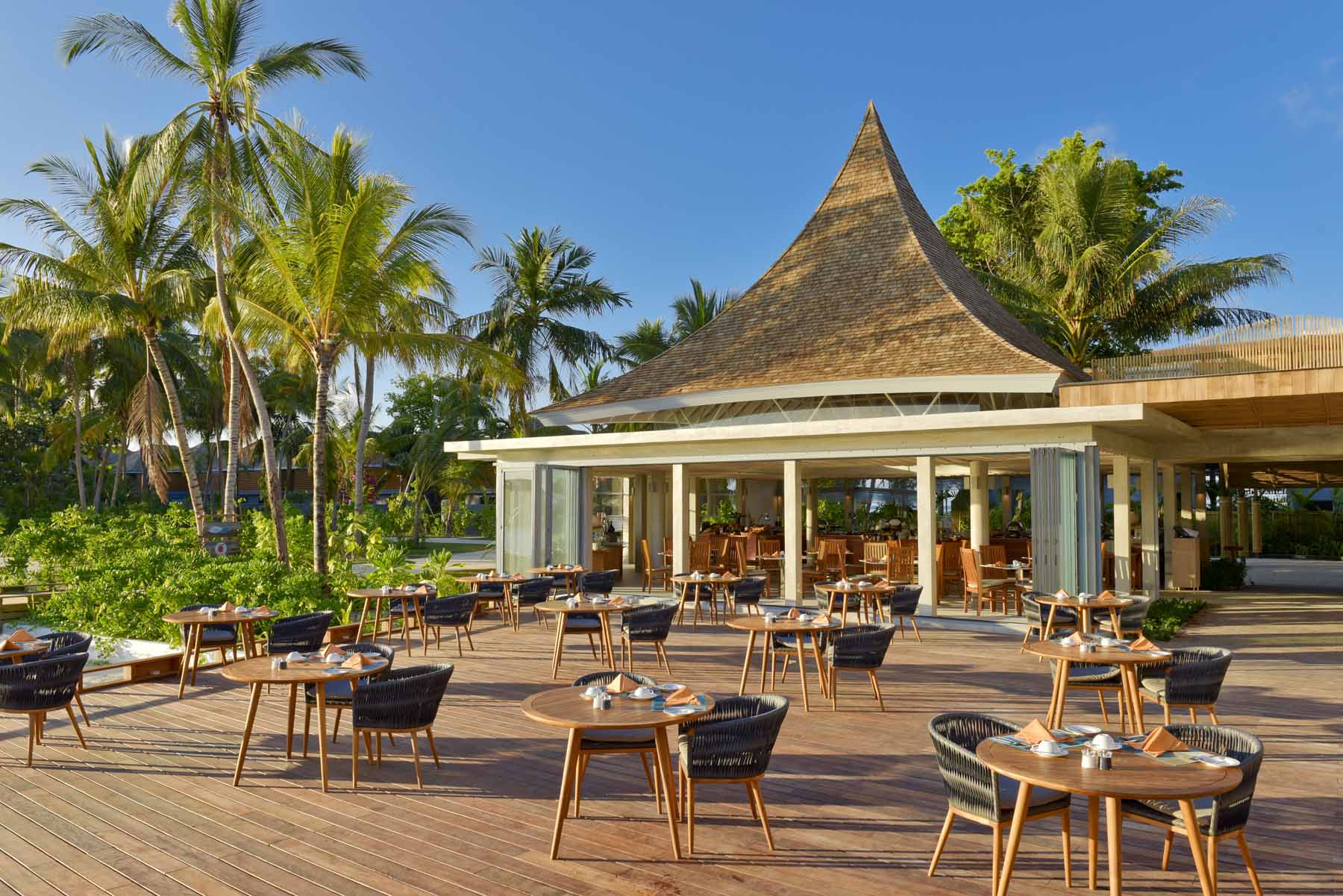 Vi er vilde med Kuramathi's Two Bedroom Beach House i 2 etager, som ligger helt ud til vandkanten. Der er plads til 6 voksne. Vil du bo over vandet, så elsker vi resortets Water Villa w. Pool, som har åbent layout, kæmpe terrasse med udendørsbruser samt stor privat infinity pool.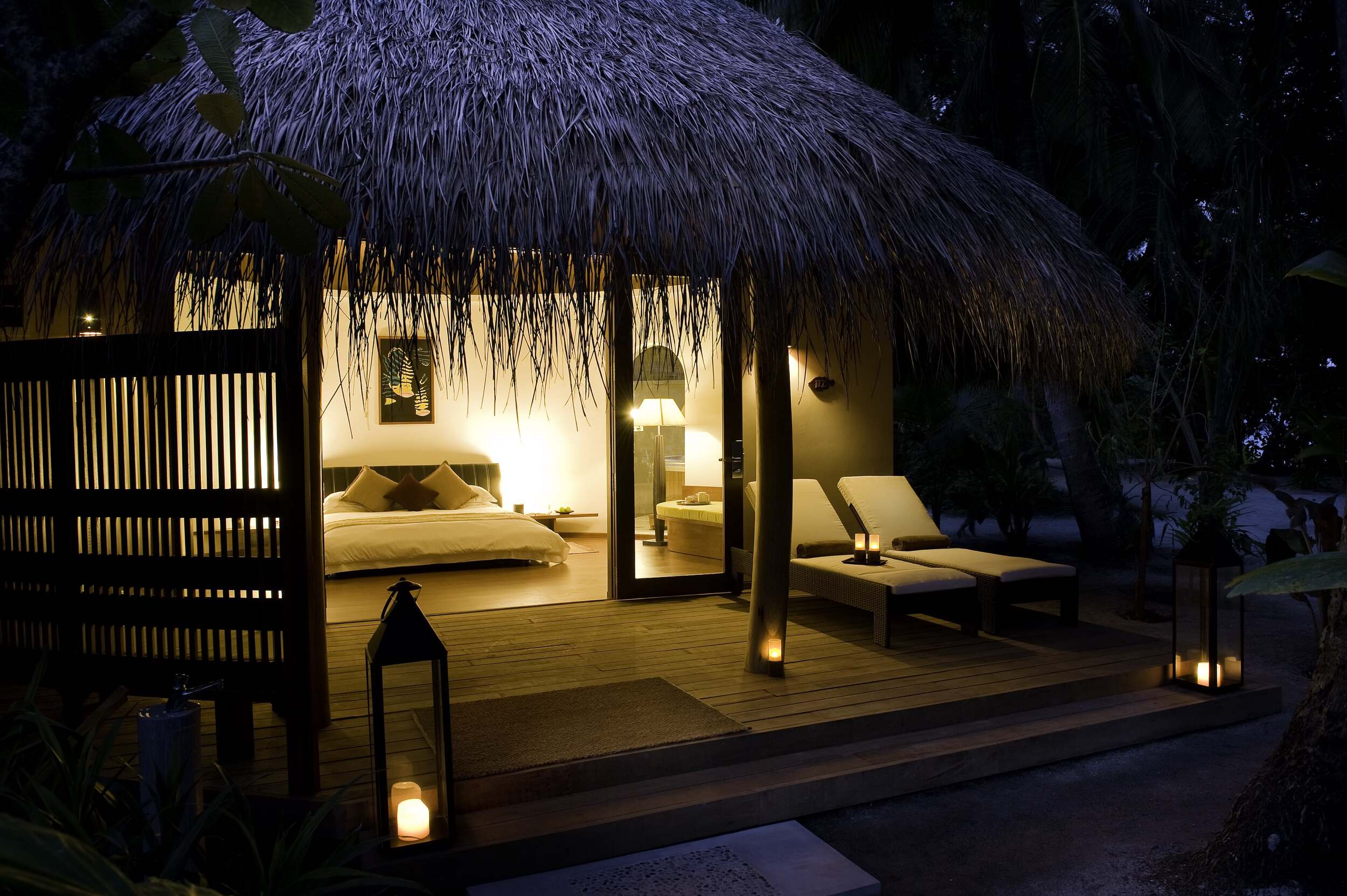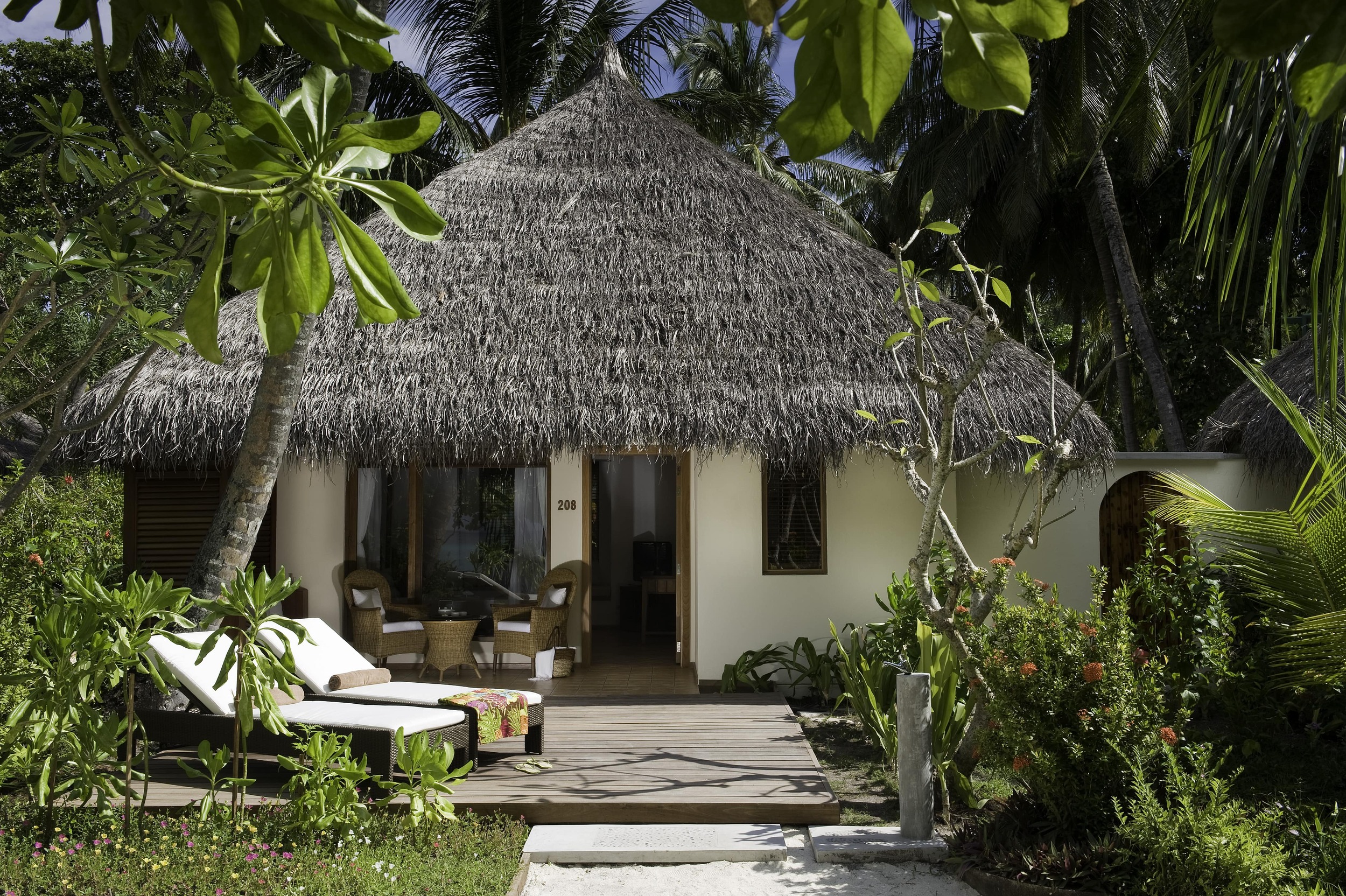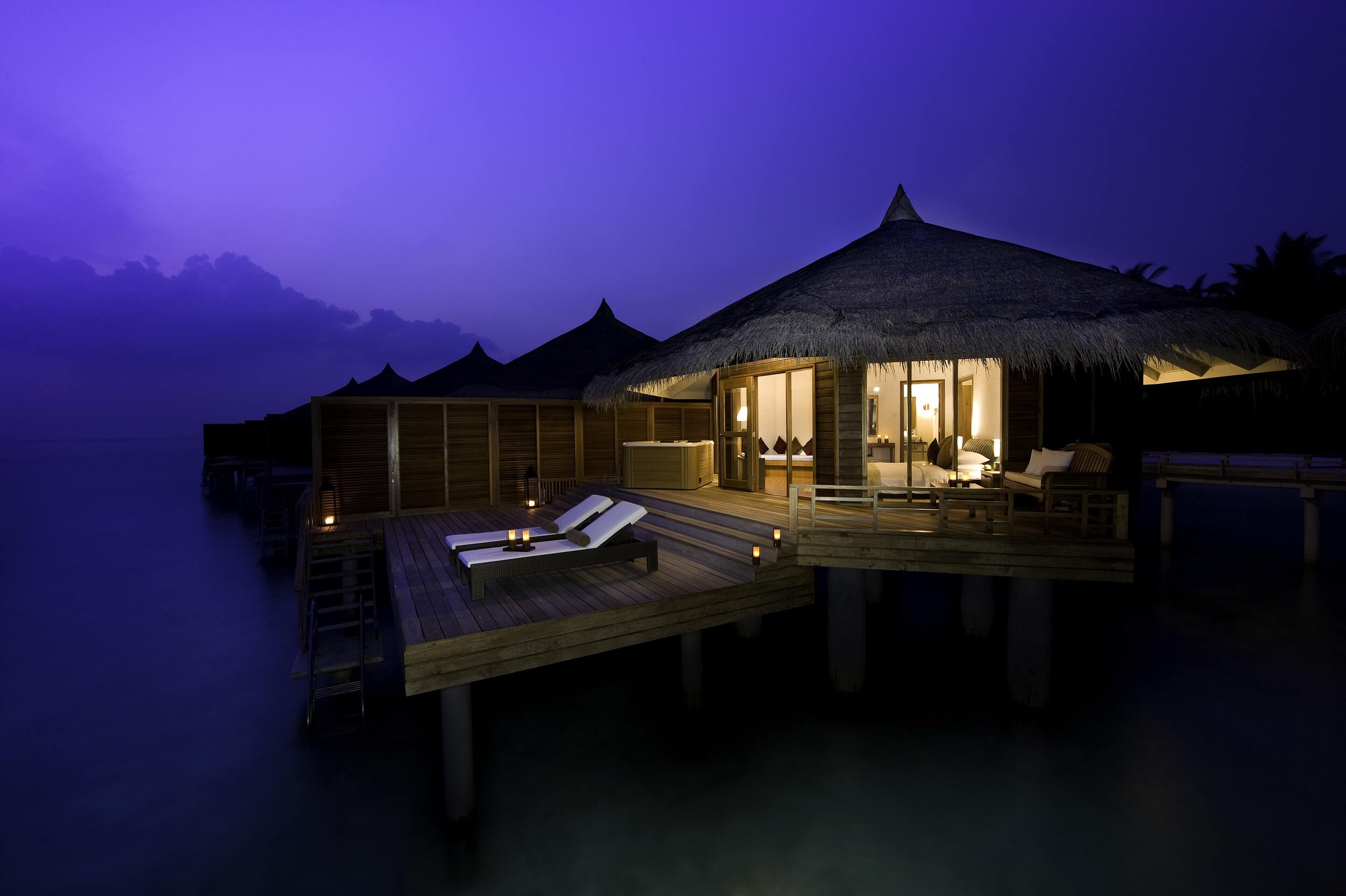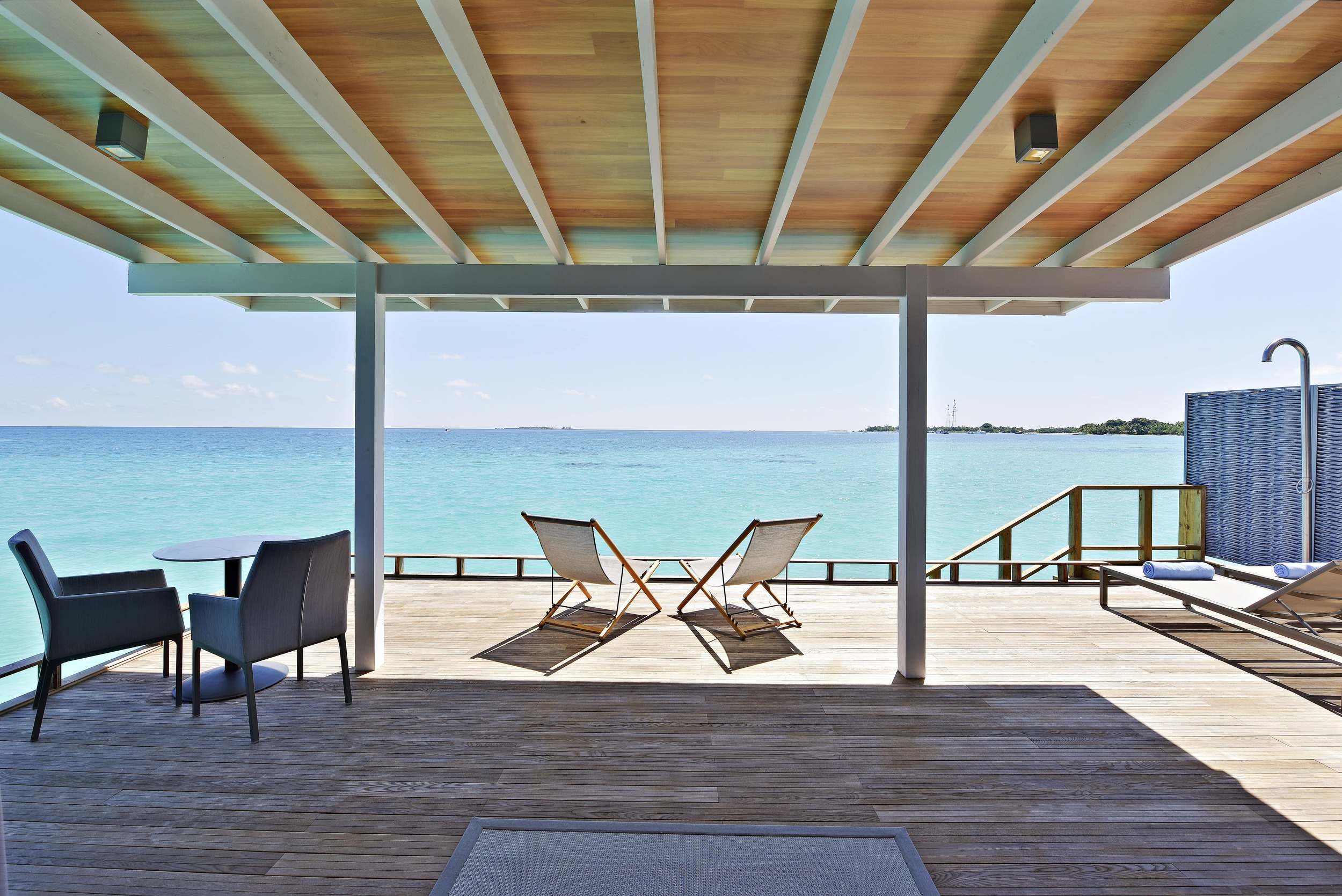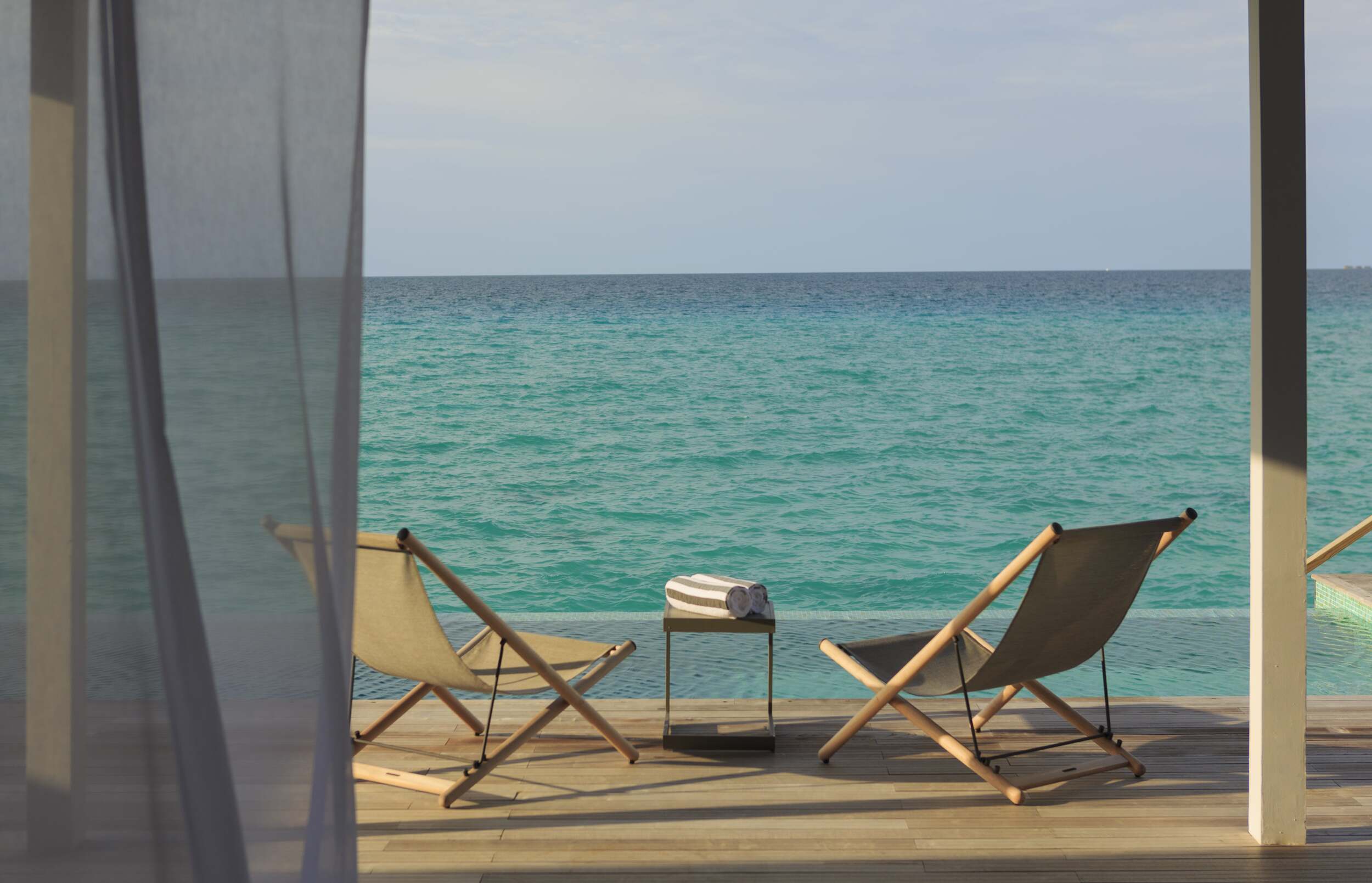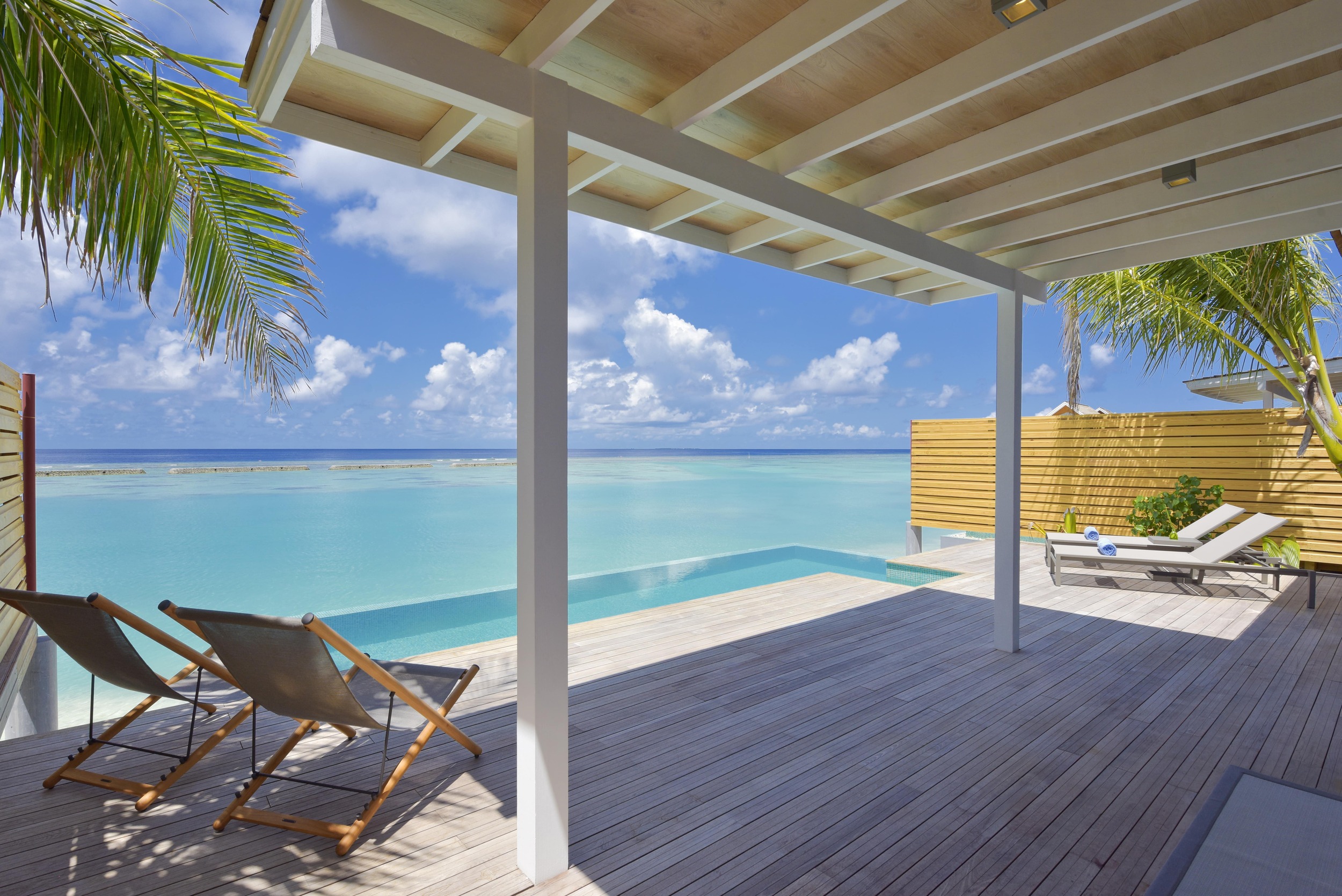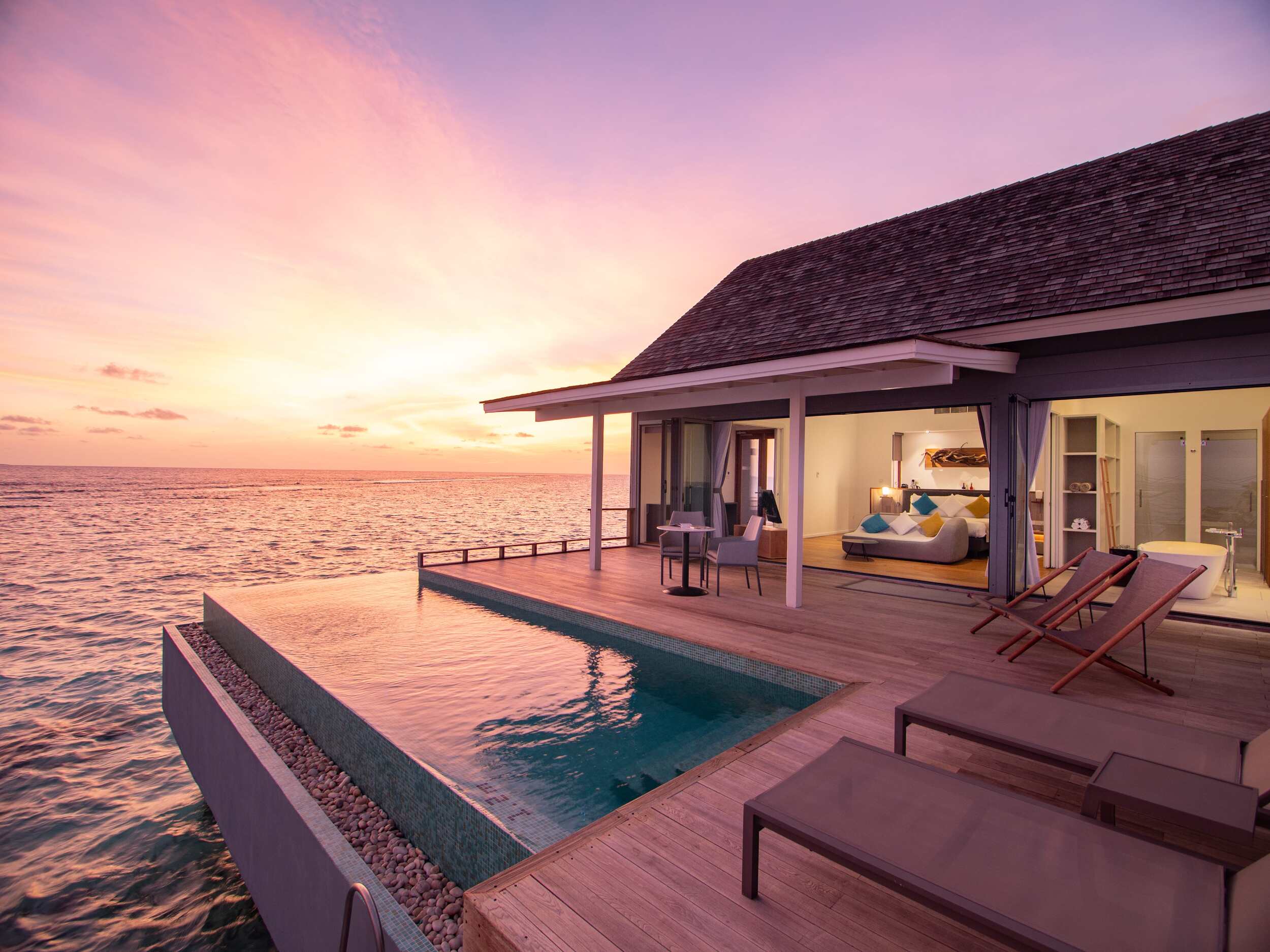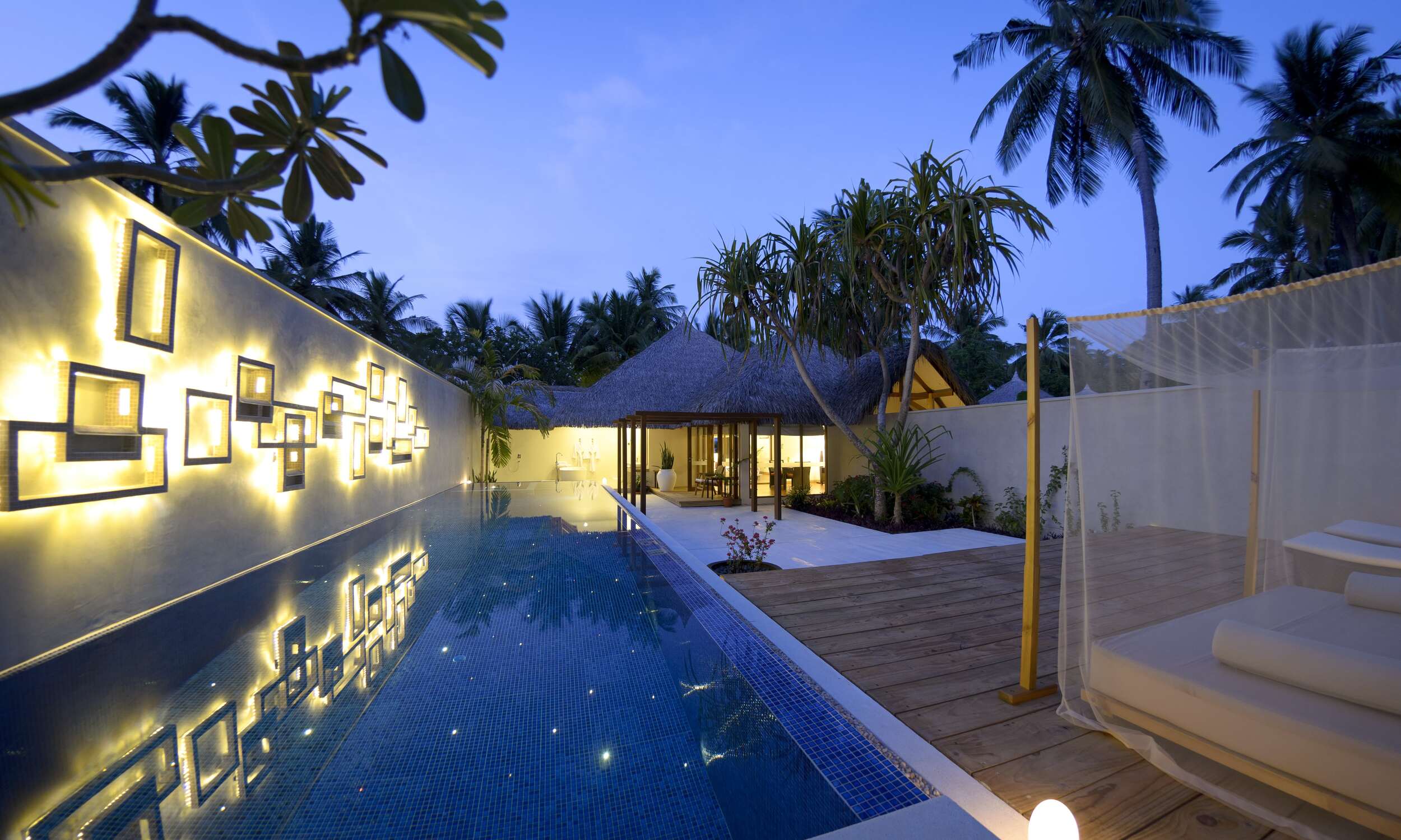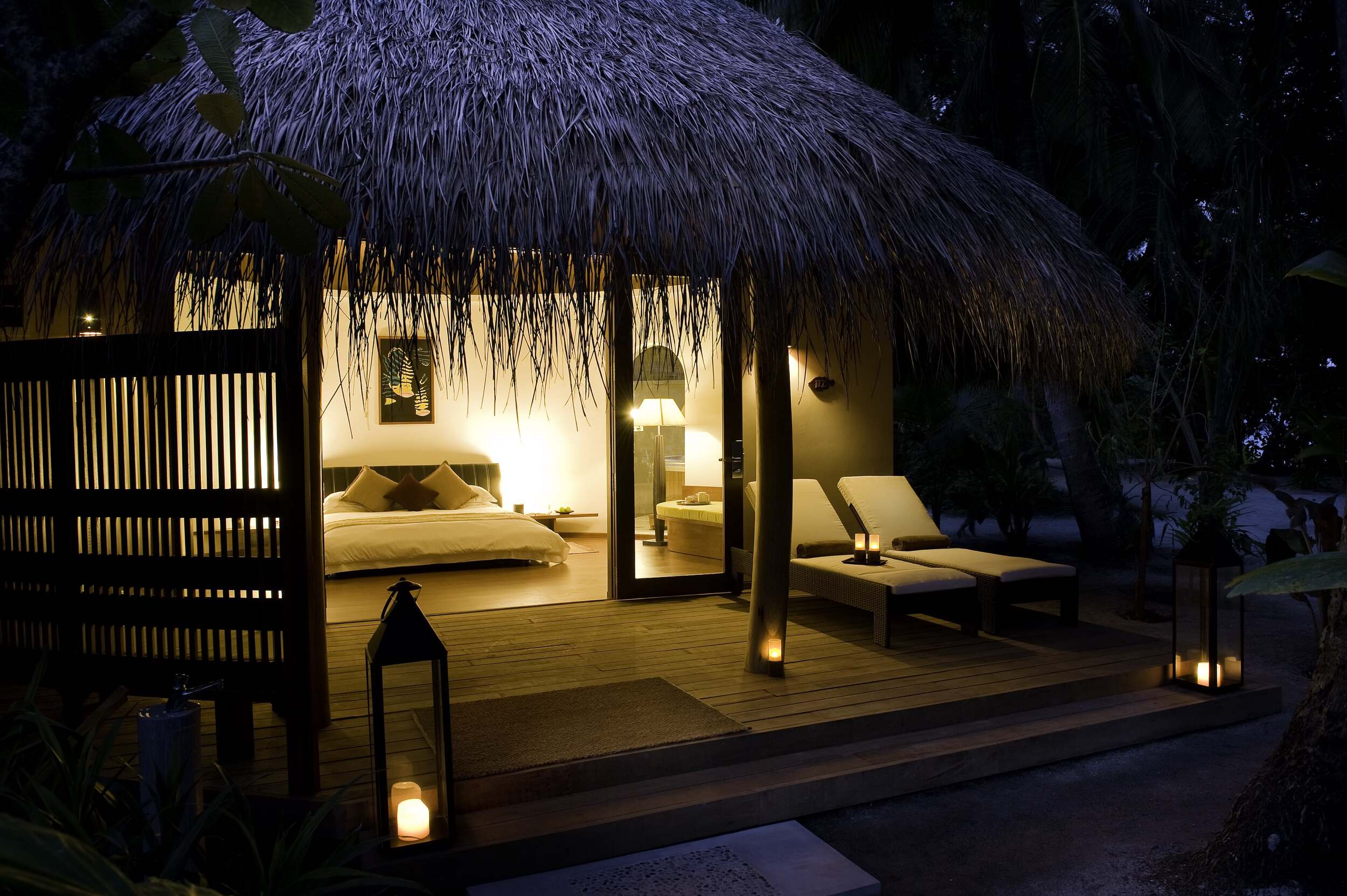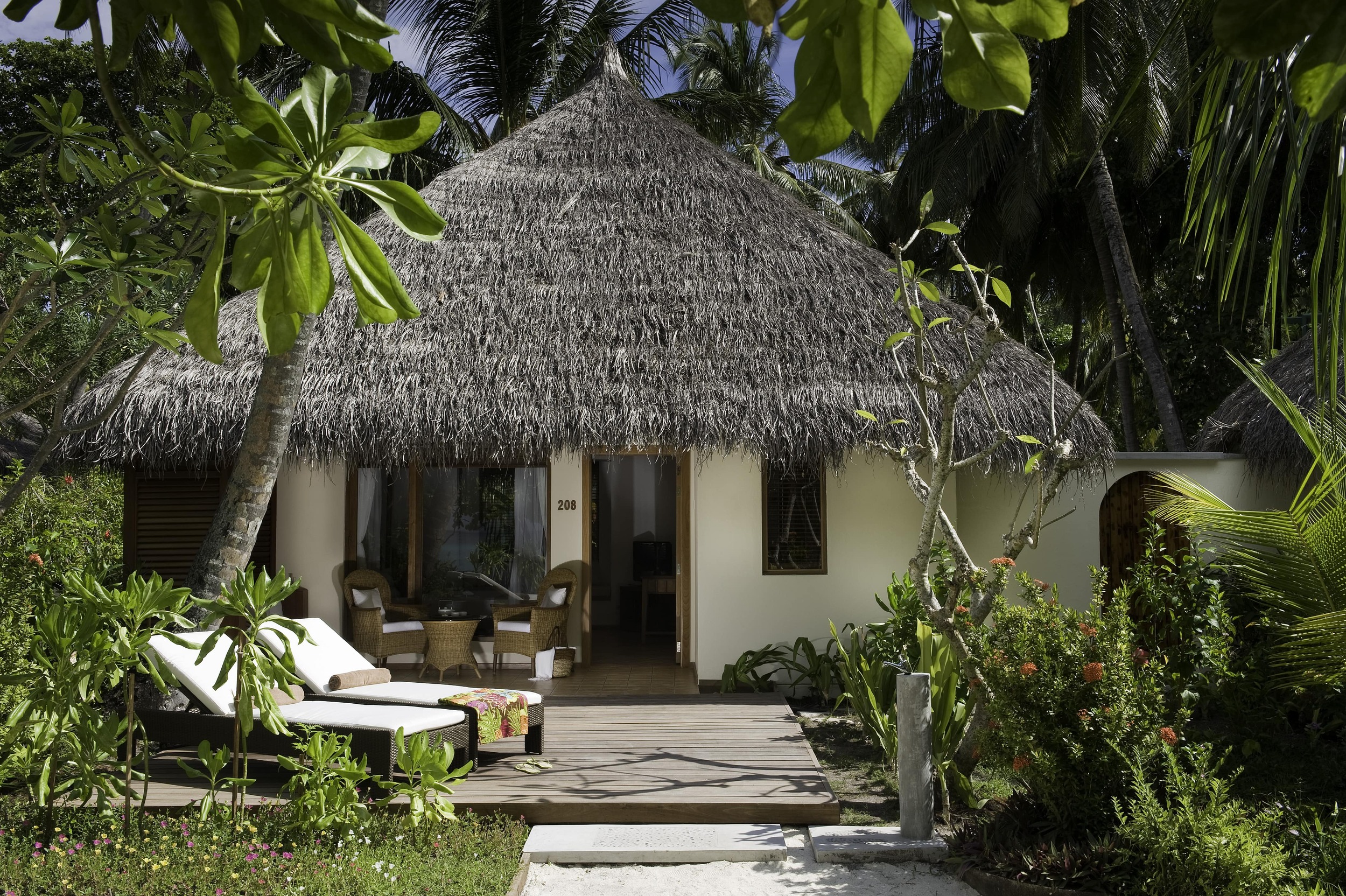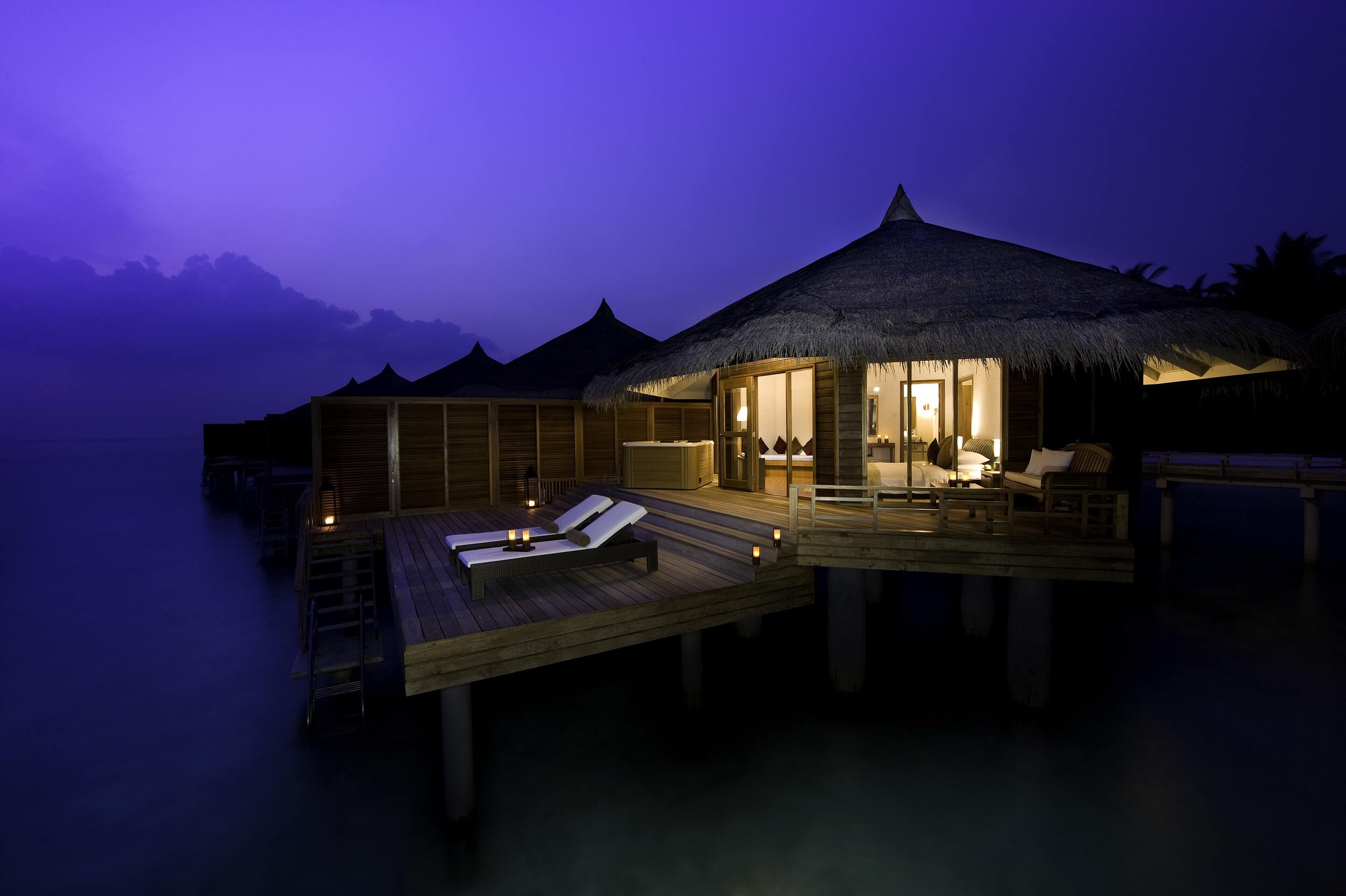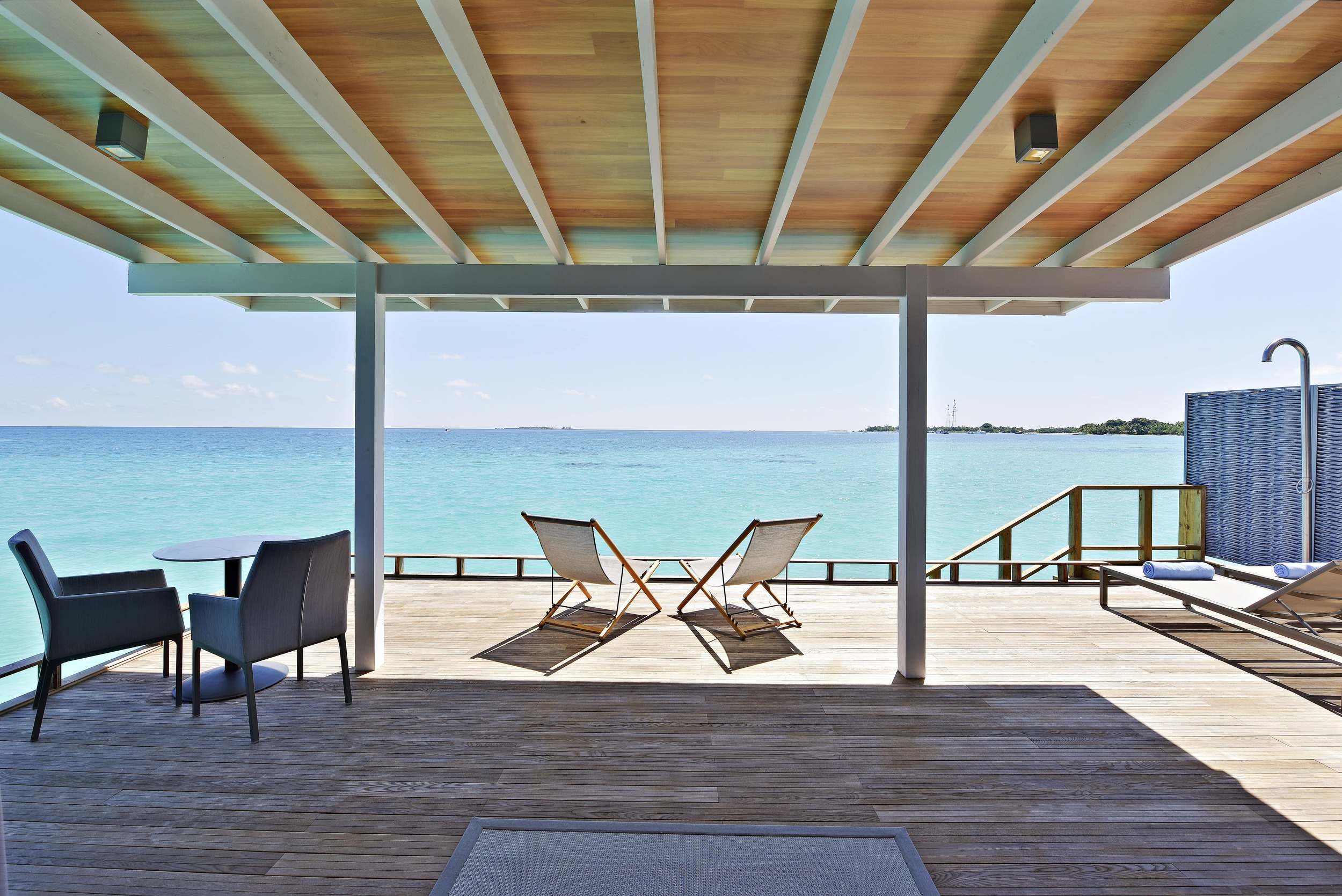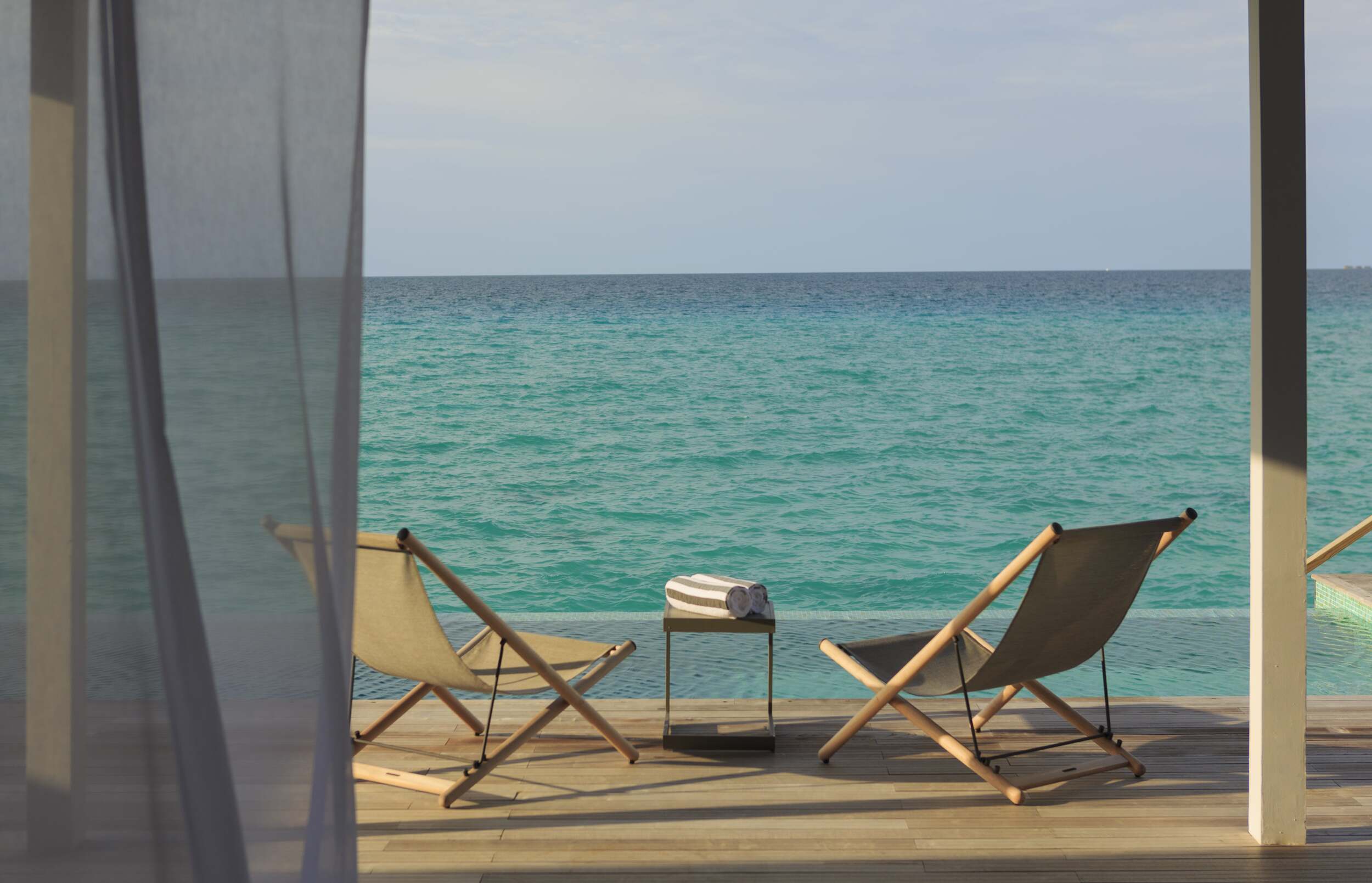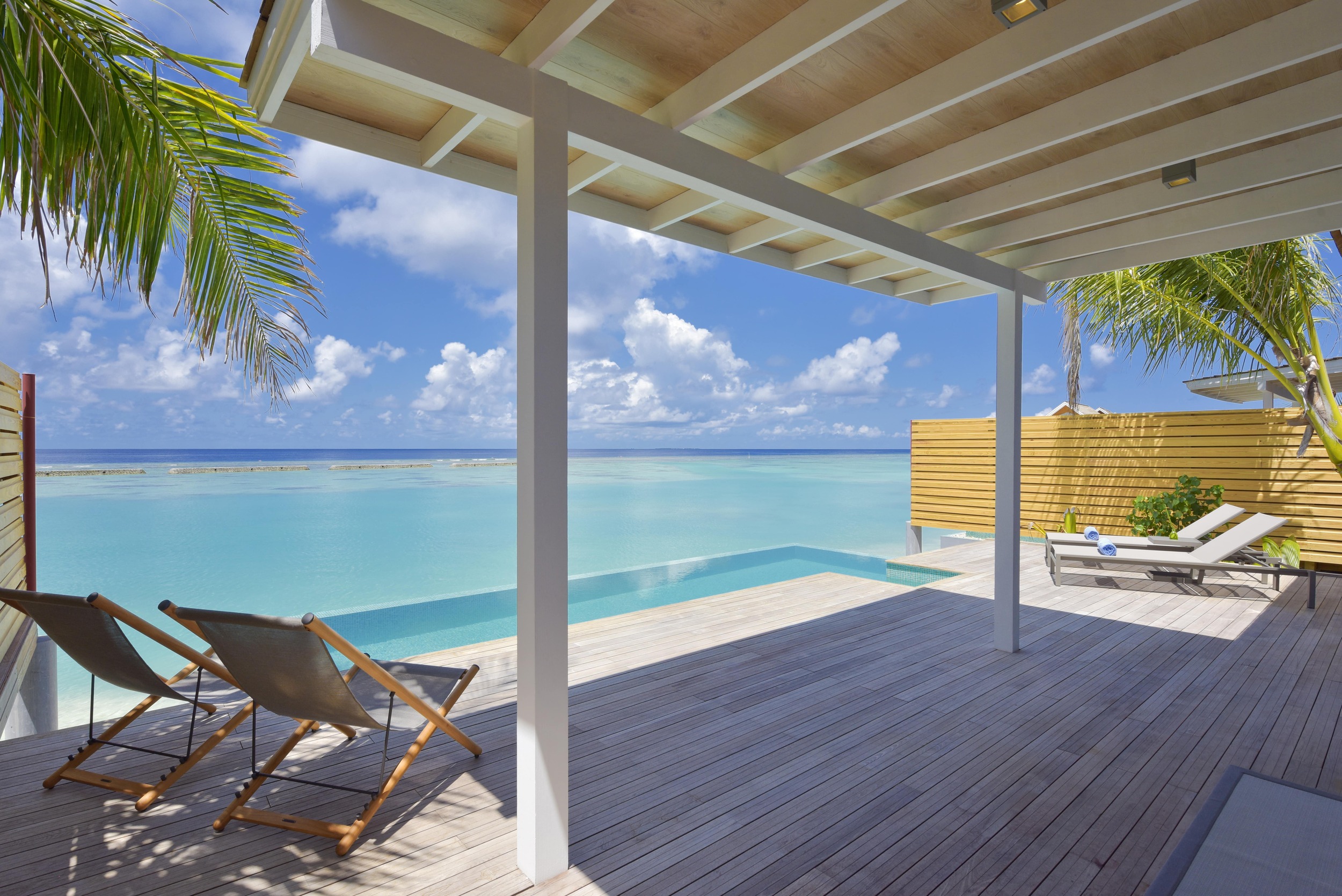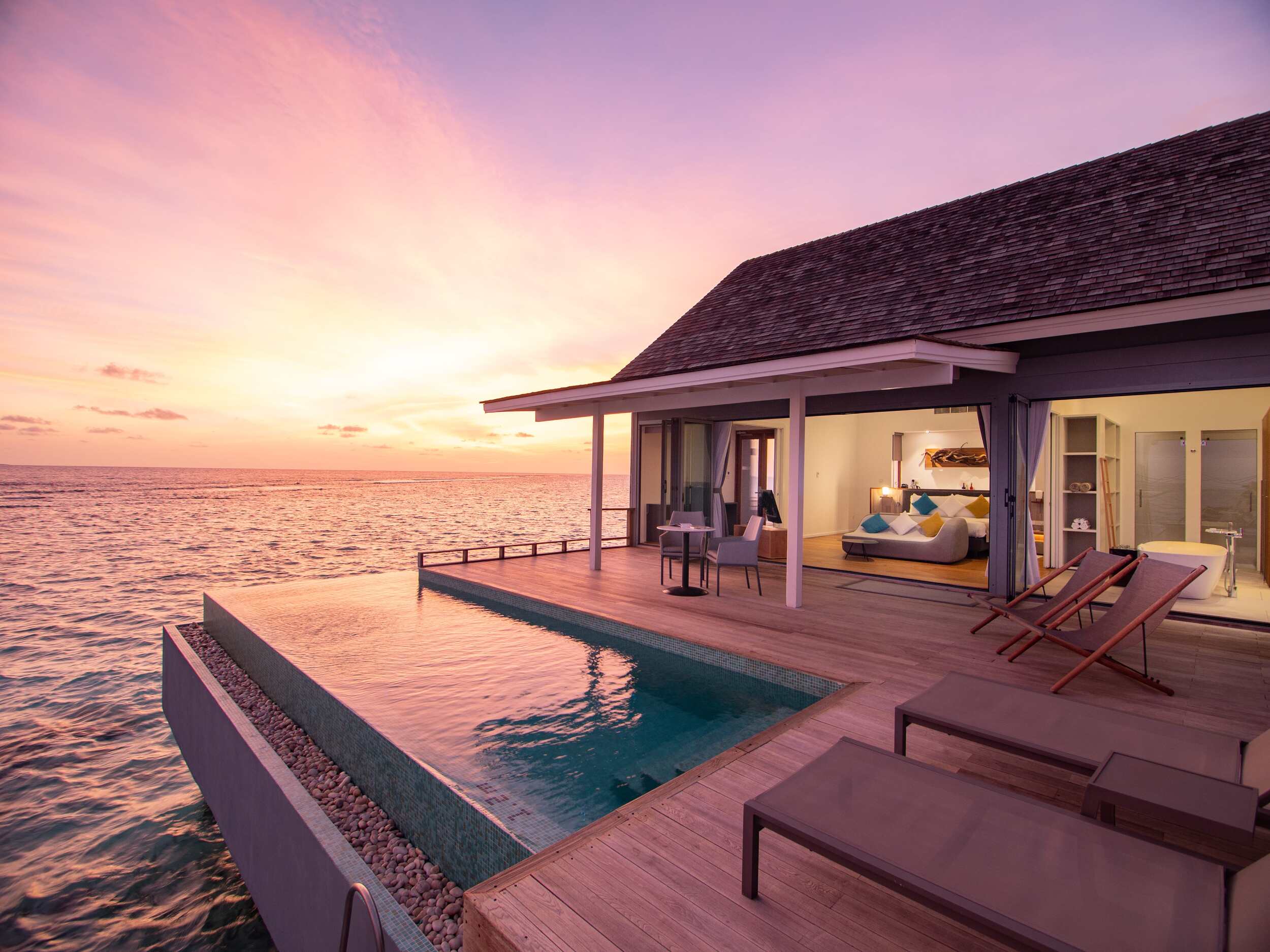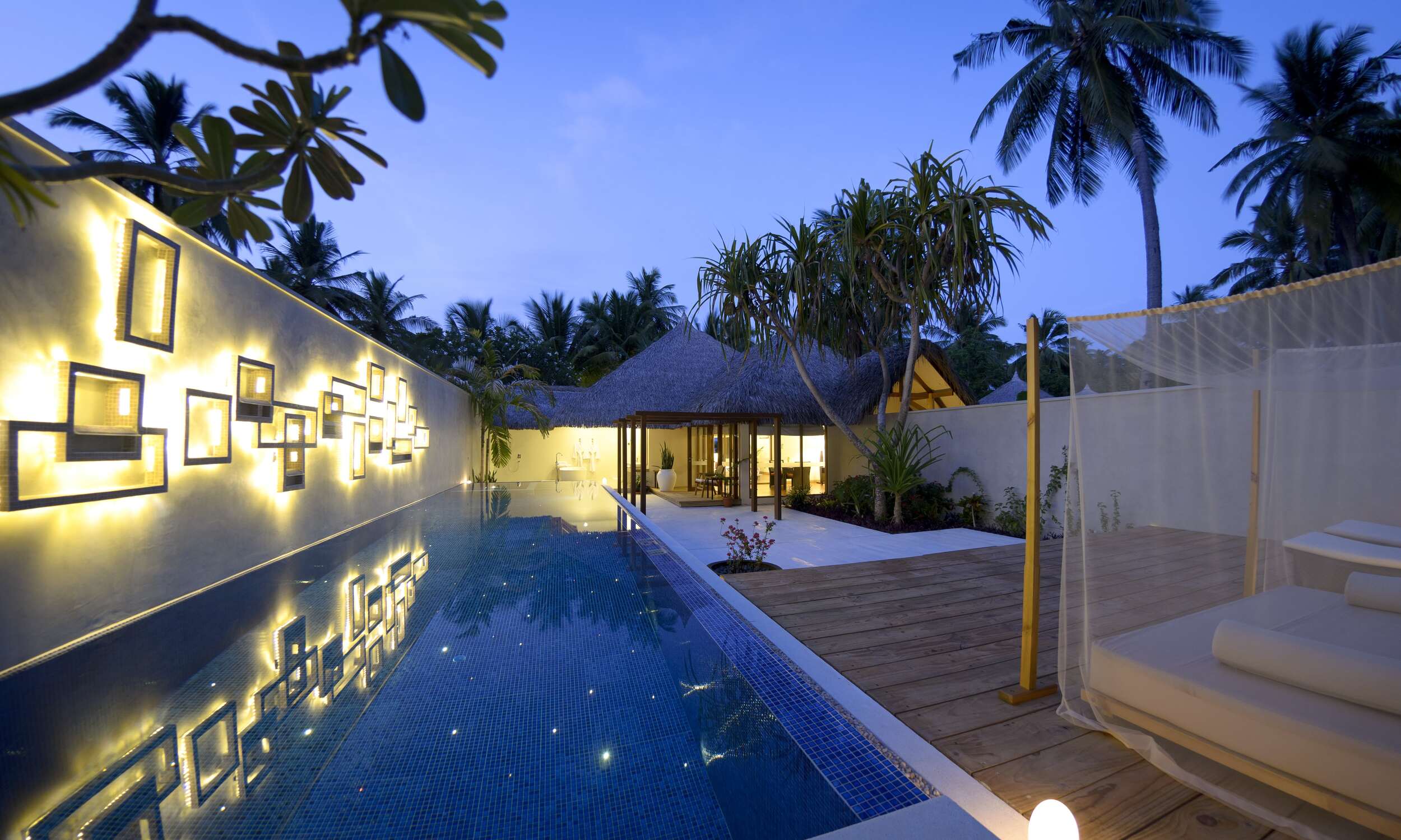 BEACH BUNGALOW
Max. 3 voksne eller 2 voksne og 1 barn
Beach Bungalow på Kuramathi Maldives ligger omkranset af øens vegetation og lidt tilbagetrukket fra stranden. Soveværelset har en kingsize seng og en indbydende daybed, mens dækket udenfor byder på daybed og liggestole til to personer. Badeværelset er stort og udendørs og omfatter et fristende boblebad (spabad) i hjørnet.
SUPERIOR BEACH VILLA
Max. 3 voksne eller 2 voksne og 1 barn
Kuramathi's Superior Beach Villa er moderne i deres design. Villaen er rund i formen og har et trædæk med en forførende indbygget udendørs daybed og solsenge. Soveværelset er rummeligt og minimalistisk og har en moderne kingsize seng som centrum i villaen. Det udendørs badeværelse fører bl.a. ud til et boblebad (spabad).
DELUXE BEACH VILLA
Max. 3 voksne eller 2 voksne og 1 barn
Deluxe Beach Villa ligger langs de brede strande i midten af øen. Disse villaer vender ud mod den turkisblå lagune og har store trædæk med liggestole, parasol og daybed. Soveværelset har en kingsize seng og en indbygget daybed. Badeværelset har bl.a. et badekar og et stort udendørs område med regnbruser, en sala-seng til to personer og et indbydende spabad på et forhøjet dæk.
TWO BEDROOM BEACH HOUSE
Max. 6 voksne eller 4 voksne og 2 børn
Two Bedroom Beach Houses med to soveværelser er ideelle for familier eller venner, der rejser sammen, og har to etager og egen indgang. Begge har rummelige soveværelser med kingsize-senge, daybeds og terrasse/balkon. De rummelige udendørs badeværelser er komplet med badekar, bruser og regnbruser. Disse duplex-villaer ligger i hjertet af øen, helt ud til enten lagunesiden eller mod husrevet.
WATER VILLA
Max. 3 voksne eller 2 voksne og 1 barn
Disse pragtfulde villaer er bygget på pæle over vandet, tæt på det livlige husrev. Villaen har et rummeligt soveværelse med en kingsize-seng og et generøst badeværelse med regnbruser. Villaerne omfatter også en oversized terrasse i to plateauer med boblebad (spabad), liggestole og parasol. Herfra kan du nyde panoramaudsigten over Det Indiske Ocean med en kølig drink i hånden.
DELUXE WATER VILLA
Max. 3 voksne eller 2 voksne og 1 barn
Deluxe Water Villa ligger spot-on i Kuramathi's store turkisblå lagune. Villaen er opført i moderne stil og er mere eller mindre identisk med resortets "Water Villa with Pool", dog uden pool. Det rummelige badeværelse har et fritstående badekar og åbner ud til et stort dæk med trapper ned i det azurblå hav.
WATER VILLA WITH POOL
Max. 3 voksne eller 2 voksne og 1 barn
Kuramathi's Water Villa with Pool er vores absolutte favorit villa på øen. Disse ligger enten i den smukke lagune eller direkte mod husrevet, og har et smukt moderne interiør med åbent layout. Disse villaer har også en kæmpe terrasse med udendørs bruser og privat pool (18 kvm) med udsigt over havet.
POOL VILLA
Max. 3 voksne eller 2 voksne og 1 barn
Pool Villa på Kuramathi ligger på stranden, helt ud til vandkanten, og tæt på øens ikonise sandbanke. Entreen til villaen fører dig igennem din egen private gårdhave. Fra soveværelset er der udsigt ud til infinity-poolen (18 m²), og videre ud til Det Indiske Ocean. Villaen er indrettet med en walk-in-garderobe og et indendørs badeværelse komplet med et fritstående badekar og separat udendørs regnbruser.
THUNDI WATER VILLA WITH POOL
Max. 3 voksne eller 2 voksne og 1 barn
Thundi Water Villa with Pool er identisk med Kuramathi's Water Villa with Pool, dog med en beliggenhed flankeret af øens spektakulære sandbanke. Villaerne vender mod solnedgangen og husrevet, hvilket med andre ord er ensbetydende med verdensklasse snorkling, direkte fra terrassen. Skøn privat pool, kæmpe udendørs-dæk og lækkert, moderne design.
HONEYMOON POOL VILLA
Max. 3 voksne eller 2 voksne og 1 barn
Kuramathi's Honeymoon Pool Villa er øens største villa, og byder på et soveværelse og separat opholdsområde, specifikt designet til par, der fejrer romantikken og ægteskabet. Her er oceaner af plads, og kronen på værket er villaens 10 meter lange pool, perfekt til en svømmetur eller dasen under Maldivernes sol.
MAKAI REALISERER
DIN REJSE TIL KURAMATHI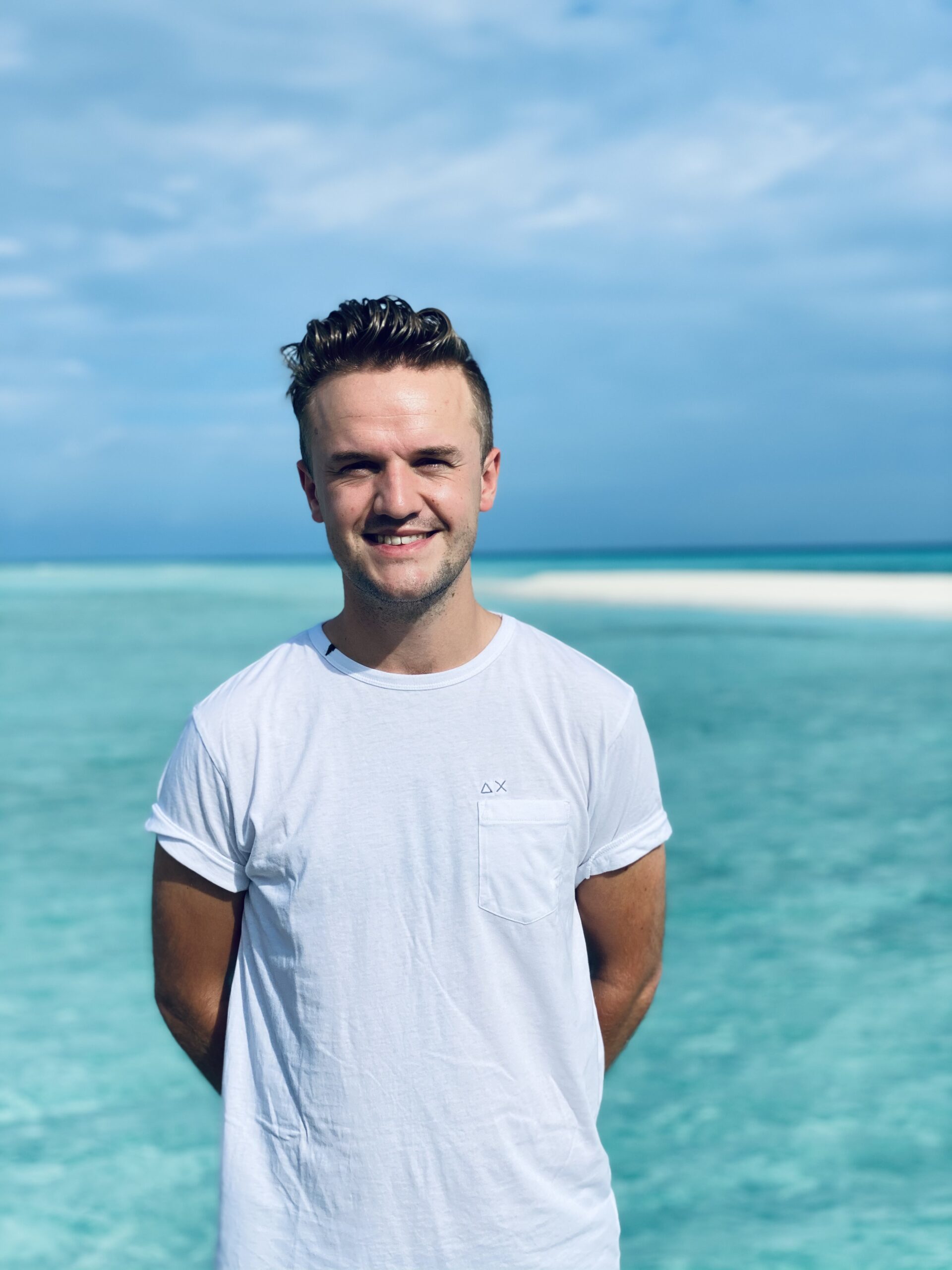 Kuramathi Maldives er et af mine favorit-resorts i Maldiverne.
Det er langt fra et af de mest luksuriøse af slagsen, men kvaliteten er god, maden helt fantastisk, snorklingen sublim og den omkransende vegetation spektakulær.
Her får du med garanti en ferie for livet.
Lad os sammen realisere din rejse til Maldiverne.
RASMUS KIRKETERP
CO-FOUNDER & TRAVEL DESIGNER
Inspiration, eventyrlige rejseforslag og spændende nyheder, leveret direkte på mail.
FØLG MED PÅ INSTAGRAM
Enestående oplevelser er endnu bedre, når de deles med andre. Post dine rejseoplevelser med Makai på Instagram @makaitravels med hashtagget #makaitravels.
KONTAKT MAKAI TRAVELS
Har du brug for hjælp til at finde det helt rette rejsemål, det perfekte hotel eller kan du ikke finde det, som du søger, så er vi altid klar til at hjælpe dig. Hver eneste dag - 365 dage om året fra kl. 10-22.