Maldiverne / Det Indiske Ocean
PRISVINDENDE RESORT I DET SYDLIGE MALDIVERNE MED UNDERVANDSRESTAURANT,
FORRYGENDE TURKISBLÅ LAGUNE OG AFSLAPPET LUKSUS
Ét resort, to øer. Dobbelt så godt. Her på Niyama Private Islands, der er livet fantastisk.
Stedet som også kaldes "Nature's Playground" har alt det, som du ønsker på din romantiske getaway eller luksuriøse familieferie, men også alt det, som du ikke vidste, du ønskede.
Der er et "galore" af højdepunkter på dette prisvindende resort, som bl.a. byder på verdensklasse surfing, en af Maldivernes smukkeste turkisblå laguner, en af ørigets bedste kids clubs, samt en forrygende undervandsrestaurant og meget, meget mere.
Niyama har Maldivernes eneste undervandsrestaurant (SUBSIX), som helt er separeret fra selve hovedøen, Vi behøver vist ikke sige, hvor vild en oplevelse, det er at spise her samt opleve dette. Om aftenen bliver selvsamme restaurant omdannet til natklub med DJ.
Bo i en smuk beach villa i det kridhvide sand eller vælg en overdådig water villa på pæle over det turkisblå hav. Du har også muligheden for at opgradere til endnu mere luksus ved at vælge en villa med privat pool.
Har I brug for plads til flere generationer, så vælg "The Crescent" – som består af 5 pool villaer med plads til 22 gæster. Dette retreat kommer med egen personlig kok, 2 butlere og utallige andre herligheder.
Niyama er fuld af liv. Nattelivet er sprudlende med bl.a. DJ og egen natklub (når undervandsrestauranten bliver omdannet), aktiviteter dagen lang såsom bl.a. tennis, futsal og pilates, og så må vi ikke glemme den føromtalte kids club, hvor børn fra 12 måneder til 12 år kommer til at have deres livs oplevelser.
Er du med din kære på romantisk ferie, så gå ikke glip af en spabehandling på "DRIFT BY NIYAMA". Nyd din omkringliggende grønne omgivelser, fuglefløjt og rislen fra palmer og banantræer. En oplevelse for livet.
Elsker du smukt turkisblåt hav i utallige nuancer, uvirkeligt nydelige strande, alverdens aktiviteter og sjov, samt unikke restaurantoplevelser – så kom til Niyama og gør drømmen til virkelighed.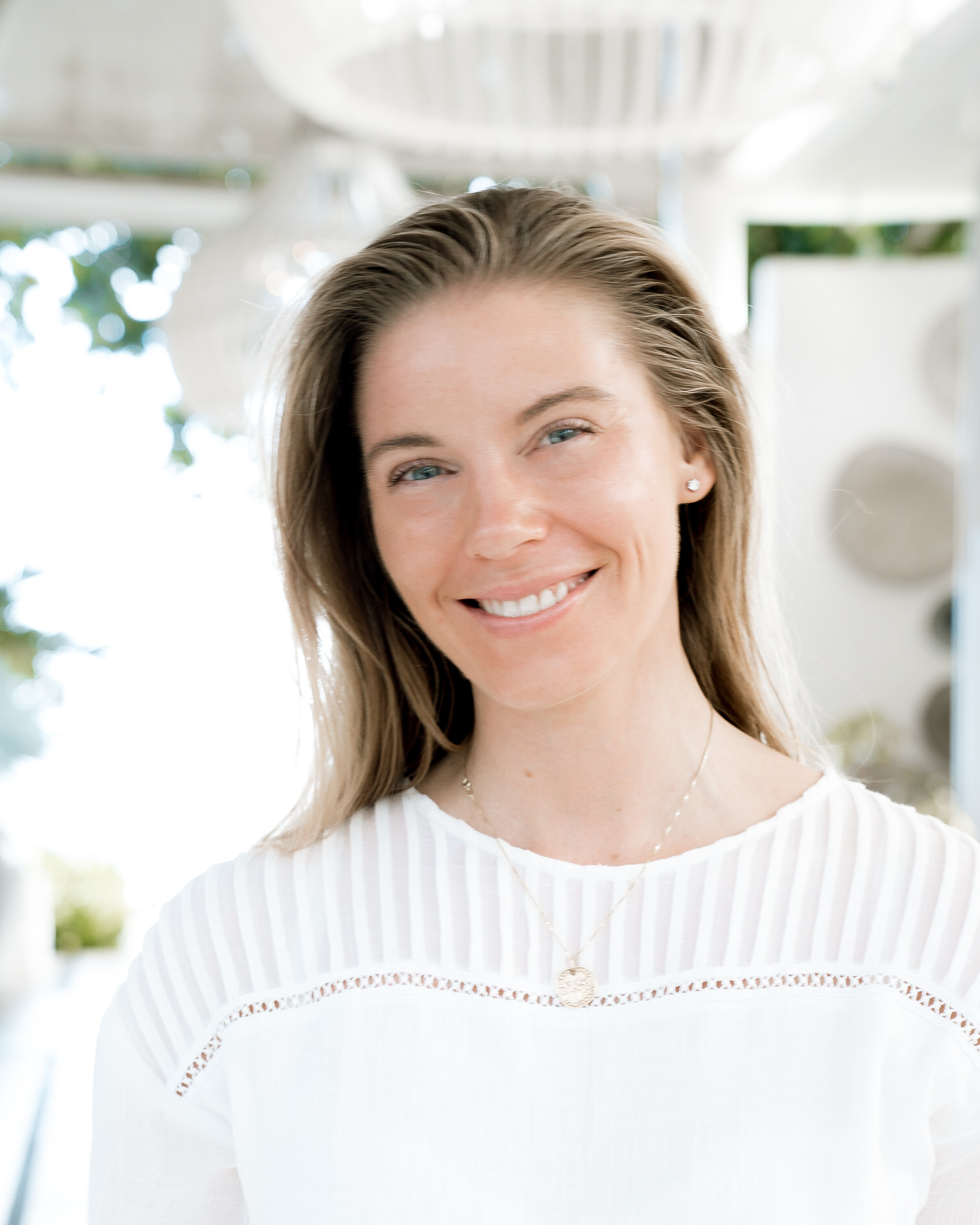 WENDIE PEDERSEN
CO-FOUNDER & TRAVEL DESIGNER
Personlig Rådgivning
Er du også vild med Niyama Private Islands? Lad os sammen realisere din rejse til Maldiverne.
Modtag tilbud
De mest populære faciliteter
134 Værelser | 9 Restauranter
Børnevenligt
Dykkervenligt
Butlerservice
Parvenligt
Privat pool
Indenlandsk transfer
Egen cykler
Familievenlig
Gratis vandsport
Børneklub
Stor ø
Snorkling
Surfing
Vandfly transfer
Vi anbefaler
Wellness yoga
Highlights (10)
Ét resort – to øer (PLAY & CHILL)
Store villaer både på strand og over vandet – de fleste med pool
The Crescent – 5 private poolvillaer til rejsefølge på op til 22 personer
9 restauranter inklusiv prisvindende undervandsrestaurant
En af Maldivernes smukkeste turkisblå laguner
Explorers Kids Club, en af Maldivernes bedste
Anerkendt som et af Maldivernes bedste surf-resorts
Sprudlende natteliv med DJ i resortets natklub under havets overflade
Fuldt udstyret fitnesscenter med bl.a. personlige trænere
Komplet resort, perfekt til både familier og par
Se flere
LIVET PÅ NIYAMA
Dagene på Niyama Private Islands kan nemt beskrives. Her går tiden med lange gåture langs de kridhvide sandstrande, surfe på de sjove bølger nær resortet, spise lækre måltider fra et hav af restauranter, spille tennis og futsal/fodbold og bare nyde din lækre, luksuriøse villa. Du er omkranset af en himmelsk lagune, du bliver forkælet 24/7 og der er noget til enhver person og ethvert humør. Hvad mere kan man egentlig ønske sig?
MALDIVERNES BEDSTE SURF-RESORT
Har du altid drømt om at lære at surfe, eller mestrer du allerede denne adrenalinfremkaldende sport, så er Niyama Private Islands drømmen.
Begynderkurser i lagunen, mellemstore bølger ved Vodi Point – fem minutters padling fra resortet – eller jagt de største bølger med resortets egne surf-pro's. Niyama og surfing går hånd i hånd, og der altid trænere til rådighed til at assistere med at perfektionere din teknik.
Når du ikke surfer bølgen blå, så kan du nyde snacks og kolde cocktails fra Surf Shack eller endda nyde en skræddersyet surfermassage fra Drift Spa. Surfing is life!
SUBSIX, NIYAMA'S UNDERVANDSRESTAURANT
Under havets overflade gemmer dig sig flere vidundere, end ord kan beskrive. Oplev det smukke dyb fra Niyama's undervandsrestaurant, Subsix, en af de eneste i Maldiverne.
Båden ankommer og du går nedad den dramatiske trappe, som fører dig til restauranten med italienske lysekroner, som skinner side om side med korallerne.
Dyk ned i champagnefrokoster, gourmetmiddage og glow parties (kun for voksne). Det her er en helt ny form for luksus, som du aldrig har set lignende.
LAGUNEN OG STRANDENE FRA DINE DRØMME
Et af de uforglemmelige højdepunkter i Maldiverne er utvivlsomt de smukke strande, turkisblå laguner og de svajende palmer – somt taget ud et postkort, og dine rejsedrømme.
Men nogle drømme bliver faktisk til virkelighed, og det er netop tilfældet på Niyama Private Islands. Resort og de to øer er omkranset af en af Maldivernes mest spektakulkære turkisblå laguner, perfekt til en svømmetur, en tur på jetski eller Stand Up Paddleboard (SUP).
Gå lange ture langs de brede, hvide sandstrande, byg sandslotte med børnene i vandkanten eller nyd lagunen, når den ændrer sig fra turkisblå til pastelfarvet under solnedgangen.
RESTAURANTER & BARER
9 RESTAURANTER OG 2 BARER
Niyama Private Islands har 9 spisesteder,
samt 2 barer på øen – inkl. en natklub/undervandsrestaurant.
SUBSIX
Niyama's anerkendte undervandsrestaurant, som serverer fantastisk seafood og set menus til frokost. Nyd synet af smukke fisk og rokker i denne smukt detaljerede restaurant under havets overflade.
Om aftenen forvandles restauranten til en natklub med alt fra glow parties til DJ.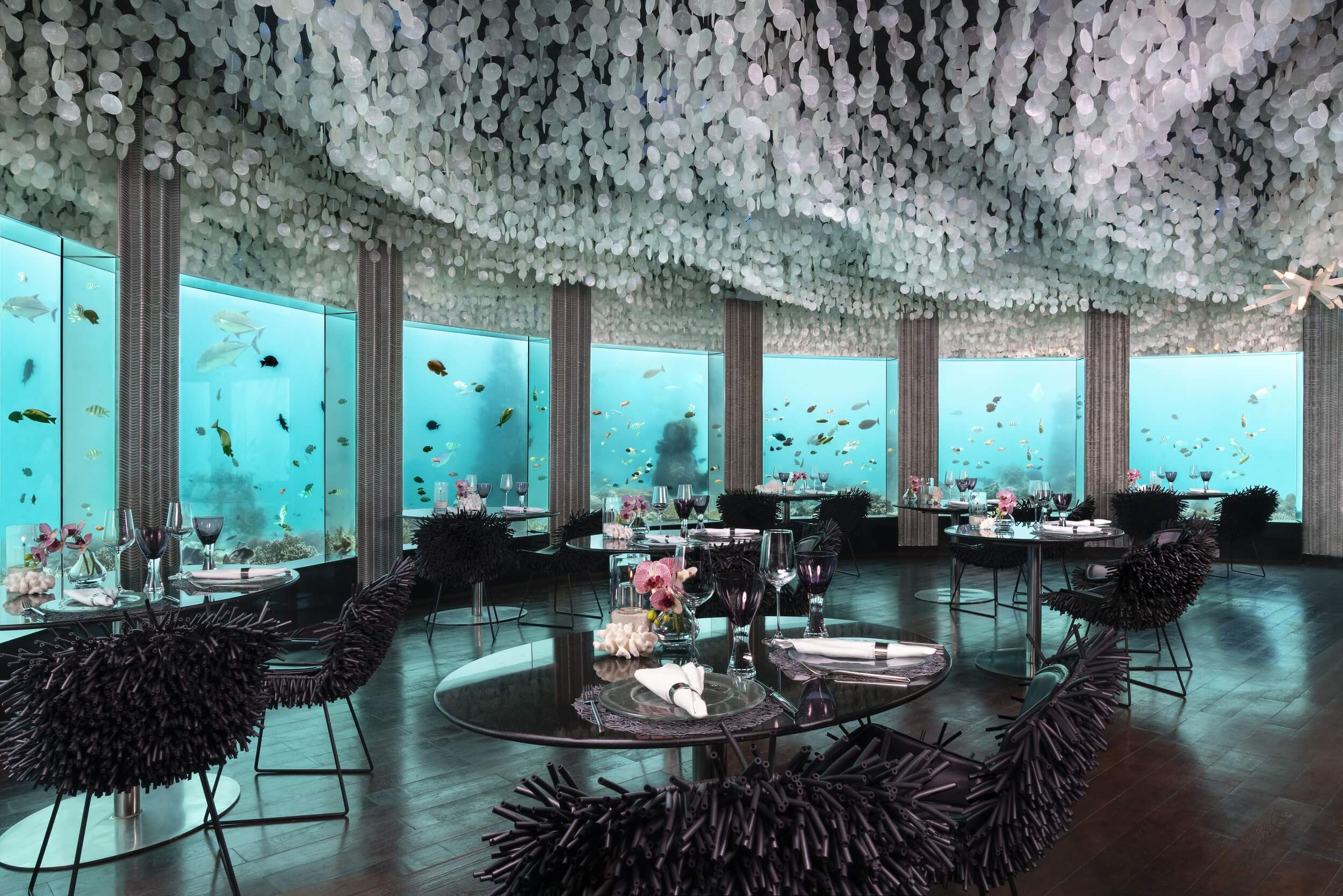 EDGE
Edge er en eksklusiv, maldivisk fine-dining restaurant over vandet, som kun er tilgængelig med båd. Her fokuseres der på friske lokale fisk og skaldyr, herunder kun lokale maldiviske revfisk, som fremhæves med moderne teknikker fra Niyama's dygtige kokke.
En helt særlig oplevelse.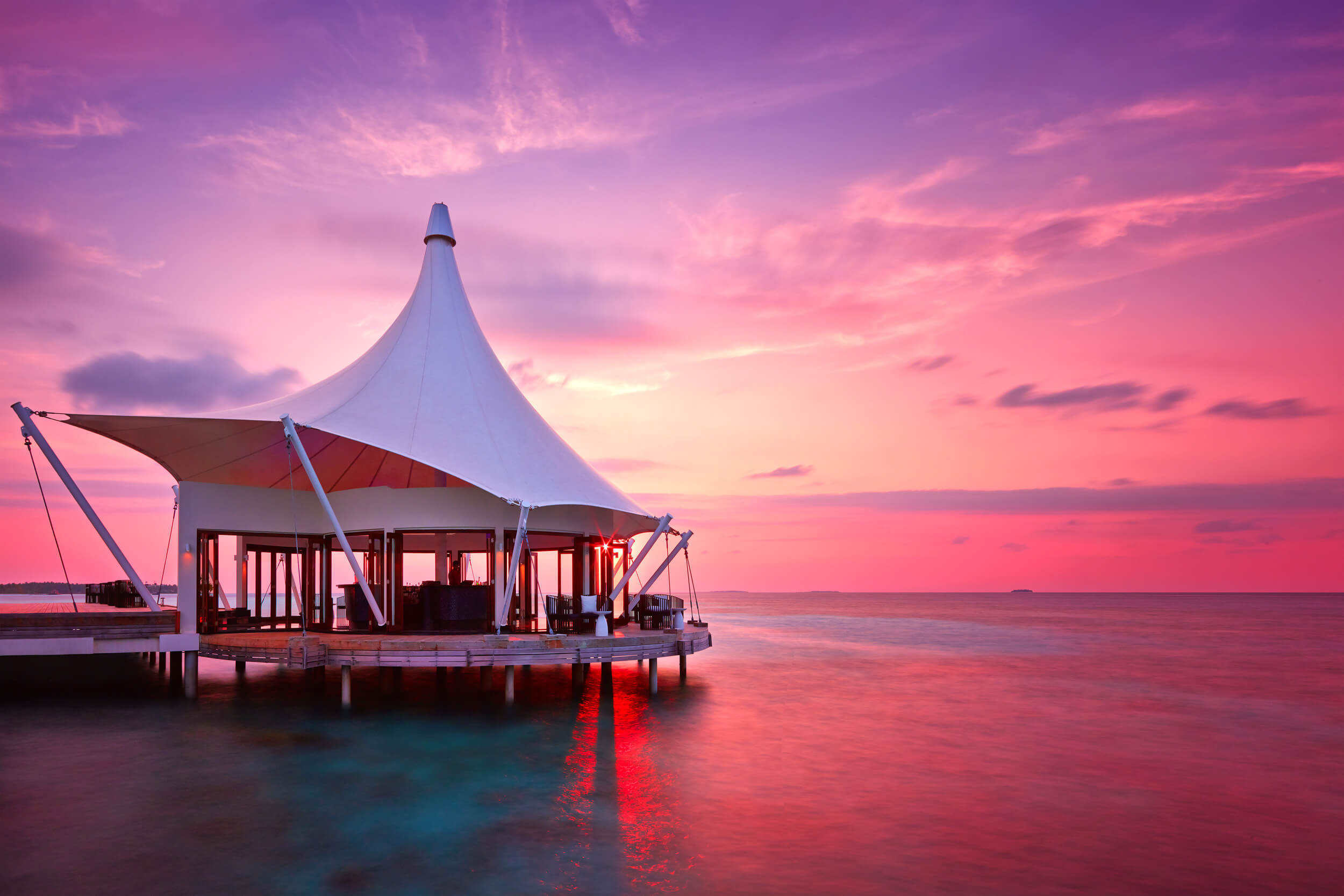 EPICURE
Friskbagte croissanter og kager åbner morgenen på den perfekte måde. Følg op med frugtsalater, der er lavet af velkendte og tropiske eksotiske produkter, eller en omelet med fine oste og en chiffonade af friske urter fra haven.
Fra overdådig morgenmad til a la carte frokoster og middage, Epicure tilbyder forkælelse ved infinity poolen når det er mest smart, afslappet og lækkert.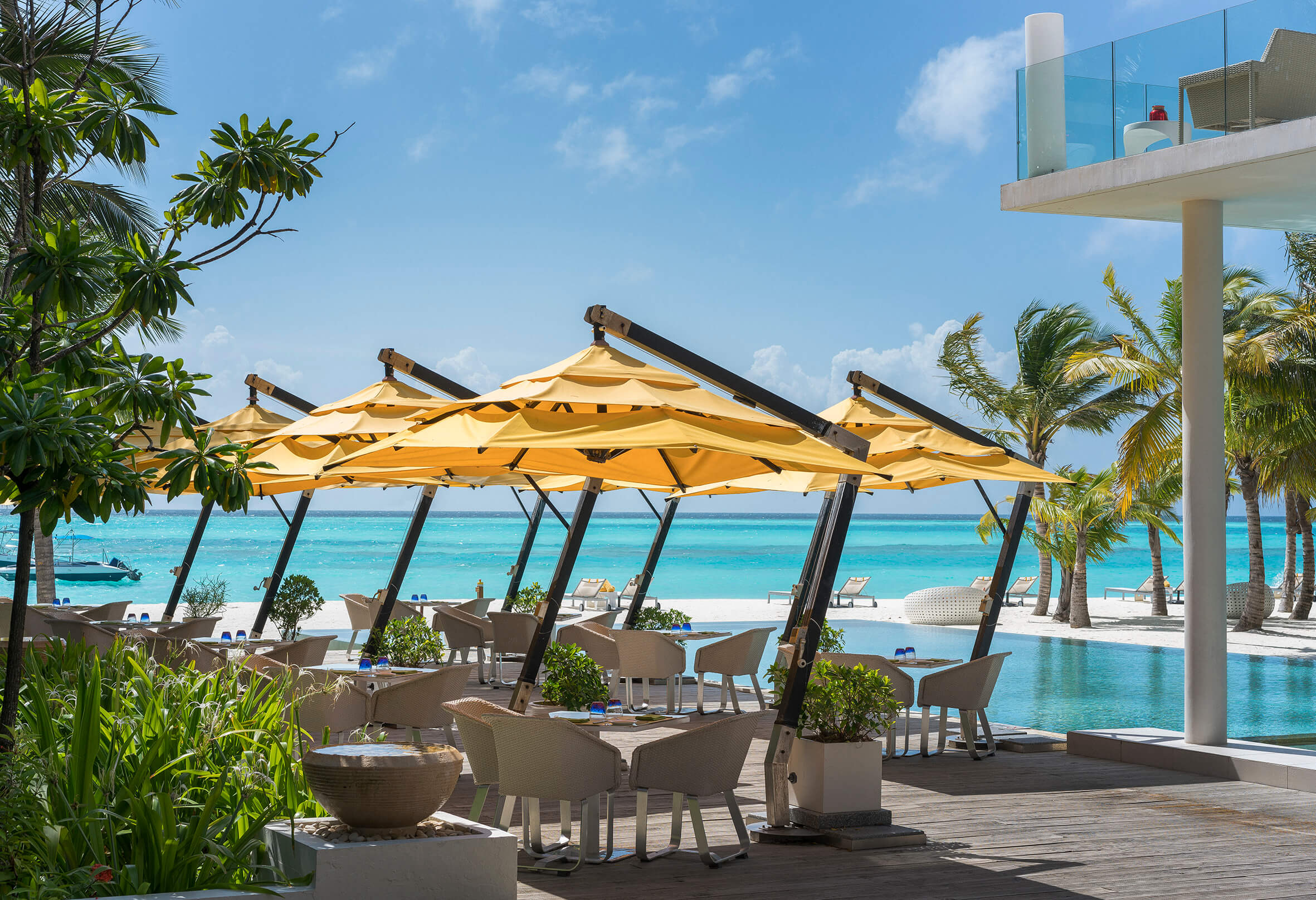 NEST
Kravl op i vores træhus, Nest, for at få en uforglemmelig middag i højden. Naviger rundt i junglen på en labyrint af trægange til din private siddeplads i trætoppene. Avantgarde-præsentationer af thailandske, kinesiske, japanske og indonesiske kokke pryder dit bord på en af Maldivernes mest spektakulære restauranter, hvor du også kan opleve et af de eftertragtede teppanyaki-shows.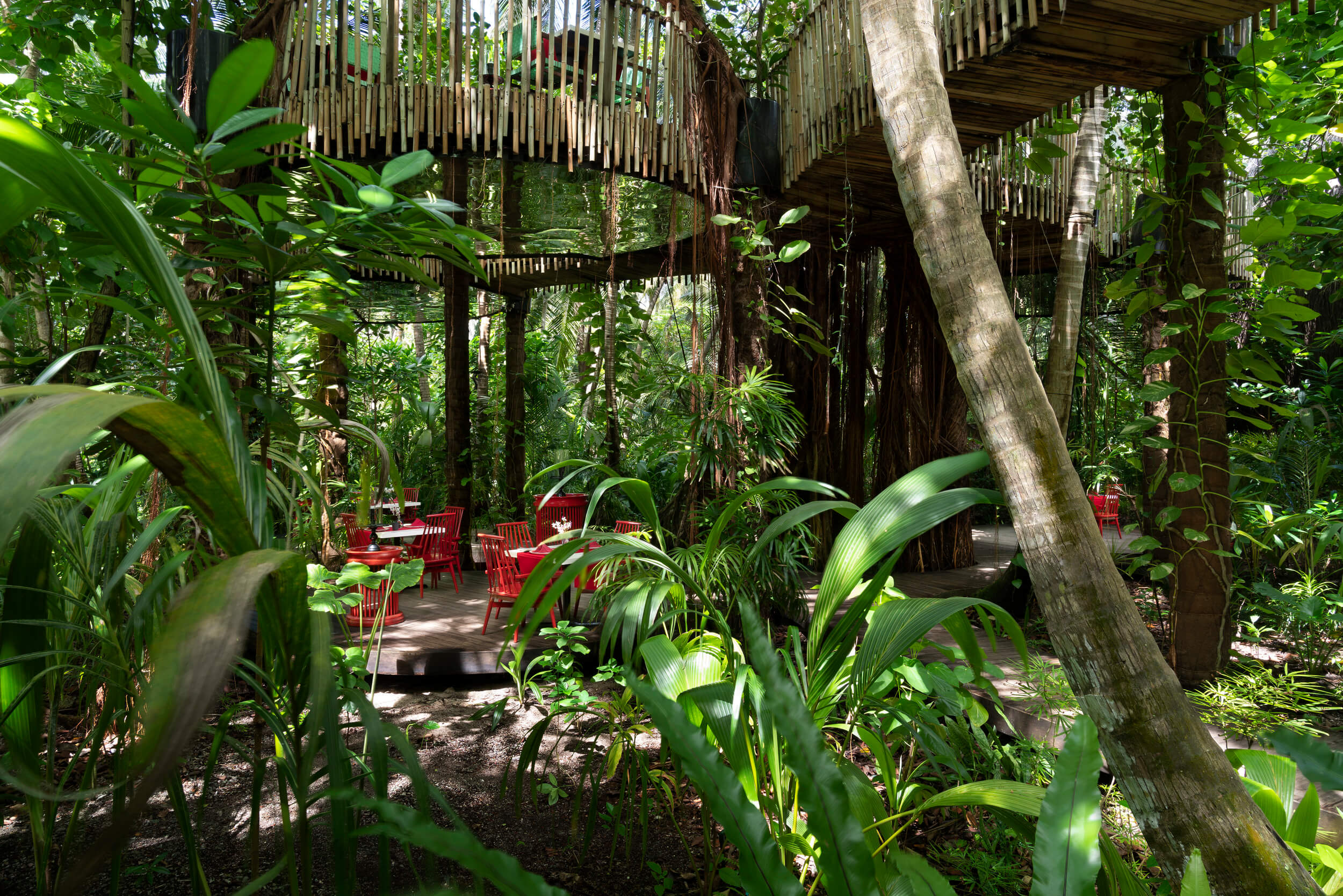 TRIBAL
Velkommen til Tribal, restauranten hvor Latinamerika møder Afrika. Her sidder du omkranset af jungle og fakler, der lyser omgivelserne op. Her udforskes smagen af Afrika, Central- og Sydamerika i det åbne køkken.
Spis alt fra struds til hummer, prepareret over åben ild. Husets specialiteter omfatter tørlagret oksekød marineret med autentiske krydderier.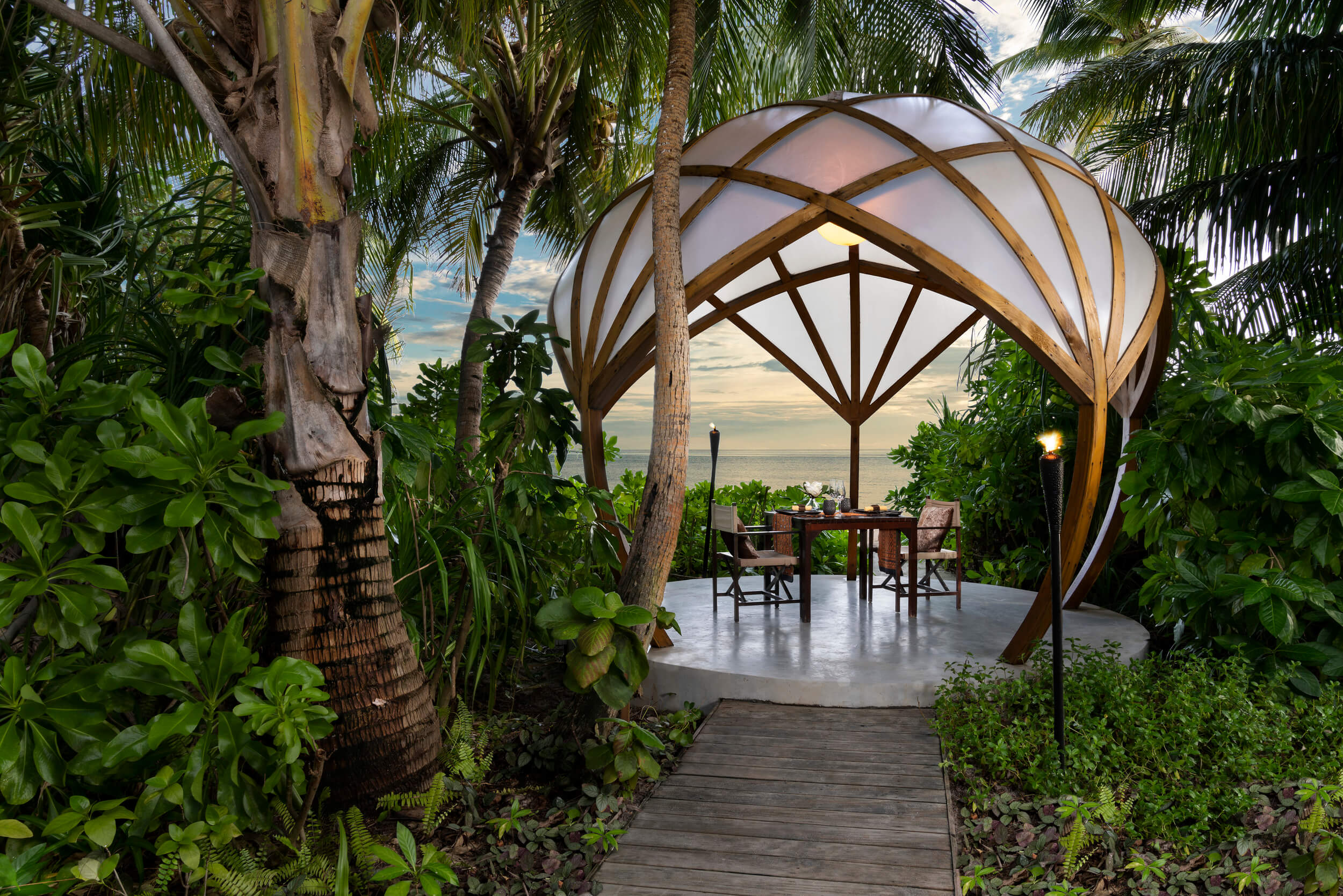 BLU
Family-style restaurant med middelhavsinspirerede retter – midt på stranden. Om morgenen: smoothies og juiceblandinger, gourmet crostinis og overdådige smagsoplevelser.
Til frokost og aftensmad: Middelhavsinspirerede salater, sandwiches, fisk og skaldyr, pastaer, pizzaer, asiatiske lækkerier og andre tropiske snacks.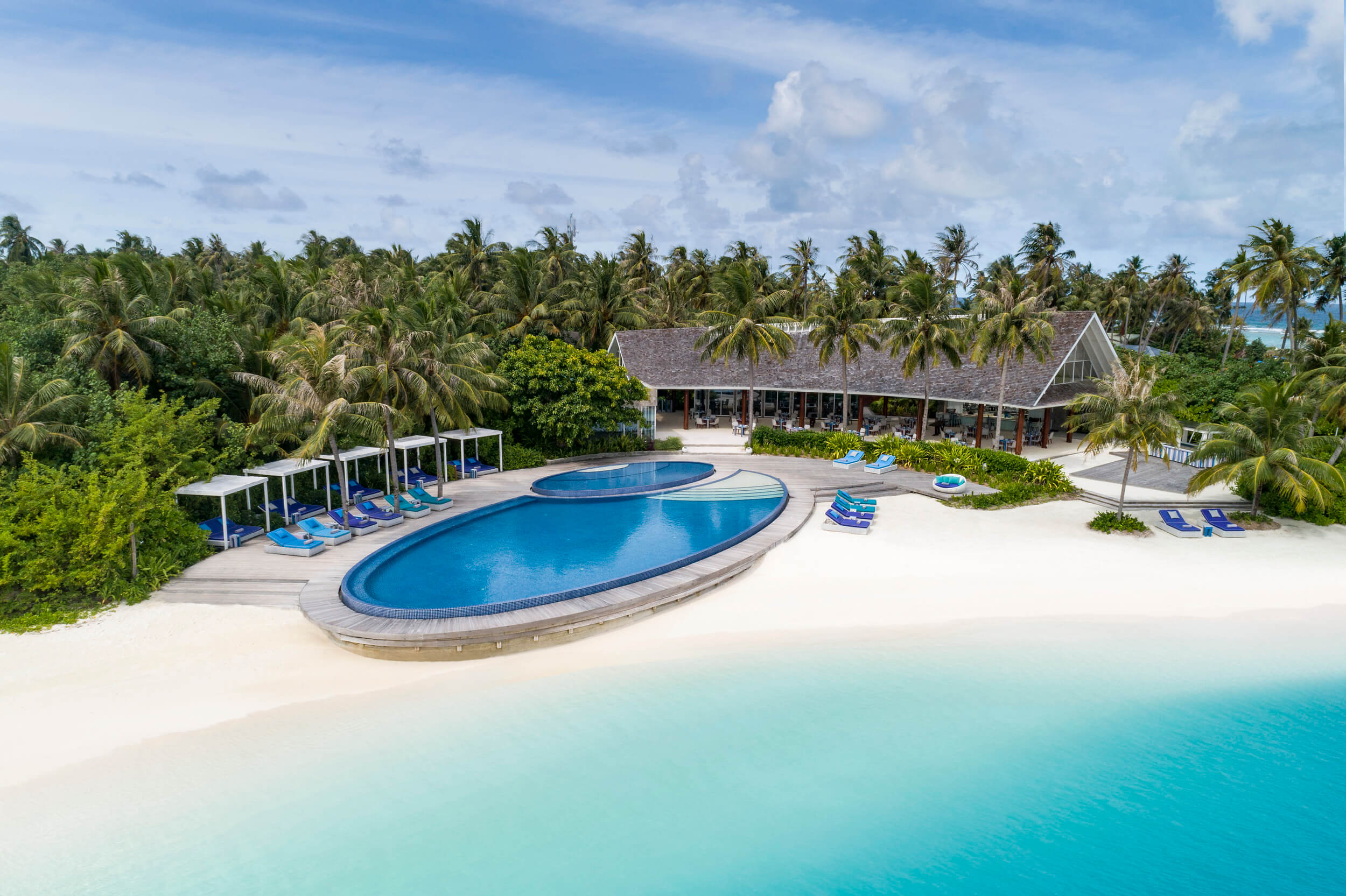 DUNE
Niyama's beach club, hvor menuen står på havudsigt og brise, tæerne i sandet og en forfriskende cocktail eller snack serveret på din solseng.
Denne al fresco lounge serverer verdensfavoritter, fra kylling shawarma og pepperoni-pizza til friskgrillet dagens fangst. Tag en dukkert i poolen, og træk dig derefter tilbage til en cocktail eller shisha til synet af en af Maldivernes smukke solnedgange.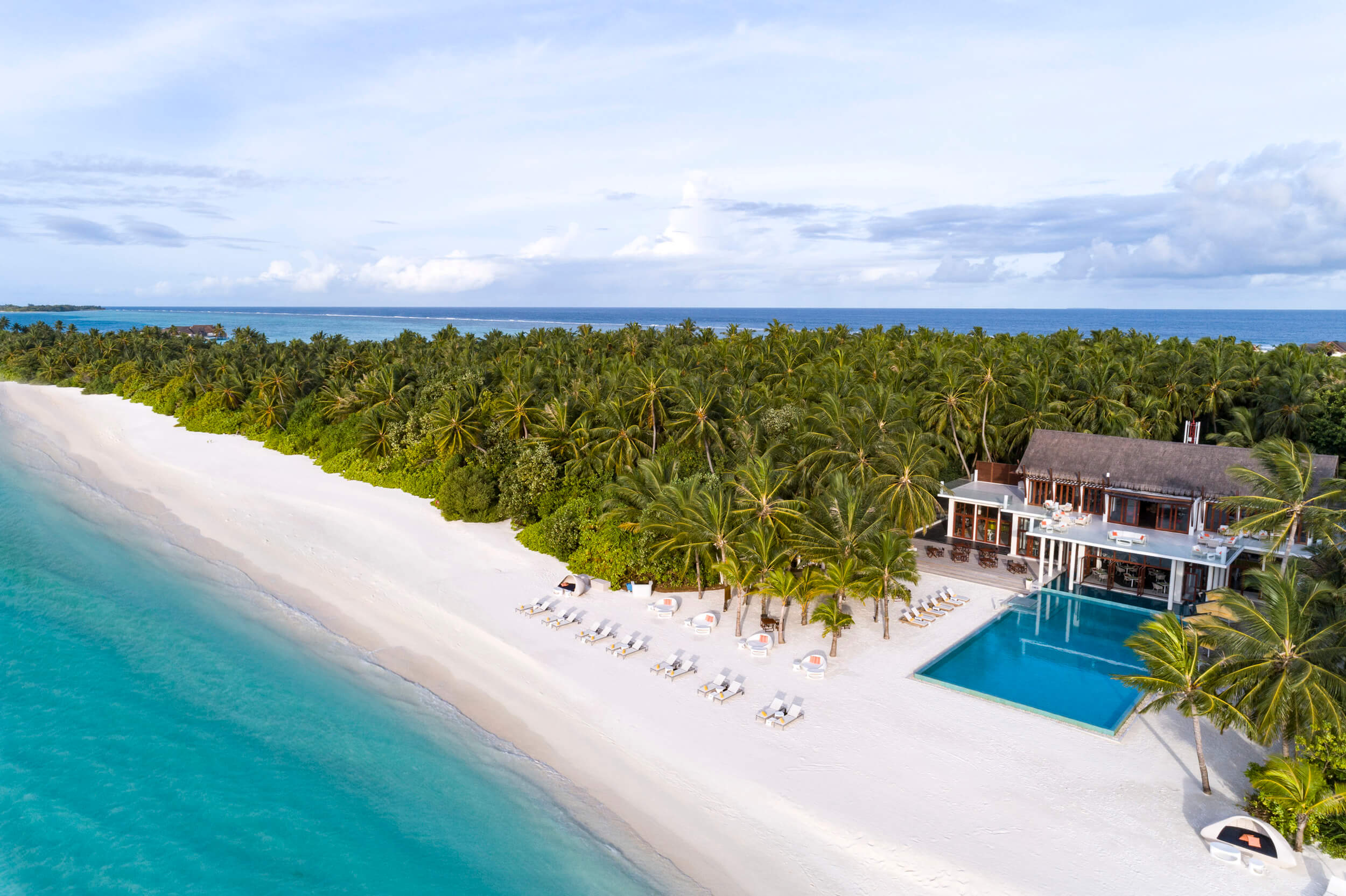 FAHRENHEIT
Niyama's svar på en fed resort bar. Sæt dig i hyggelige sofaer. Nyd en kølig cocktail eller mousserende vin, og se himlen begynde at lyse op, først orange, og derefter i lyserøde toner. Når solen går ned, viser baren sig fra den bedste side, og den pulserende musik begynder. Luk øjnene og sug rytmen og lyden af Det Indiske Ocean til dig.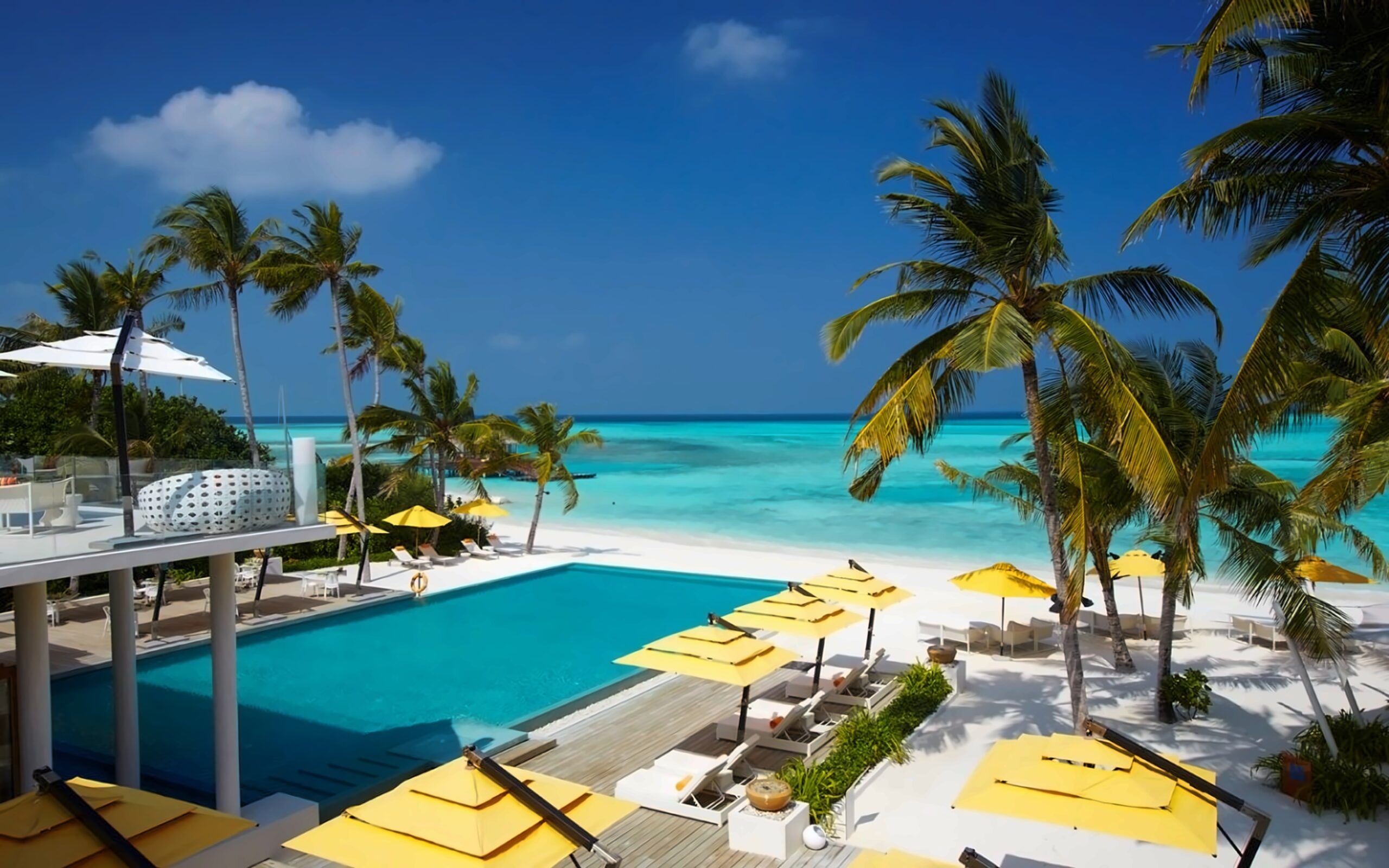 THE DELI
Maldivernes og Niyama's "grab 'n' go" spisested.
Pluk din fornøjelse fra krukker med fristende lækkerier. Tag en smoothie eller en friskbrygget kaffe "to go". Udforsk et udvalg af antipasti, panini, ciabatta, wienerbrød og andre let spiselige lækkerier.
Bed baristaen om at piske en milkshake med hjemmelavet is eller gå lidt sundere til værks med frozen yoghurt og saftige friske frugter.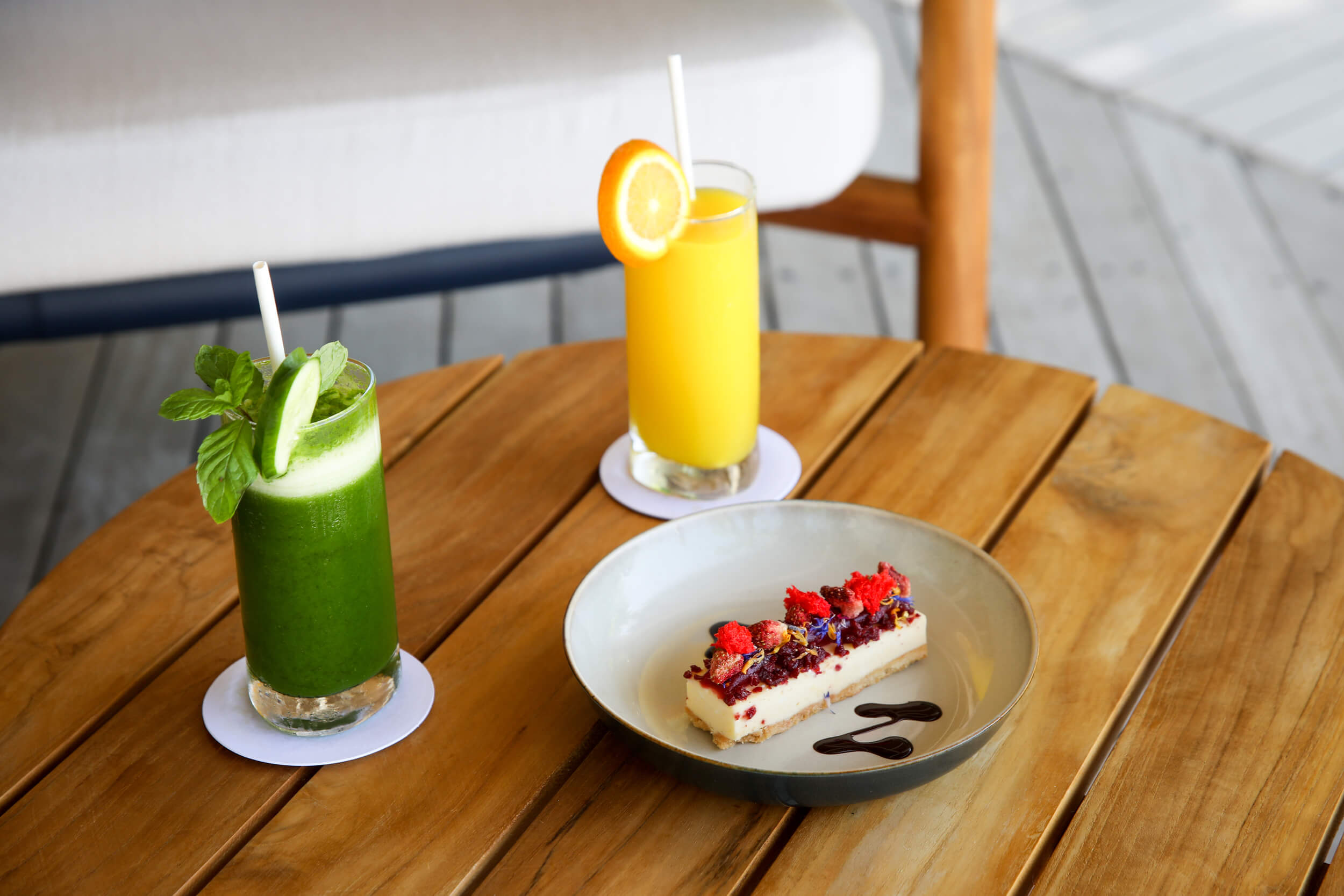 Niyama Private Island's 134 villaer og pavilloner ligger spredt på både strand og over lagunen. Vi elsker resortets poolvillaer på stranden, som ligger direkte ud mod de mange turkisblå nuancer. Det samme gælder Water Pool Villa, som er utroligt romantisk. Har du brug for mere plads, så vælg en af de gigantiske pavilloner eller kronjuevelen, The Crescent.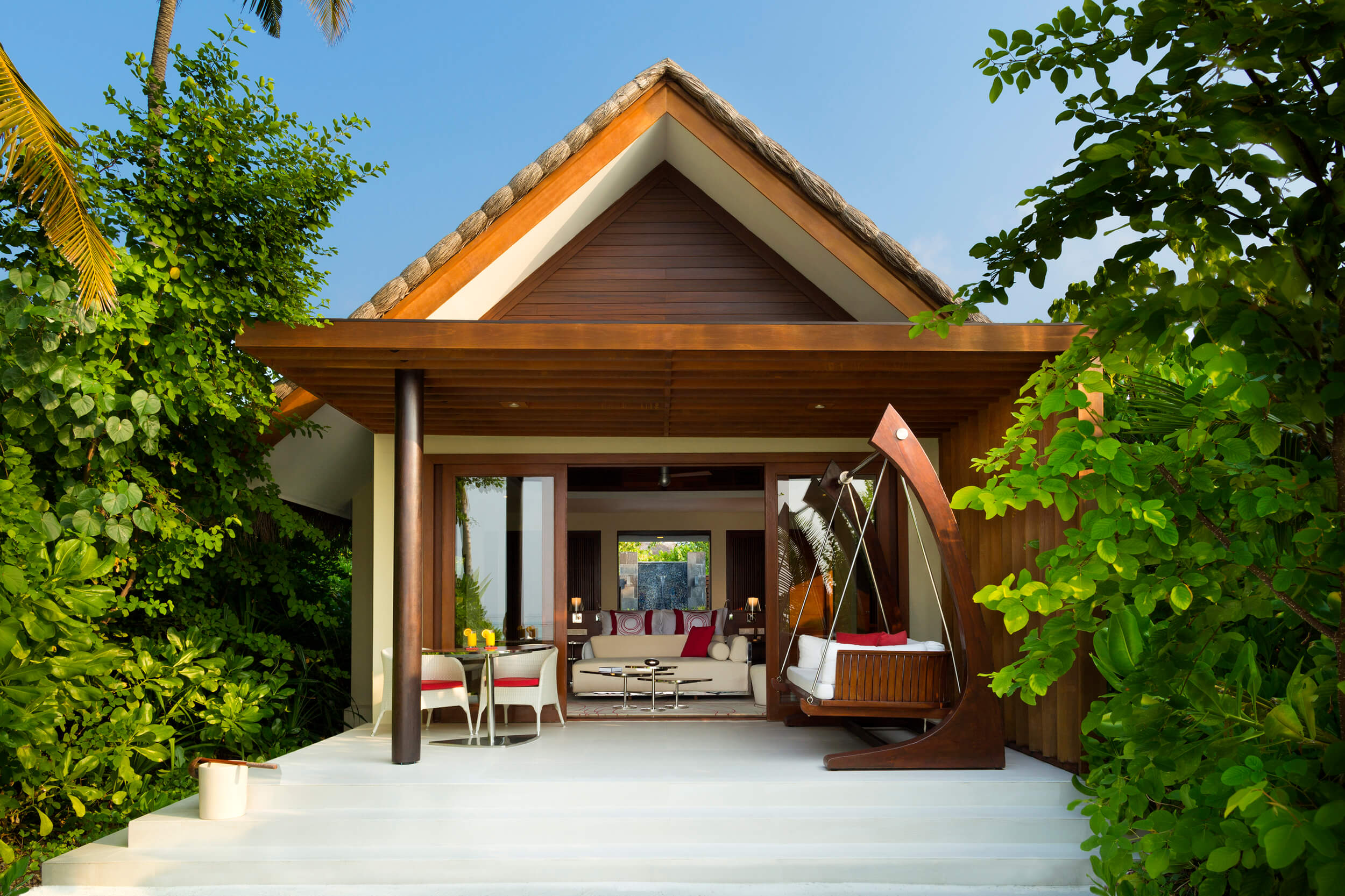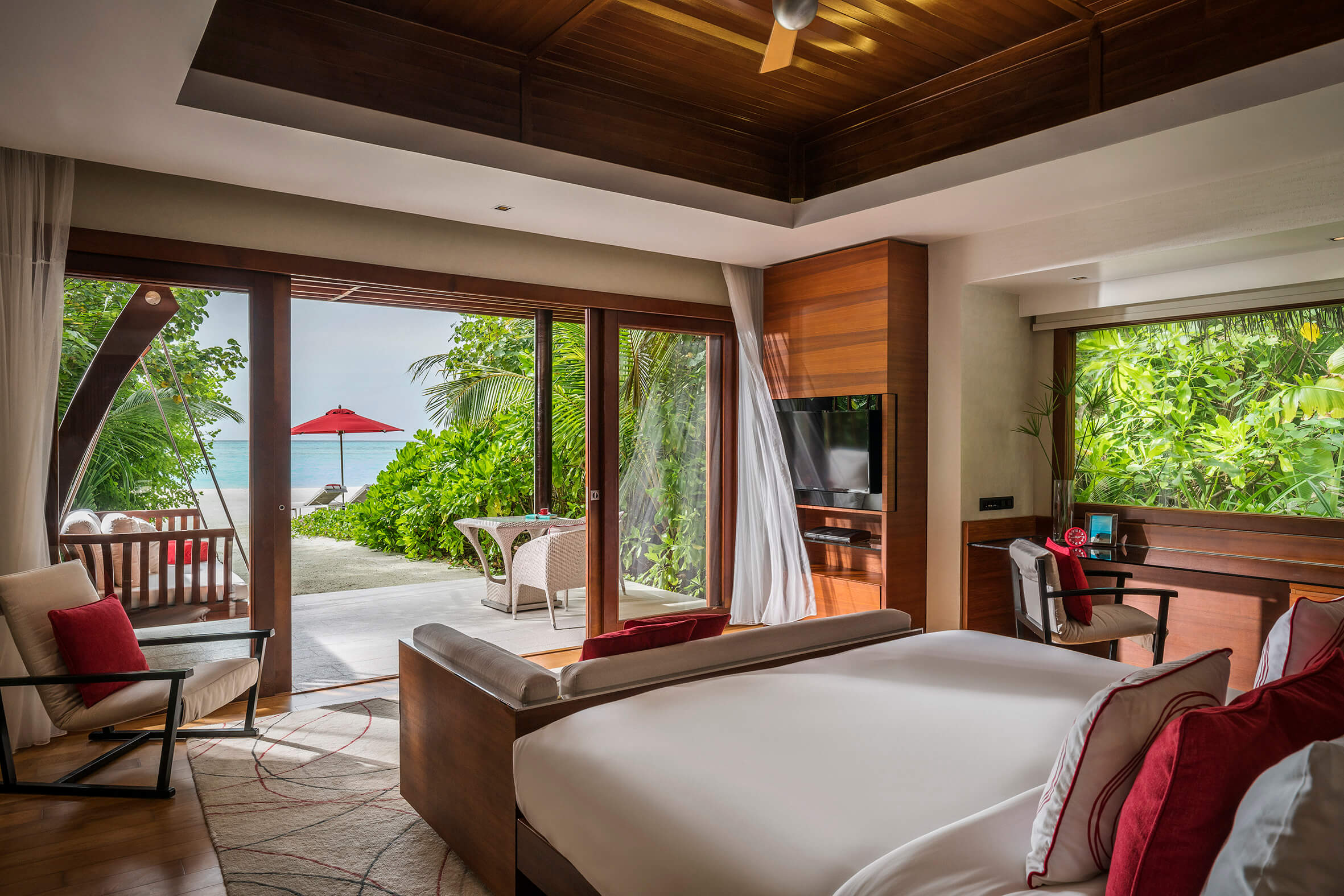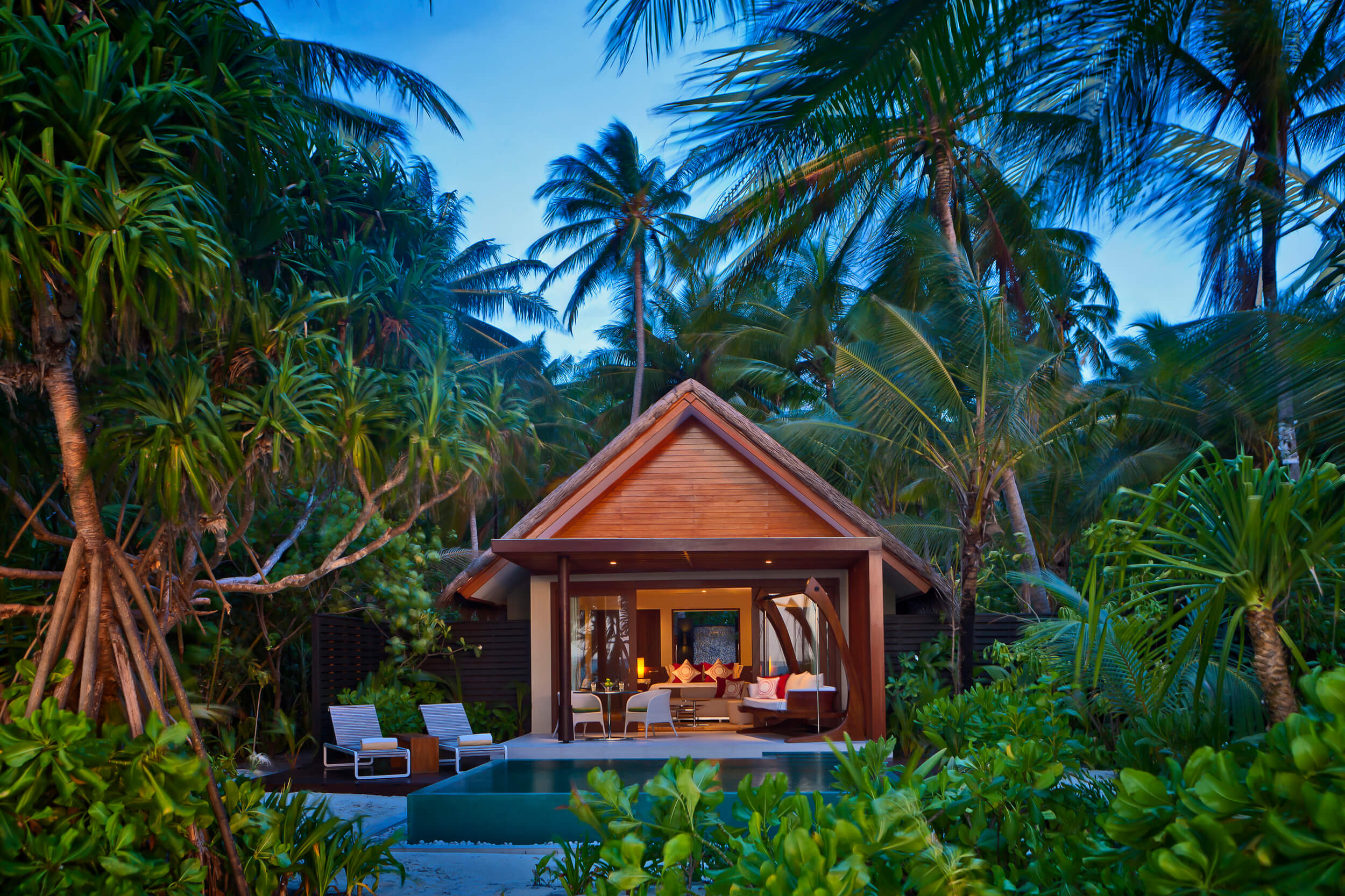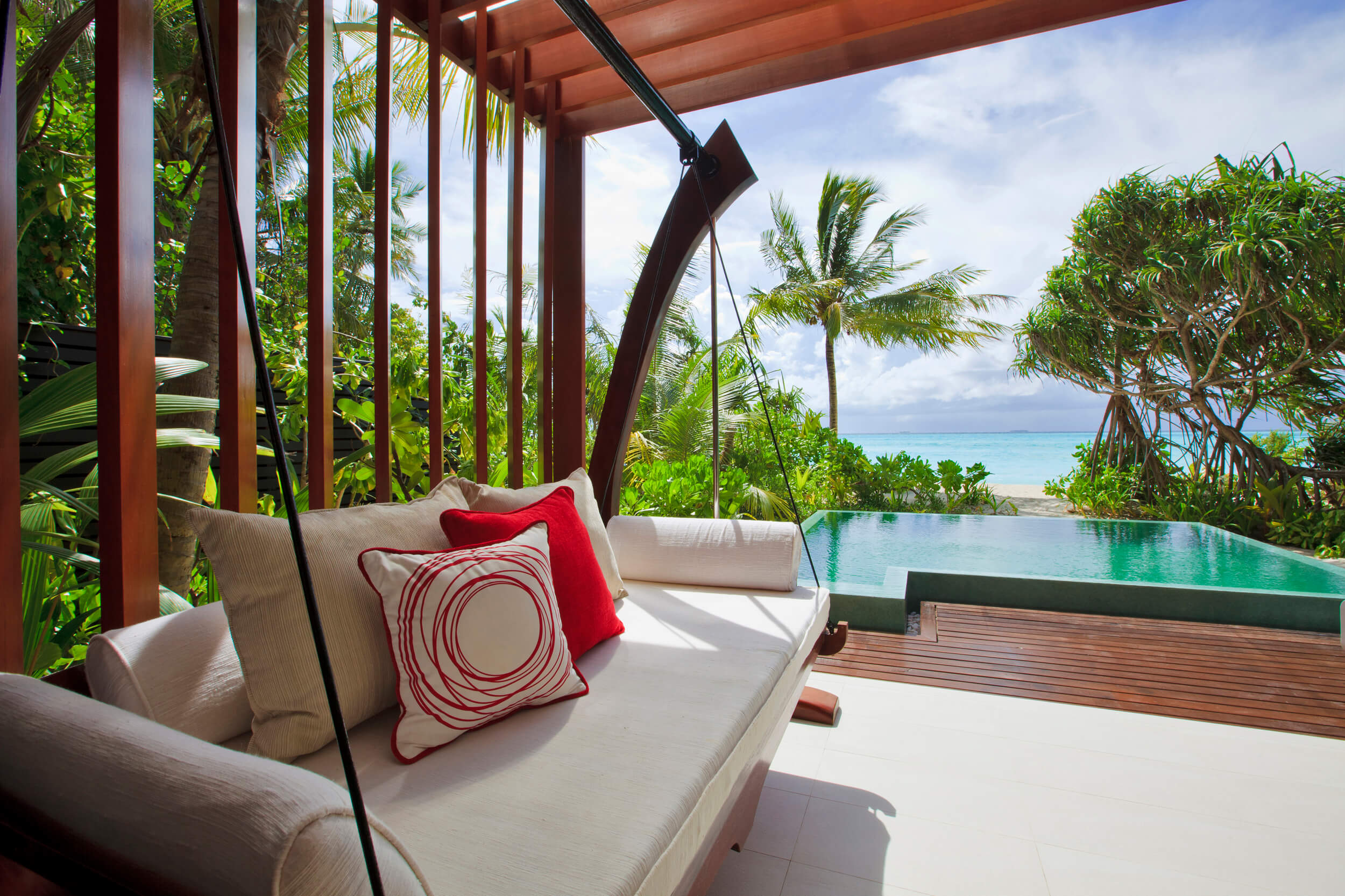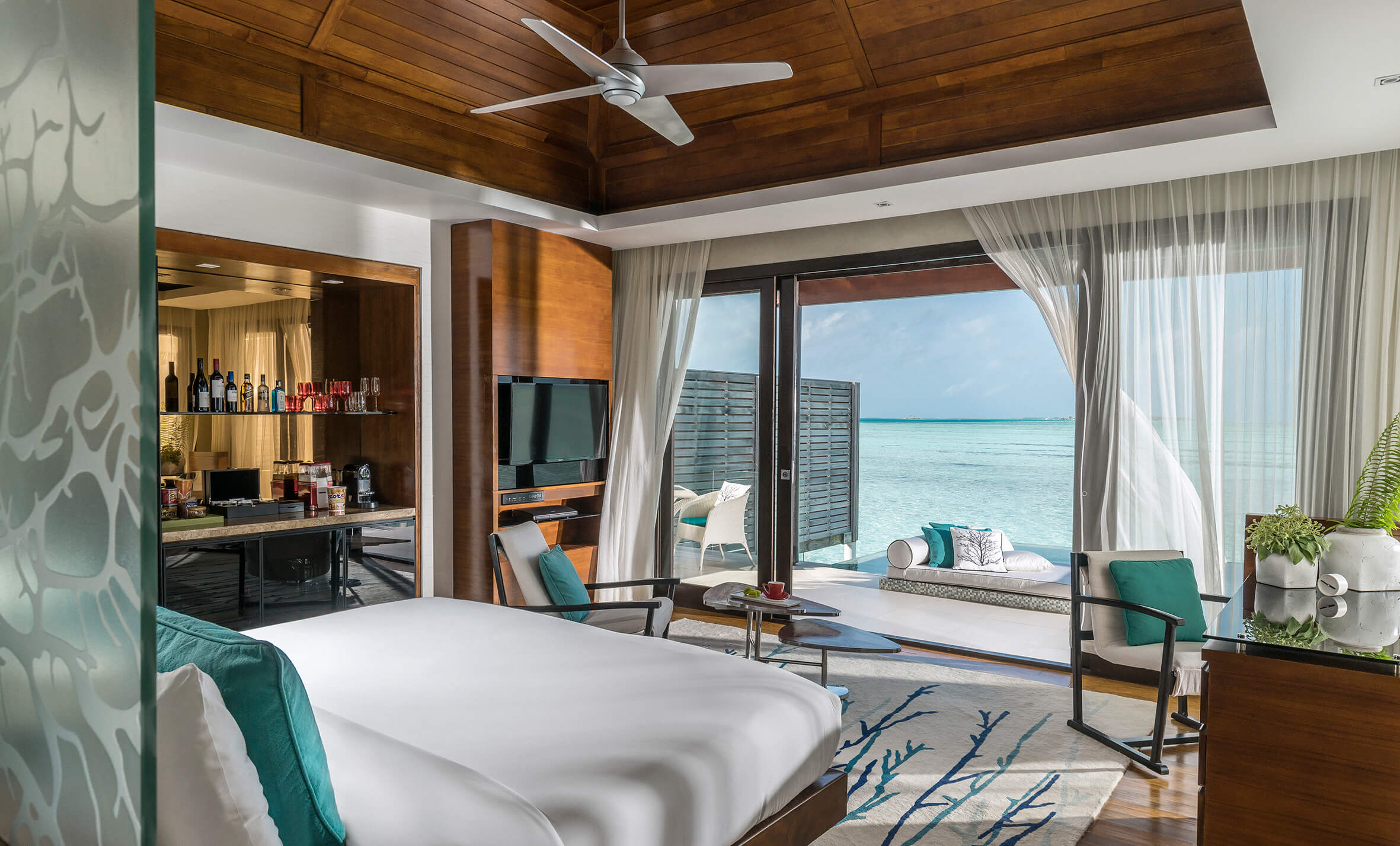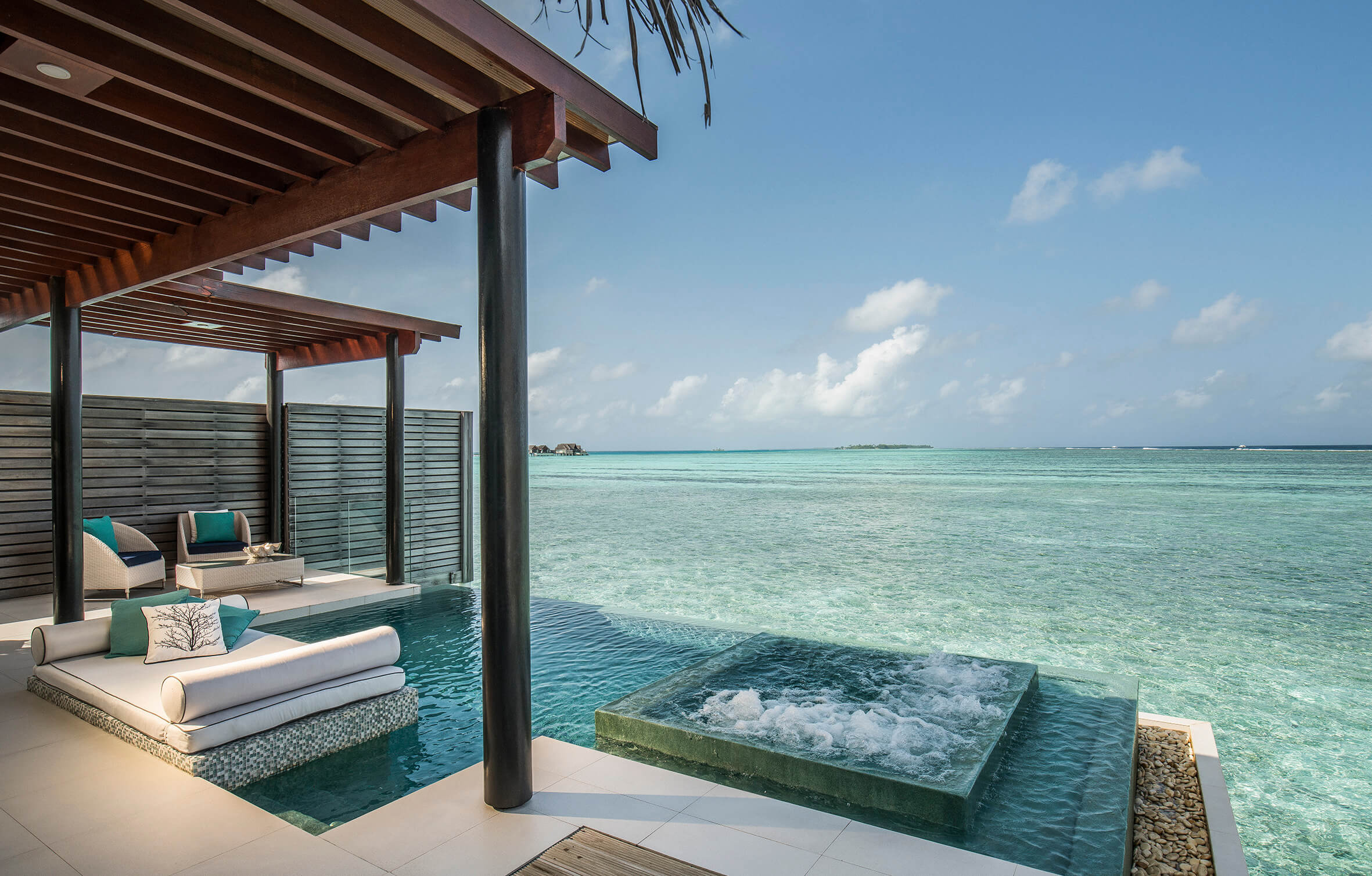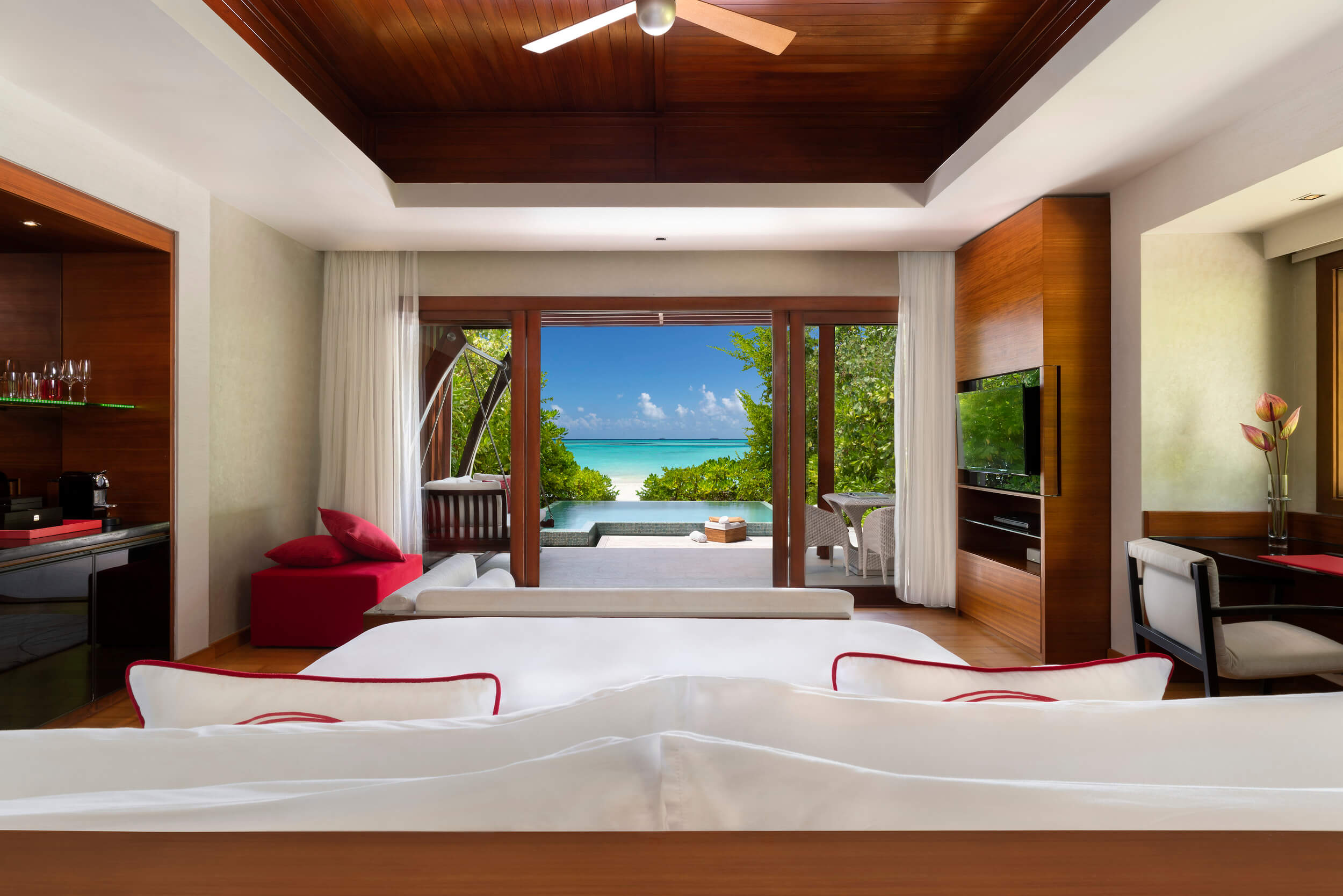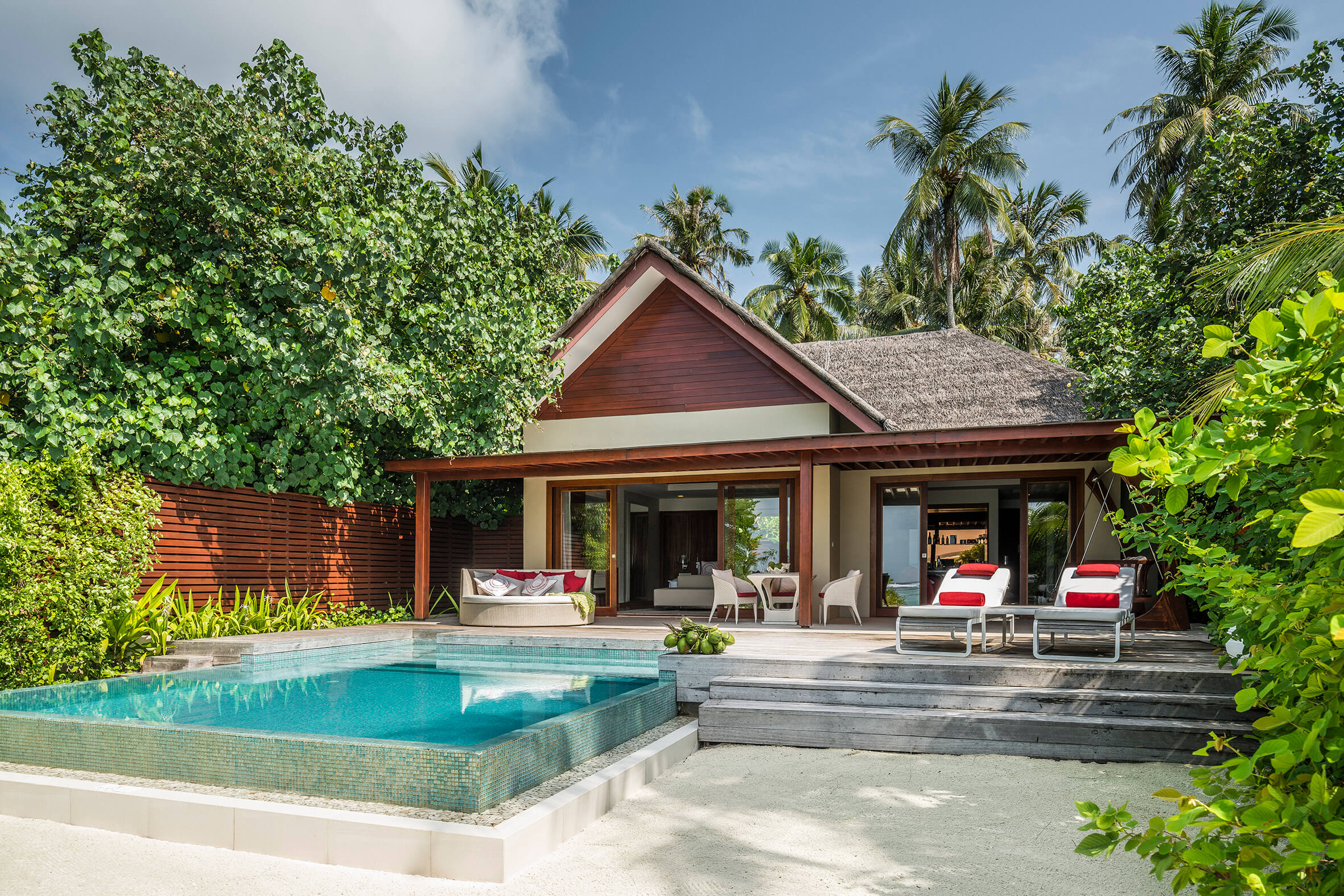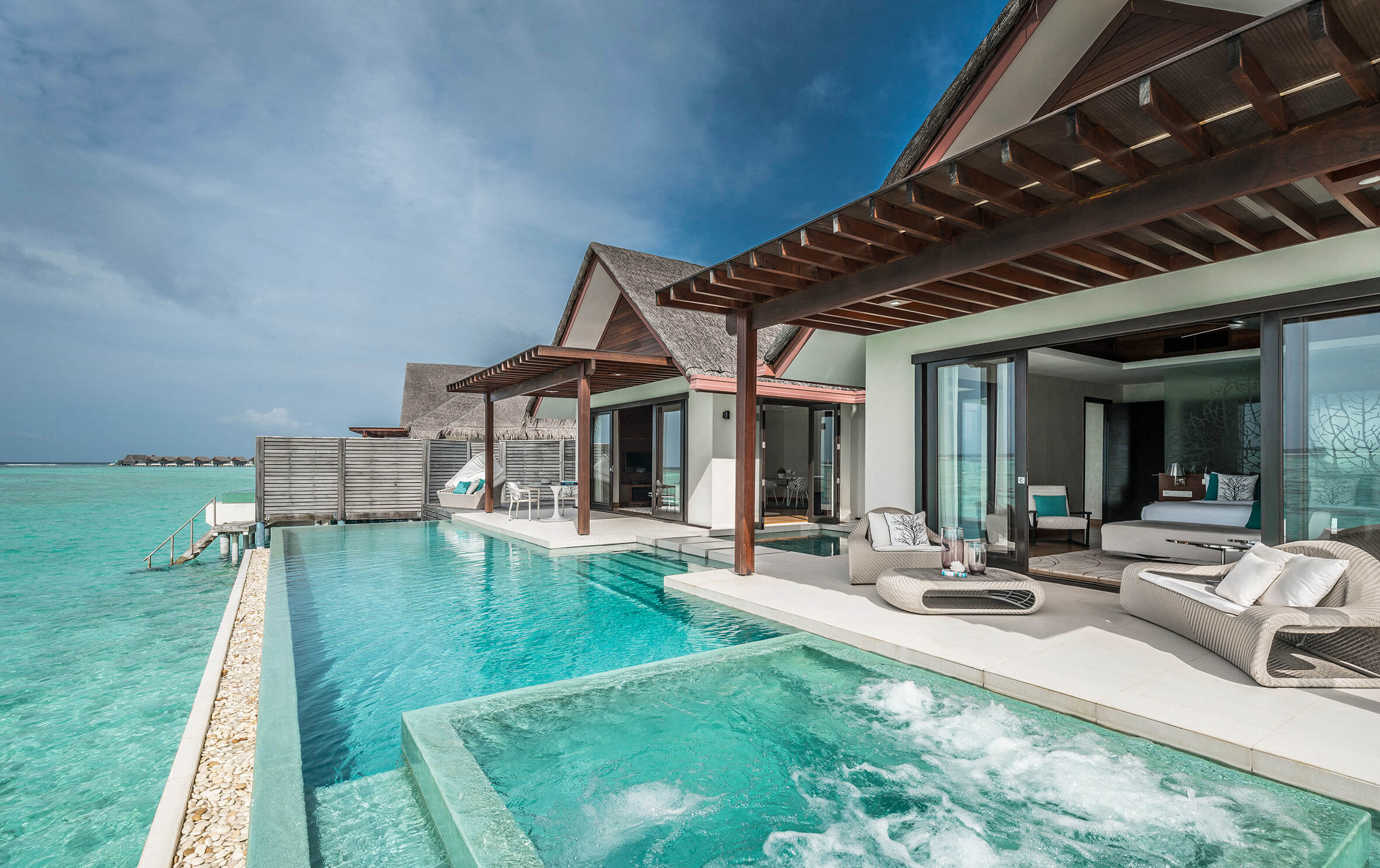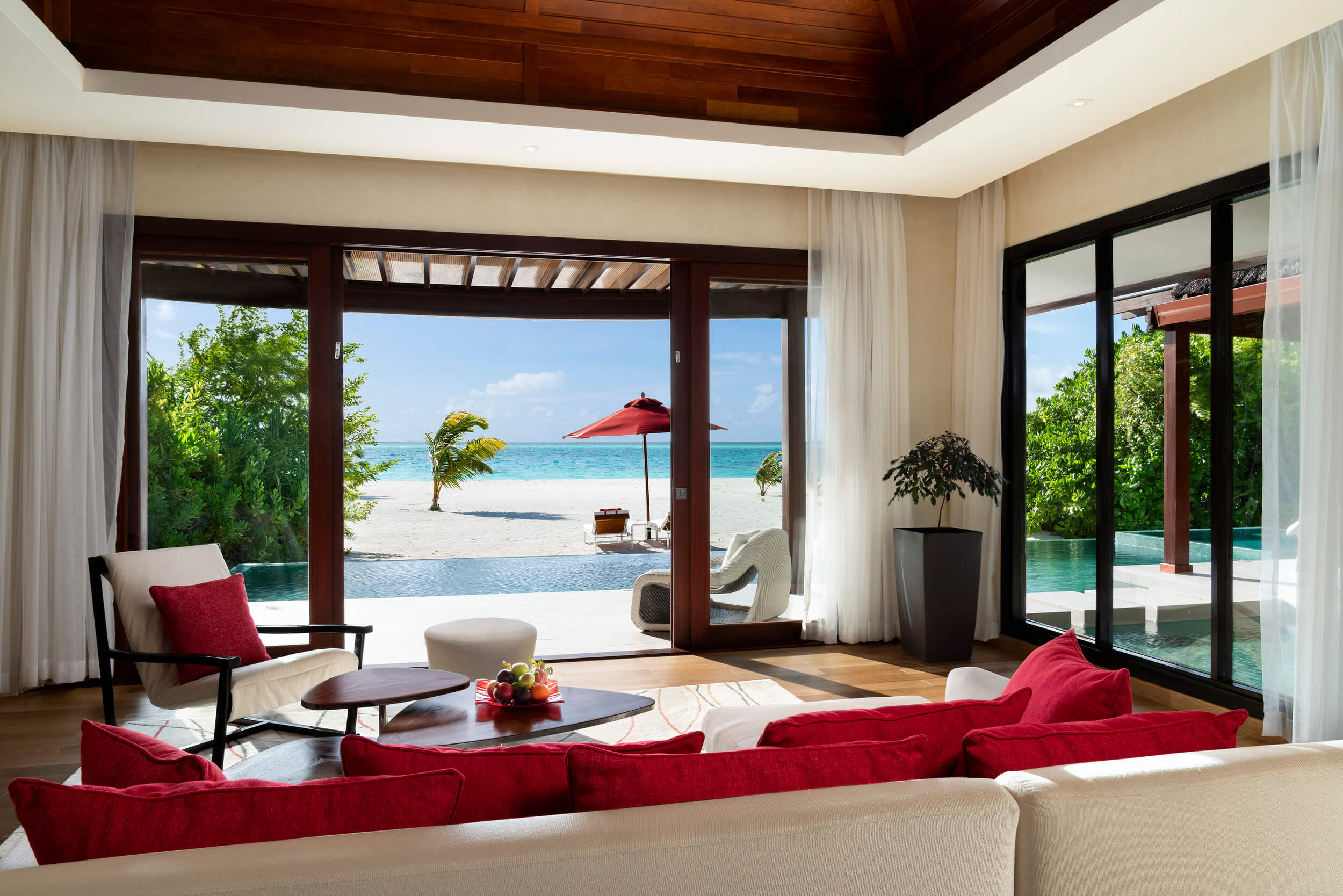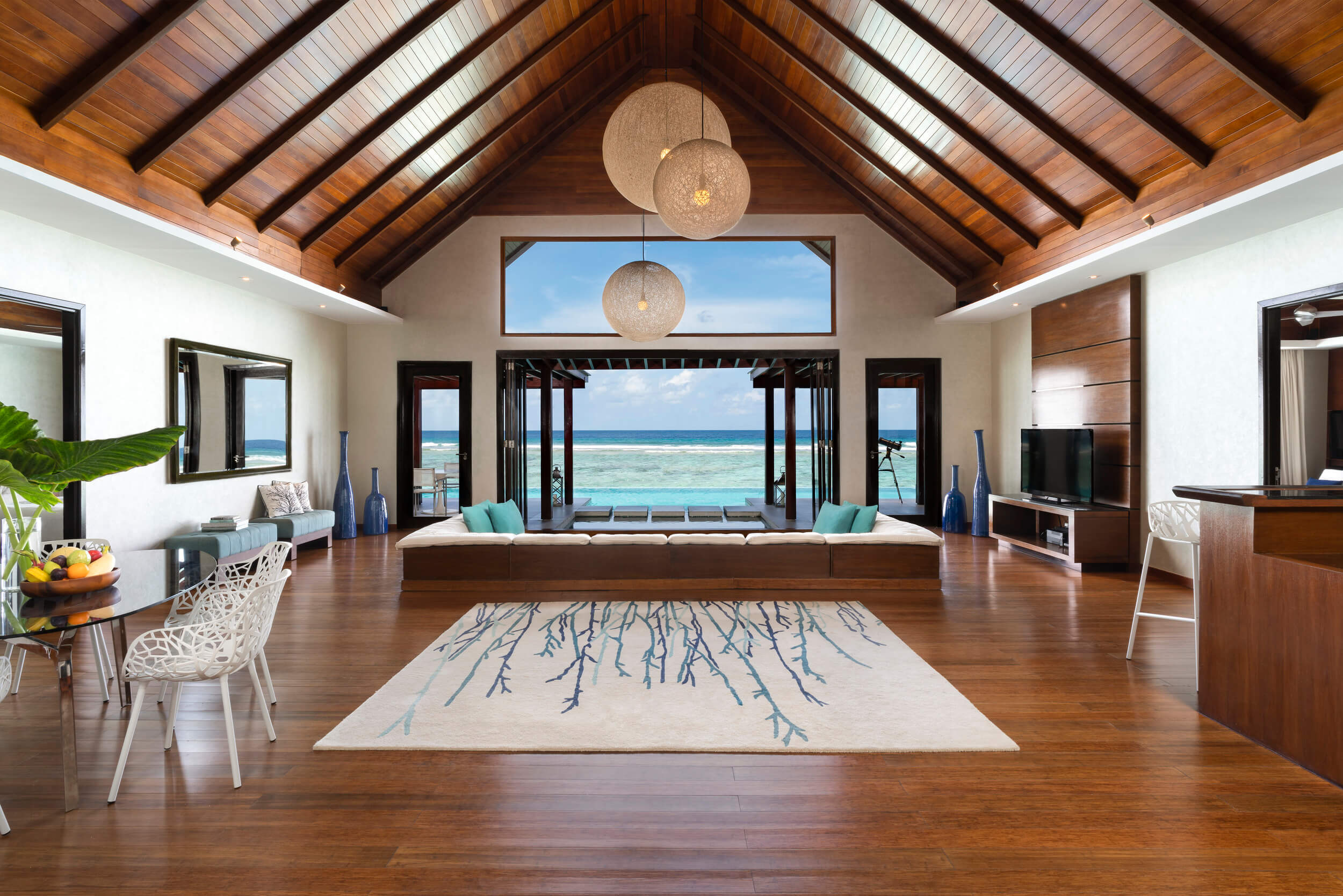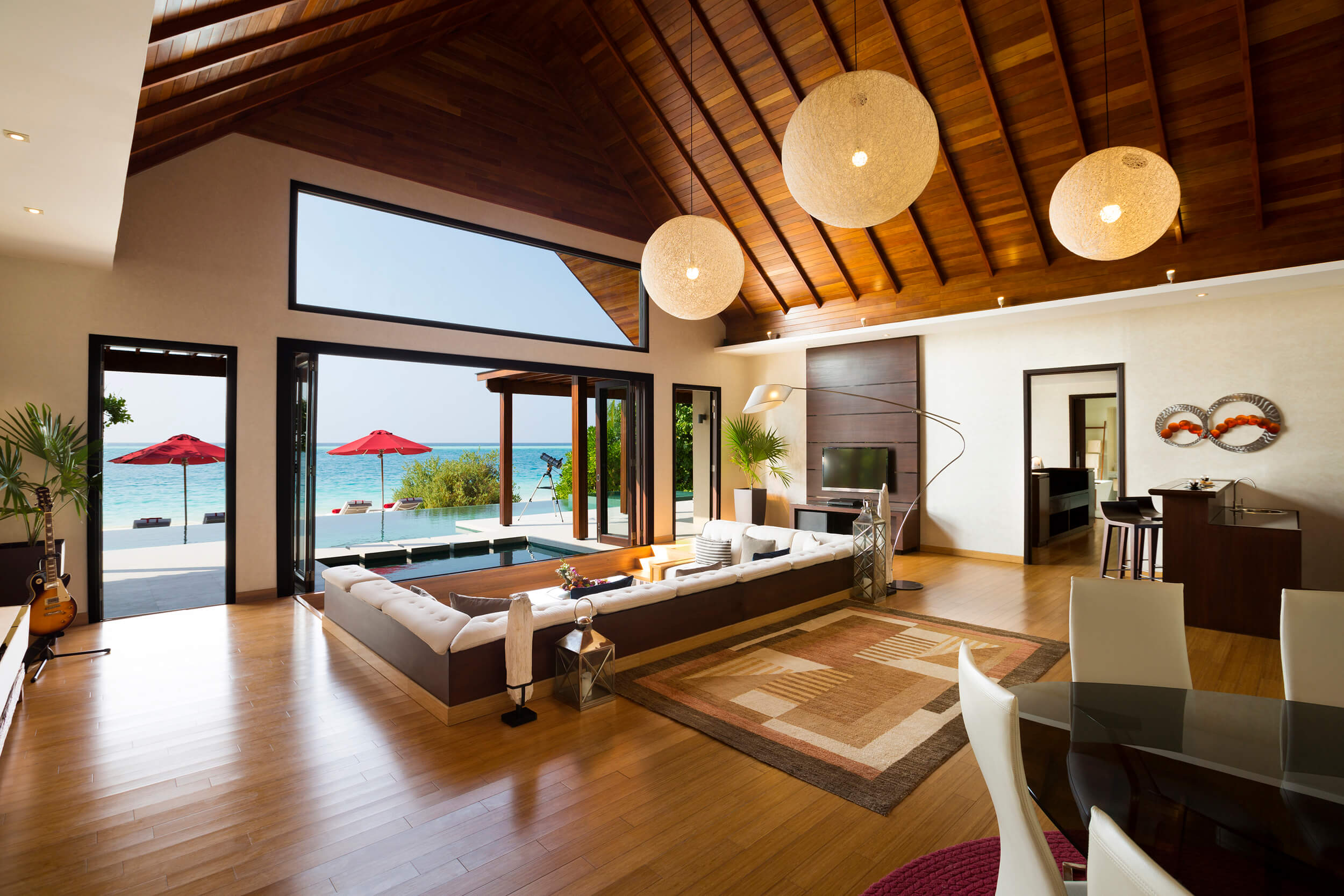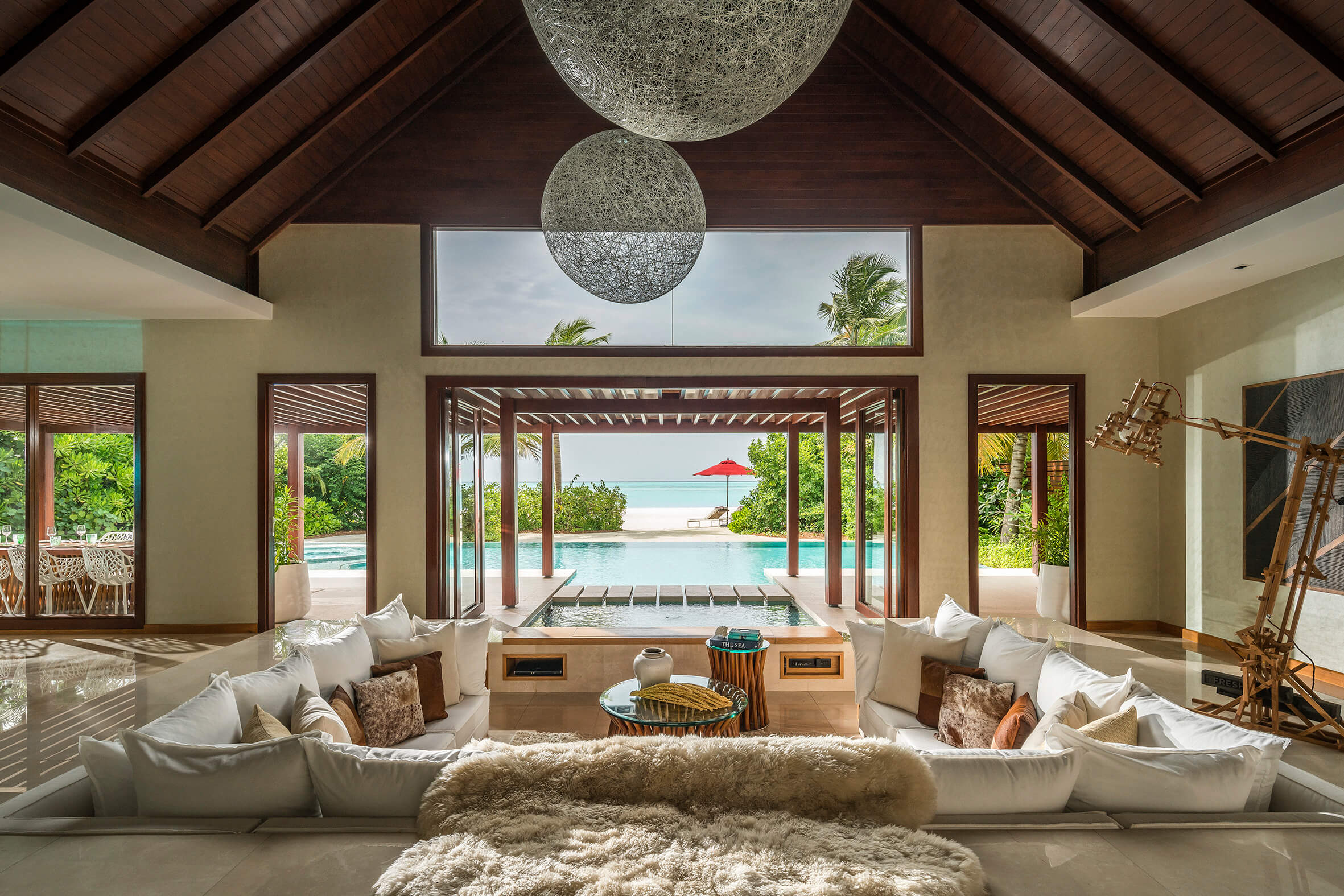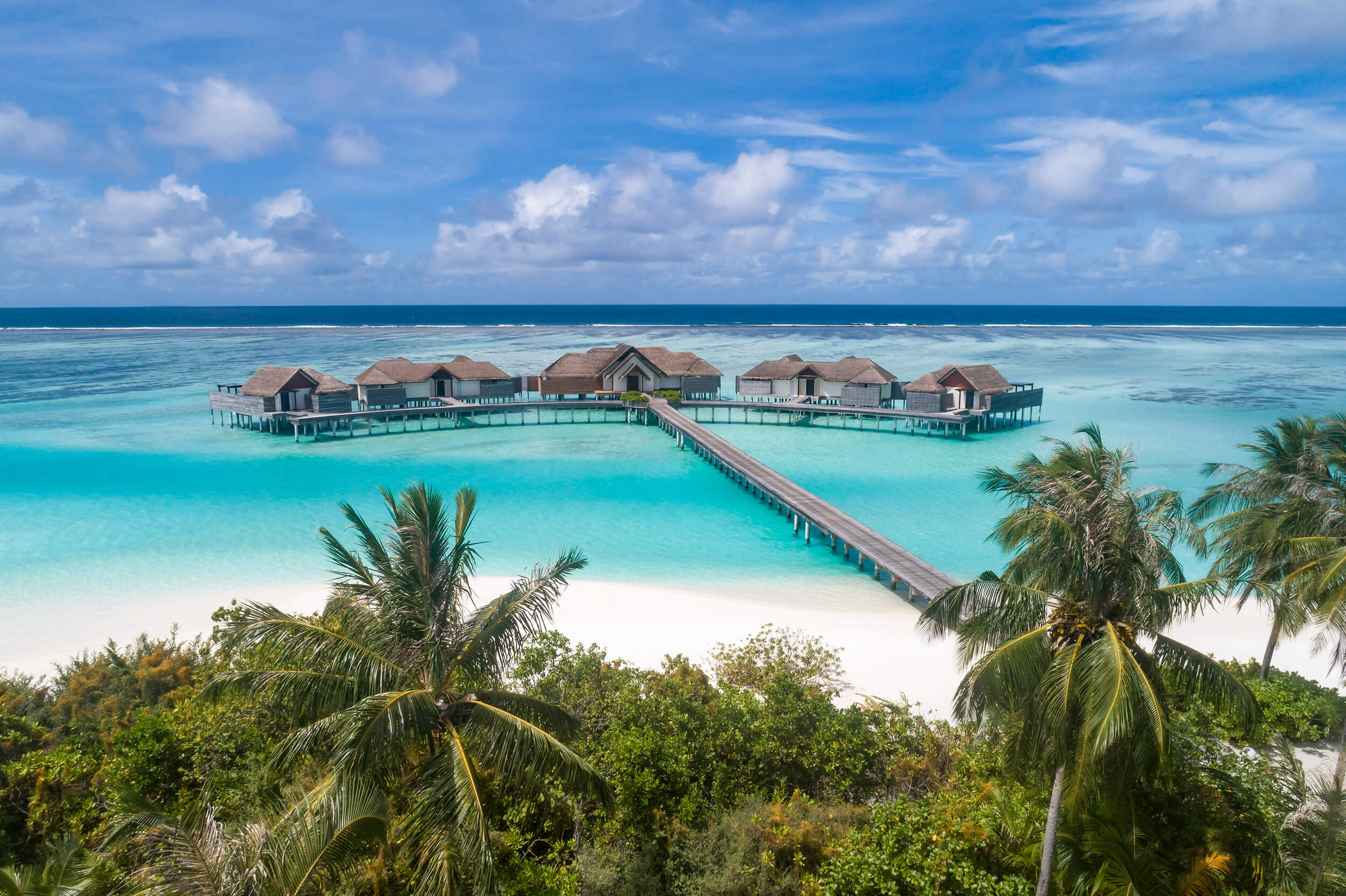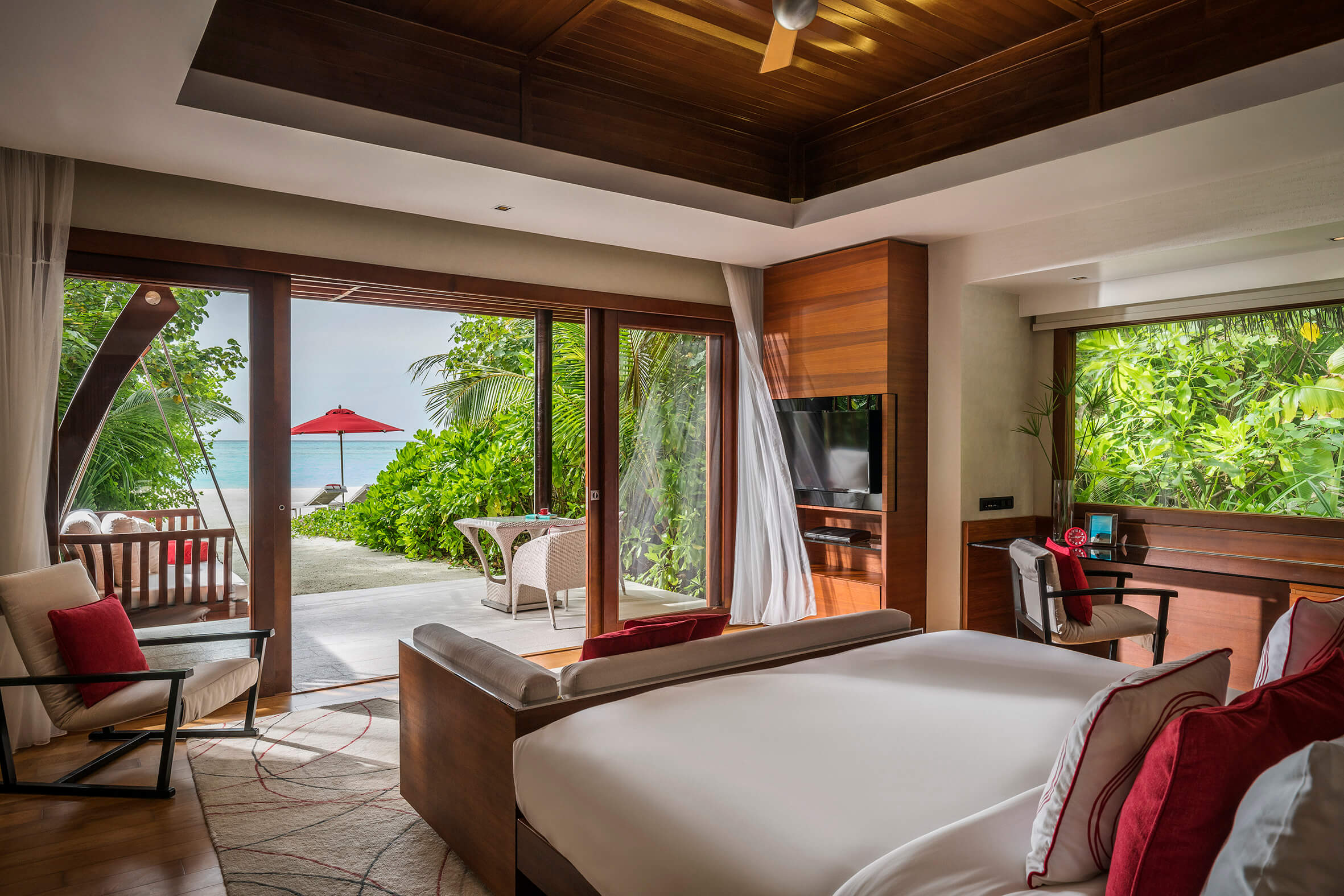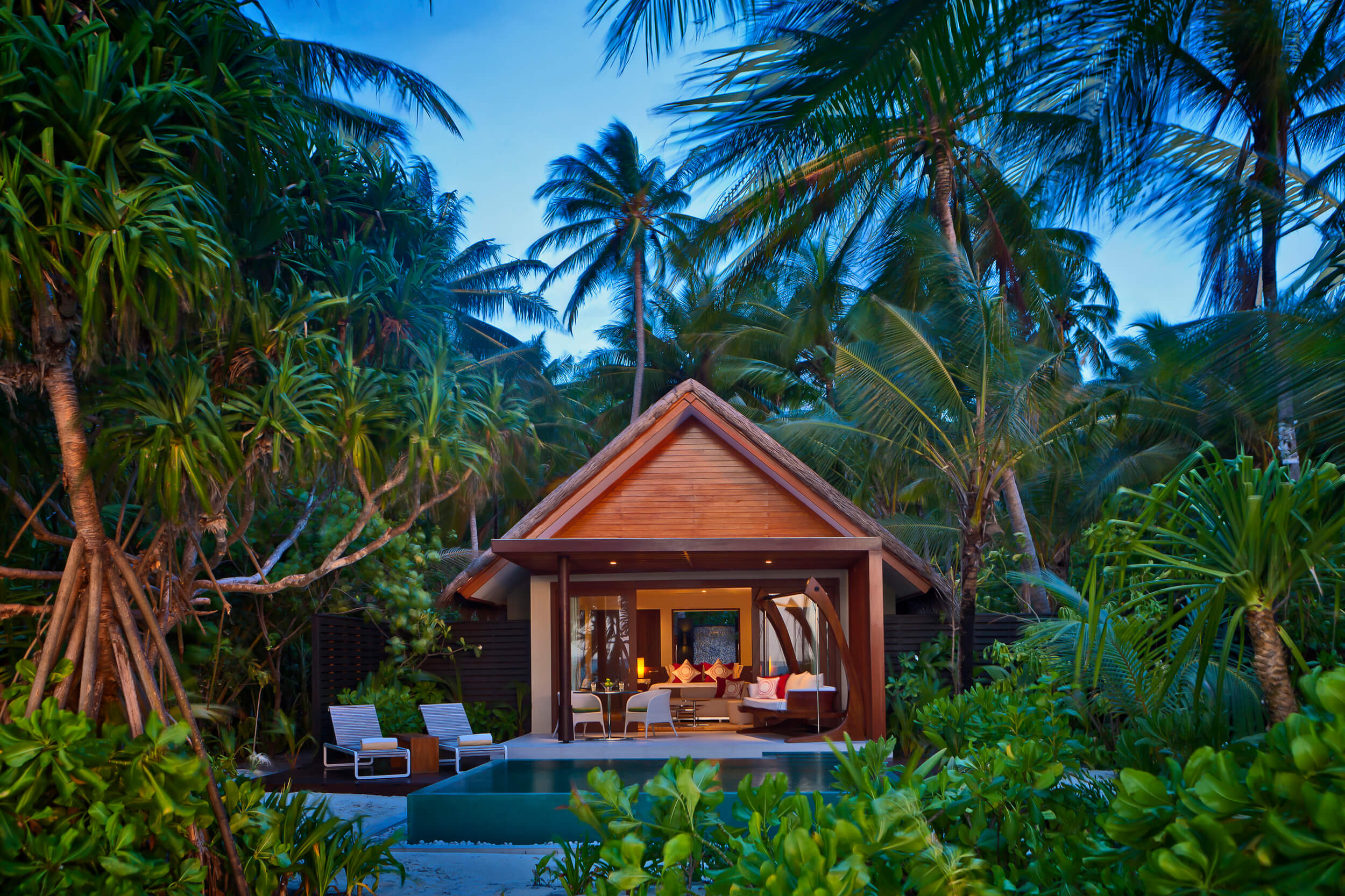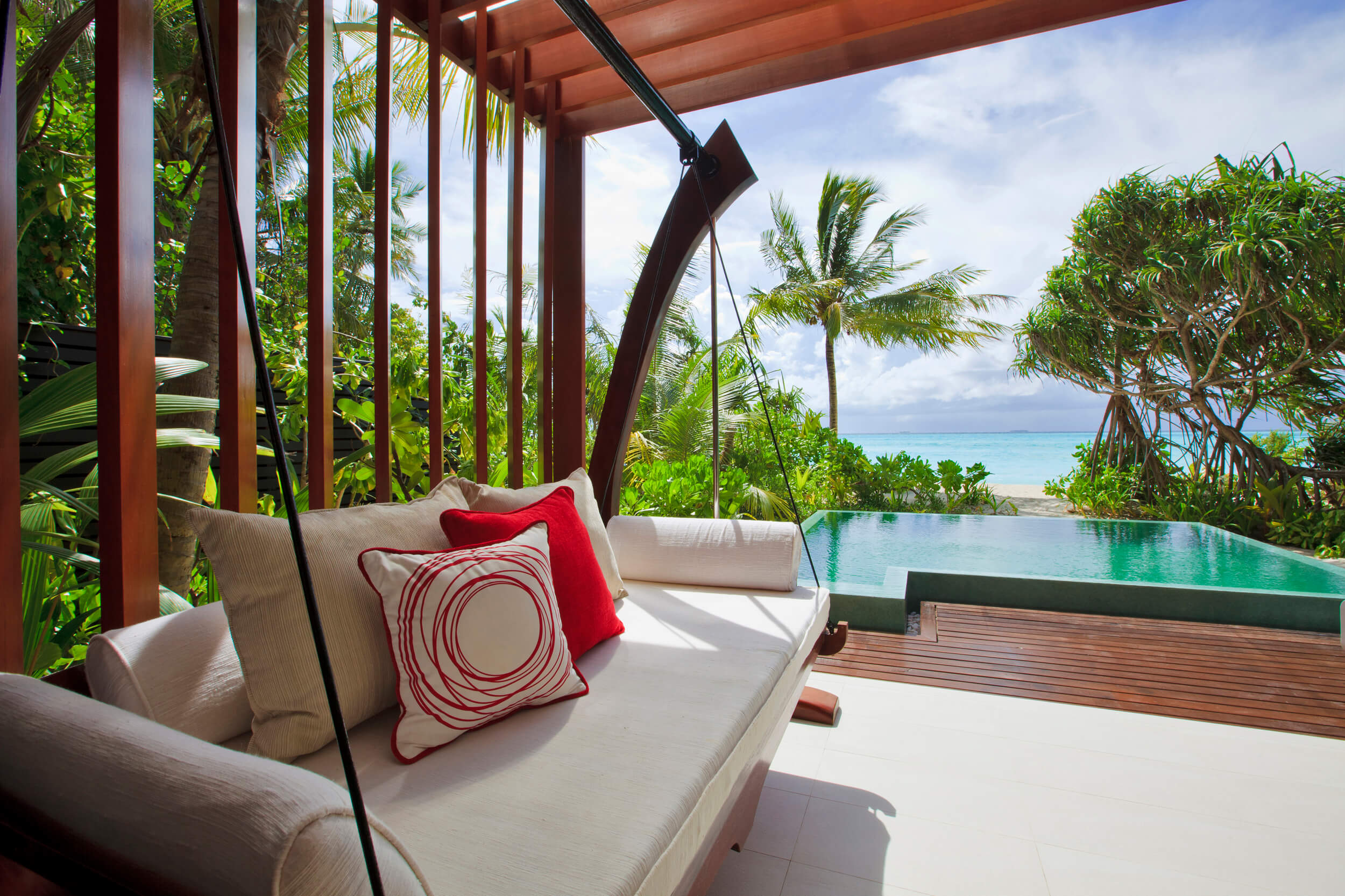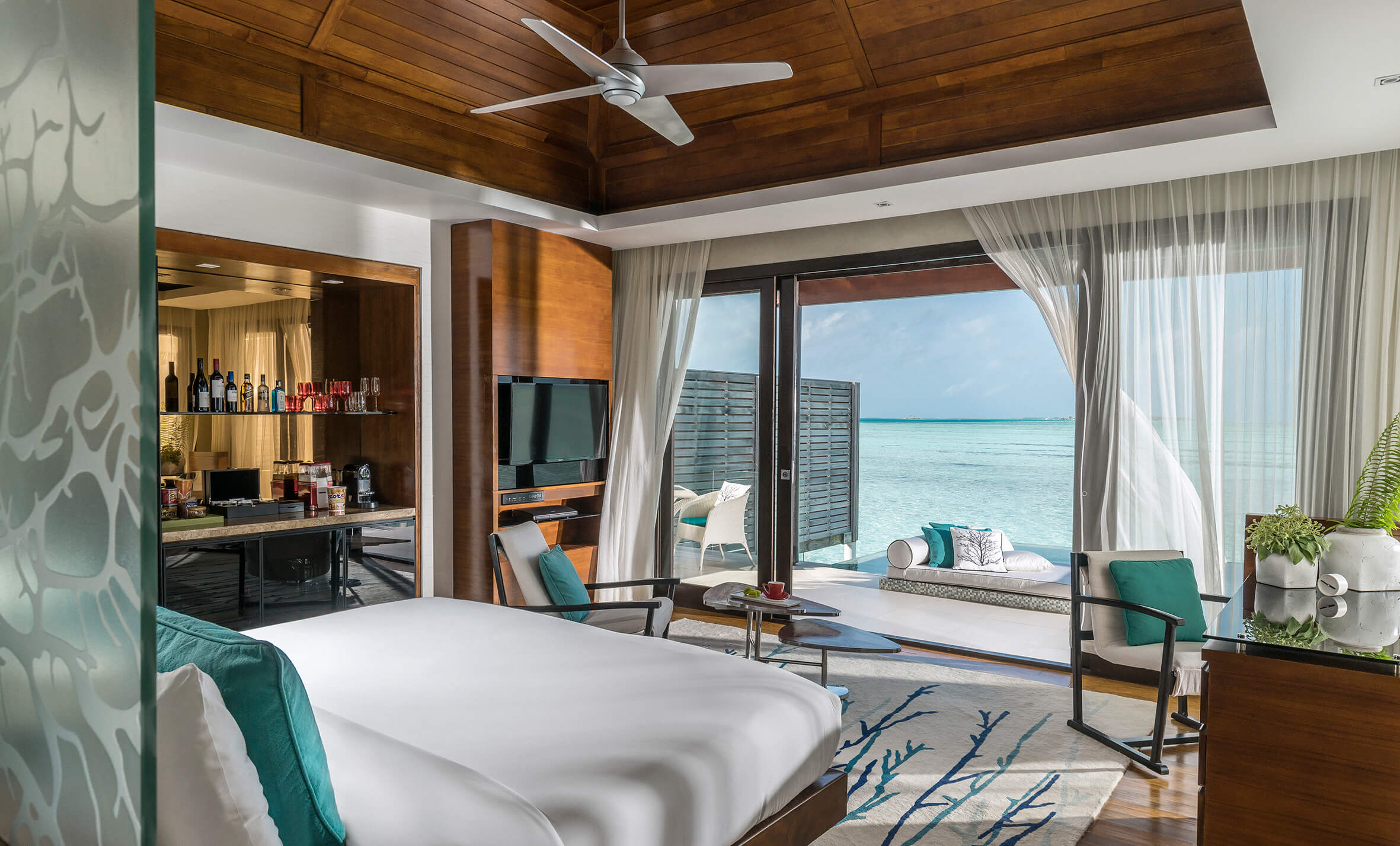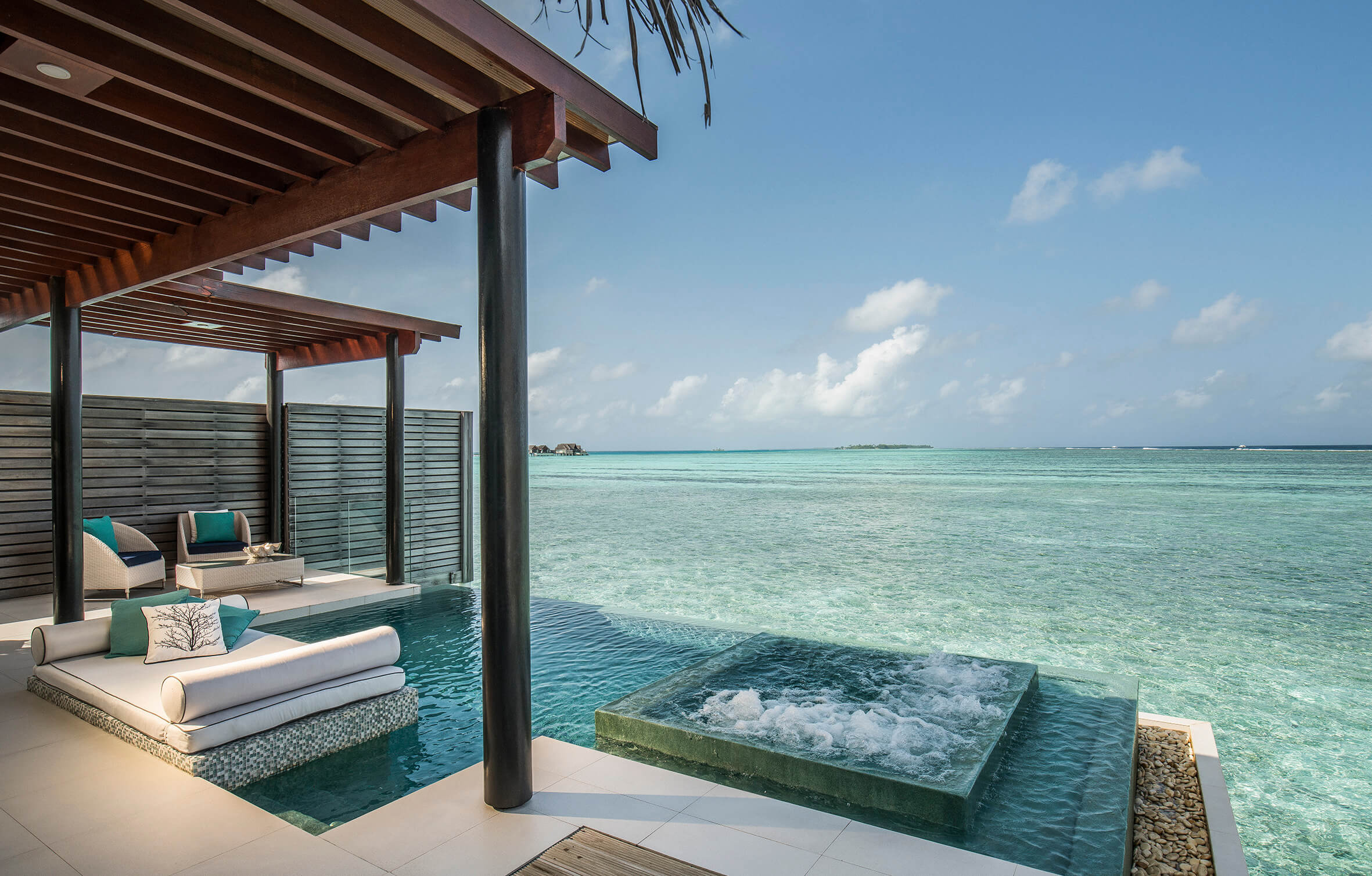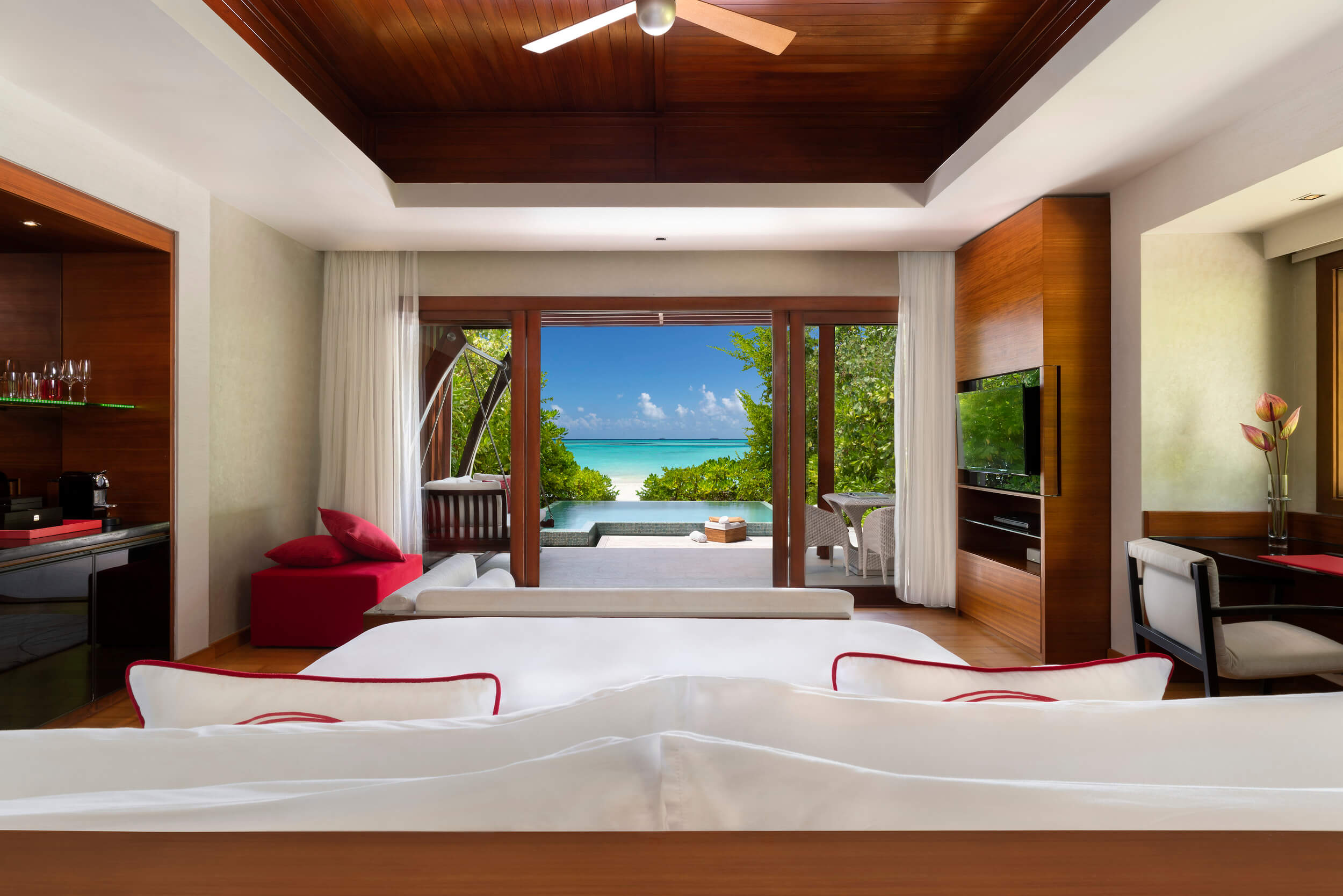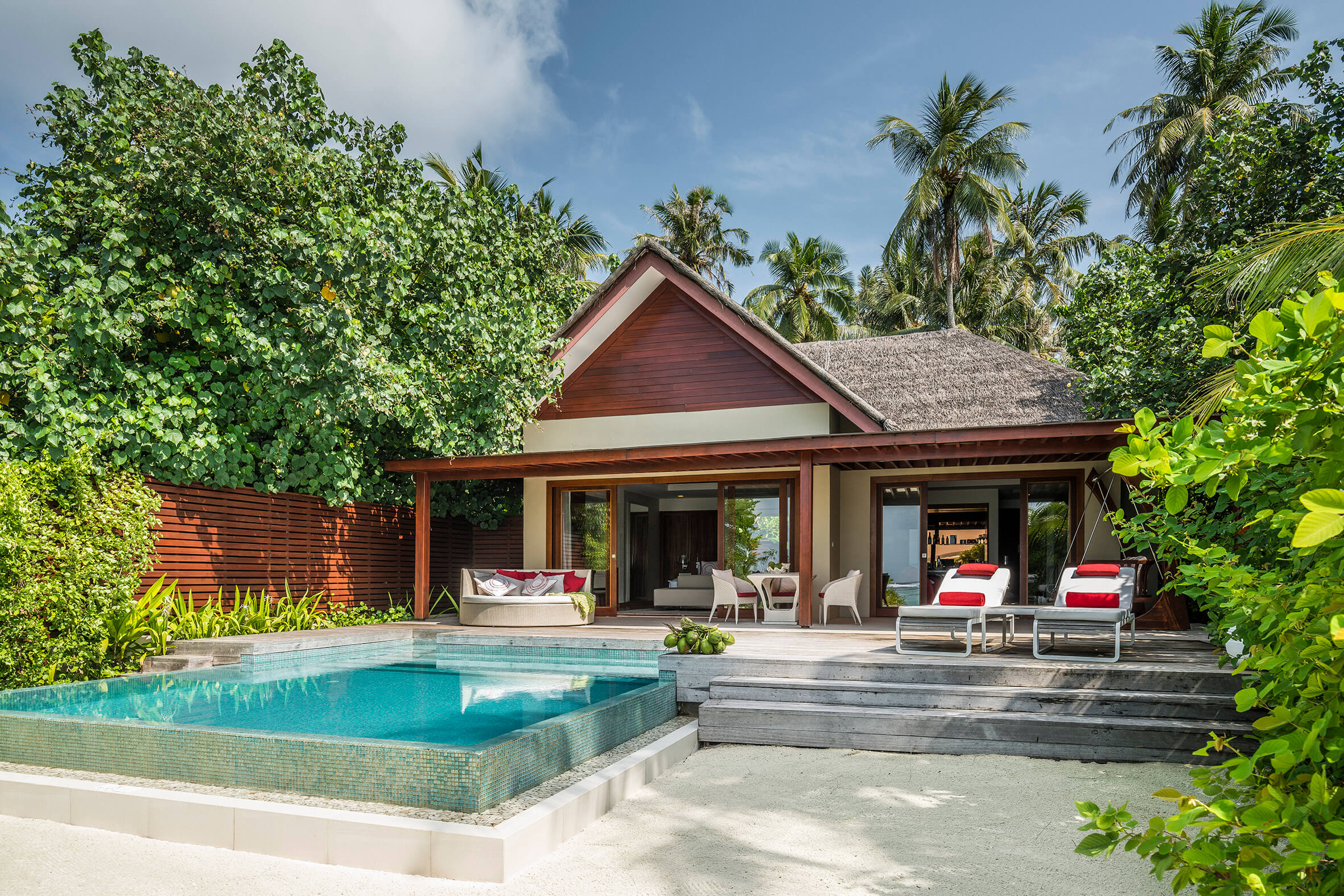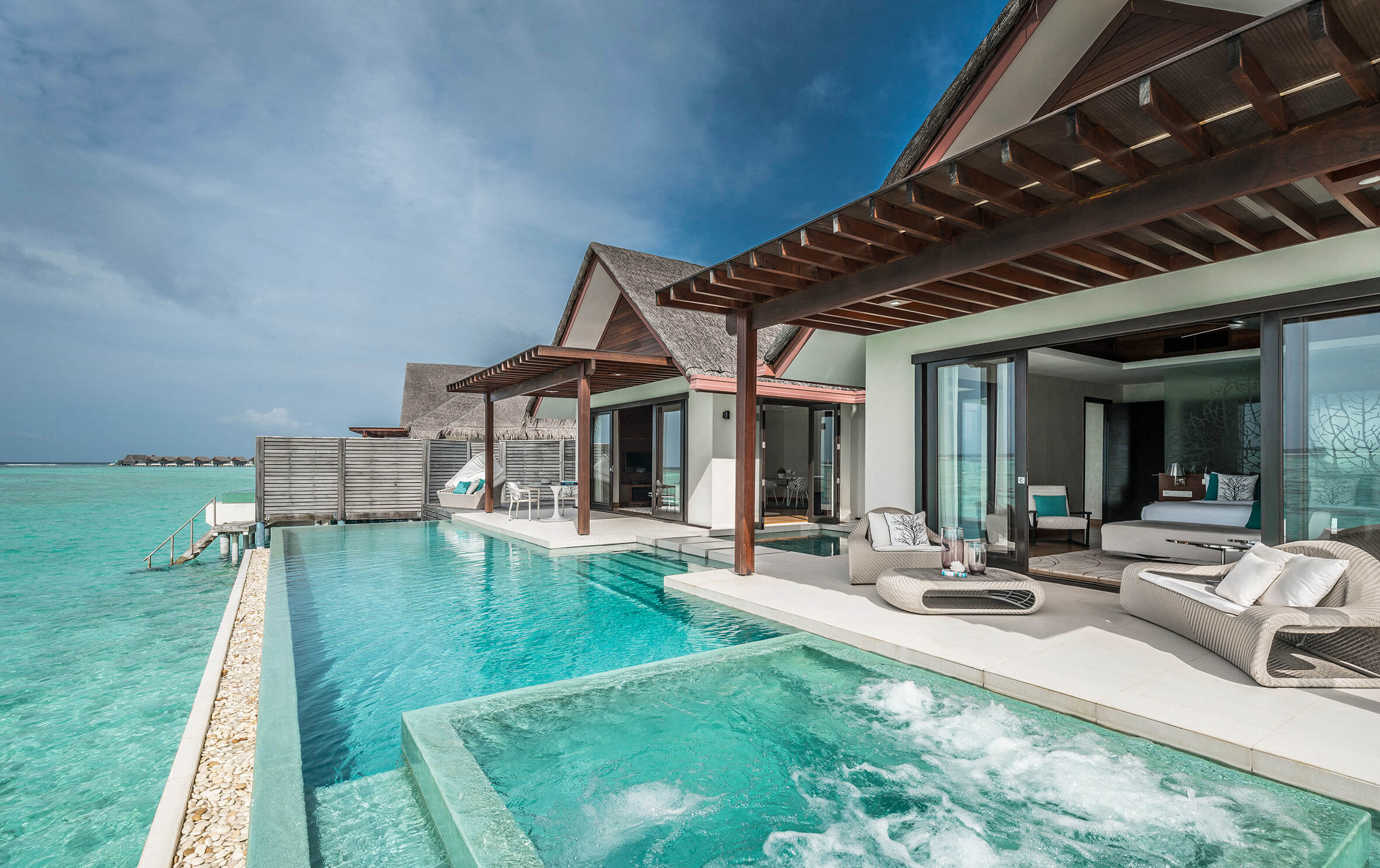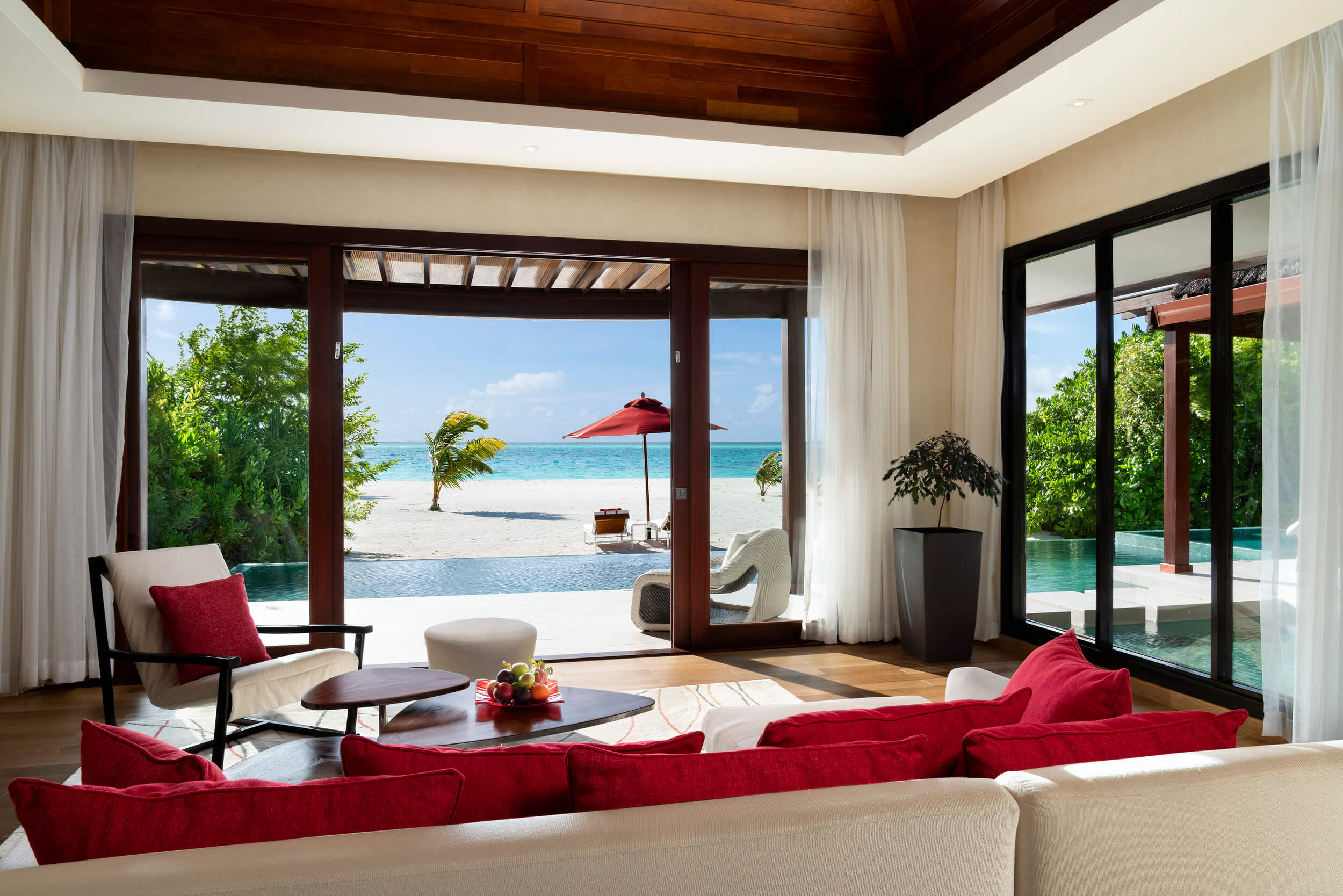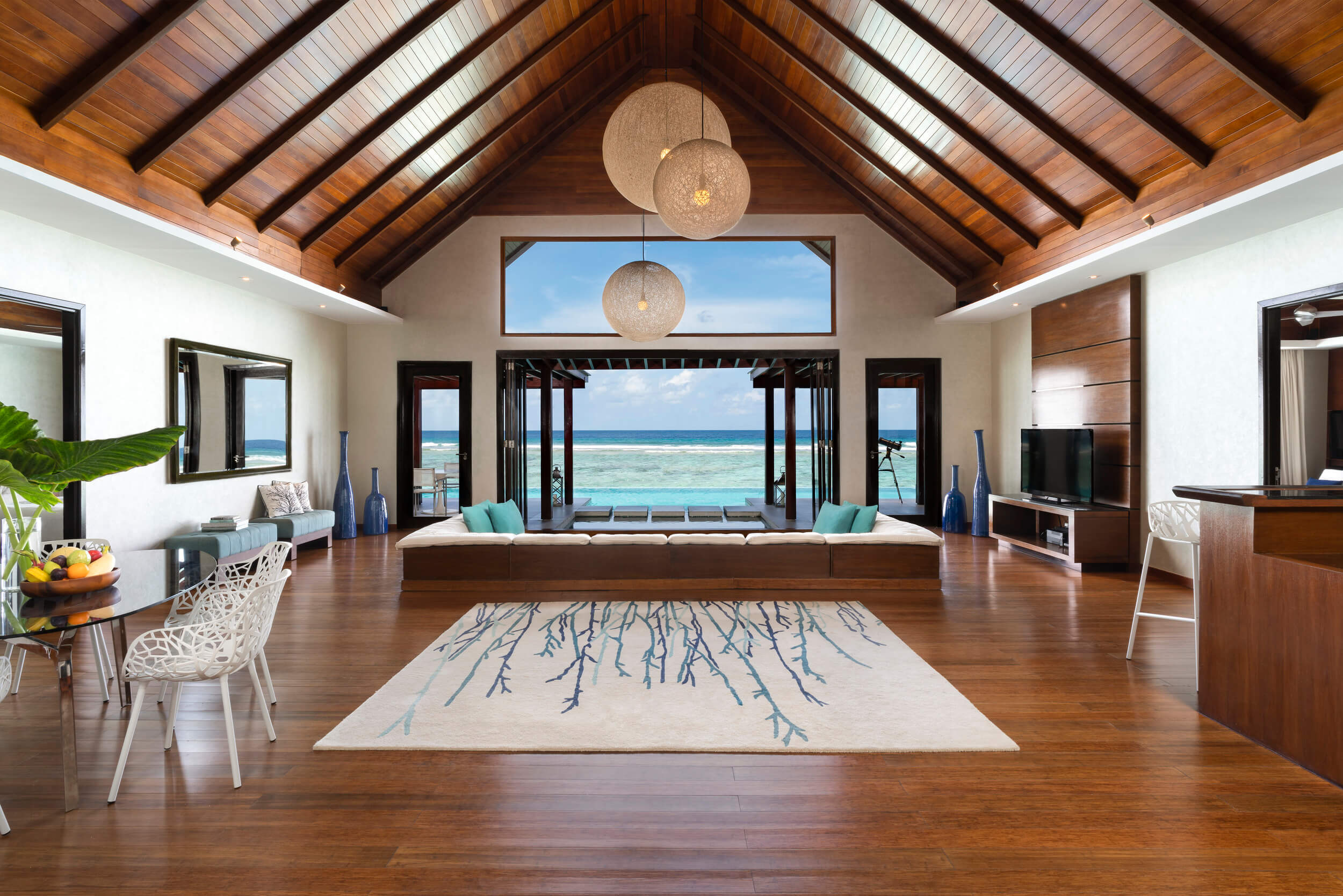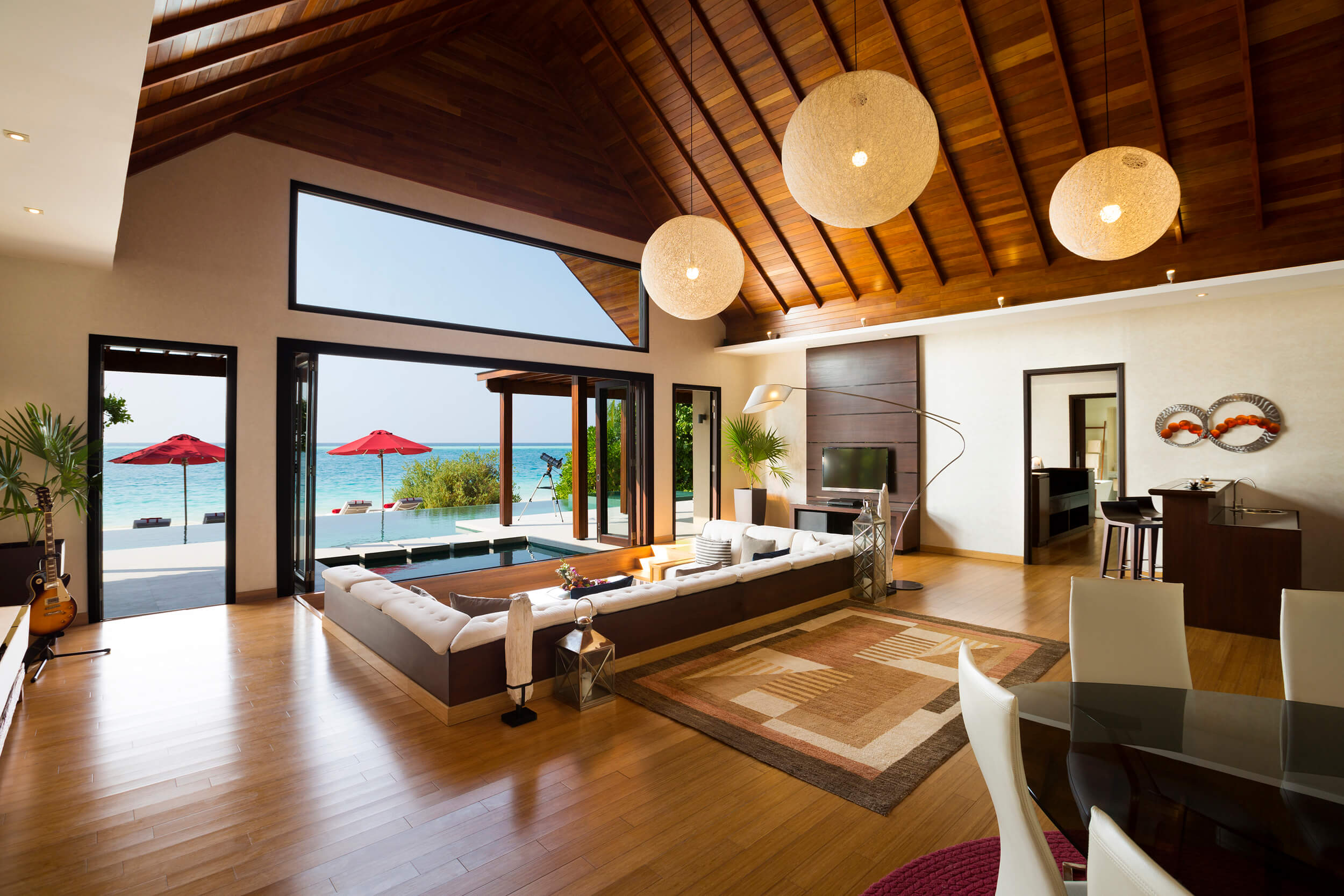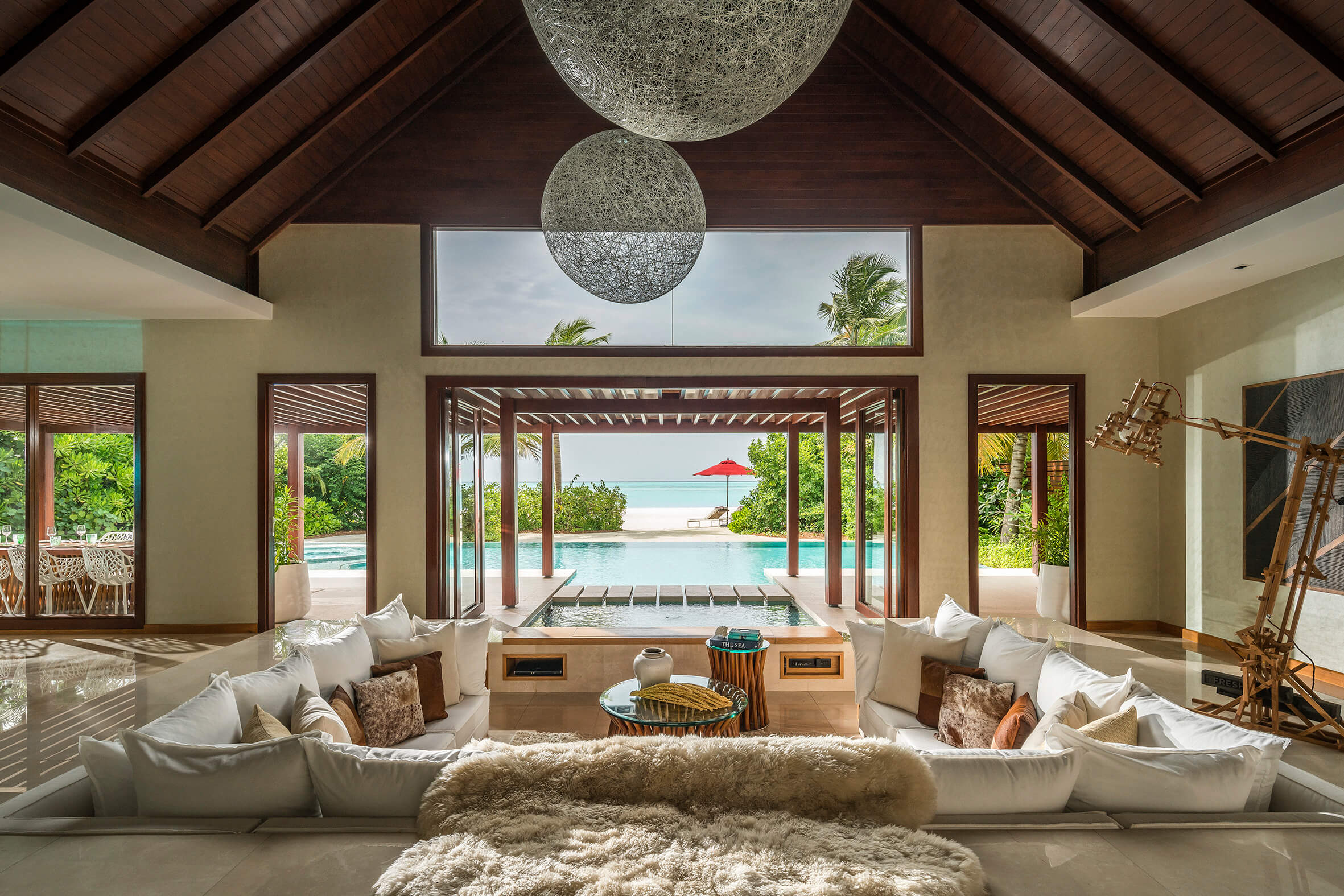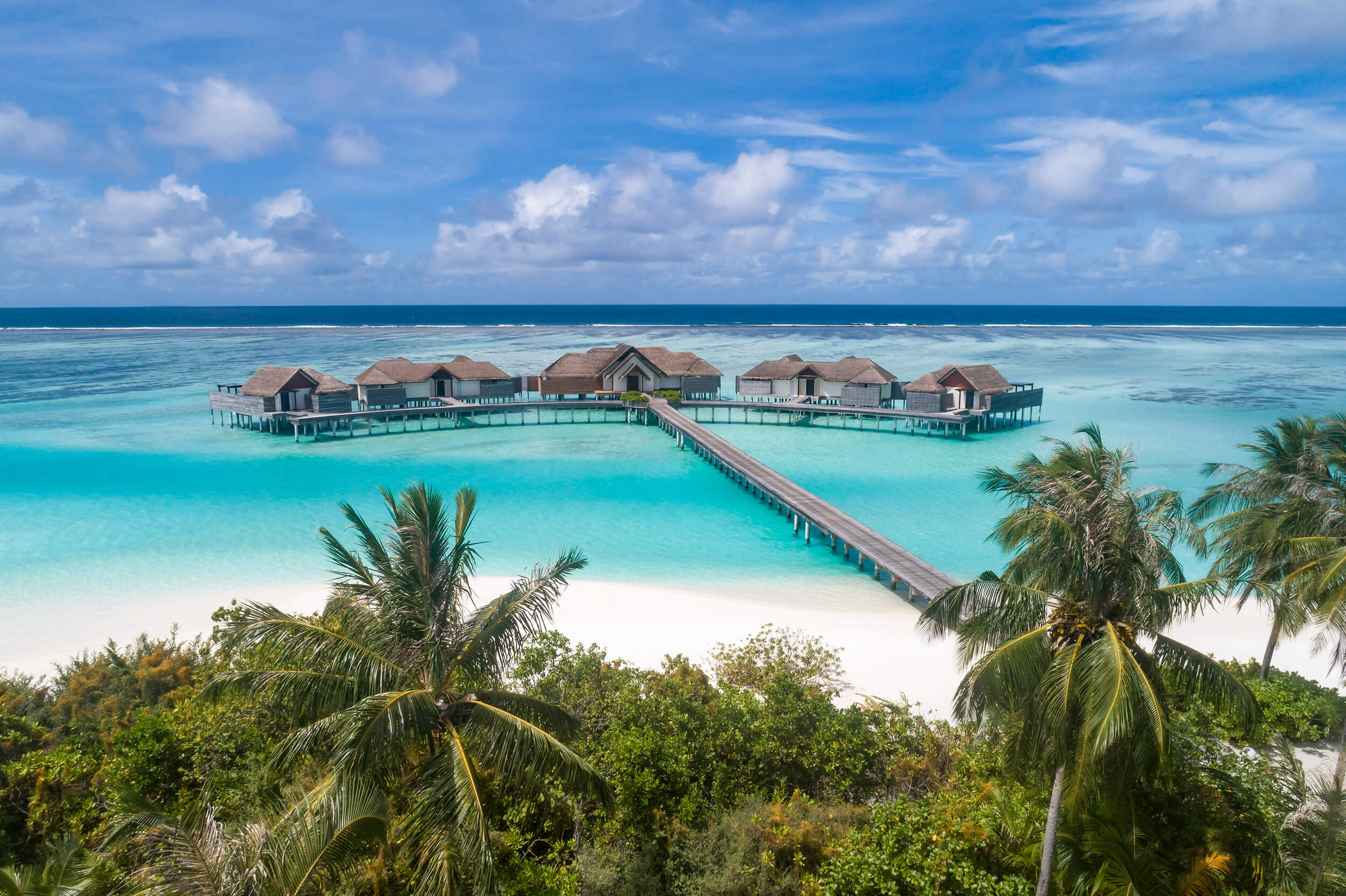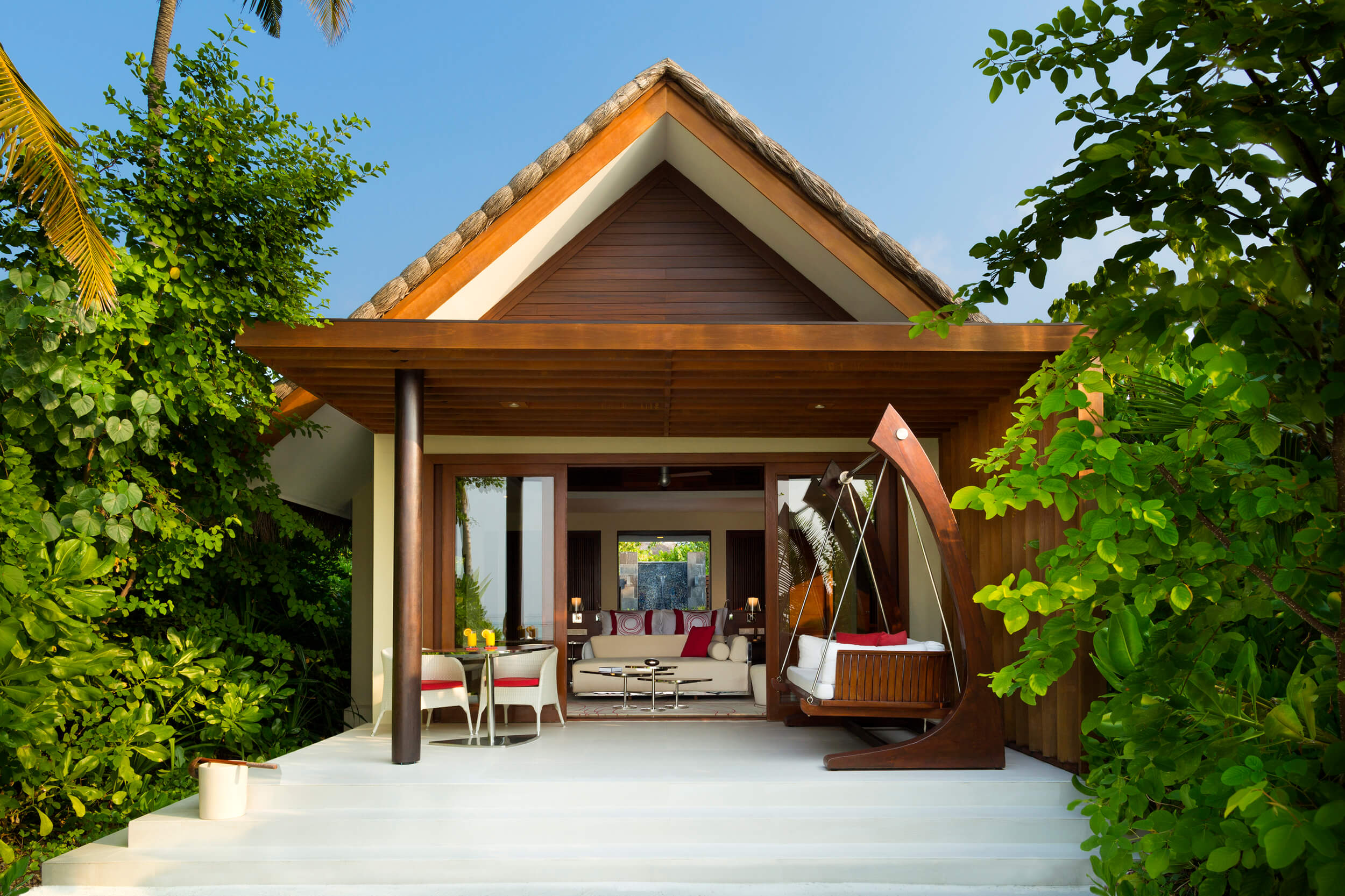 BEACH VILLA
34 villaer / 135 m2
Niyama's Beach Villa byder på formidabel udsigt, en solbeskinnet terrasse og frodige haver. Svaj i din Dhoni-formede gynge, mens solen sender strålerne ned over havet. Har du brug for noget, så ring til din Thakuru (Niyama's butlerservice). Cykler medfølger til villaen.
DELUXE BEACH VILLA
2 villaer / 135 m2
Forestil dig dette. Du åbner glasdørene, går barfodet over det solbeskinnede trædæk i din maldiviske strandvilla og synker ned i det bløde hvide sand, mens solnedgangen maler havet foran dig i et væld af pastelfarver. Deluxe Beach Villas ligger på den rolige og uberørte kyst af øen "Chill", med smukt azurblåt hav lige foran dig.
BEACH POOL VILLA
27 villaer / 190 m2
Træd fra din villa med stråtag ud på det hvide sand. Junglegrønt og salt havvand blander sig i luften, og lagunens panorama omslutter dig. Det er fredeligt privatliv i denne sublime poolvilla. Fordyb dig i et romantisk regnbrusebad under åben himmel. Slap af over en middag i det fri oplyst af månen, eller tænd for det fiberoptiske lys fra din private pool.
DELUXE BEACH POOL VILLA
12 villaer / 190 m2
Opskriften på det luksuriøse liv kunne sagtens være en kombination af en ufattelig bred strand, blødt sand og de mest fantastiske solnedgange. Tilføj turkisblå nuancer fra din private pool og lagunen foran villaen. Spring fra liggestole til pool til indendørs eller udendørs regnbruser omgivet af palmer. Indvendigt finder du højteknologisk underholdning og pulserende surround sound. Forkæl dig selv med en mini bar fyldt med lækkerier og en butler, der står til rådighed 24/7.
WATER POOL VILLA
22 villaer / 175 m2
Slap af på din private terrasse og nyd synet af turkis og azurblåt hav. Gå ned ad trappen til den lune lagune og nyd den bagende sol. Bag dig danner villaens interiør den perfekte baggrund. En himmelsk villa, perfekt til det romantiske par, som ønsker fred, ro og privatliv.
DELUXE WATER POOL VILLA
14 villaer / 190 m2
Et retreat over vandet med masser af plads til at nyde. Vågn op til et glimt af det spektakulære lys på lagunen og dyk ned i det altid lune hav. Slap af på dækket. Kast dig ned i din private pool om dagen, og glid ned i din lækre jacuzzi, når mørket falder på. Indendørs venter der en elegant overdådighed. Synk ned i en kingsize-seng. Nyd det overdimensionerede badekar. Eller stå under den behagelige regnbruser.
FAMILY BEACH POOL VILLA
11 villaer / 255 m2
En indendørs og udendørs familieoase, der åbner ud til en sukkerhvid sandstrand. Vågn op til havudsigt og solopgangen. Her kan børnene lege i sandet, mens de voksne plasker rundt i den private pool. En stor villa med rummelig stue, som om aftenen omdannes til soveværelse for to personer. Om aftenen kan I hygge jer med frisk poppede popcorn og se en film.
DELUXE FAMILY BEACH POOL VILLA
3 villaer / 255 m2
Niyama handler om nydelse, uanset om du er voksen eller barn. For voksne: den maldiviske drøm om rolige strande og romantiske solnedgange. For børn: hele dagen med plasken i en overdimensioneret pool, ubegrænsede søde sager, familielege og overraskelser hver aften. Denne elegante familievilla omfavner alt dette og mere til. Et retreat for hele familien.
ONE BEDROOM WATER POOL PAVILION
2 pavilloner / 340 m2
Udforsk denne kæmpe pavillon, som for en stund er din egen maldiviske legeplads over vandet. Store rum indvendigt, men vigtigst af alt en gigantisk terrasse med stor pool og jacuzzi, som danner rammen om denne luksuriøse pavillon over Det Indiske Ocean.
ONE BEDROOM BEACH POOL PAVILION
3 pavilloner / 400 m2
Sæt dig i din strandpavillon og udforsk en verden af herligheder. Her kan du mærke det bløde sand fra morgenstunden, eller spotte rokker og havskildpadder under solopgangen. Hop i din oversized private pool, lyt til loungemusik i villaen eller læg dig i solsengen og sæt pris på det faktum, at du befinder dig på et af Maldivernes bedste resorts.
TWO BEDROOM OCEAN POOL PAVILION
2 pavilloner / 515 m2
Lev det ultimative maldiviske liv i denne Two Bedroom Ocean Pool Pavilion. Lad dine øjne glide hen over det endeløse Indiske Ocean. Den smukke blå farve fra den enorme infinitypool går hånd i hånd med det turkise fra havet. Nyd et glas køligt champagne til synet af tropiske fugle og lyden af den lette brise. Indenfor finder du oceaner af plads - fra to soveværelser til en luksuriøs, nedsænket stue, spisestue og cocktailbar - hvor de kølige farver giver dig et pusterum fra solens stråler. Når mørket falder på kan du nyde stjernerne gennem dit teleskop, eller omslut dig selv i pavillonens behagelige interiør.
TWO BEDROOM BEACH POOL PAVILION
1 pavillon / 635 m2
En på alle områder imponerende pavillon, midt i det kridhvide sand, med to overdådige soveværelser. Et dæk omgivet af jungle. Frodig. Overdådig. Afsondret. Den perfekte baggrund til de perfekte dage. Slå dig ned med en bog og nyd stranden foran, eller vov dig ud i havet for at snorkle og plaske rundt. Lys natten op med et poolparty, hvor vandet kommer til live med fiberoptiske lys og undervandshøjttalere.
THREE BEDROOM BEACH POOL PAVILION
1 pavillon / 770 m2
Saml hele familien i dette private paradis. Din helt egen pool pavillon, med 3 spektakulære soveværelser. Børnene boltrer sig under den evige maldiviske sol, og leger på jeres egen strand. De voksne nyder afslapning og drinks eller en hårdt fortjent massage i villaens private behandlingsrum. To private pools giver mulighed for både forældrenes privatliv samt sjov og ballade. Om aftenen kan I samles i den Dhoni-formede gynge og hygge jer med frisk poppede popcorn og se en god film. Et retreat som intet andet.
THE CRESCENT
5 pavilloner (The Crescent) / 1.045 m2
Denne kvintet af ekstraordinære villaer ligger samlet over havet og danner rammerne om det ultimative retreat. Niyama's kronjuvel. Tæt på aktiviteter og restauranter, men langt fra travlhed. Her kan bo op til 14 voksne og 8 børn. Nyd det store område. En Ocean Pool Pavilion med to soveværelser slår i hjertet af The Crescent, flankeret af to Water Pool Pavilions med ét soveværelse og to Deluxe Water Pool Villas, alle fem villaer/pavilloner med private pools. To dedikerede private butlere til at holde din ø-oase i gang uden problemer.
MAKAI REALISERER
DIN REJSE TIL NIYAMA PRIVATE ISLANDS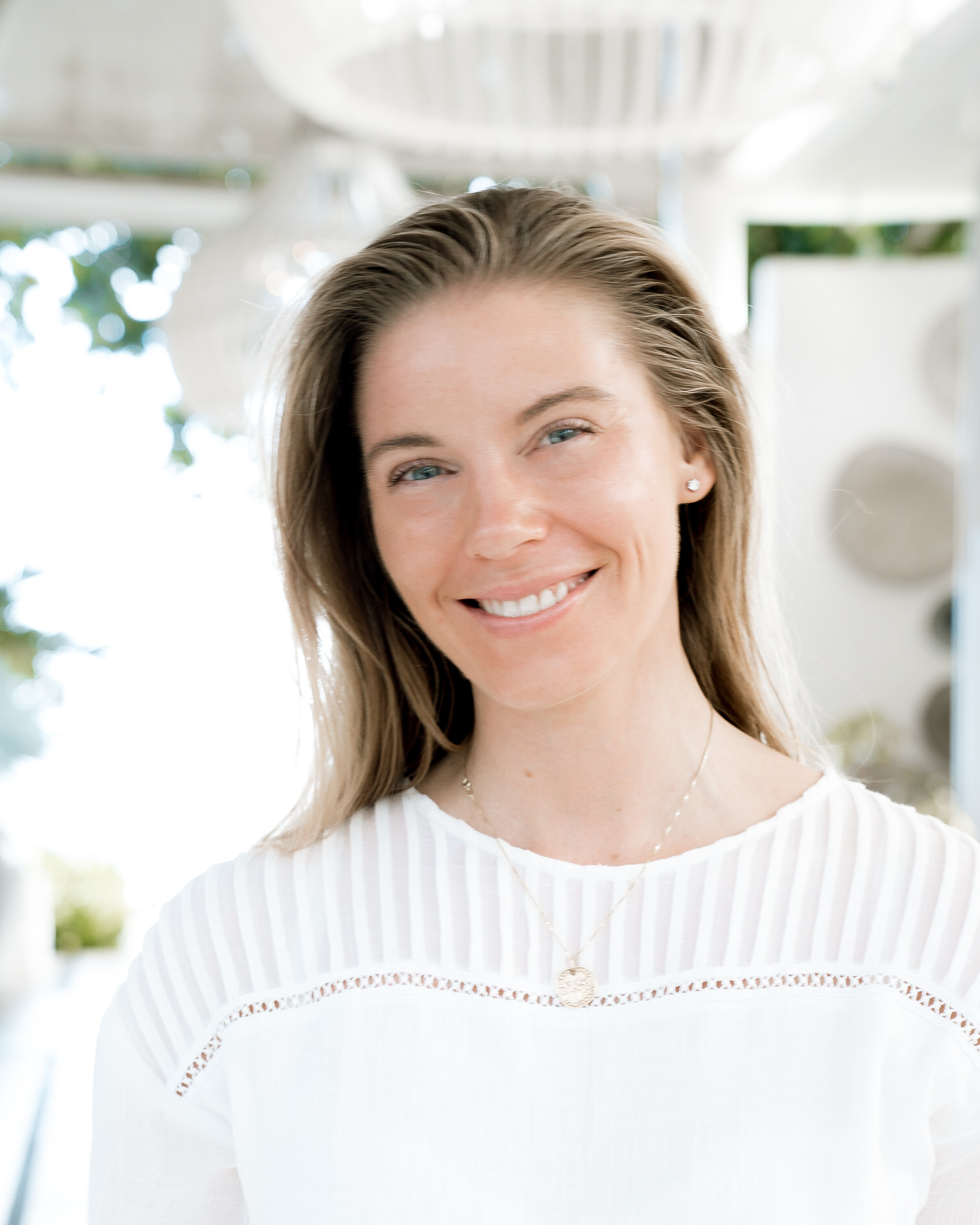 Niyama Private Islands er et af de mest komplette resorts i Maldiverne, som jeg har besøgt. Den guddommelige turkisblå lagune, de spektakulære strande og rummelige villaer med pool imponerede mig især.
En sublim ø til både aktivitetsglade familier og romantiske par.
Lad os sammen realisere din rejse til Maldiverne.
WENDIE PEDERSEN
CO-FOUNDER & TRAVEL DESIGNER
Inspiration, eventyrlige rejseforslag og spændende nyheder, leveret direkte på mail.
FØLG MED PÅ INSTAGRAM
Enestående oplevelser er endnu bedre, når de deles med andre. Post dine rejseoplevelser med Makai på Instagram @makaitravels med hashtagget #makaitravels.
KONTAKT MAKAI TRAVELS
Har du brug for hjælp til at finde det helt rette rejsemål, det perfekte hotel eller kan du ikke finde det, som du søger, så er vi altid klar til at hjælpe dig. Hver eneste dag - 365 dage om året fra kl. 10-22.