Patina Maldives Fari Islands
5.5
Maldiverne / Det Indiske Ocean
SUBLIMT DESIGNET PRIVATE ISLAND RESORT I NORTH MALÈ ATOLL MED EMINENTE SPISESTEDER, UNIKT BÆREDYGTIGT FOKUS OG EXCEPTIONEL KVALITET
Patina Maldives er et resort, hvor natur og inspirerende arkitektur harmonisk eksisterer side om side, og et retreat for gæster, der søger autentiske oplevelser på en magisk beliggenhed i hjertet af Det Indiske Ocean.
Dette sted kan I bund og grund beskrives meget simpelt. Bæredygtig luksus med sans for selv de mindste detaljer. Patina og Studio MK27, med verdensberømte Marcio Kogan i spidsen, har gjort sig umage for at gøre resortet så miljøbevidst som overhovedet muligt – uden at gå på kompromis med kvaliteten. Faktisk tværtimod, for dette er et af verdens førende private island resorts.
Alle villaer er oversized med egen pool og byder på et fortræffeligt, åbent layout, som kreerer indoor/outdoor living, når det er bedst. Bo i det kridhvide sand omkranset af palmer eller bo over havet med marinelivet som nærmeste nabo.
Rundt på øen finder du spændende, innovative kunstværker fra bl.a. legendariske James Turrell, som bl.a. "Amarta", en installation fra Skyspaces-serien.
Når du ikke udforsker øen eller daser i din lækre villa, så kan du nyde en af de lækre, oceanfront pools, sende børnene ned i resortets sublime "Footprints" kids club, besøge Patina's marine biolog for at lære mere om livet under havet eller deltage i maldiviske cooking classes.
Du kan også spille tennis, lade batterierne op med en omgang yoga, tage med ud at sejle ombord resortets futuristiske space-yacht, surfe, tage med på dykkerture eller noget helt andet. Vitterligt alt er muligt på Patina Maldives.
Er du til uforglemmelige kulinariske oplevelser, så er du i paradis her. Patina byder på hele 12 fænomenale spisekoncepter, der hver især tager dig med på store eventyr.
Tidstypiske teknikker og de friskeste råvarer er grundlaget for de mange spisemuligheder på Patina Maldives. Roots tilbyder plantebaserede måltider, der er centreret omkring næringsrige, økologiske og hjemmedyrkede råvarer. Kōen præsenterer et teatralsk ægteskab mellem det japanske og nordiske køkken. Brasa glæder med rustikke grillede kødretter fra Patagonien. Helios indfanger smagene fra Det Ægæiske Hav. Dette er bare nogle af utallige kulinariske highlights.
Resortet prisbelønnede spa dyrker wellness-filosofien "Flow", der forstærker din forbindelse med naturen.
Her skaber terapeutisk dygtighed og videnskabelige teknologier et afslappende miljø. Behandlingssuiterne omfatter hammam for par og et rum dedikeret til Watsu-træning. En flydezone, der beroliger krop og sind. Saunaer og kolde brusere giver mulighed for at udnytte de vaskulære og kognitive fordele ved kontrast-hydroterapi. Du kan også nyde godt af træning med høj og lav belastning, aquacykling, yoga, paddleboarding, massage og meget mere.
Nyd aftenen ved Fari Beach Club med loungebeats, køle drikke og den vidunderlige brise.
Patina Maldives, Fari Islands er det perfekte retreat, taget ud af de vildeste drømme – krydret med alt det gode, som livet kan byde på. Det er dét resort, som er værd at bruge hele opsparingen på.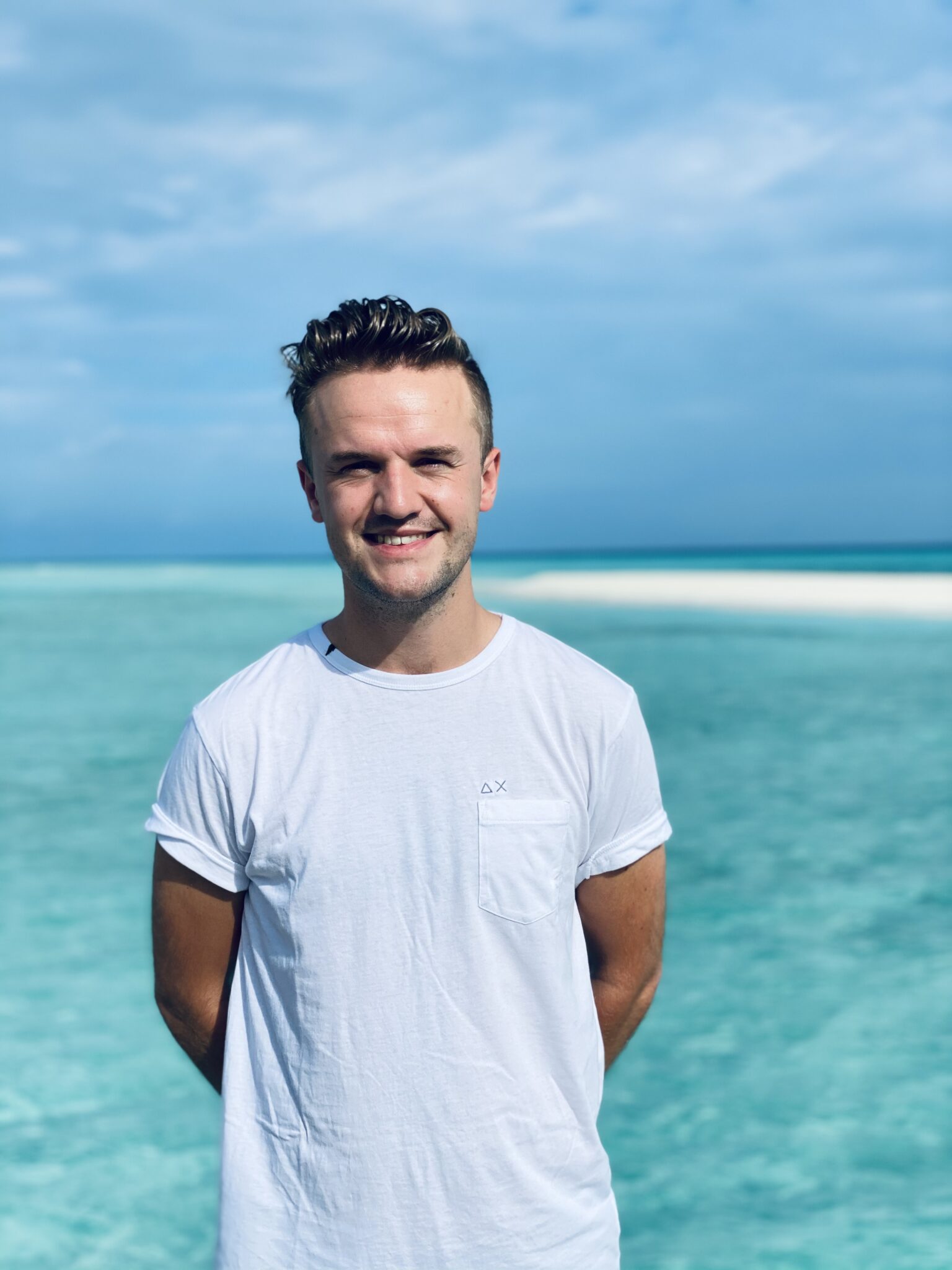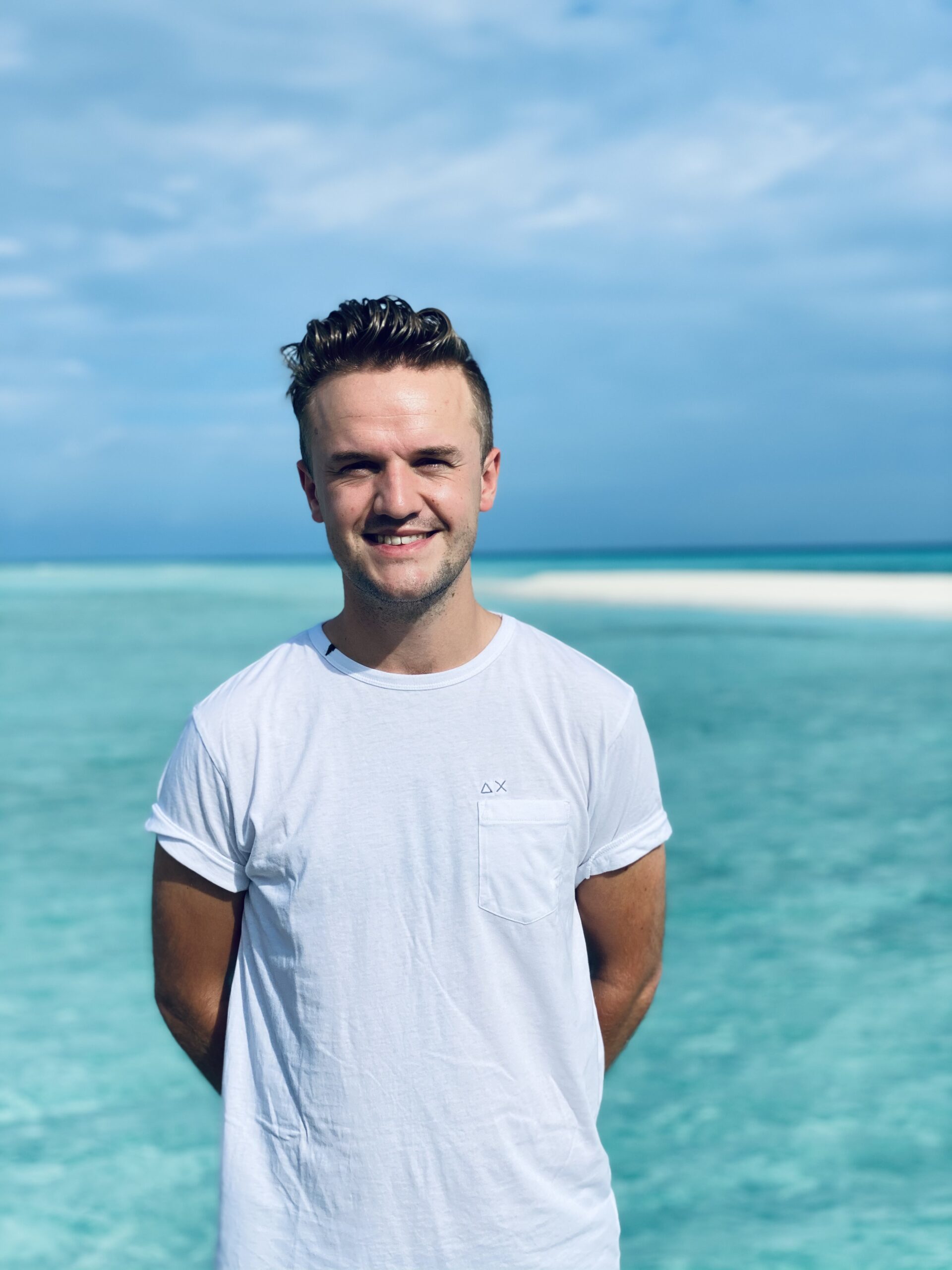 RASMUS KIRKETERP
CO-FOUNDER & TRAVEL DESIGNER
Personlig Rådgivning
Er du også vild med Patina Maldives, Fari Islands? Lad os sammen realisere din rejse til Maldiverne.
Modtag tilbud
De mest populære faciliteter
90 Værelser | 12 Restauranter
Børnevenligt
Dykkervenligt
Parvenligt
Privat pool
Bæredygtigt fokus
Egen cykler
Familievenlig
Gourmet
Gratis vandsport
Børneklub
Stor ø
Snorkling
Speedbåd transfer
Vi anbefaler
Wellness yoga
Highlights (11)
Et af Maldivernes mest high-end luksusresorts
Alle villaer er oversized og med stor privat pool
Bæredygtigt design og fokus med zero-waste og spækket med solpaneler
12 innovative spisesteder med højkvalitets gastronomiske oplevelser
"Flow" Spa, en af Maldivernes bedste, samt mulighed for Watsu træning
"Footprints" kids club med fokus på børns kreativitet
Unikke og spektakulære kunstværker af James Turrell
Surfing ved nogle af de bedste spots i Maldiverne
Aktivitetsrig ø med tennis, det nyeste inden for vandsport og mere
Udendørsbiograf, enten privat, eller i Fari Marina Village
Spektakulært oceanfront pool-område nær Fari Beach Club
Se flere
LIVET PÅ PATINA
Slå øjnene op og nyd det elegante interiør i din villa, spækket med sofistikerede træelementer. Deltag i yoga under sopgangen efterfulgt af overdådig morgenmad. Gå ture langs de lange sandstrande, læg dig på langs ved poolen og nyd en vellavet cocktail, eller gå ned i spa'en og få dig en forkælende behandling. Når mørket falder på, så starter pulserende beats i Fari Beach Club, mens restauranterne disker op til en middag for livet.
GASTRONOMI I SÆRKLASSE
En drømmeferie til Maldiverne er ikke komplet uden god mad og drikke. På Patina er de kulinariske oplevelser ikke bare gode, men exceptionelle. Hvert af de 12 spisesteder byder på noget helt unikt, og tager dig til forskellige verdenskøkkener. Fra saftige, sydafrikanske kødretter på Brasa til japansk-nordisk på KŌEN og græske favoritter på Helios.
Der er kun blevet plads til de absolut bedste retter på hver restaurant, for kun det ypperste er godt nok. I løbet af dagen kan du også nyde lækre snacks fra Fari Beach Club, en formidabel burger fra Go Go Burger eller et scoop hjemmelavet is fra Tuk Tuk Gelato. På Patina går selv de mest kræsne gæster fornøjede i seng.
EXCEPTIONEL ARKITEKTUR OG DESIGN
Fra de bæredygtige, futuristiske villaer, både til havs og på stranden, til de helt unikke kunstværker og kunstværker. Patina Maldives, Fari Islands har taget "gamet" til et helt nyt nvieau.
Forestil dig at udforske øen, hvor du støder på ikoniske mesterstykker såsom "Skyspace Amarta", som er en hyldest til lys, farver og rummet. Nyd villaerne, som fuldstændig smelter sammen med omgivelserne. Restauranterne, som hver især er designet i henhold til de køkkener, de specialiserer sig i.
SOFISTIKERET, BÆREDYGTIG LUKSUS
Patina Maldives og Studio MK27's var helt på samme side, da resortet blev designet og gennemtænkt. Det skulle være så miljøbevidst som overhovedet muligt. Og det er Patina i den grad blevet. Overalt på resortet viser dette sig, fra den udelukkende brug af FSC-certificeret træ til et absolut forbud mod engangsplast.
Desuden fik alle 1.600 bygherrer, arkitekter og ingeniører genbrugsvandflasker for at sikre, at der ikke blev brugt plastik på stedet fra starten. Energimæssigt vil 50 % af resortets energi komme fra solenergi i 2030. Endelig vil du blive glad for at vide, at al denne videnskabelige knowhow bliver givet videre til de kommende generationer: Der gives gratis dykkerlektioner til børn for at fremme respekten for miljøet, og selve børneklubben er 100 % solcelledrevet.
RESTAURANTER & BARER
12 SPISESTEDER OG BARER
Patina Maldives har 12 spisesteder,
inkl. 2 food trucks og en food trailer – samt flere barer.
ROOTS
Roots er inspireret af slow food-filosofier, hvor pure, sæsonbestemte ingredienser vægtes højt, og Roots er på linje med naturen for at levere uforglemmelige retter, der er gode for din krop, din sjæl og vores planet. En plantebaseret madoplevelse med frisk flair, der er centreret omkring næringsrige, økologiske og hjemmedyrkede produkter.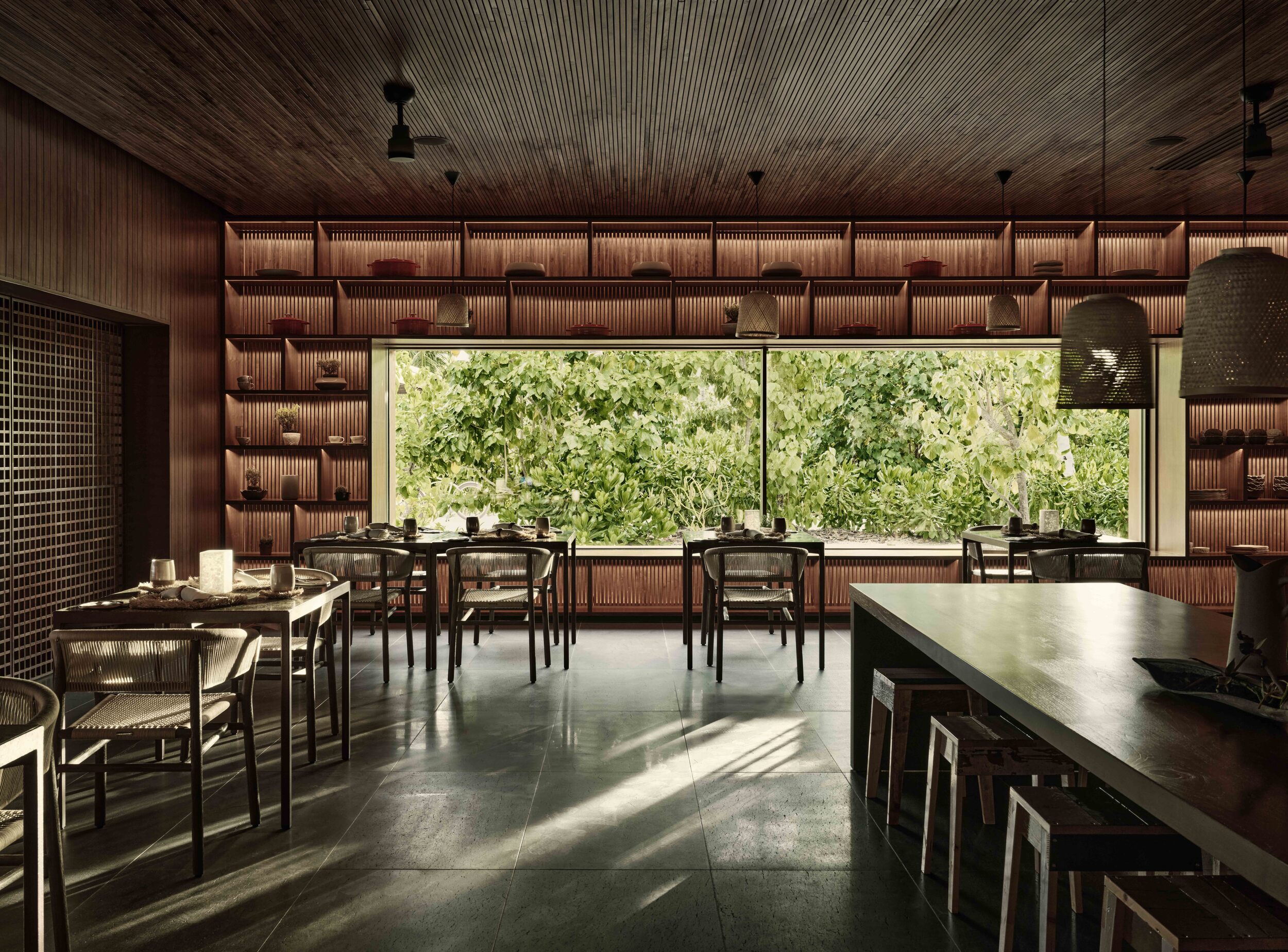 FARI BEACH CLUB
Fari Beach Club er en dristig redefinition af underholdning ved stranden kombineret med skønne spiseoplevelser. Det er med andre ord en fantastisk strandbar, hvor det er muligt at slappe af til lyden og synet af lounge beats og Det Indiske Ocean.
Stedet, hvor gode drikkevarer, god ernæring og god musik mødes i stor harmoni.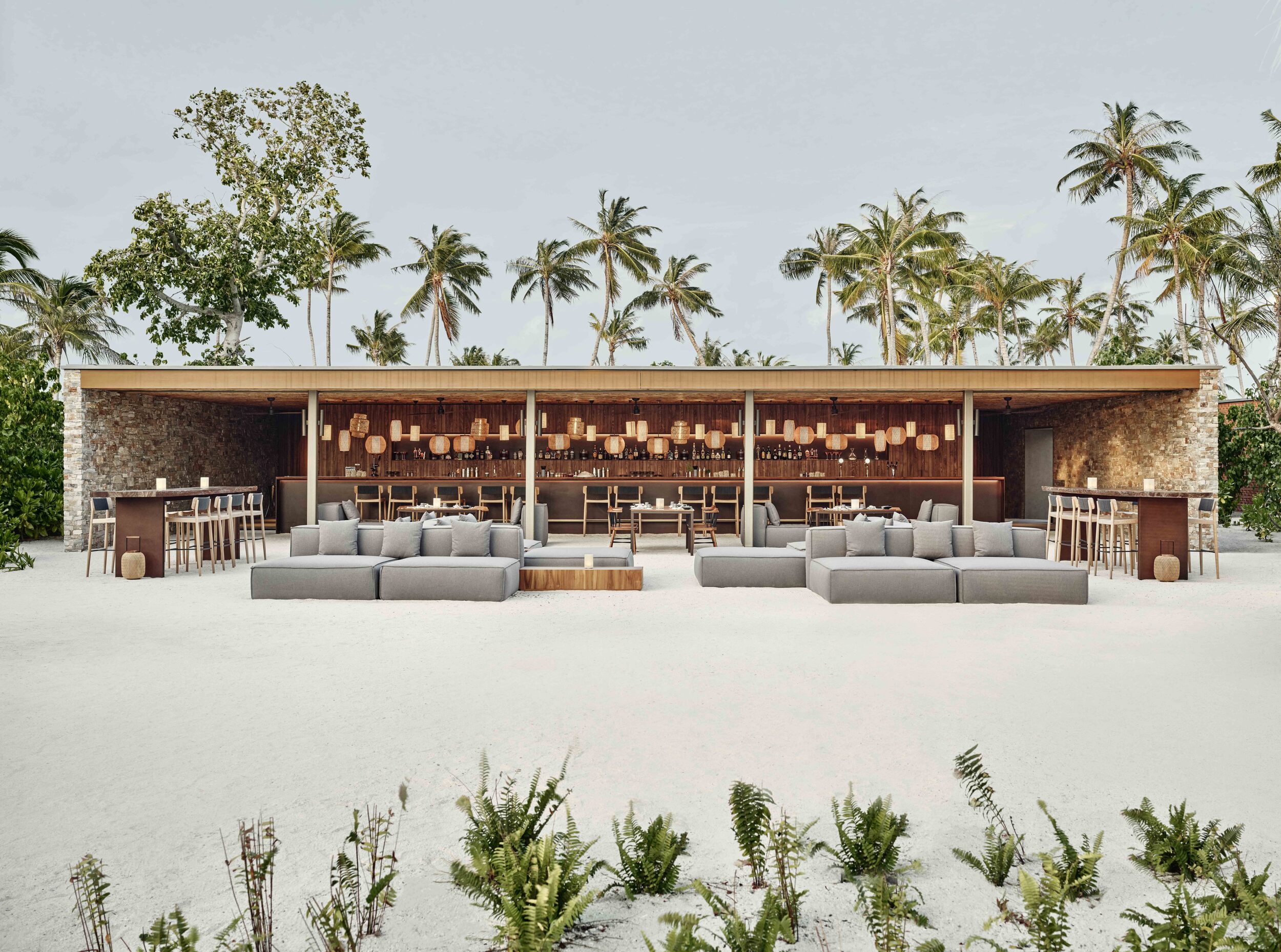 KÕEN
Det japanske køkken i Maldiverne omdefineret; en harmonisk abstraktion af ritualer, sanser og idéer, en aften med det sofistikerede venter dig på Kōen – hvor japansk madkunst blandes med skandinavisk fokus på førsteklasses ingredienser og skaber noget af det bedste mad i Maldiverne.
Vær vidne til et gådefuldt og teatralsk ægteskab mellem det japanske og nordiske køkken.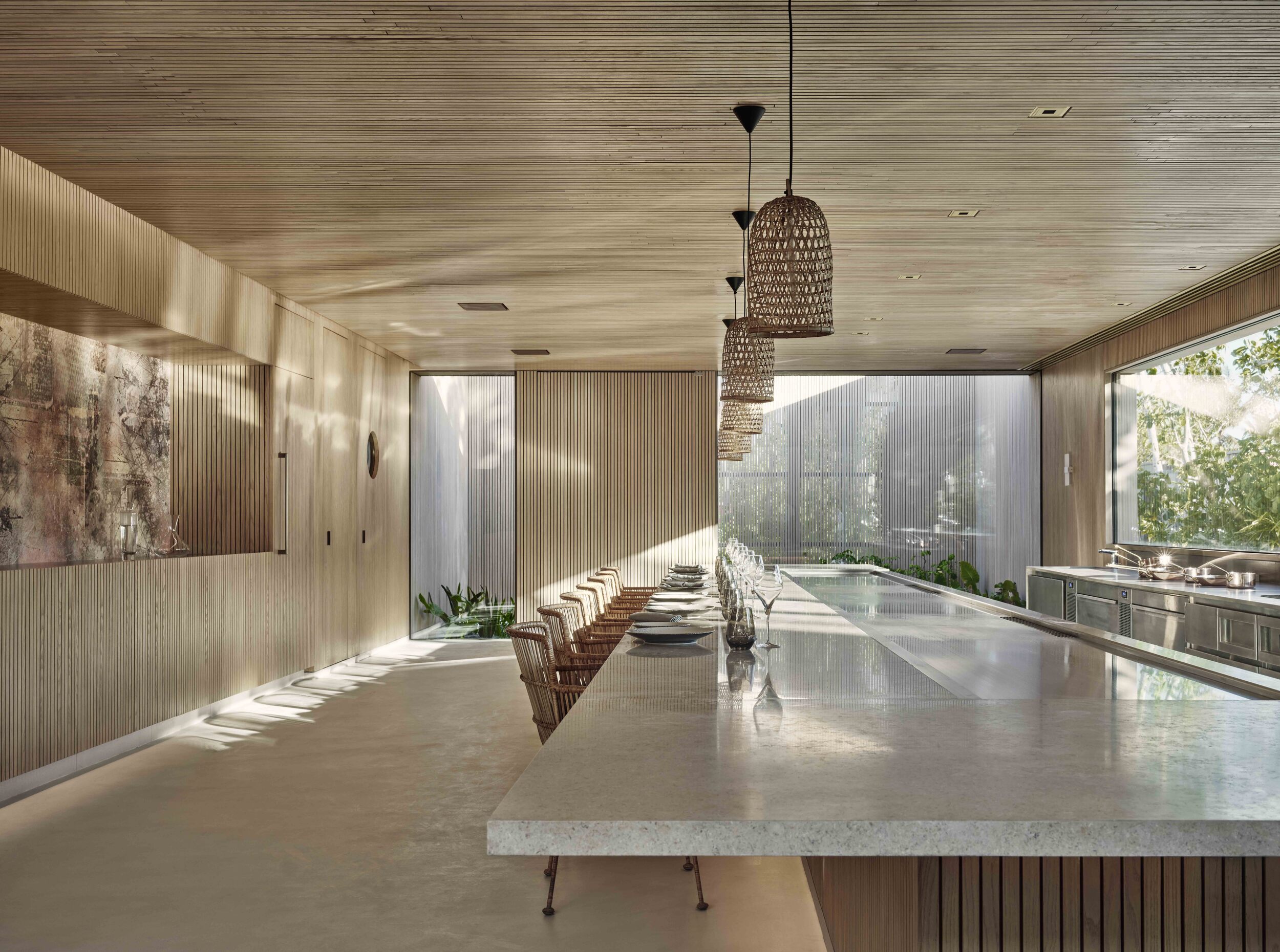 BRASA
Et latinsk spil af ild, røg og krydderier. Rustikke grillede kødretter med oprindelse i Patagonien i Sydamerika.
Brasa er inspireret af det køkken, der findes i de fjerntliggende hjørner af Patagonien, og Brasa's madlavningsånd omfavner temperamentet fra madlavning over åben ild og naturens givne køkken. Fest i en hacienda af gløder, hvor elementære ingredienser smedes til spektakulære flammer og smag for at skabe en udsøgt middag eller frokost i Maldiverne, der ikke ligner nogen anden.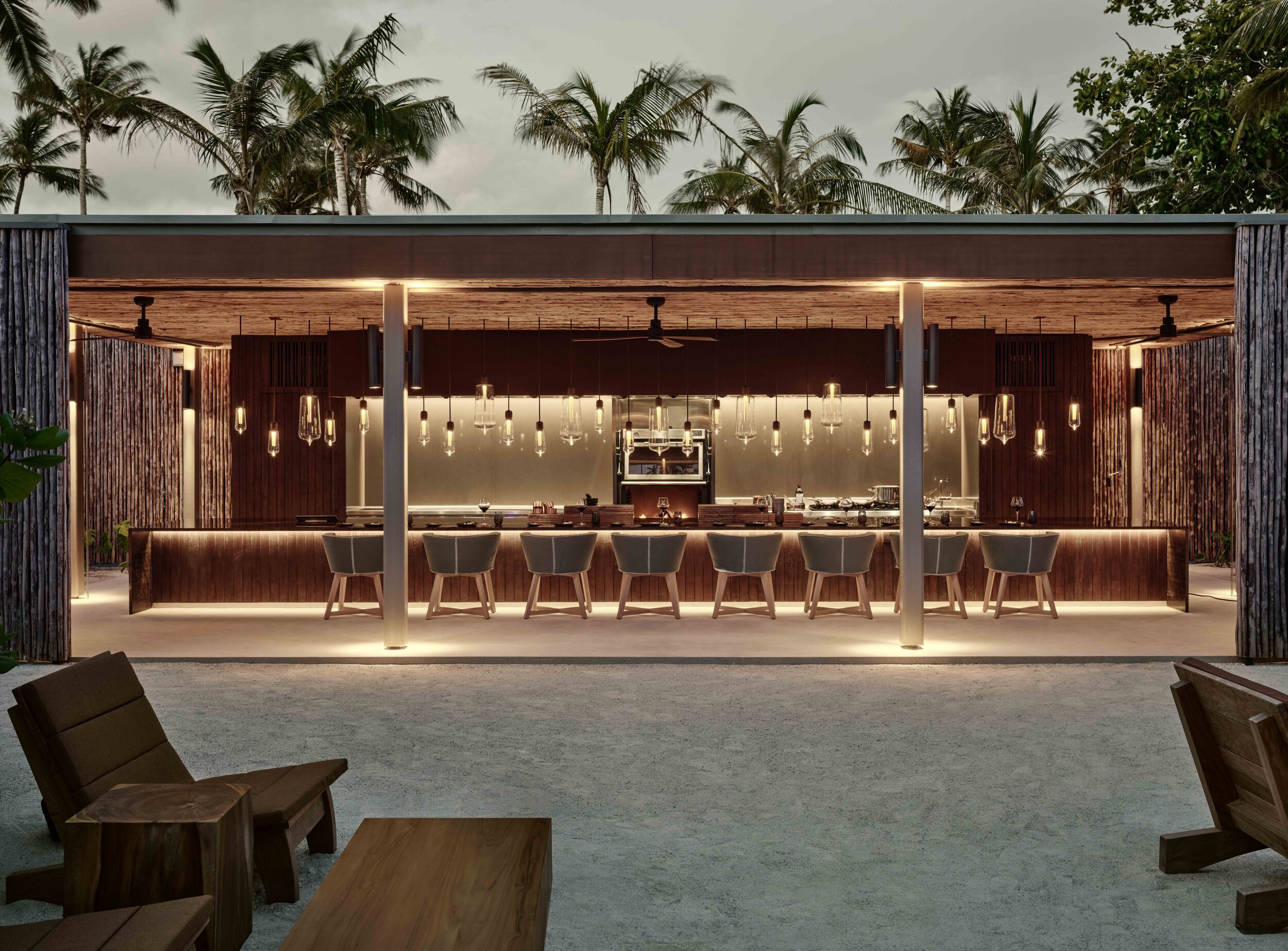 WOK SOCIETY
Højenergisk social klub med sjælfulde asiatiske kreationer og special-øl.
Her kan du nyde de hyggelige, fancy stemninger fra Hongkong og opleve visuelt fristende, delikate bidder af dim sum, som komplimenteres af friske øl af avantgardebryg i moderne, uhøjtidelige omgivelser – dag og nat.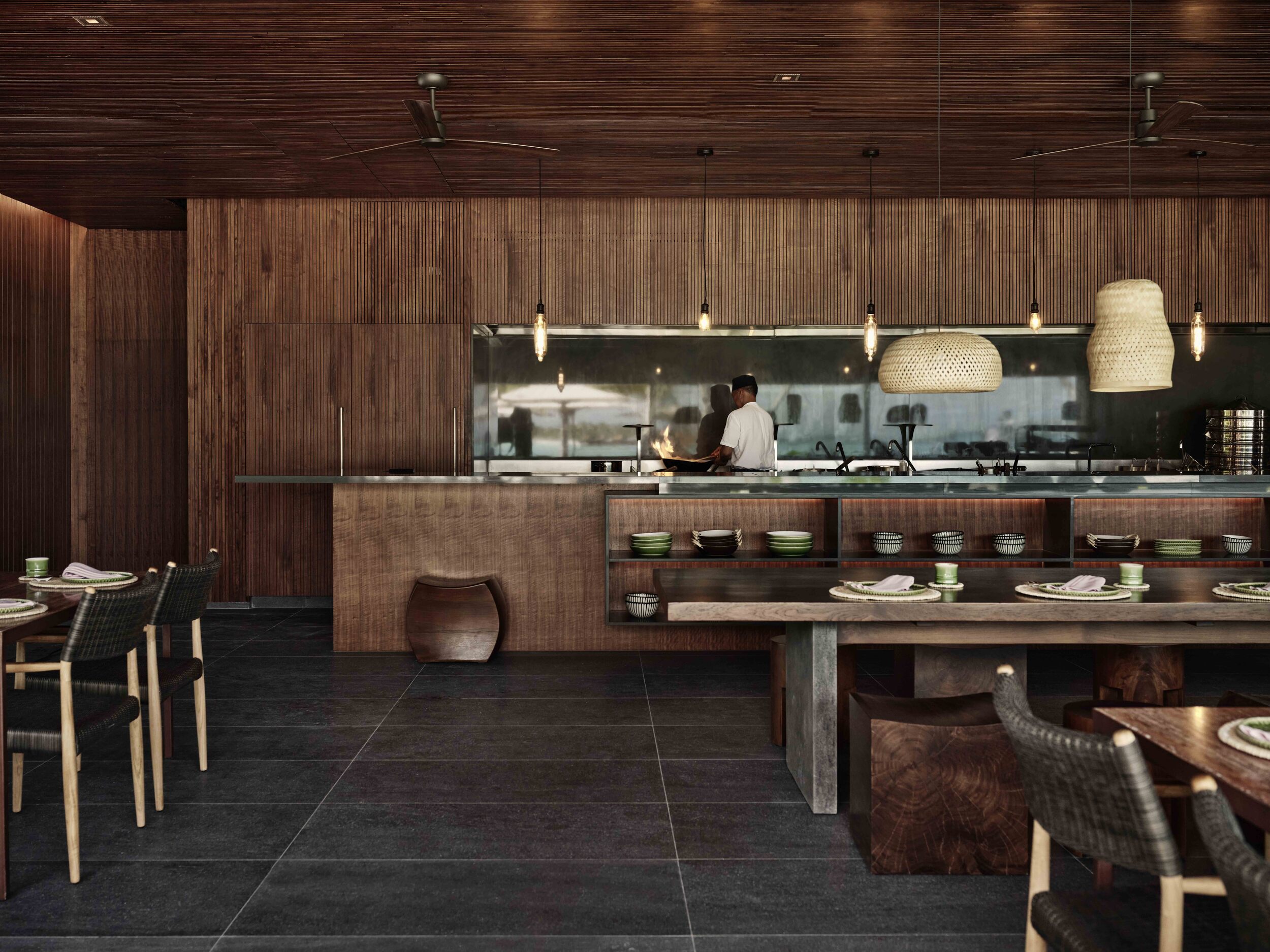 HELIOS
Få næring til dine sanser i det hyggelige ægæiske køkken, der byder på familie, varme og munterhed.
En unik fusion af Maldiverne med det udsøgte middelhavskøkken, er det som har skabt Helios. Her finder du de friskeste ingredienser, som transformeres til smagfulde retter, som du kan nyde til synet af de smukkeste solnedgange.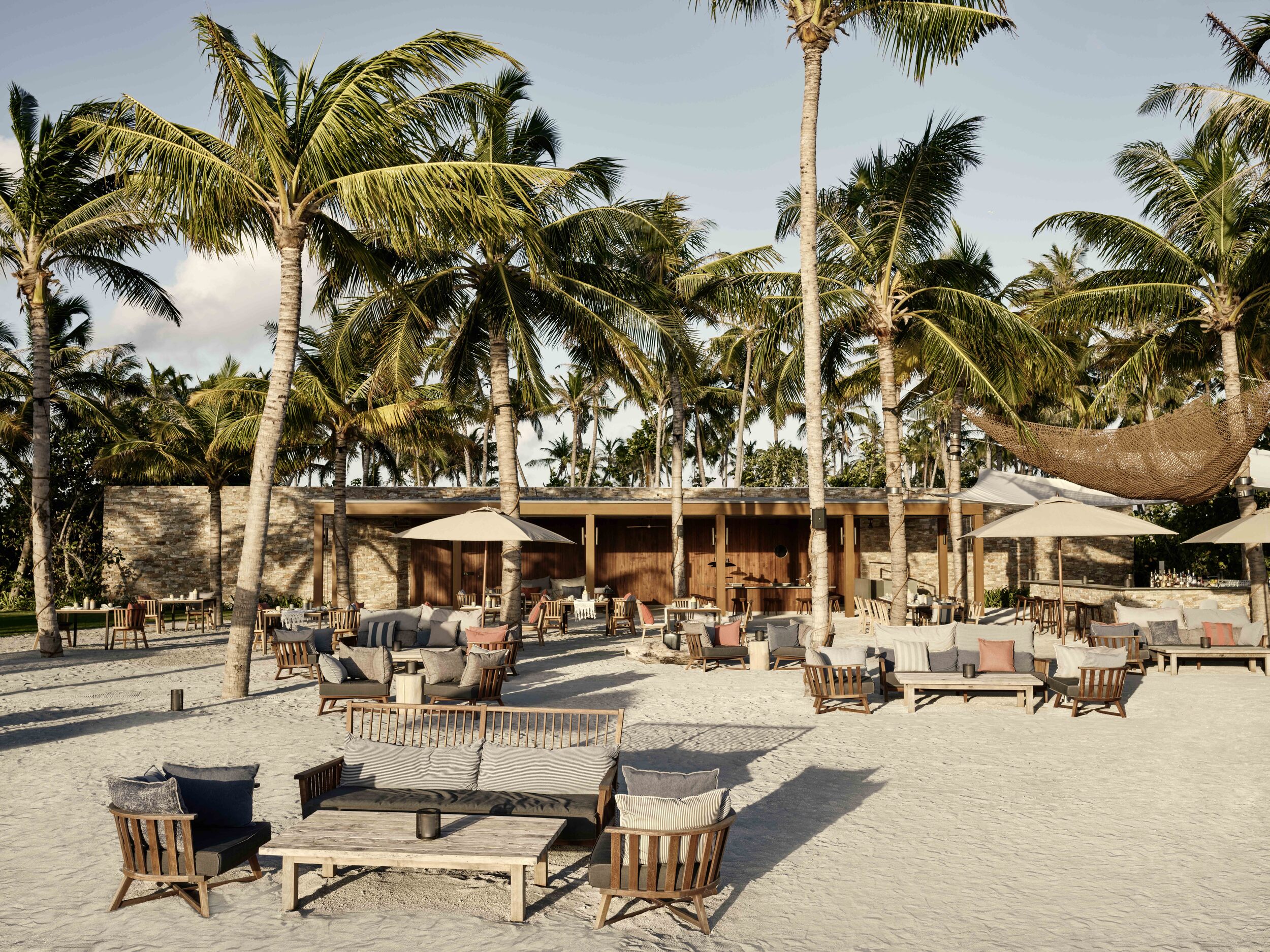 VELI BAR
På Veli Bar kan du smide stængerne op, læne dig tilbage ved den smukke swimmingpool og nyde lette snacks og forfriskende, ekspertlavede cocktails.
Veli er mere end bare en bar, det er en oase ved poolen, hvor du finder en kombination mellem det lækre, enkle om dagen og det uventede i skumringen, som efterligner tidevandets rytmer.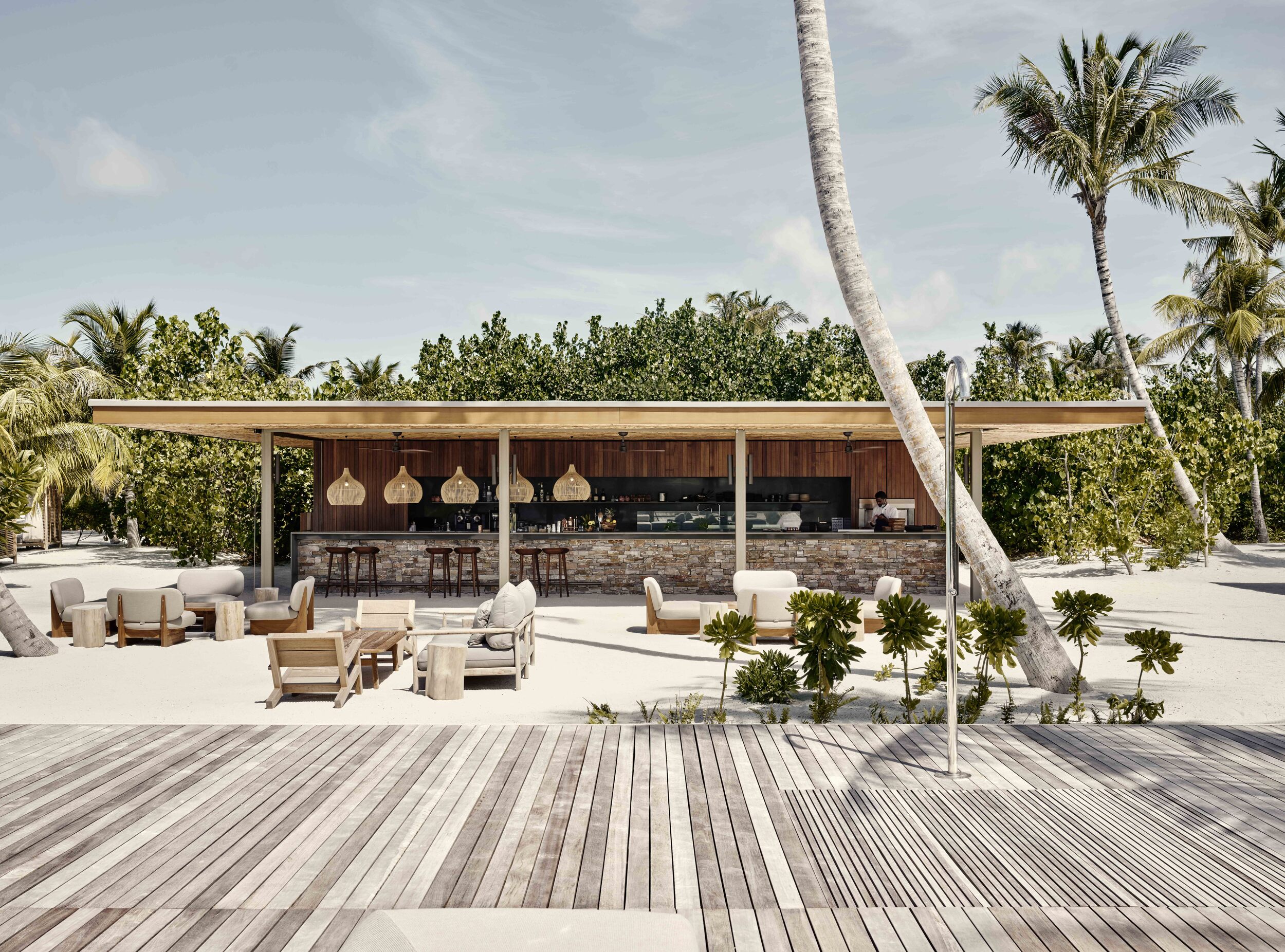 FARINE
Fareine er et privat rum, hvor du kan nyde vores udvalg af vine og oste af højeste kvalitet. Dette er kreeret til helt særlige arrangementer.
En moderne europæisk bistro, der serverer friskbagt brød, italienske antipasti med syltede kød- og ostesorter og smagfulde hovedretter til dem, der ønsker at spise afslappet og let.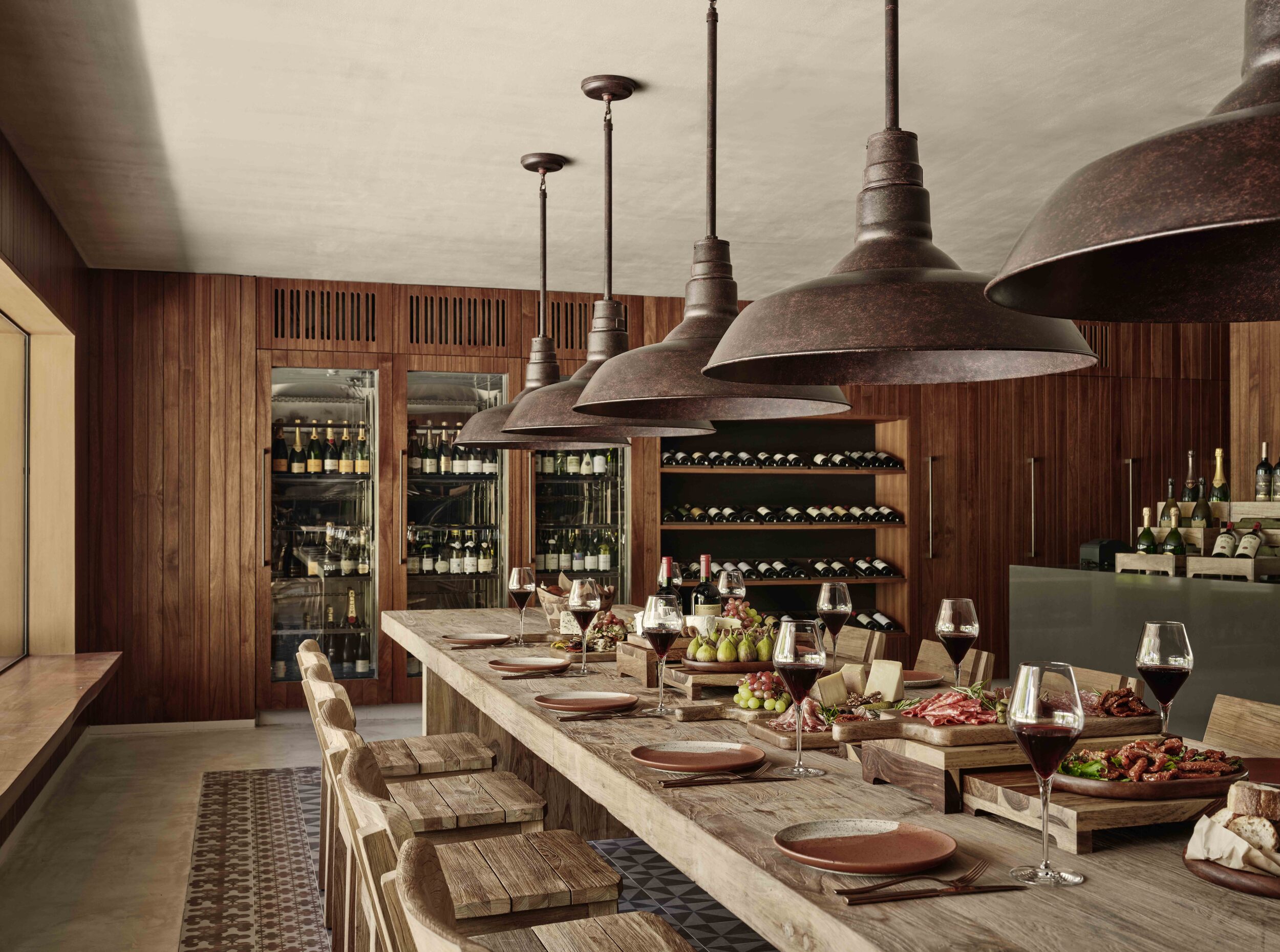 GO GO BURGER
Go Go Burger er kreeret til alle, som elsker burgere i verdensklasse, serveret fra en imponerende food truck.
Innovation og friskhed, alt sammen pakket ind i ren forkælelse. Der er intet som at sidde med fødderne i sandet til lyden, synet og smagen af saftige burgere!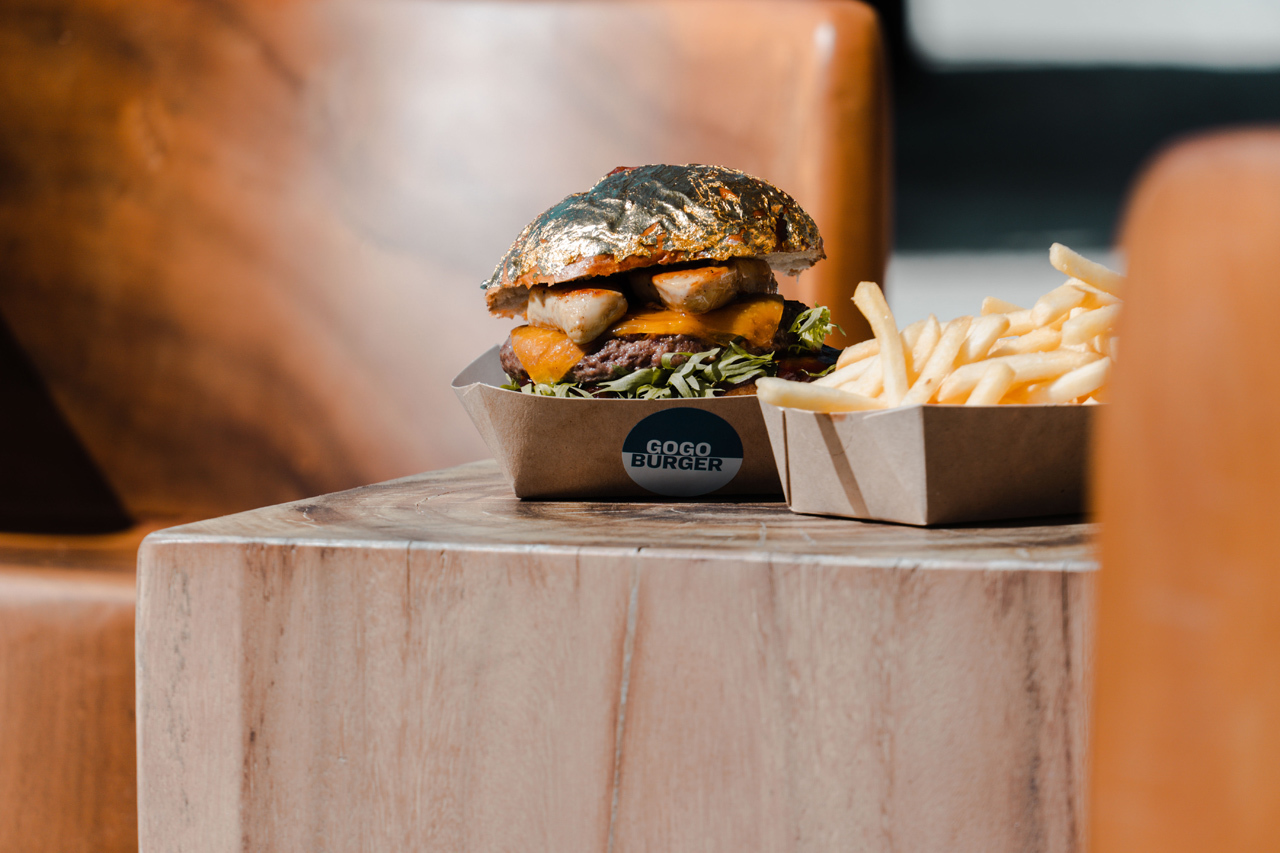 TUK TUK GELATO
Hvad kan være bedre end at nyde en is, i sandet, i Maldiverne?
At forkæle sig selv med Tuk Tuk Gelatos udvalg af førsteklasses is, mens man er på ferie, er et must for madelskere, der søger det bedste inden for comfort food. Herligt cremet, naturligt sødt. I denne food truck er hver dag et legende eventyr af smagsoplevelser med en konstant skiftende menu.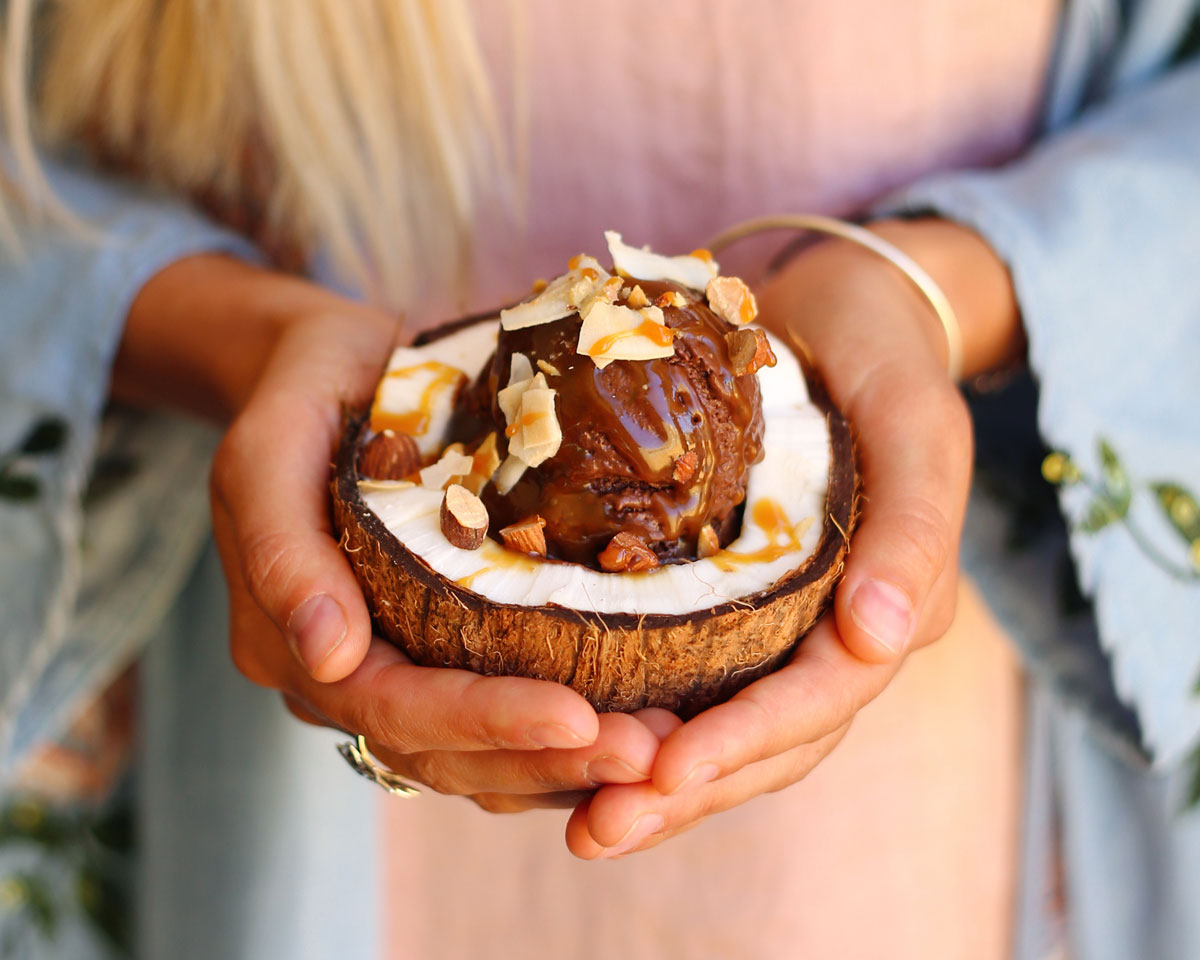 TUM TUM
På tværs af det asiatiske kontinent tilbyder hvert land sin egen version af street food. Kød- og grøntsagsfyldte bao boller, dampede dumplings, aromatiske supper og smagfulde nudelretter er blandt højdepunkterne på menuen på Tum Tum Tum.
En perfekt ramme for gæster, der søger en romantisk middag madelskere, der søger retter, som indfanger essensen af det asiatiske køkken i Maldiverne. Madvognen, der ligger ved Fari Marina, er det perfekte stop midt i en dag med shopping, kunst og kultur.
ARABESQUE
Arabesque er en iøjnefaldende hyldest til et traditionelt beduintelt og inviterer gæsterne på en rejse fra Libanon til Nordindien. Den nedsænkede spisestue med hængende lanterner og farverige stoffer danner rammen om delbare mezze-tallerkener, tandoor-grillet kød og ikoniske gadekøkkener. Retterne serveres sammen side om side med smagfulde vandpiber, tyrkisk kaffe, marokkansk te og kreative cocktails. Et udsøgt valg!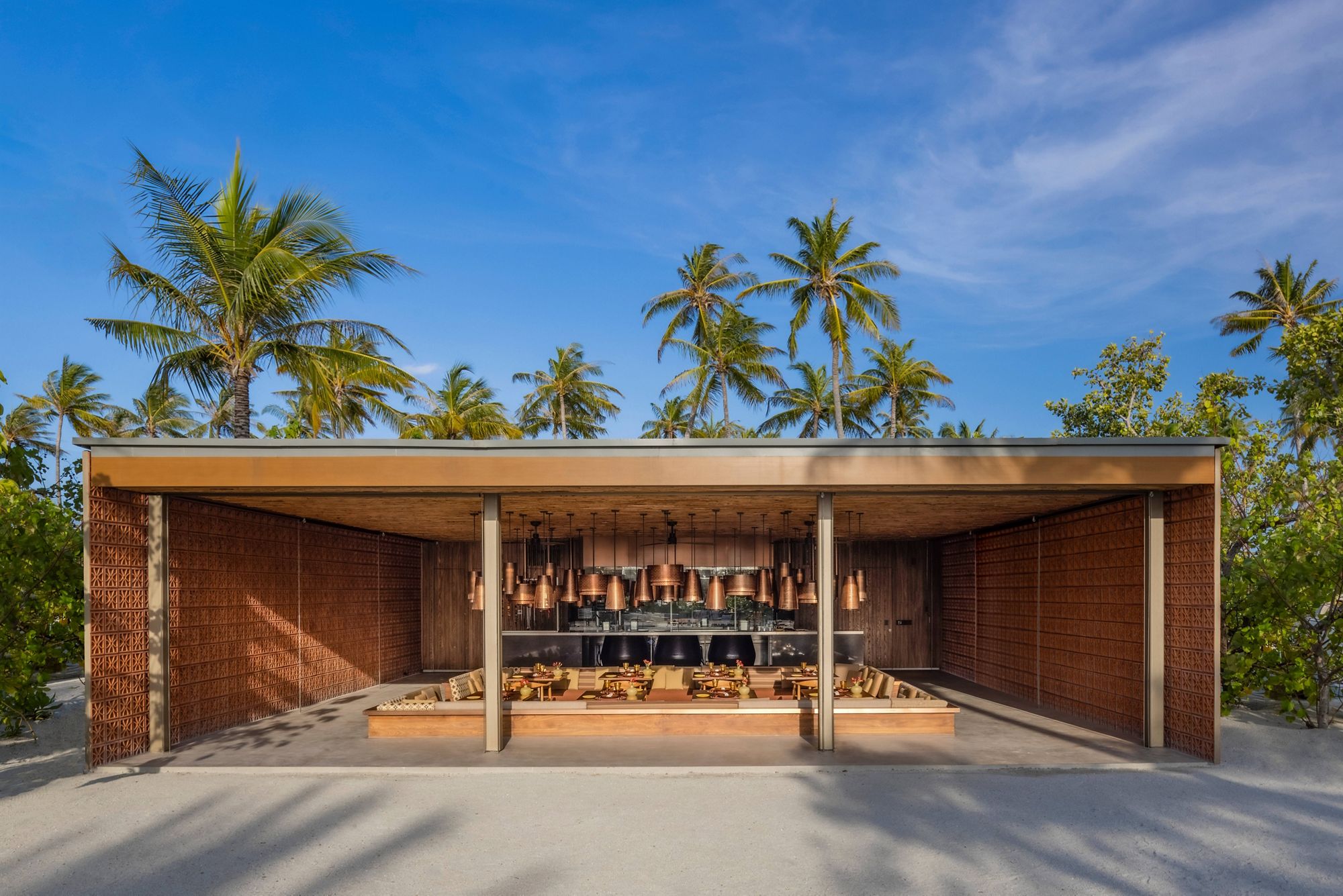 Patina Maldives, Fari Islands er hjemsted for 90 ultra-luksuriøse, bæredygtige villaer, som er fordelt over den turkisblå lagune og langs de kridhvide sandstrande.
Alle villaer har et vidunderligt åbent layout, hvor smukke træelementer smelter sammen med Det Indiske Ocean's funklende toner.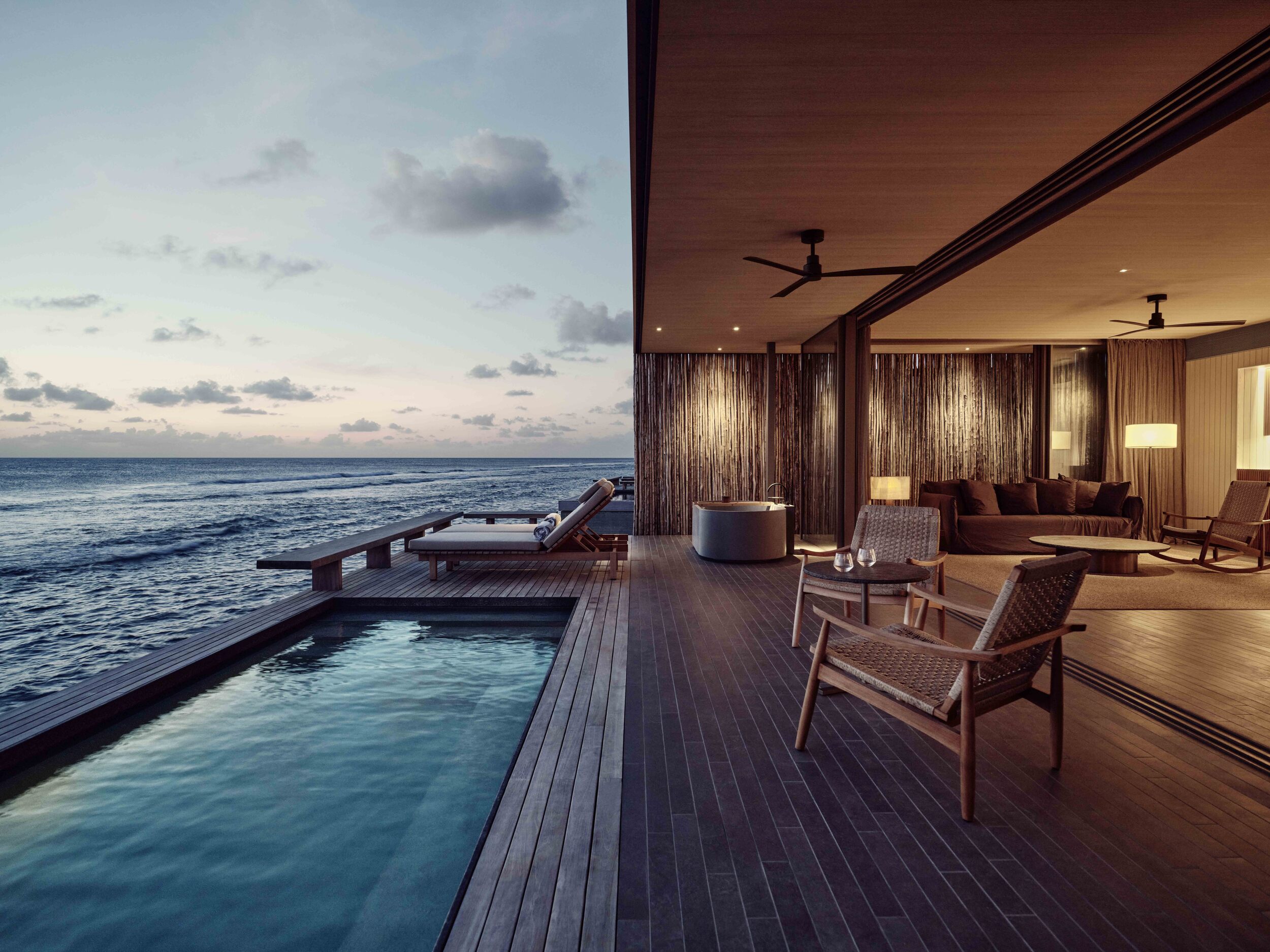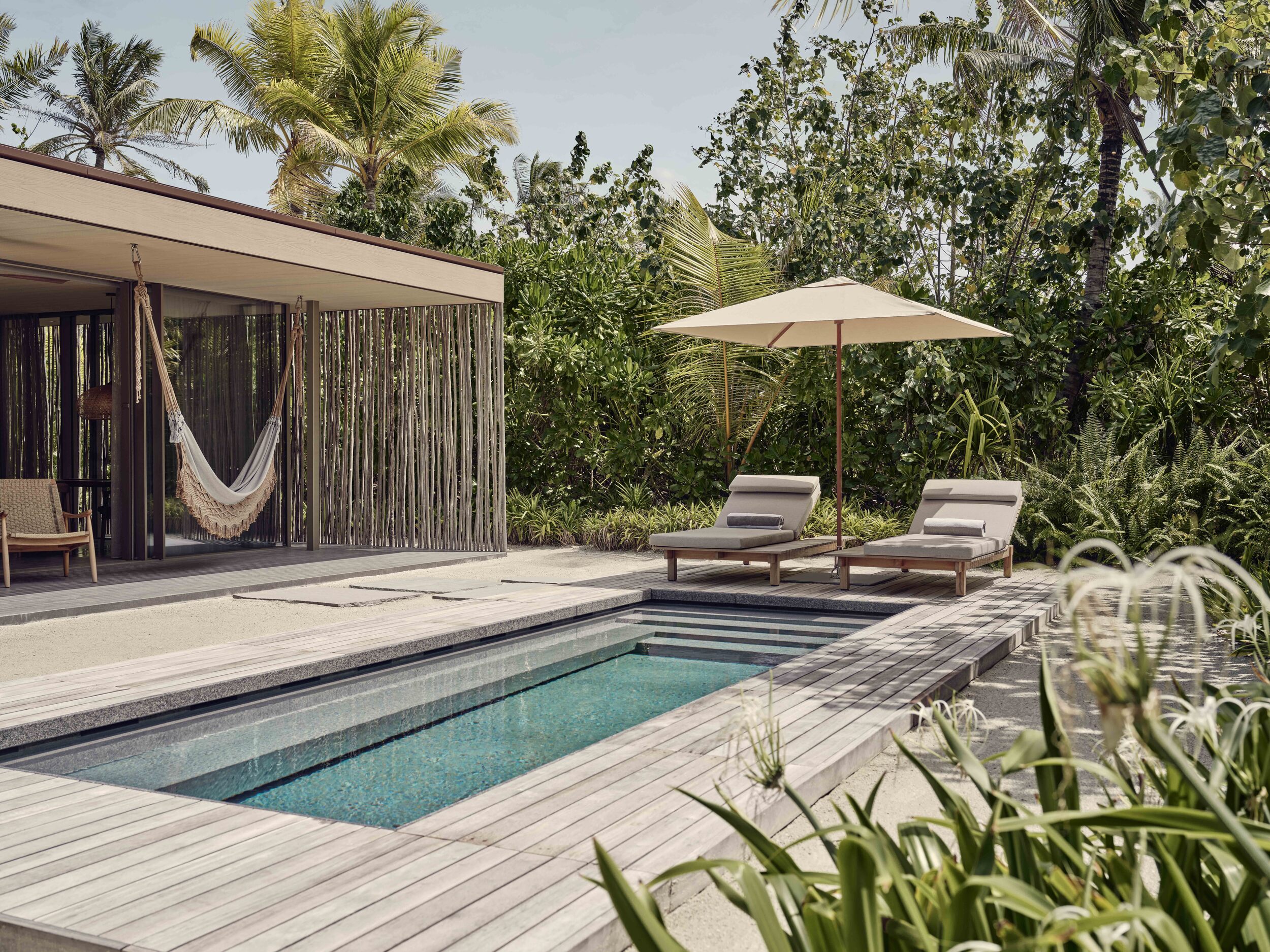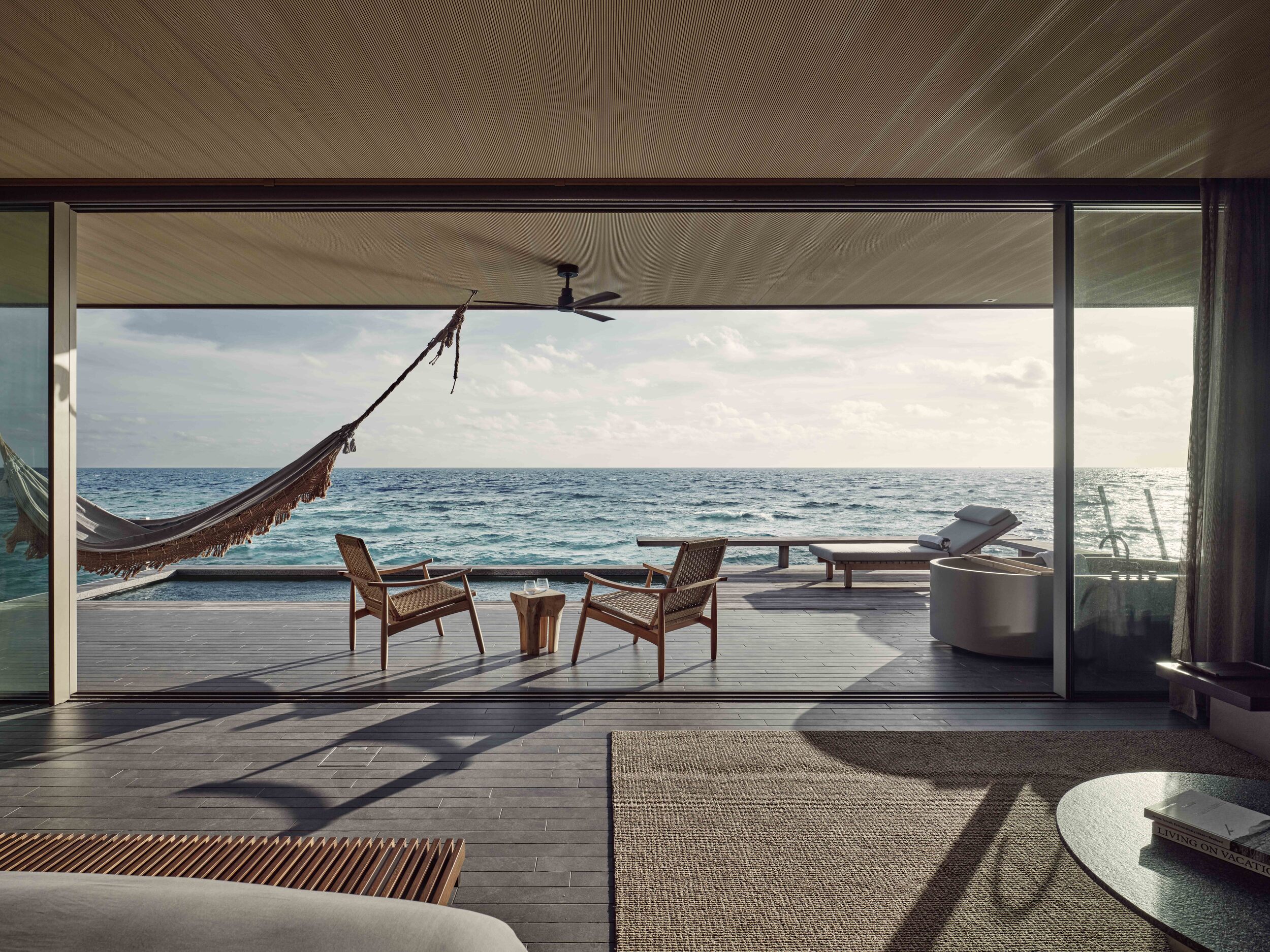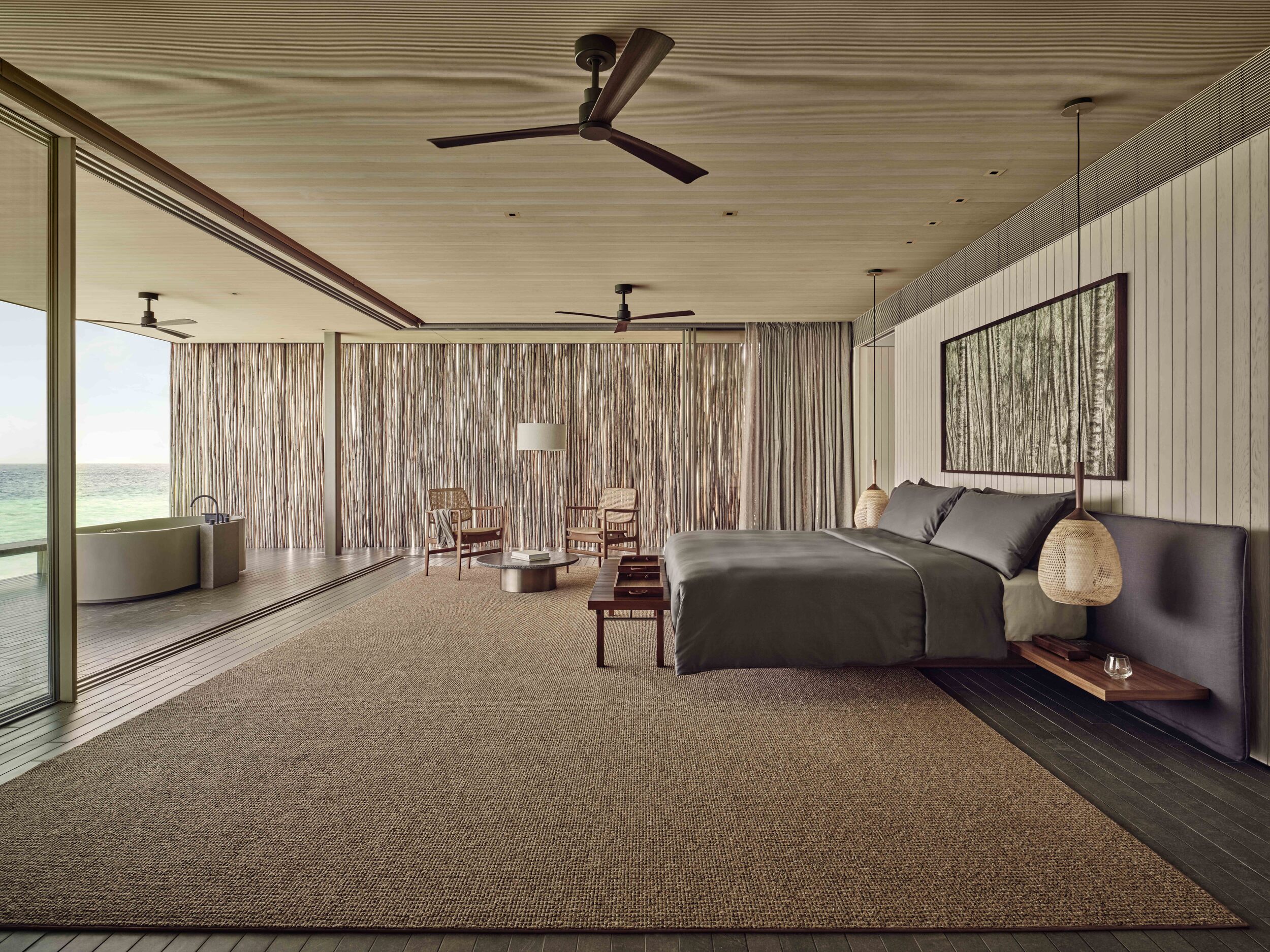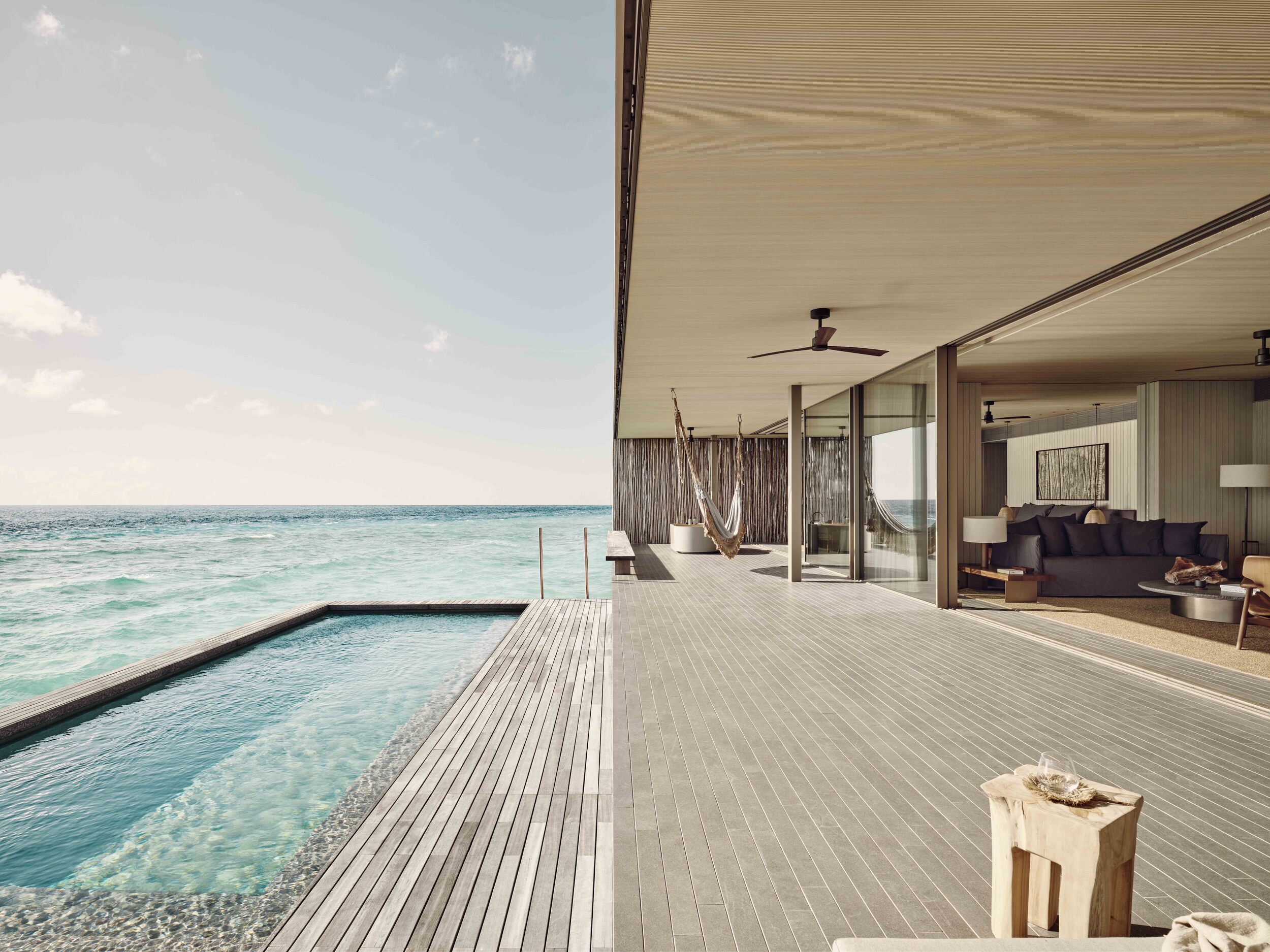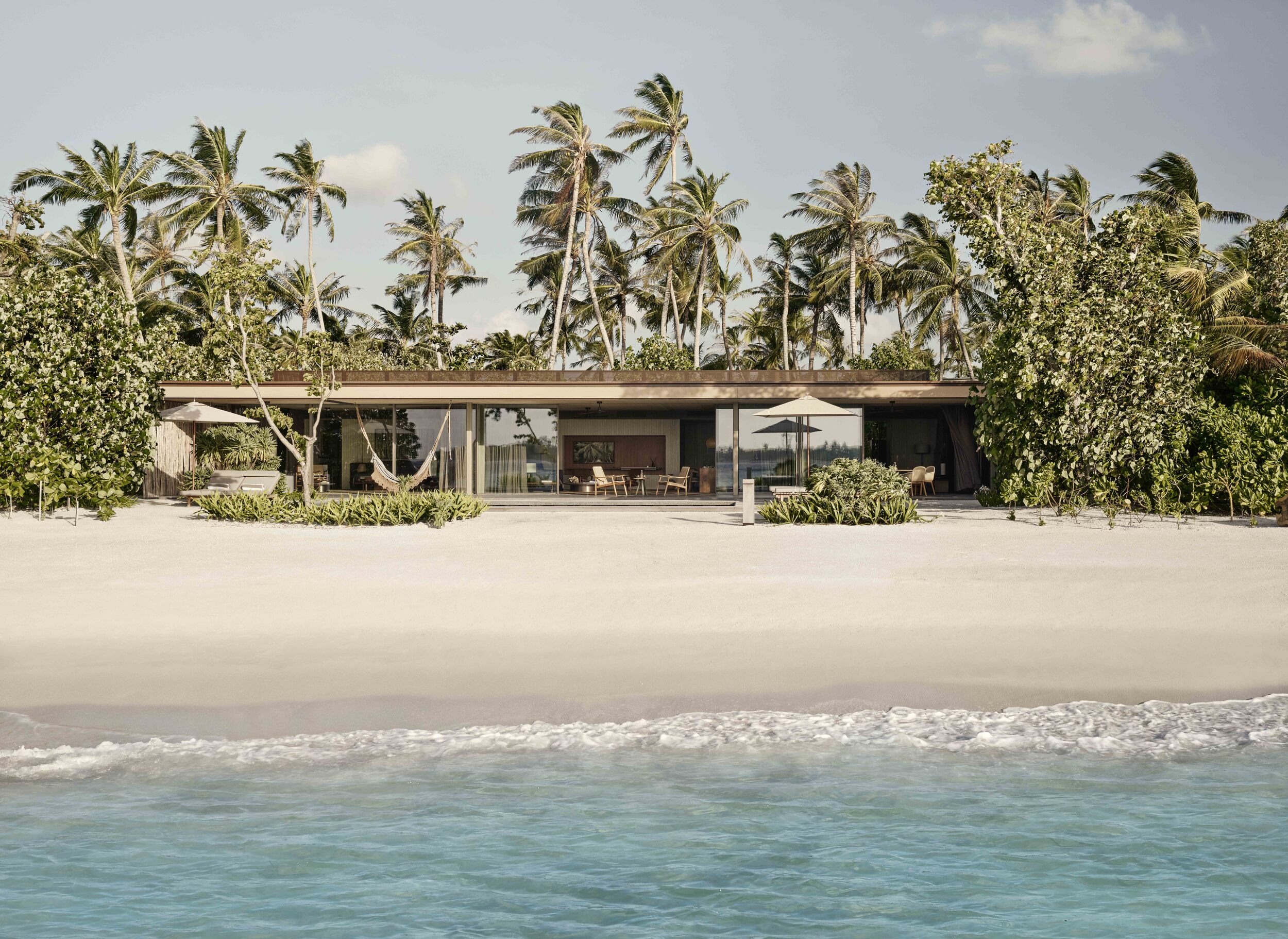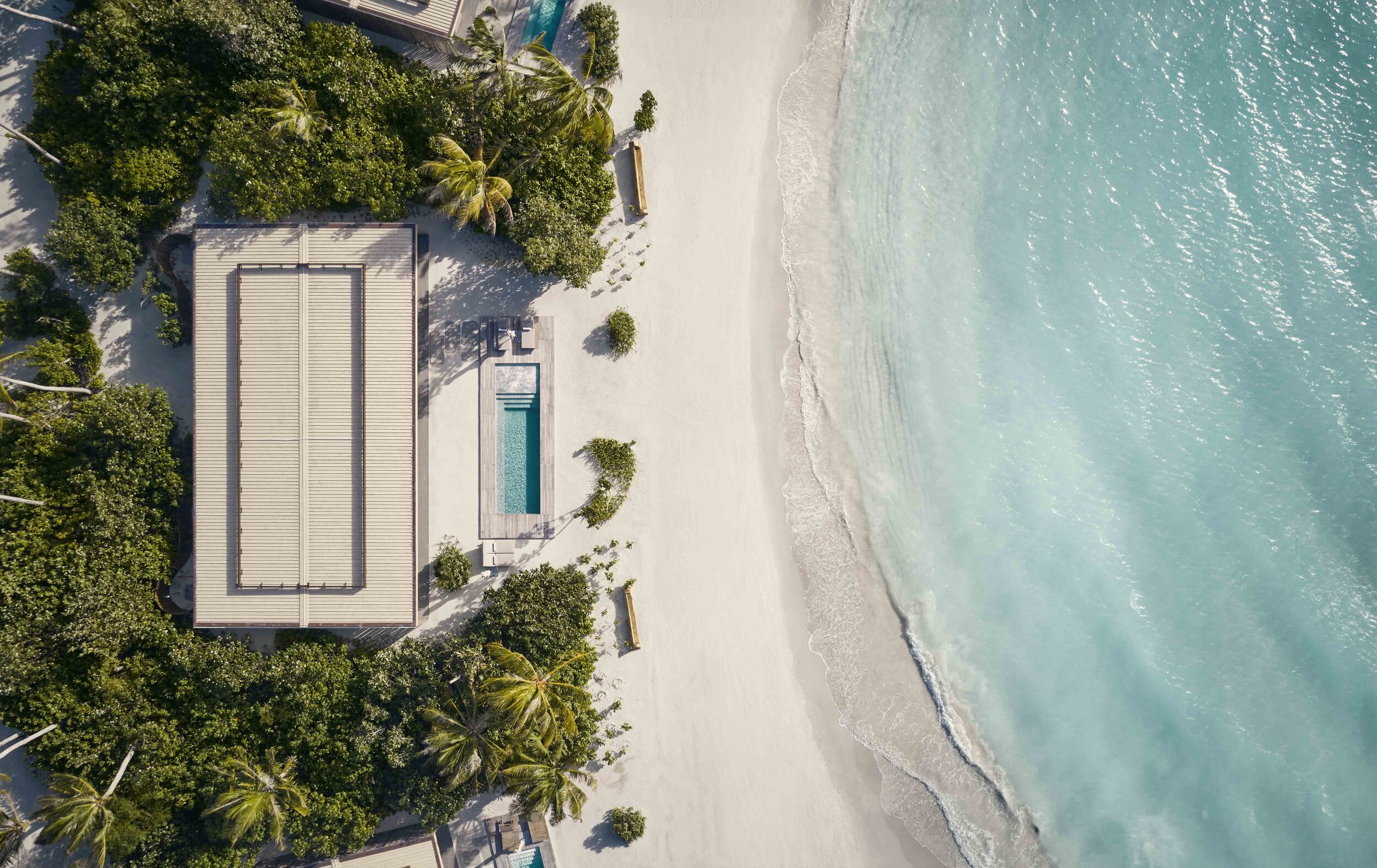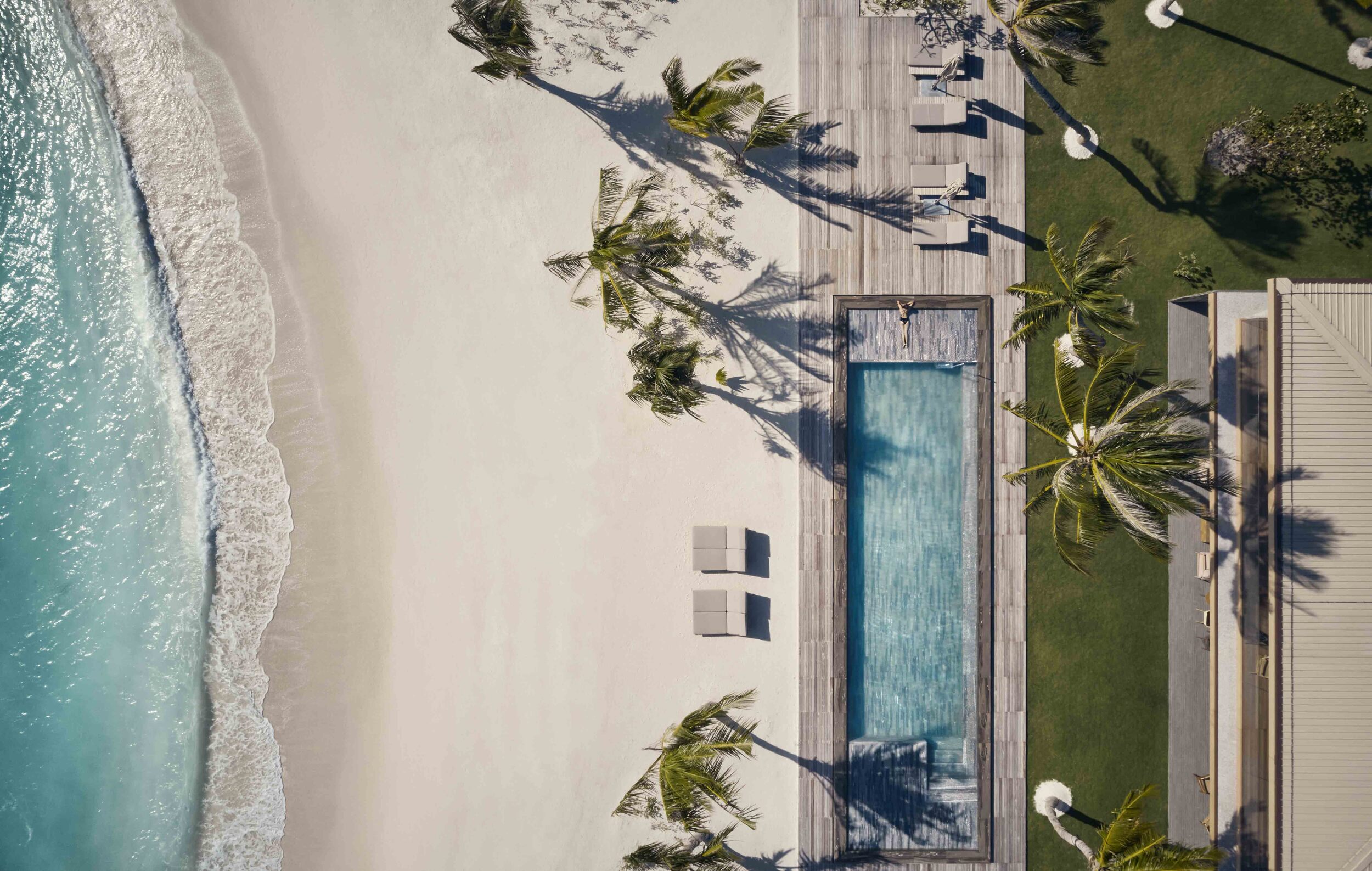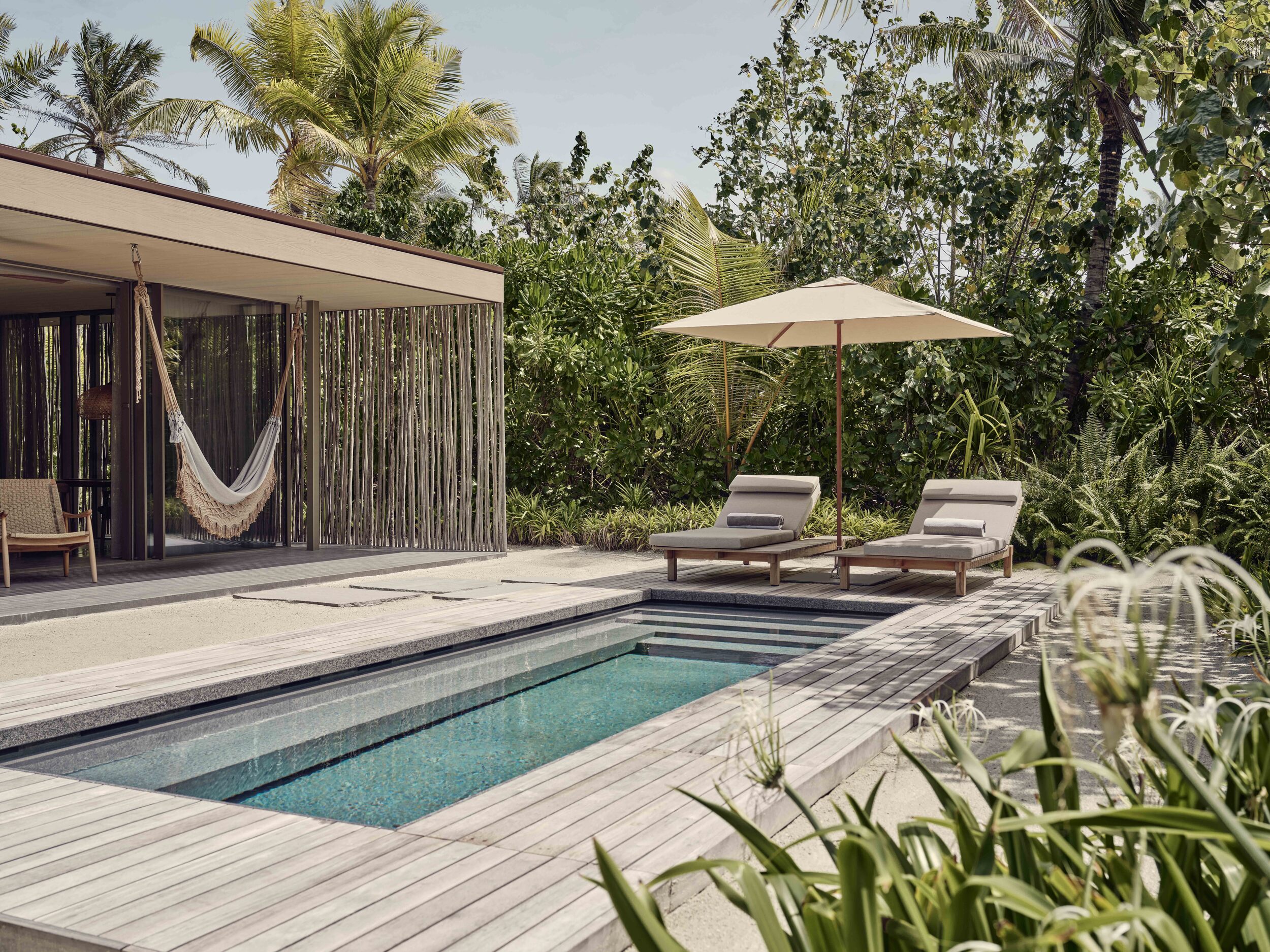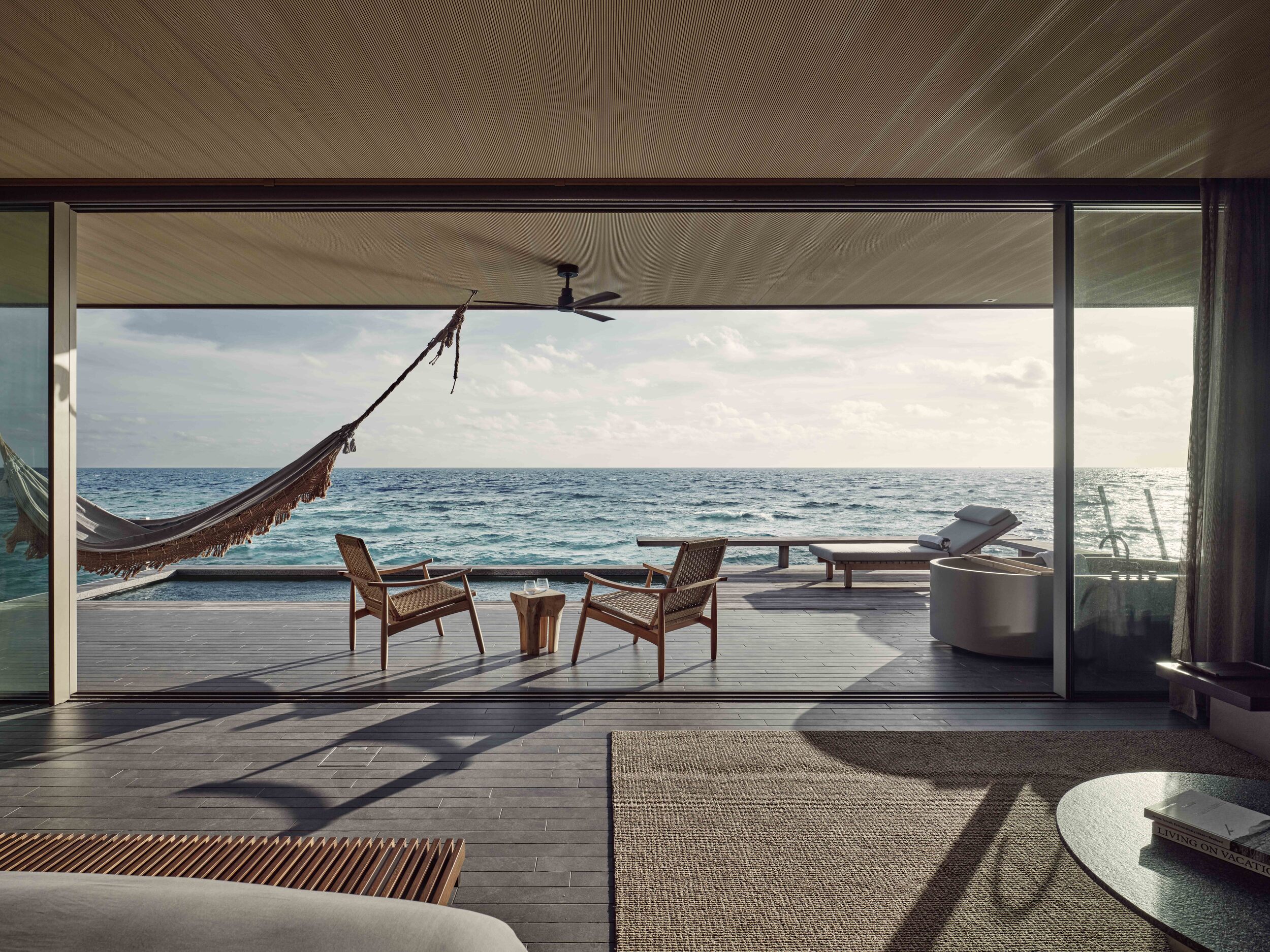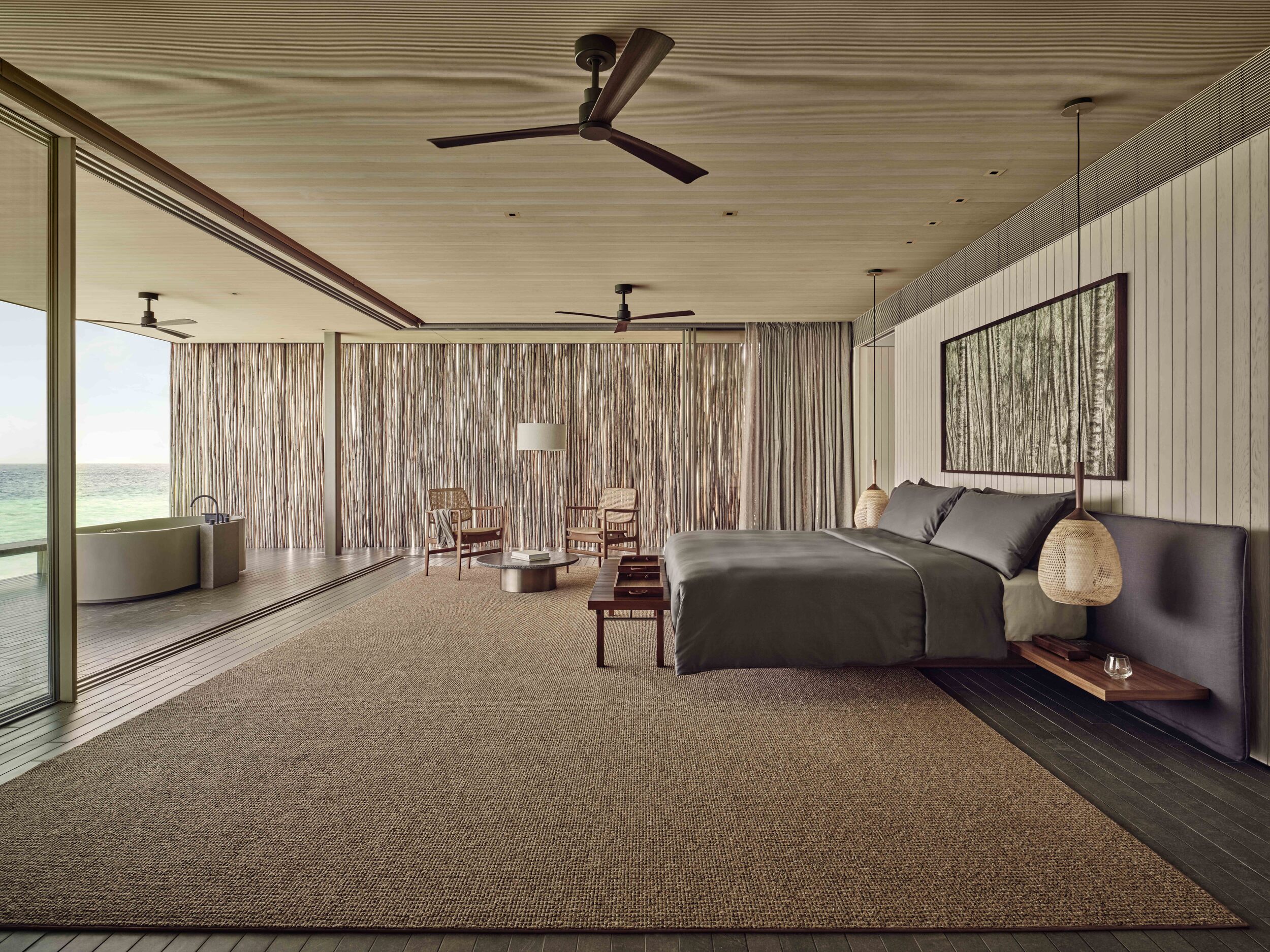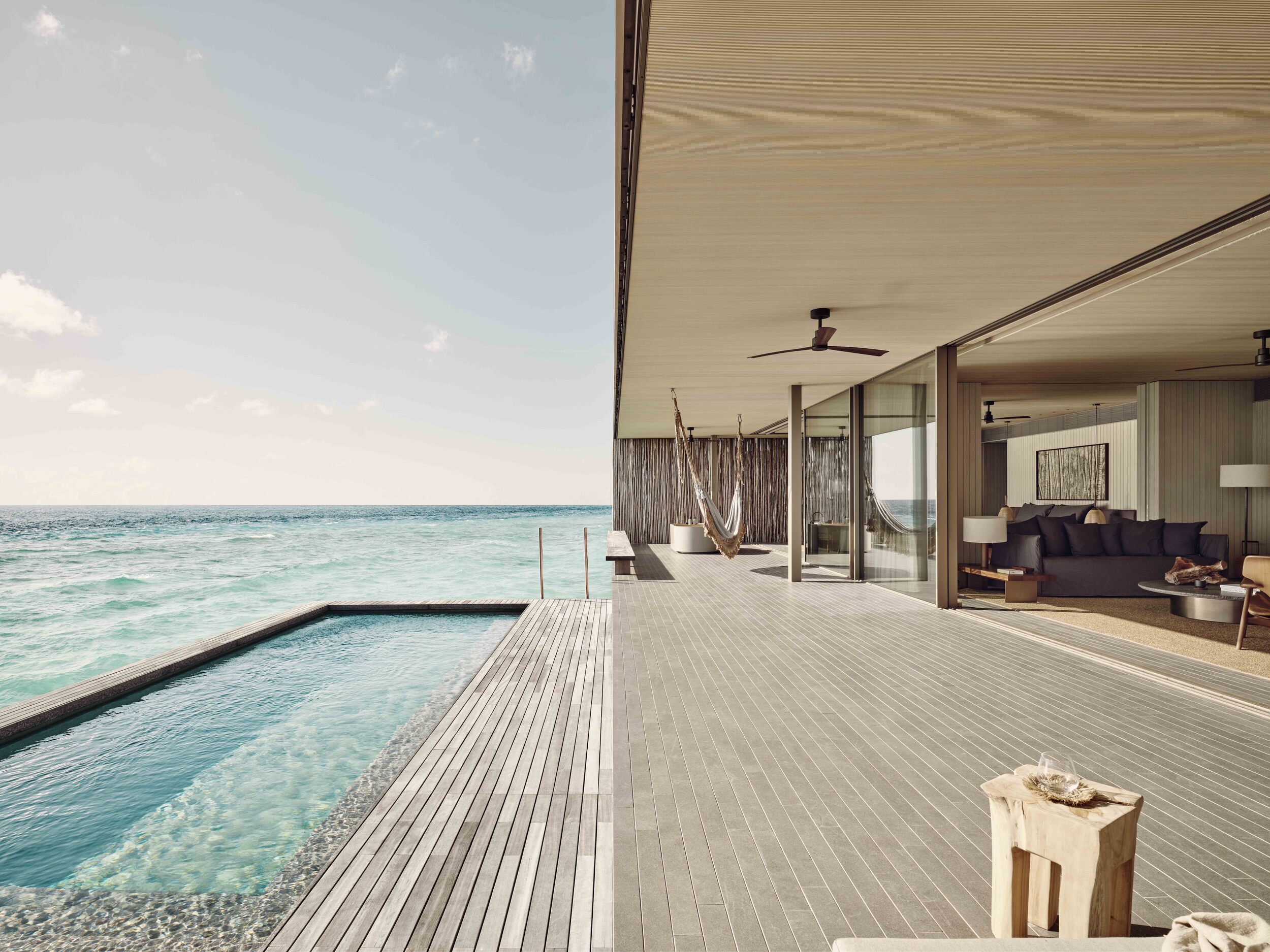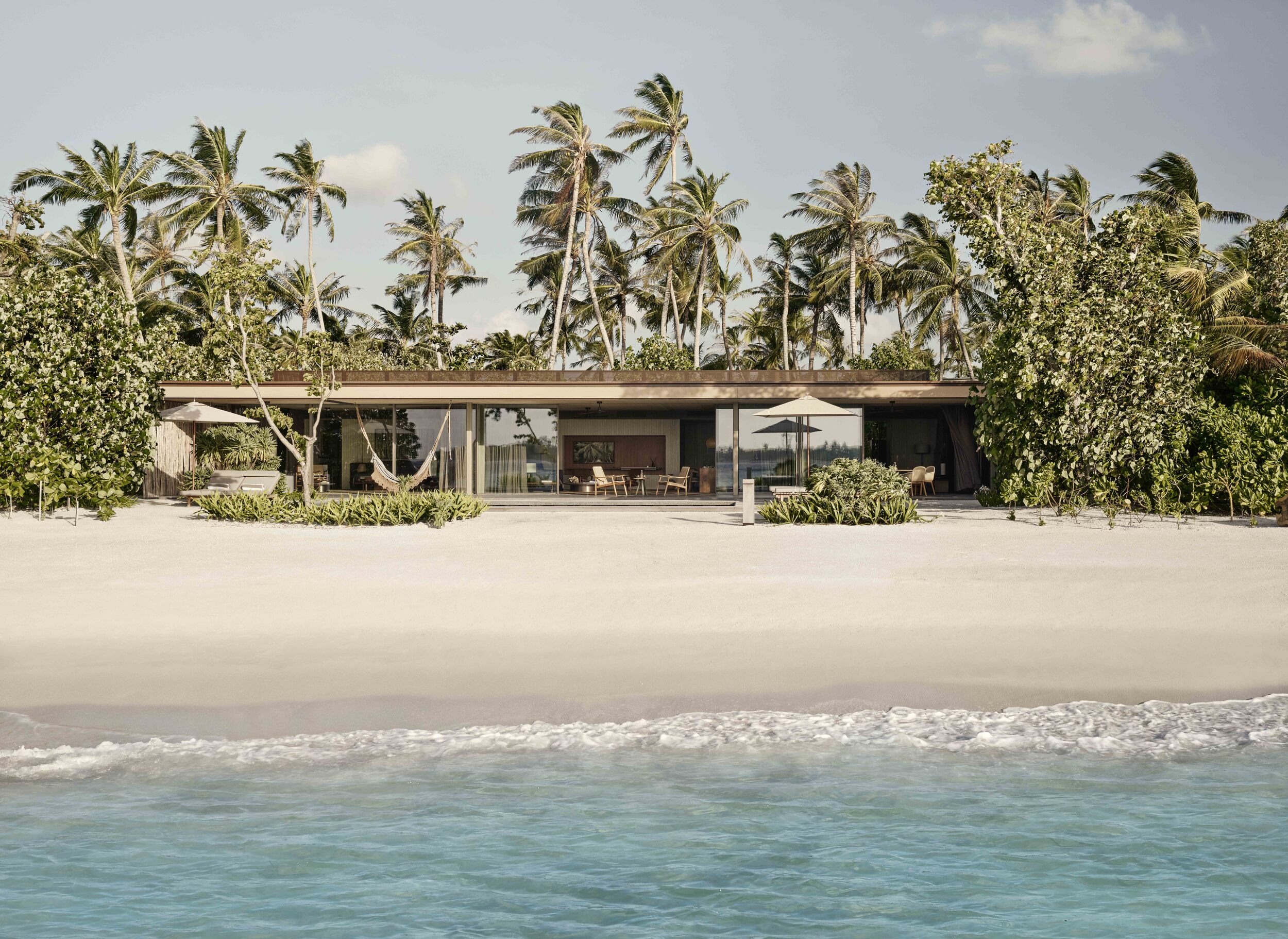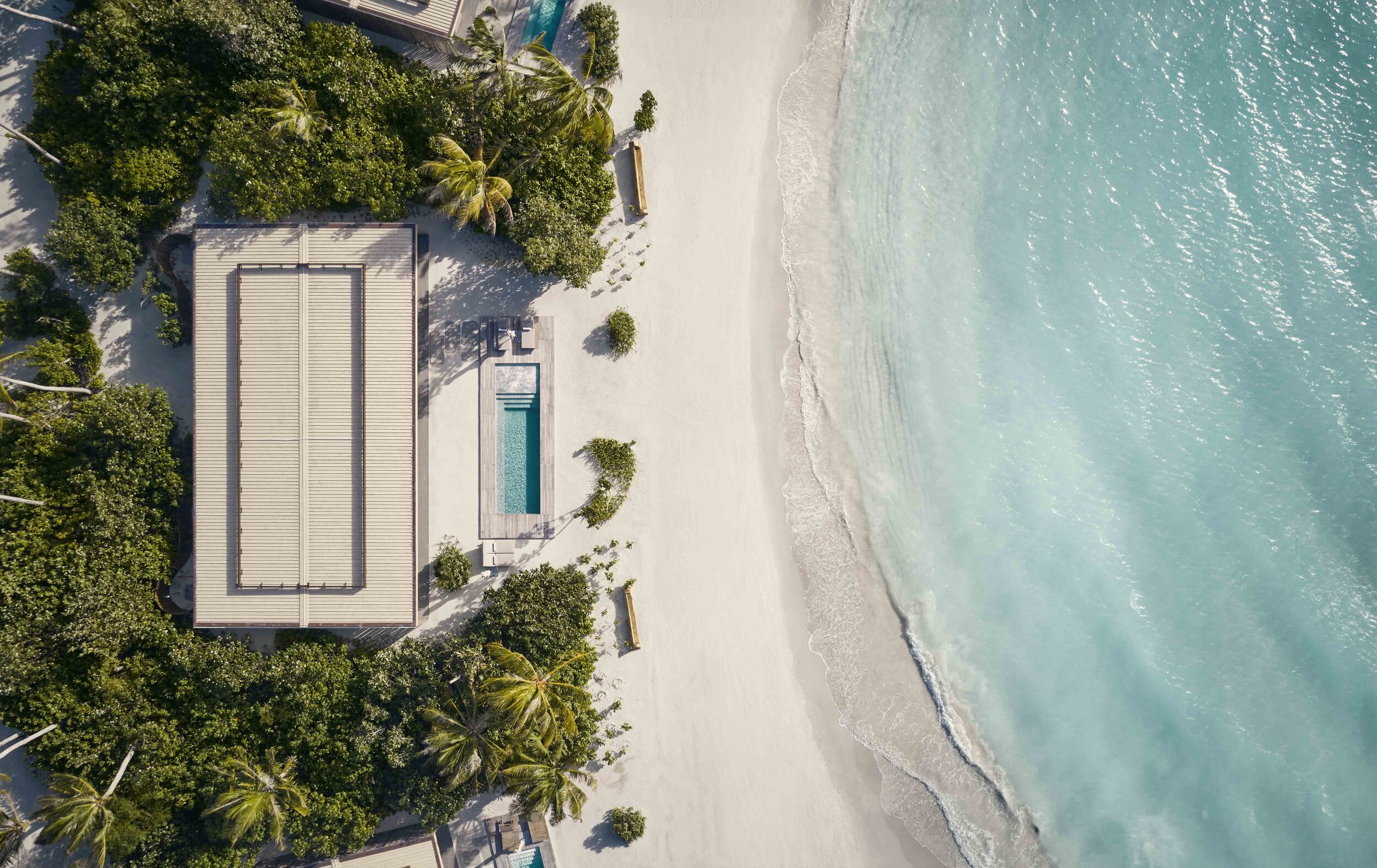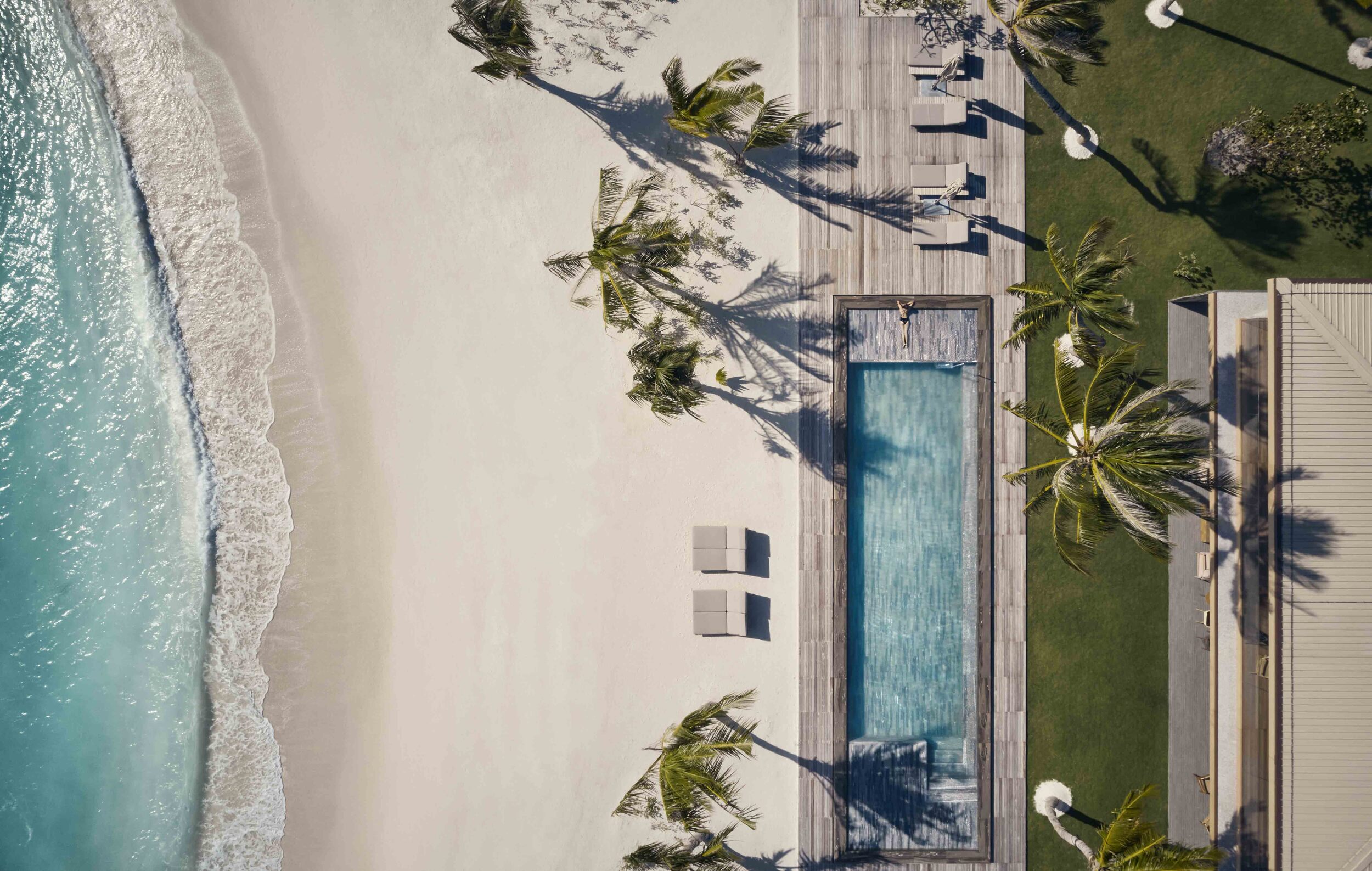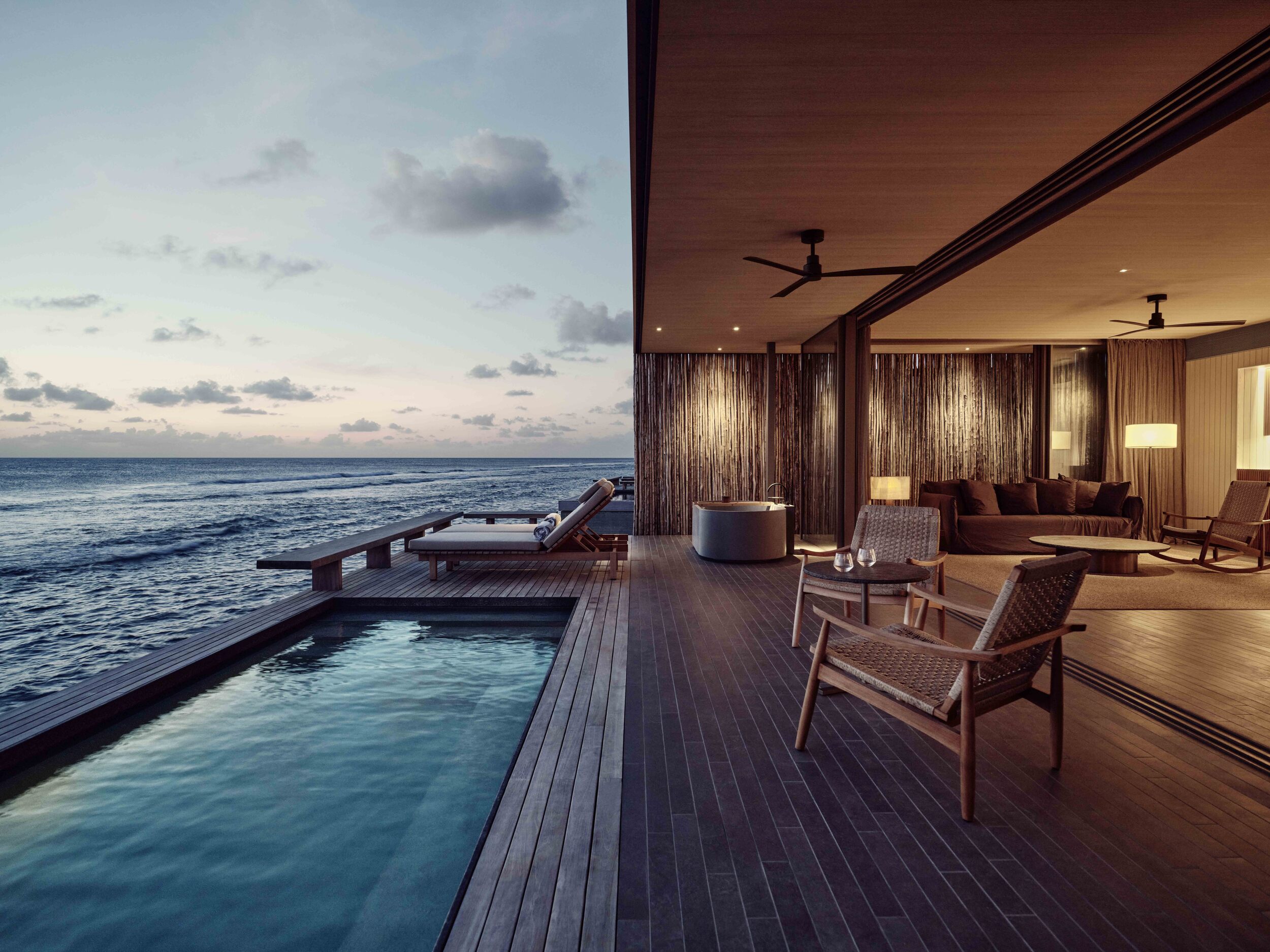 ONE BEDROOM WATER POOL VILLA
Max 2 voksne og 1 barn / 170 m2
Panoramavinduer fra gulv til loft skydes til siden og åbner disse villaer helt op. Her bor du over det turkisblå hav og er ét med det omkransende marineliv. Fra det private dæk afbrydes udsigten til horisonten af intet andet end lagunens blide krusninger. Inde i denne private vandvilla er soveværelse, badeværelse og opholdsstue udført i naturlige materialer, der lever i absolut harmoni med den bemærkelsesværdige beliggenhed.
ONE BEDROOM BEACH POOL VILLA
Max 2 voksne og 1 barn / 240 m2
Nogle af disse villaer med et soveværelse har udsigt til den hvide sandstrand, og alle er omgivet af frodige, tropiske planter. Disse smukke omgivelser giver både privatliv og ro til villaen og dens område, ideel for rejsende, der søger en strandvilla i Maldiverne med privat pool. Og dette kan også mærkes i villaen, da gulv til loft-glasvinduer og døre åbner sig på tre sider for at kreere det perfekte indoor/outdoor living.
ONE BEDROOM SUNSET WATER POOL VILLA
Max 2 voksne og 1 barn / 170 m2
Disse luksuriøse vandvillaer på Patina Maldives i Maldiverne ligger ud over havet og tilbyder det ultimative hideaway, hvorfra man kan se den blodrøde sol sænke sig i horisonten. Og det kan nydes ude på det private dæk eller indefra, da de brede glasdøre fra gulv til loft kan åbnes, så der ikke er nogen hindring for den naturlige skønhed, der omgiver dig.
ONE BEDROOM SUNSET BEACH POOL VILLA
Max 2 voksne og 1 barn / 240 m2
Hver af disse villaer med ét soveværelse har en beliggenhed på øen, hvor man kan nyde den ravgule, vidunderlige maldiviske solnedgang. Nyd den fra vandkanten foran villaen, fra din terrasse, din private pool eller fra den havvendte seng. Alle disse private poolvillaer er velsignet med udsigt til jeres private have og det maldiviske hav i baggrunden.
TWO BEDROOM WATER POOL VILLA
Max 4 voksne og 2 børn / 405 m2
En exceptionel vandvilla med to soveværelser i Maldiverne venter på dig på Patina Maldives, Fari Islands. At vågne op over havet i den sublime komfort er en dybt opløftende oplevelse. Skub glasset tilbage, og din forbindelse til havet og dens utrolige marineliv åbner sig. Hvert designelement i villaen, både inde og ude på din private terrasse, indfanger essensen af maldivisk luksus.
TWO BEDROOM SUNSET WATER POOL VILLA
Max 4 voksne og 2 børn / 405 m2
Den maldiviske solnedgangs uovertrufne majestæt er fuldt ud hædret i den betagende, åbne udsigt fra denne guddommelige villa med to soveværelser, der ligger ud over lagunen. Inde i denne familievilla harmonerer særligt udvalgte naturmaterialer for at skabe en teksturel, sjælfuld stil i balance med livet på øen.
TWO BEDROOM BEACH POOL VILLA
Max 4 voksne og 2 børn / 600 m2
Denne formidable strandvilla med 2 soveværelser på Patina Maldives, med masser af udendørs plads, er et paradis med frodig tropisk grønt og udsigt til den hvide sandstrand. Indenfor er der sjælfulde, naturlige materialer, der afspejler landskabet udenfor. For at bringe dem sammen er tre sider af villaen åbne, hvilket sikrer, at forbindelsen mellem dig og naturen er evigt tilstede.
TWO BEDROOM SUNSET BEACH POOL VILLA
Max 4 voksne og 2 børn / 600 m2
Slå øjnene op og gå ud i din enorme tropiske have, hvor du kan se ud over strandens hvide sand og se solen gå ned. Dette er intet mindre end poesi under dit ophold på et af de bedste luksusresorts i Maldiverne. I disse villaer med to soveværelser er du forkælet med oceaner af plads, en fortræffelig beliggenhed og den smukkeste form for detaljer, som omkranser dig inde, såvel som ude.
THE BEACH HOUSE
Max 6 voksne og 3 børn / 1.800 m2
Patina's luksuriøse Beach House med tre soveværelser er fordelt på to etager og er selve definitionen af en moderne bolig, som den prisvindende brasilianske arkitekt, Marcio Kogan, har skabt. Alt sammen i en privat, hyggelig enklave, der ligger blot et stenkast fra alt det, der gør Patina til noget særligt. En helt utrolig villa-oplevelse!
MAKAI REALISERER
DIN REJSE TIL PATINA MALDIVES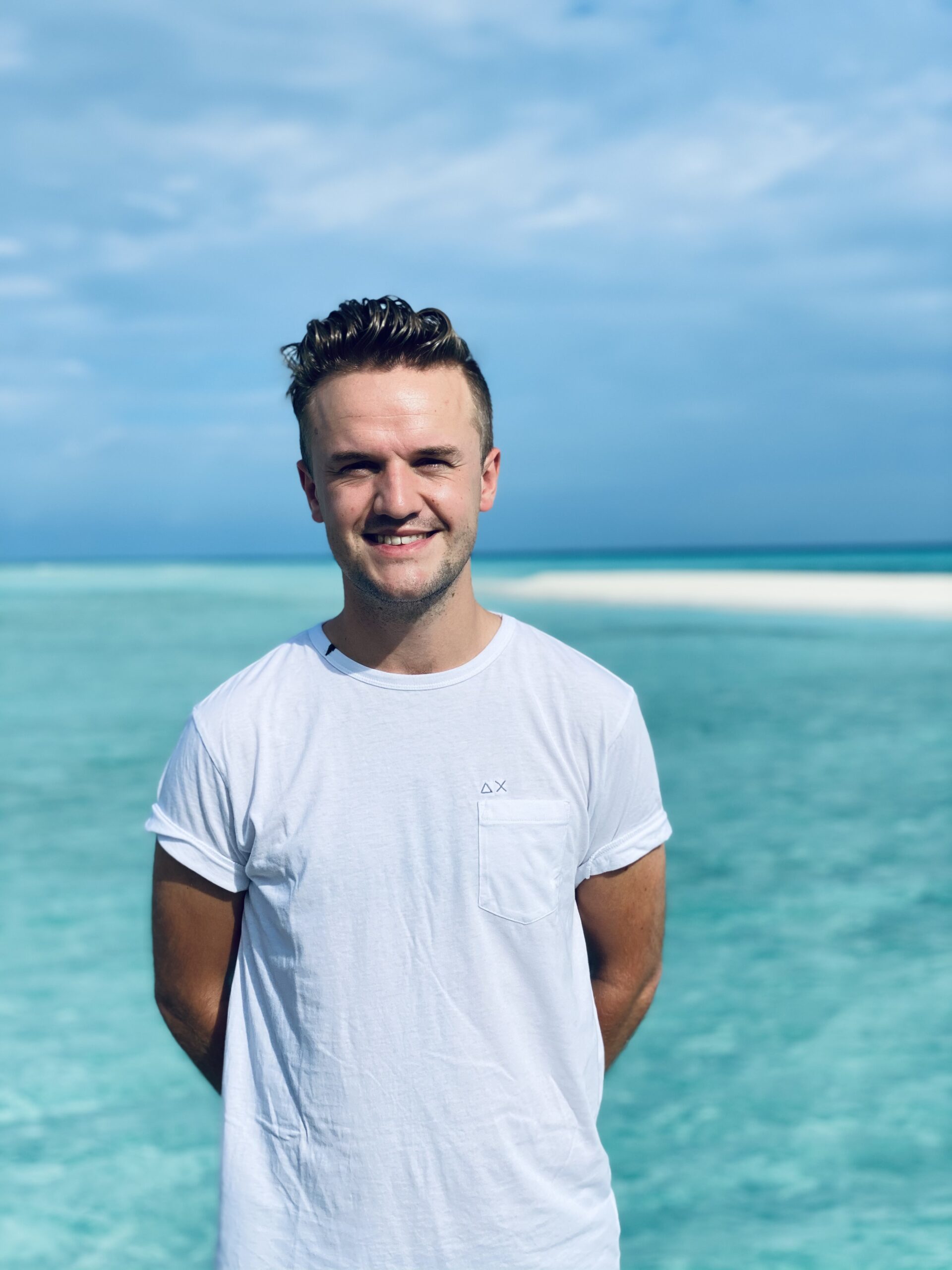 Patina Maldives, Fari Islands er ikke blot et af de bedste resorts i Maldiverne, men i Det Indiske Ocean.
Her får du fantastisk bæredygtig luksus med en afslappende, sofistikeret stemning, de lækreste poolvillaer med lækkert interiør, et hav af gourmetrestauranter, lækre hvide sandstrande og exceptionel personlig service.
Lad os sammen realisere din rejse til Maldiverne.
RASMUS KIRKETERP
CO-FOUNDER & TRAVEL DESIGNER
Inspiration, eventyrlige rejseforslag og spændende nyheder, leveret direkte på mail.
FØLG MED PÅ INSTAGRAM
Enestående oplevelser er endnu bedre, når de deles med andre. Post dine rejseoplevelser med Makai på Instagram @makaitravels med hashtagget #makaitravels.
KONTAKT MAKAI TRAVELS
Har du brug for hjælp til at finde det helt rette rejsemål, det perfekte hotel eller kan du ikke finde det, som du søger, så er vi altid klar til at hjælpe dig. Hver eneste dag - 365 dage om året fra kl. 10-22.