Maldiverne / Det Indiske Ocean
HIMMELSK BARFODSLUKSUS OG SPEKTAKULÆRT
BÆREDYGTIGT KONCEPT PÅ SUBLIME SONEVA JANI
Soneva Jani er et af de resorts, som er taget ud af den vildeste drøm, men som i den grad er virkelighed. Det rene Narnia.
Dette magiske resort i hjertet af Noonu Atoll ligger spot on i en enorm, turkisblå lagune, som vil blæse selv den mest kræsende rejsende bagover.
Fra øjeblikket hvor vandflyet nærmer sig øen, så forstår du, hvorfor denne ø, og dette resort, er et af verdens mest spektakulære.
Du bliver mødt af din Barefoot Guardian (barfodsbutler), som tager sig af alt hvad du har brug for, og måske ikke vidste du havde brug for, under hele opholdet.
Du kan bo i et Water Retreat, et Water Reserve eller et Island Retreat – alle som minimum 400 m2 og med stor privat pool, samt de fleste med egen water slide.
Kun fantasien sætter sine grænser på Soneva Jani. Spil et slag padel eller tennis på nogle af de bedste baner i Maldiverne.
Send børnene ned til Maldivernes største, og en af verdens bedste, kids clubs "The Den", hvor der både er LEGO rum, water slide, stor pool med swim-up bar, piratskib, zip-line og meget mere.
Læg dig under stjernehimlen i resortets udendørsbiograf, Cinema Paradiso, eller tag op i observatoriet og lær mere om stjernehimlen og solsystemets planeter fra Jani's in-house astronom.
Alle villaerne kommer med egne e-bikes (elcykler), så du nemt kan tilbagelægge de knap 5 kilometer, som øen er lang (fra jetty til jetty).
Har du brug for et lift, så kommer din Barefoot Guardian med en buggy på få minutter.
Nyd gourmetmad med alt fra gigantiske krabber fra Crab Shack til møre lamb racks fra Director's Cut, eller forkæl dig selv med chokolade og is, hele dagen og uden beregning.
Der er ikke det, som ikke er muligt her i paradis, på Soneva Jani.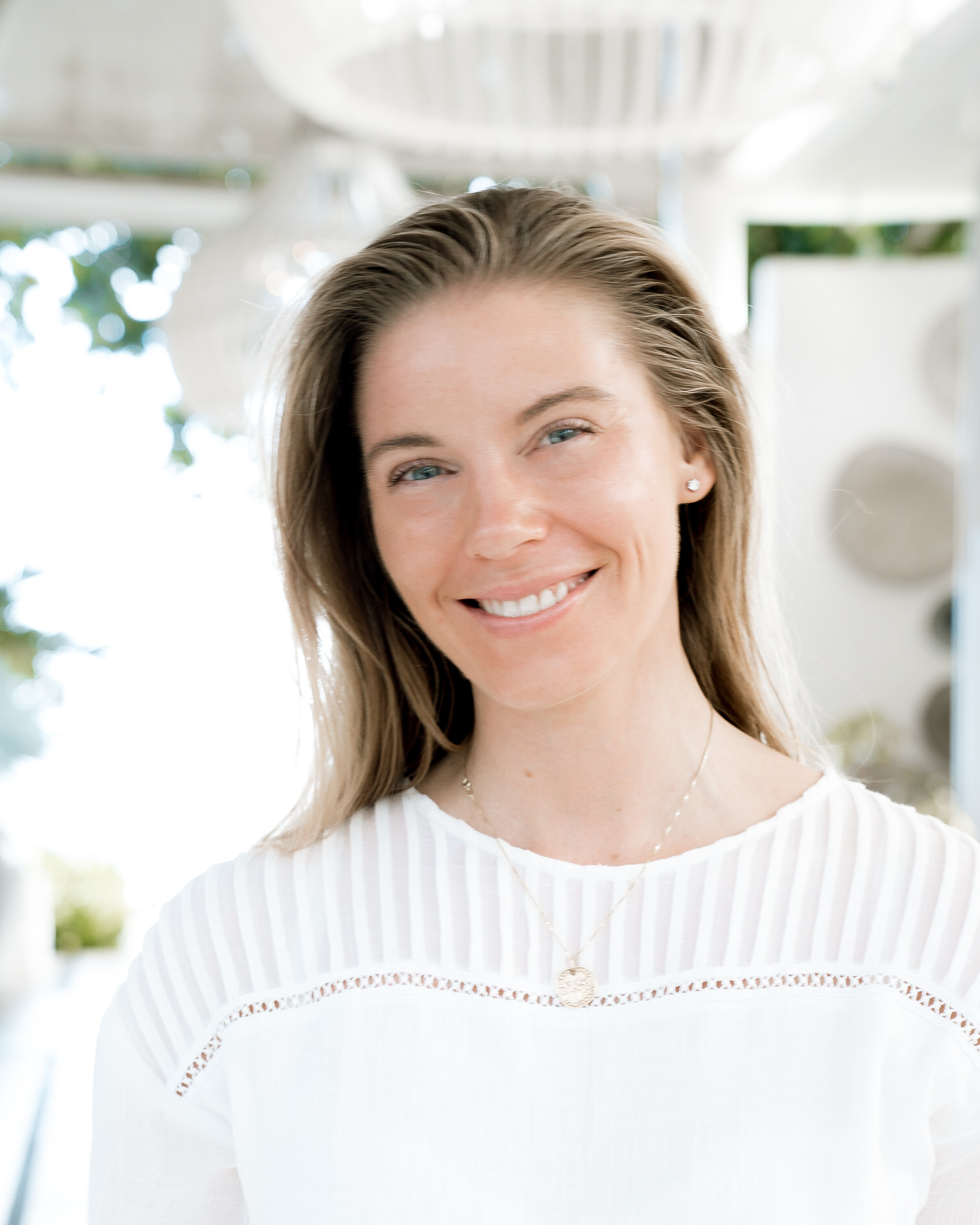 WENDIE PEDERSEN
CO-FOUNDER & TRAVEL DESIGNER
Personlig Rådgivning
Er du også vild med Soneva Jani? Lad os sammen realisere din rejse til Maldiverne.
Modtag tilbud
De mest populære faciliteter
59 Værelser | 11 Restauranter
Børnevenligt
Dykkervenligt
Butlerservice
Parvenligt
Privat pool
All inklusive
Bæredygtigt fokus
Indenlandsk transfer
Egen cykler
Familievenlig
Gourmet
Gratis vandsport
Børneklub
Stor ø
Snorkling
Vandfly transfer
Vi anbefaler
Wellness yoga
Highlights (15)
Beliggende i en kæmpe lagune i Noonu Atoll
59 gigantiske poolvillaer, størstedelen over lagunen med egen slide
Alle villaer har direkte adgang til strand eller hav
11 innovative restauranter og innovative spisekoncepter
Et af de eneste resorts i Maldiverne med state-of-the-art padel bane
Oversized poolvillaer fra 1 op til 4 soveværelser
3D-teleskop til smukke billeder af stjernehimlen og planeterne
Overwater udendørsbiograf, Cinema Paradiso, under stjernehimlen
Et af de mest bæredygtige resorts i Maldiverne
"Barefoot Guardian" (barfodsbutler) medfølger til alle villatyper
Maldivernes største kids og teen club, The Den
Rum med gratis chokolade, is, gourmetskinker, oste dagen lang
Soneva Soul, Maldivernes smukkeste spa og wellness center
E-bikes (elcykler) til alle villaer, for nemt at kunne komme rundt
No news, no shoes filisofi (du kan gå barfodet alle steder, 24/7)
Se flere
LIVET PÅ SONEVA JANI
Soneva Jani danner rammen om den perfekte "no news, no shoes" ø, midt i gigantisk, smuk lagune i Noonu Atoll.
Et sted som er så perfekt, at det er svært at tro på. Her er du omkranset af turkisblå nuancer.
Sonu og Eva, Founders af Soneva, har skabt et sted, hvor gourmetrestauranter, afslappet luksus og megavillaer går hånd i hånd med bæredygtighed.
INNOVATIVE SONEVA
Det vrimler med resorts i Maldiverne, men få resorts er lige så innovaive, som Soneva Jani. Her er et laserfokus på altid at gøre tingene så bæredygtigt som muligt, og kun fantasien sætter grænser på denne smukke ø, i hjertet af Noonu Atoll.
Fra resortets fede e-bikes, som nemt lader dig udforske den over 5 kilometer lange ø (jetty til jetty), til Soneva's "Eco Centro Waste-to-Wealth", hvor hovedformålet er at genbruge og bidrage til planeten på en positiv måde.
Fra den unikke Cinema Paradiso, overwater, til observatoriet over vand med 3D-teleskop, hvor du kan nyde en middag med både kulinariske oplevelser og kig til stjernerne – sammen med resortets astronom.
Soneva har også lanceret gratis chokolade-rum, ubegrænset med is, gourmetskinker og oste samt meget mere. Det er vitterligt som at træde ind i Willy Wonka's vilde verden.
PARADISISK KIDS/TEEN CLUB
The Den er ethvert barn/teenagers drøm. Maldivernes største, og måske verdens bedste kids club, pryder et kæmpe areal og er inspireret af netop de vildeste drømme fra barndommen.
Her er pools, vandrutchebaner, piratskib en teknologi-fri zone, hvor de unge mennesker kan være kreative i musikrummet, bygge med LEGO mm.
Der er også en biograf til filmaftener, cooking classes og mere, skræddersyet til de såkaldte "Young Sonevians".
MALDIVerNES ÆGTE WATEr-RESORT
Selvom Soneva Jani også har nogle af Maldivernes mest spektakulære Island Retreats, beliggende blandt frodige mangrover, så er det de mange elementer over vandet, som virkelig tager resortet op i en liga for sig selv.
Alle Water Retreats og Water Reserves har egen slide og pool – og det er i virkeligheden disse, som har været med til at gøre Soneva Jani til et af de mest fotograferede og kendte resorts.
Resortets observatorie ligger over vandet, det samme gør Jani's udendørsbiograf, Cinema Paradiso. Det samme kan siges for langt de fleste af resortets restauranter, såsom bl.a. Overseas by Mathias Dahlgren, Director's Cut og Down to Earth.
Alt er vand-baseret her, bogstaveligt talt.
RESTAURANTER & BARER
11 SPISEKONCEPTER OG 1 BAR
Soneva Jani har 11 unikke spisekoncepter, som tager dig igennem alverdens køkkener.
Fra fine-dining i trætoppene med verdens bedste kokke til en kombineret middag og biografoplevelse.
SO WILD BY DIANA VON CRANACH
Nyd gourmet fra en en plantebaseret menu designet af den innovative raw food-kok Diana Von Cranach, der præsenterer unikke og enkle retter, som genopliver historiske, næsten glemte traditionelle opskrifter fra de indonesiske krydderiøer og Sydøstasien – midt i en af Soneva's smukke køkkenhaver.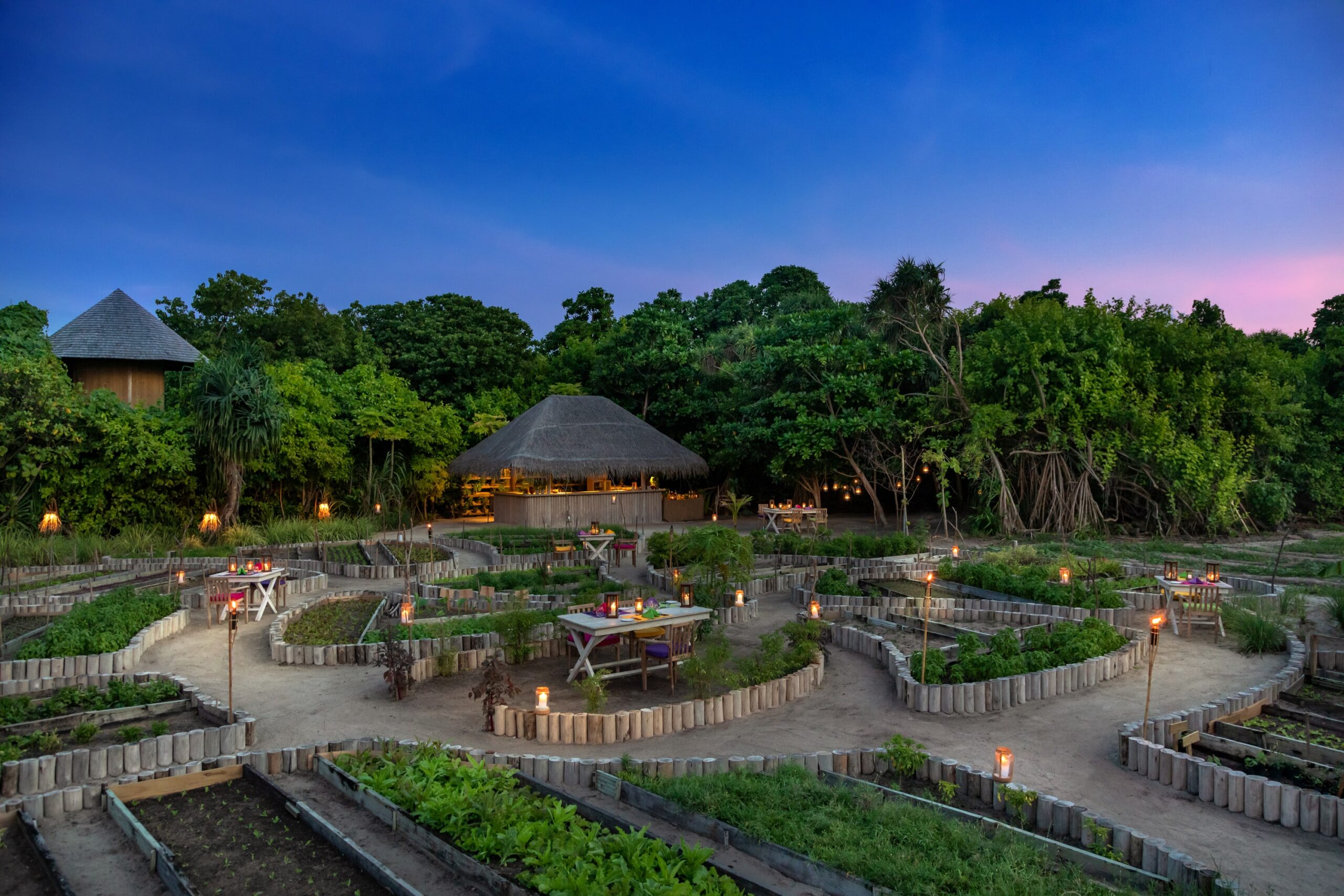 THE CRAB SHACK
Crab Shack direkte på en af Soneva Jani's smukke strande, og serverer kun én type kæmpe-krabbe på skift. De omfatter chilikrabbe, krabbecurry (både thailandsk og srilankansk karry), hvidløgskrabbe, sort peberkrabbe, Szechuan krydret wokstegt krabbe, vietnamesisk wokstegt krabbe med tamarind, ingefær og sort peber.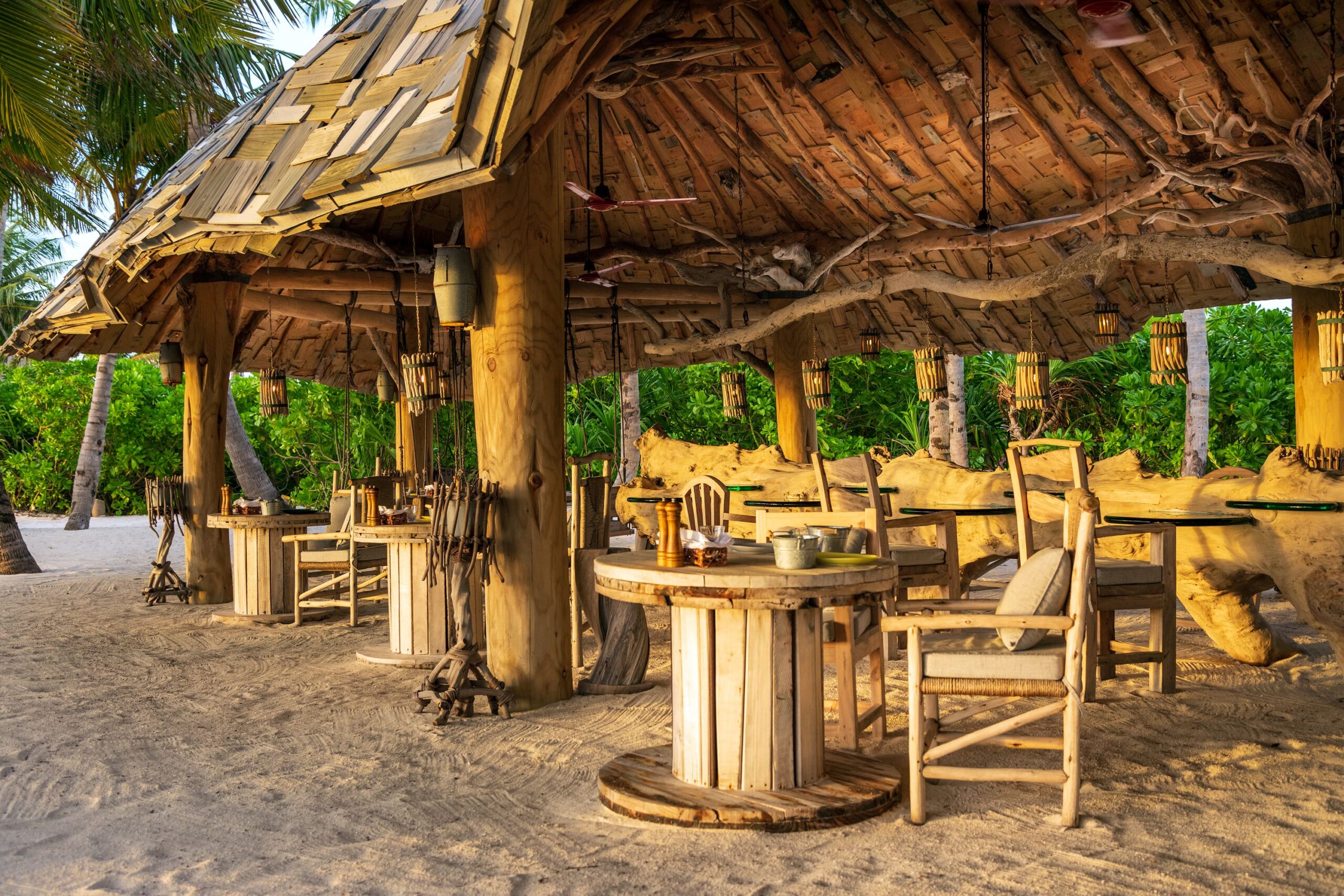 OVERSEAS BY MATHIAS DAHLGREN
Overseas by Mathias Dahlgren er en spektakulær restaurant over vandet, med glasgulv under bordene, som fokuserer på fisk, vegetariske og plantebaserede retter og serverer et udvalg af enkle, smagfulde retter med svensk kreativitetet in mind.
SO LOCAL
So Local ligger i en af Soneva Jani's økologiske haver og er et mødested for både værter og gæster, hvor de kan dele inspirerende historier fra en lang række forskellige kulturer. Inspireret af forskellige værters hjemlande præsenterer den alsidige, skiftende menu hver måned et køkken fra et specifikt sted,verden over.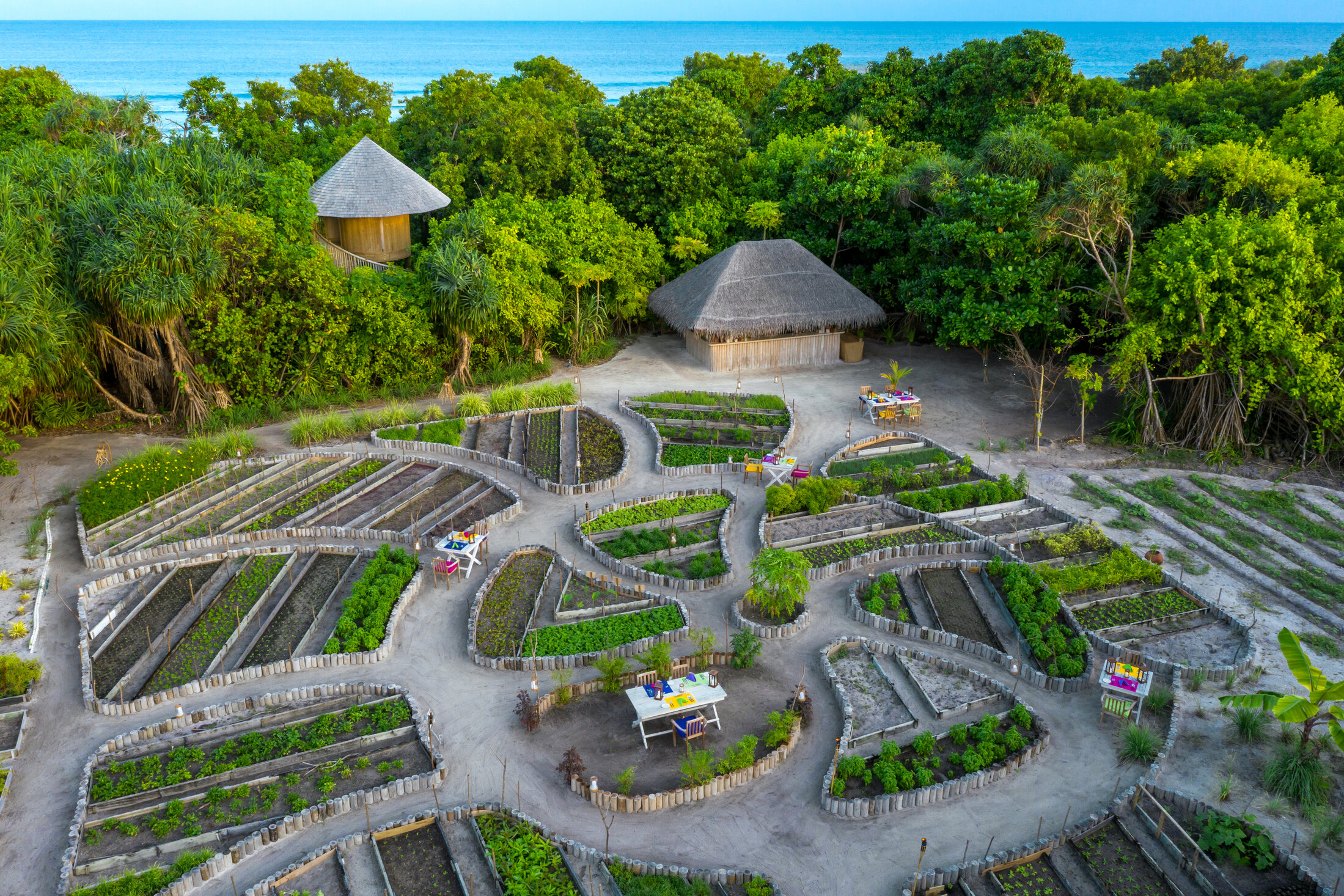 SO PRIMITIVE
So Primitive ligger side om side med Crab Shack, og disker til aften op med fantastiske måltider, midt i sandet, helt ude ved vandkanten. Restaurantens centrale element er en fire pit, hvor forskellige madlavningsteknikker bliver hyldet. Nyd lækre grillede delikatesser på Soneva Jani's South Beach.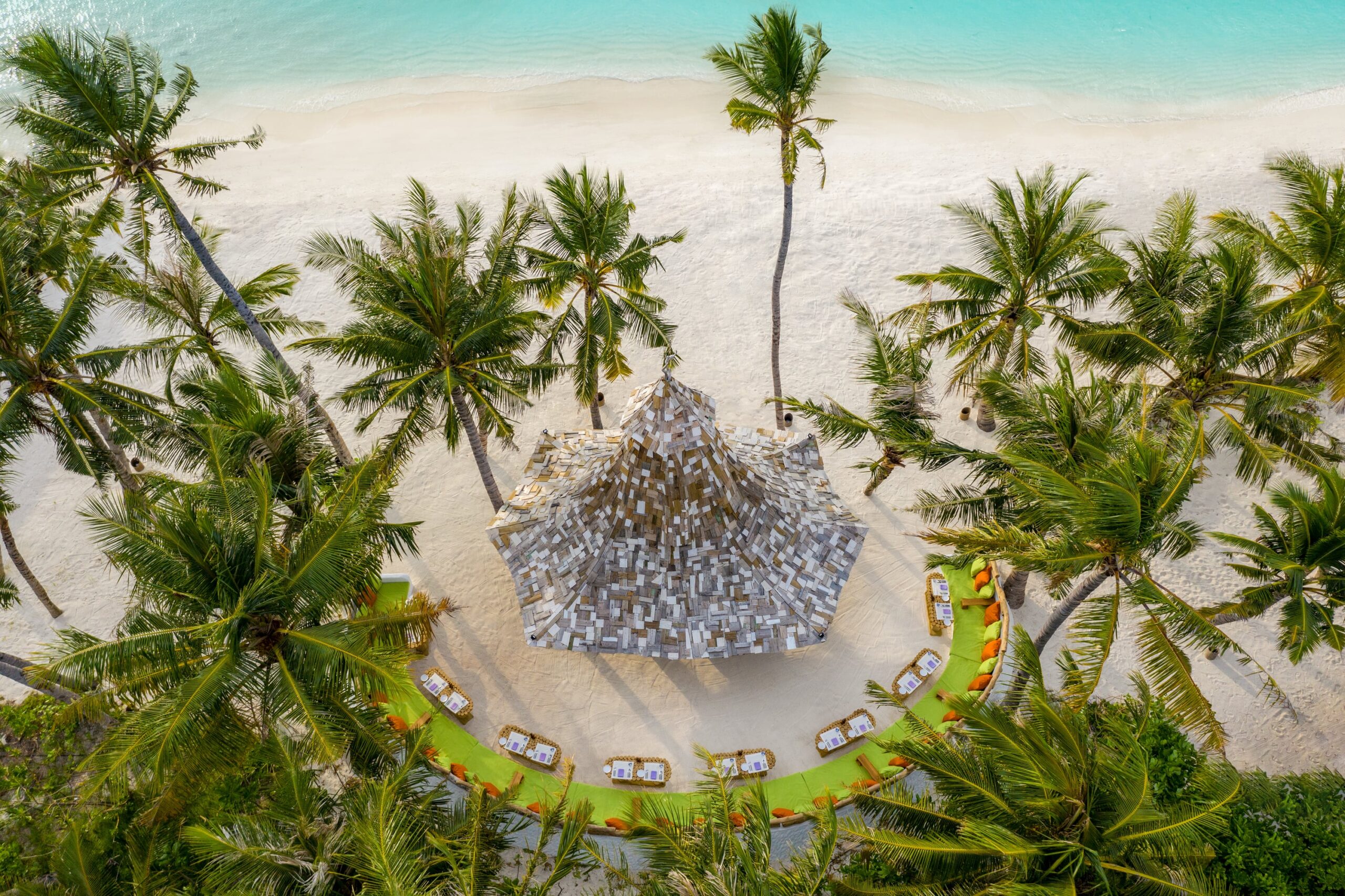 SO IMAGINATIVE
So Imaginative er et privat lokale med plads til op til 20 gæster og er perfekt til festligheder. Jani's sommelierer kan lave inspirerende vinsmagninger og vinmiddage her og vælge de perfekte kombinationer fra den unikke vinkælder.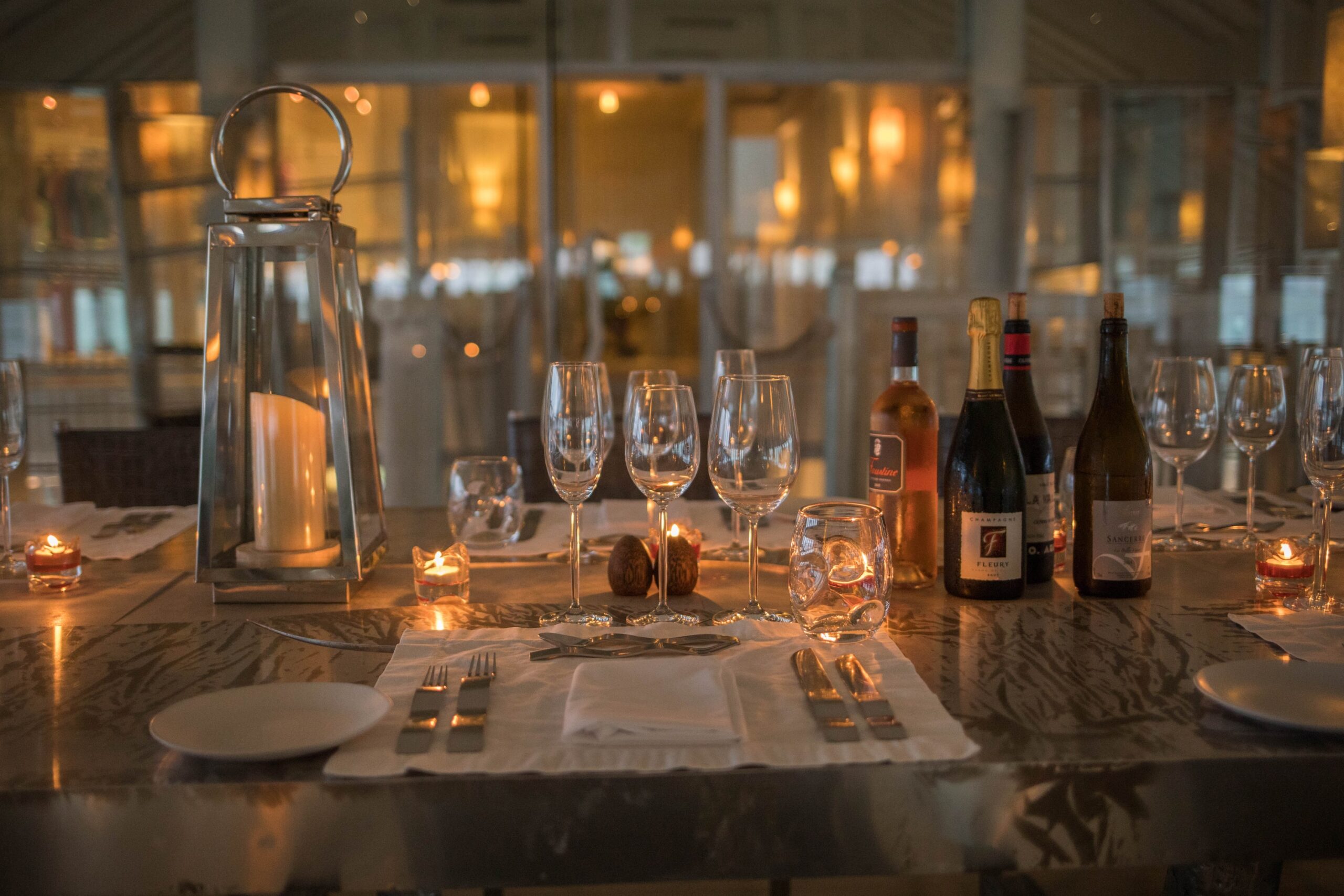 SO STARSTRUCK
So Starstruck er et af Maldivernes mest unikke spisekoncepter. Kig mod himlen i Maldivernes første observatorium over vandet. Sæt dig ved et af de fire spiseborde og nyd en helt særlig menu, mens Soneva Jani's in-house astronom er til stede for at hjælpe dig med at navigere himlens stjerner og planeter.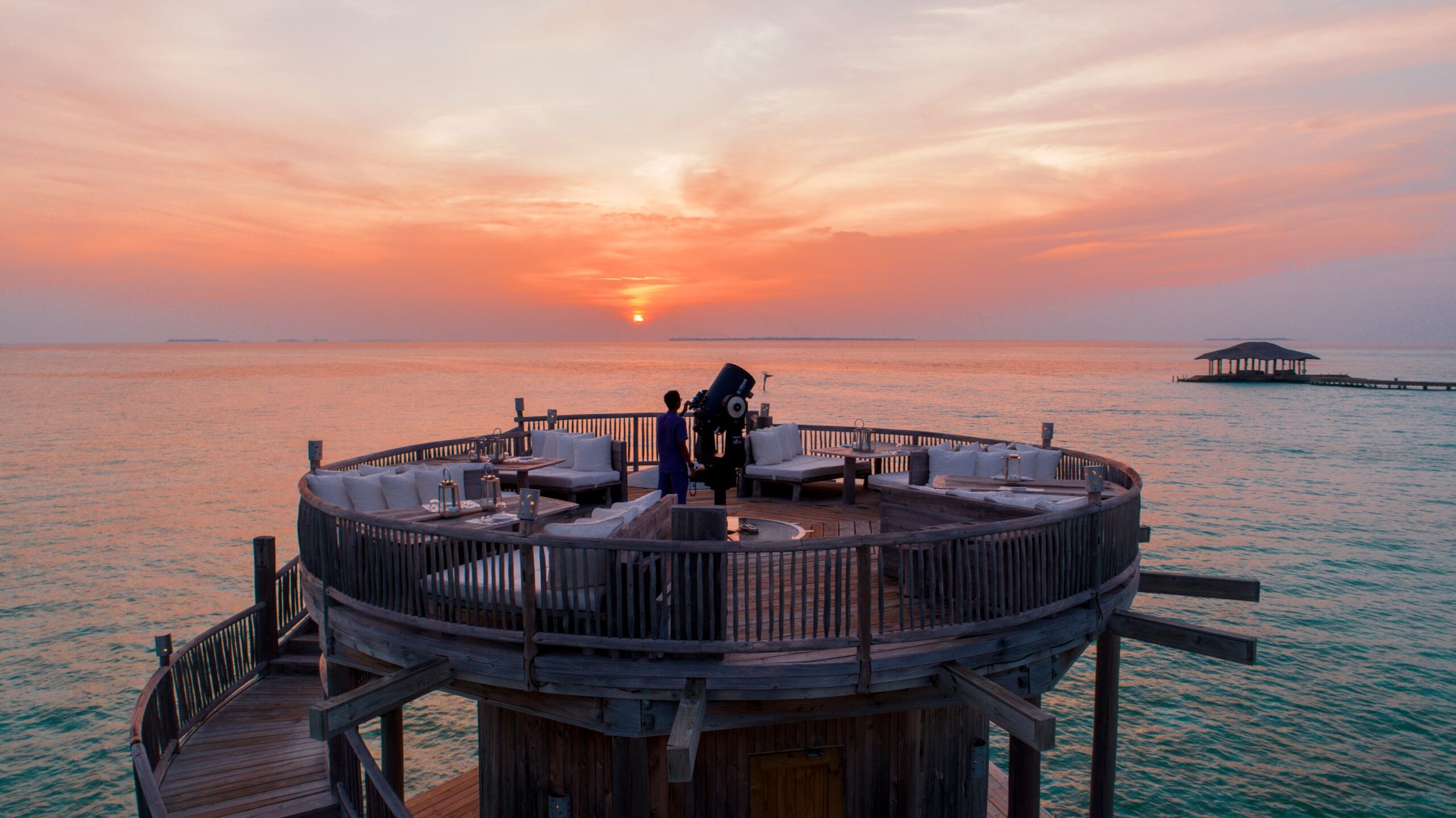 DIRECTOR'S CUT
Director's Cut er en helt særlig kombineret spise og udendørs biografoplevlese. Her serveres der alt fra sashimi i moderne stil til møre lamb racks, sort torsk og andre favoritter med et spændende twist. Nyd gourmetmåltider, mens du ser en film på storskærm over lagunen, med eller uden headset på.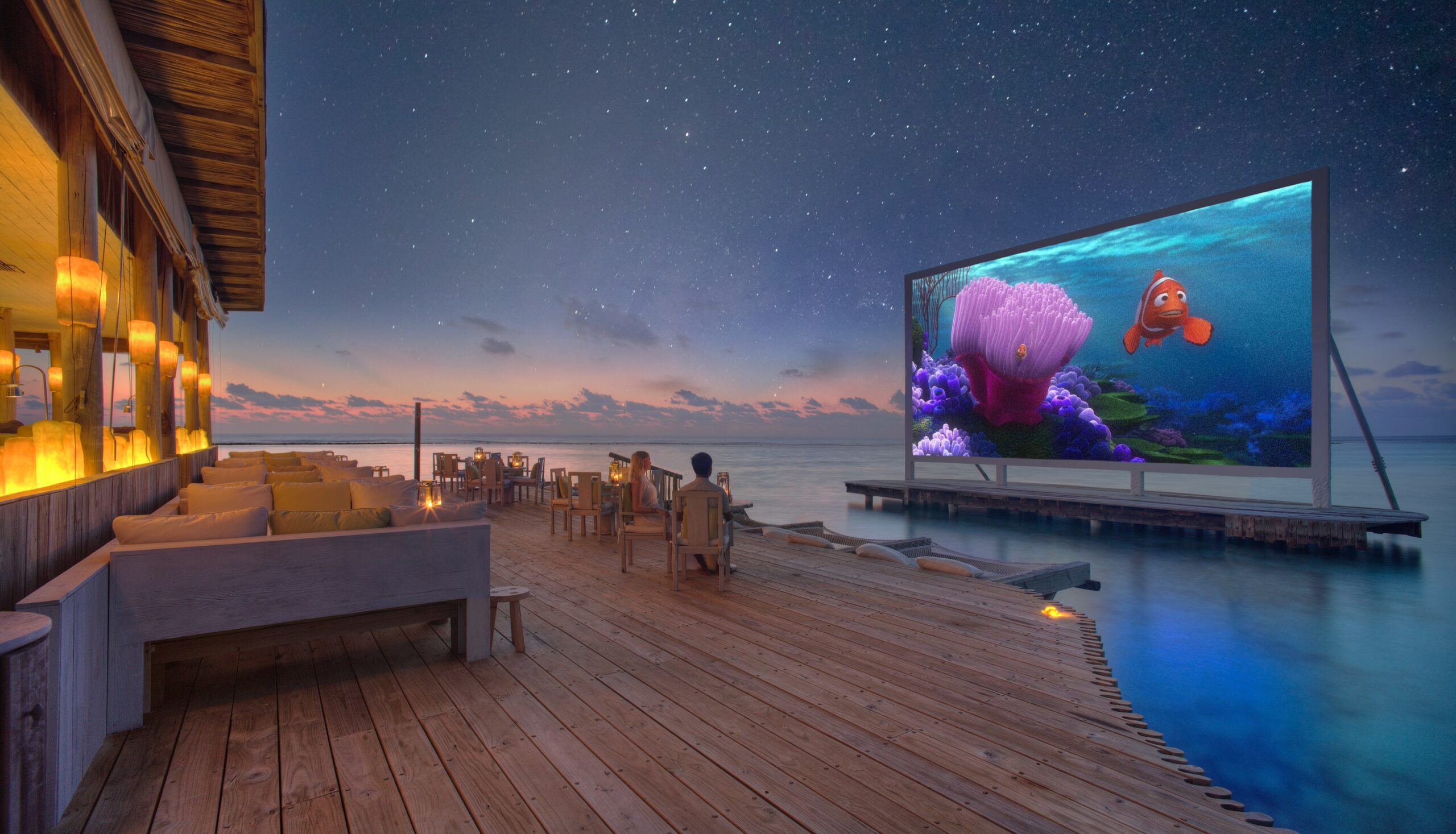 DOWN TO EARTH 
Begynd dagen med frisk frugt og friskbagte croissanter – i alle varianter. Dagen fortsætter med økologiske salater, live-køkkenstationer, den træfyrede pizzaovn, tandoors og barbecue. Denne imponerende restaurant i flere niveauer er noget, som du aldrig har set før.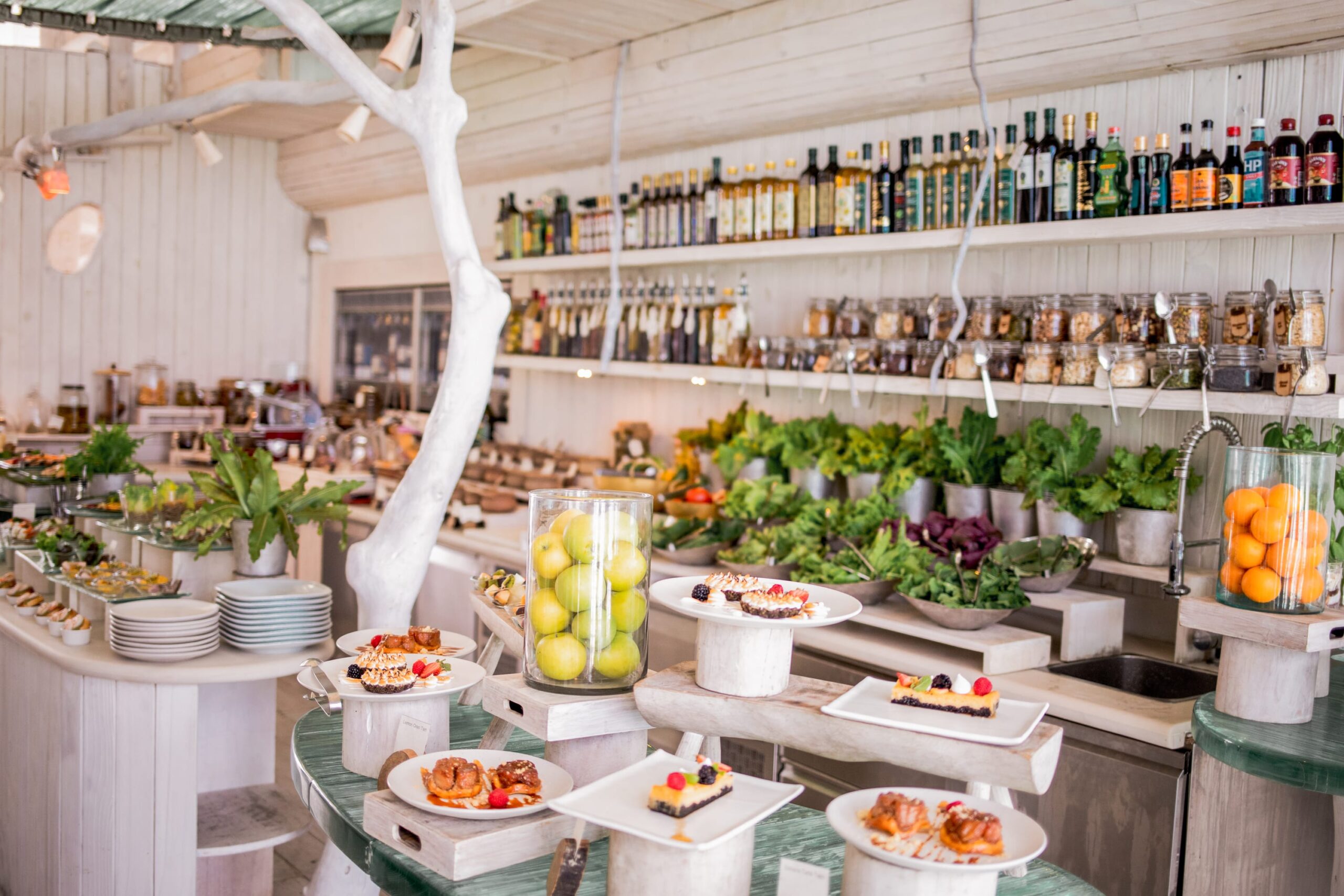 SO GUILTY
Forkæl dig selv med et overdådigt udvalg af gratis chokolader, trøfler, praliner og andre herligheder, der får chokolade-elskere til at besvime. Dette chokolade paradis er himmelsk, og alt er håndlavet af Soneva's dygtige chocolatiers. Fik vi nævnt at det er gratis 24/7?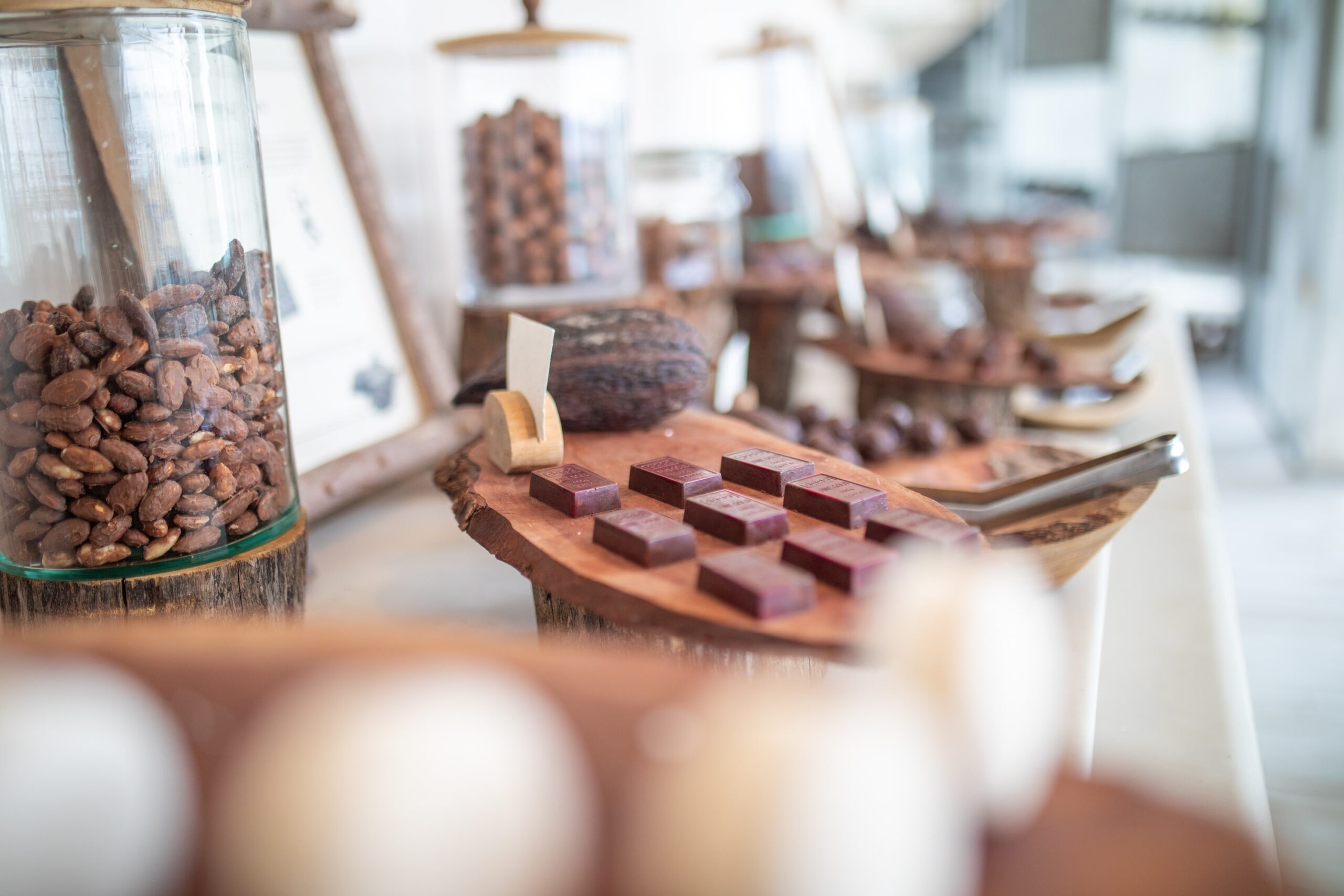 SO COLD
Forkæl din søde tand med over 60 gratis, varierende smagsvarianter af hjemmelavede is og sorbeter. Prøv klassikerne, eller udforsk eventyrlysten med eksotiske og usædvanlige smagskombinationer. Her kan du også finde Jani's omfattende udvalg af gourmetskinker og oste i dette magiske undervejs – ideelt til en smagsprøve før middagen. Alt er helt og aldeles gratis, for alle.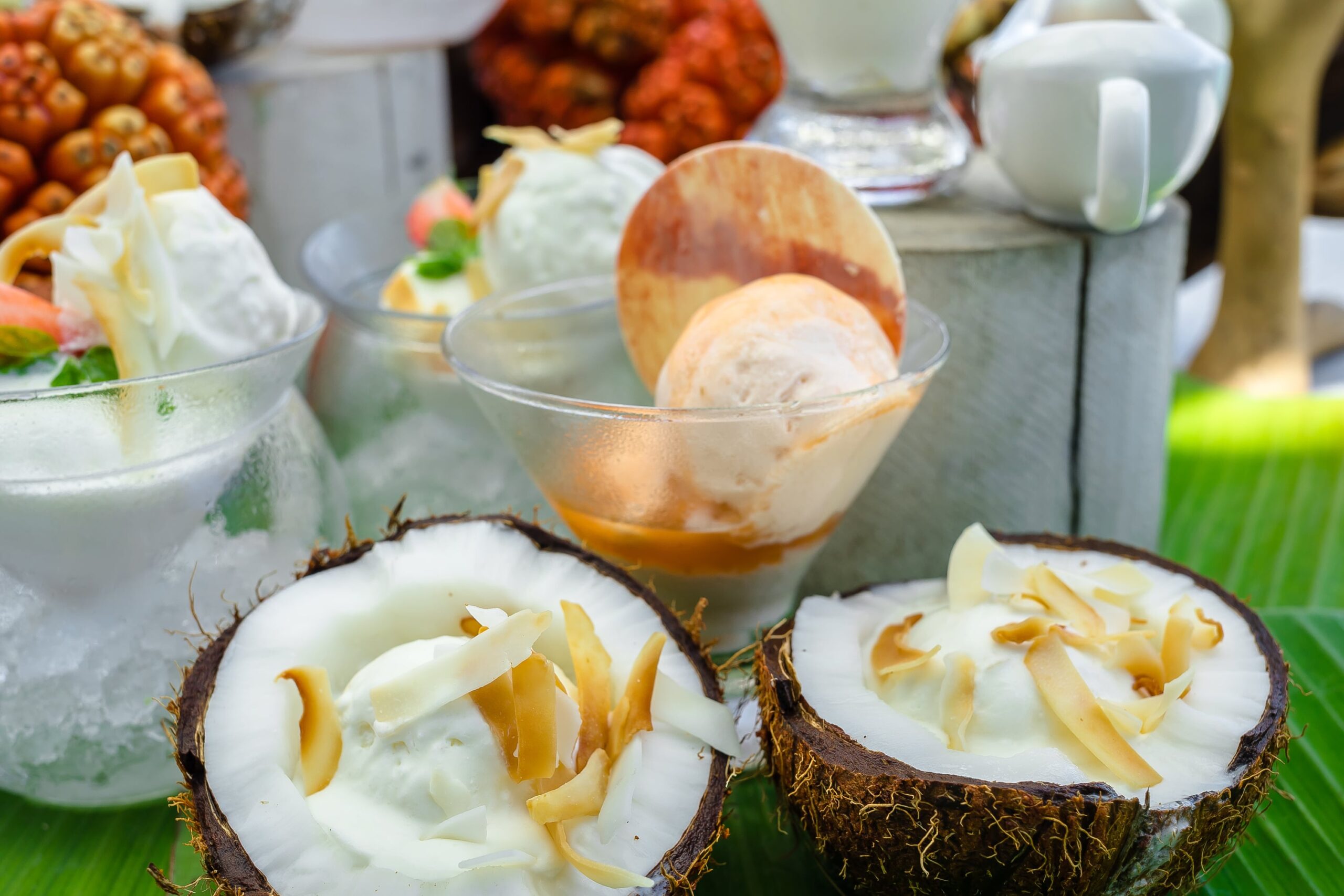 Soneva Jani er kendt for mange ting, men ét af de største highlights er resortets gigantiske villaer – alle minimum 400 m2 – som fortrinsvis ligger over den smukke lagune. Alle med stor privat pool, sunken seating og de fleste med egen water-slide, som tager dig direkte ned i Det Indiske Ocean. Der er både Water Retreats og Water Reserves, og derudover også Island Retreats, som ligger omkranset af den smukke vegetation.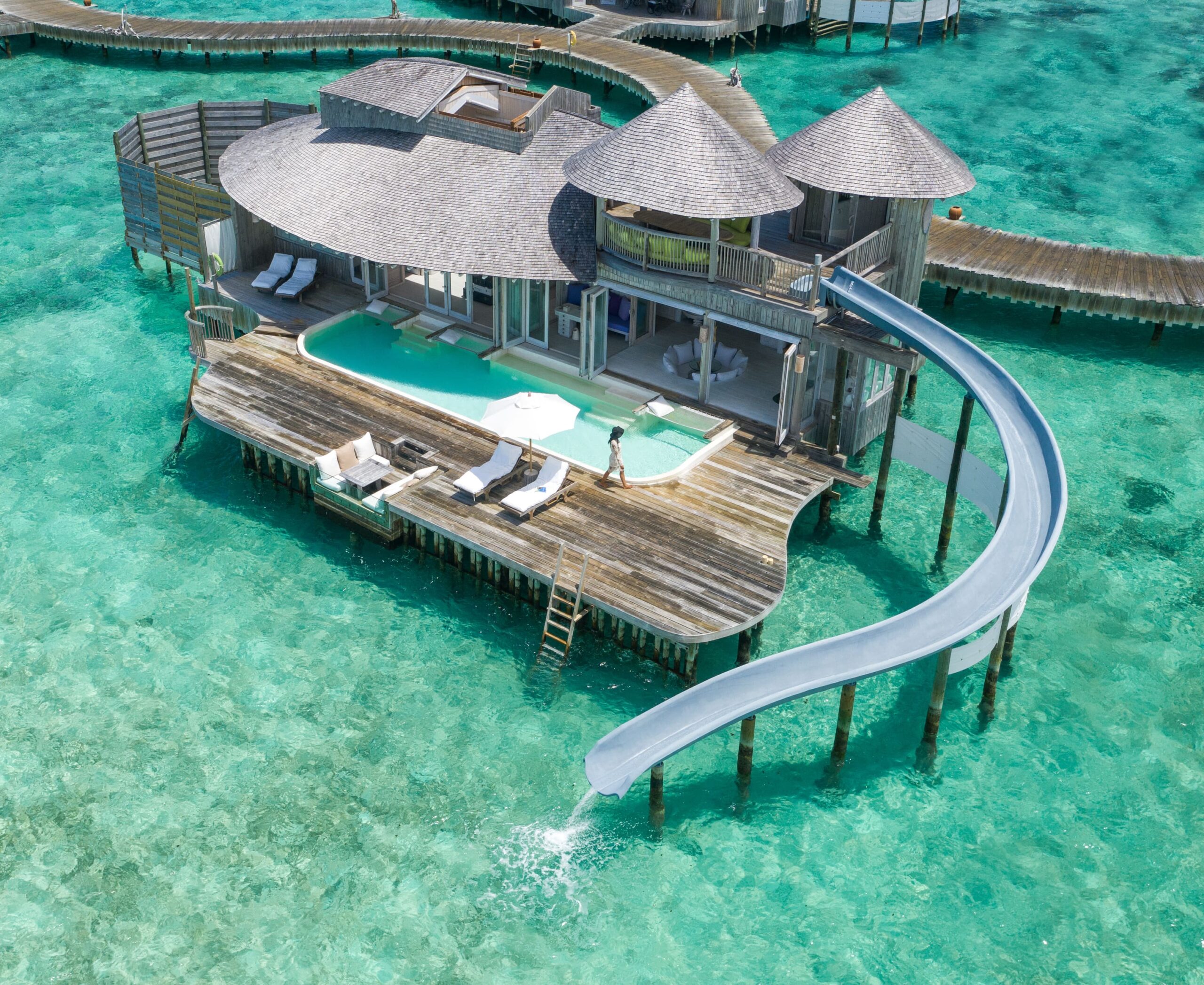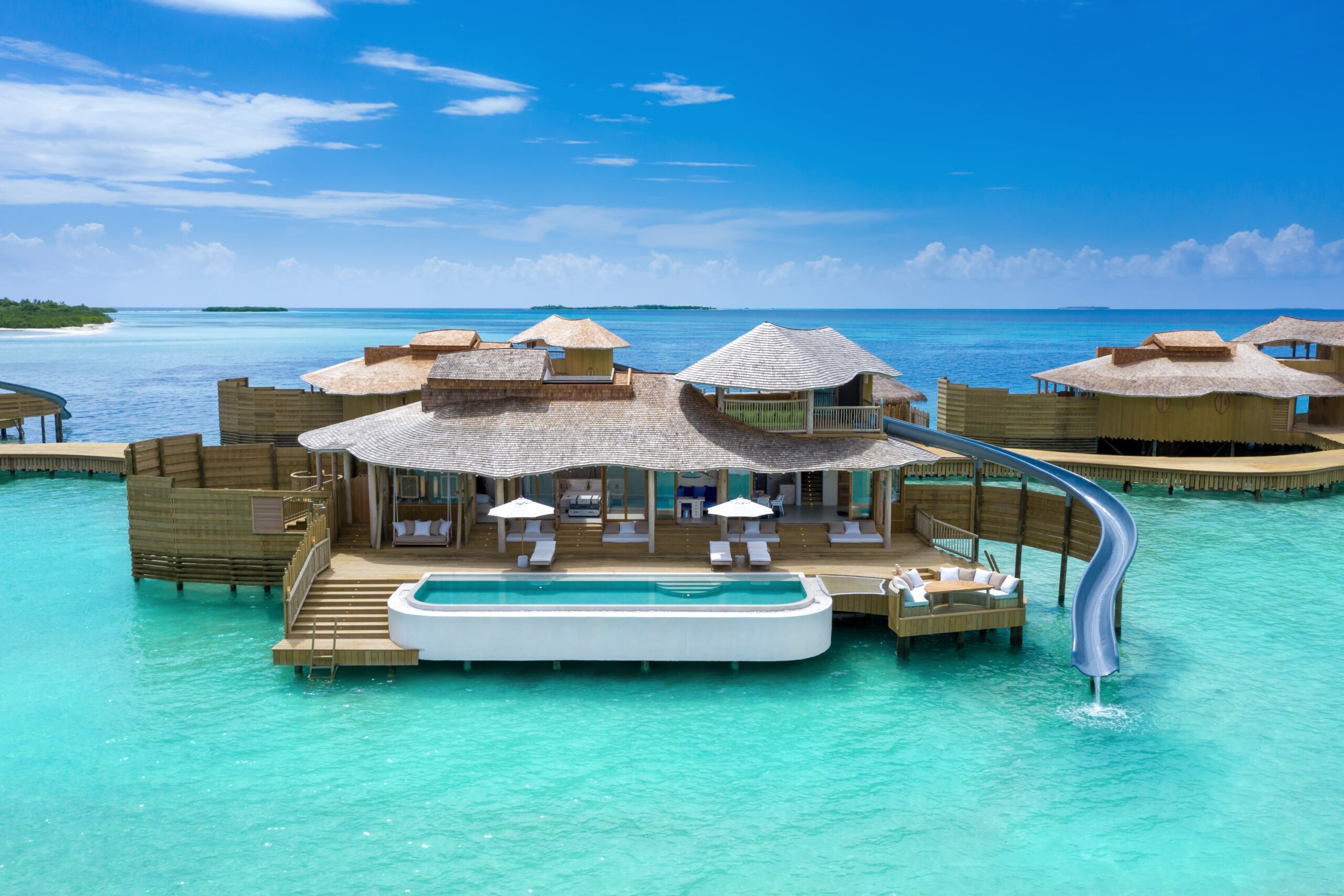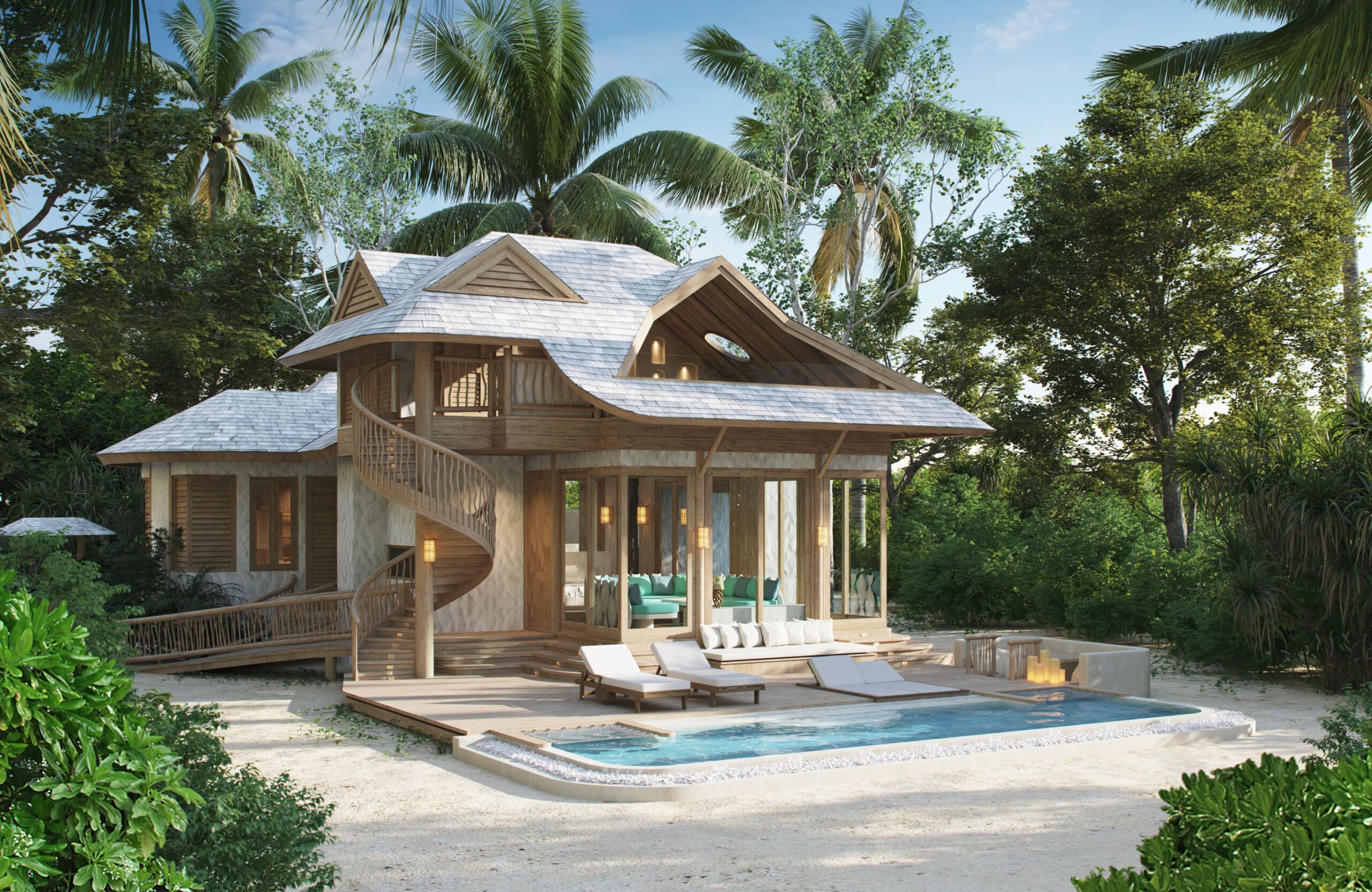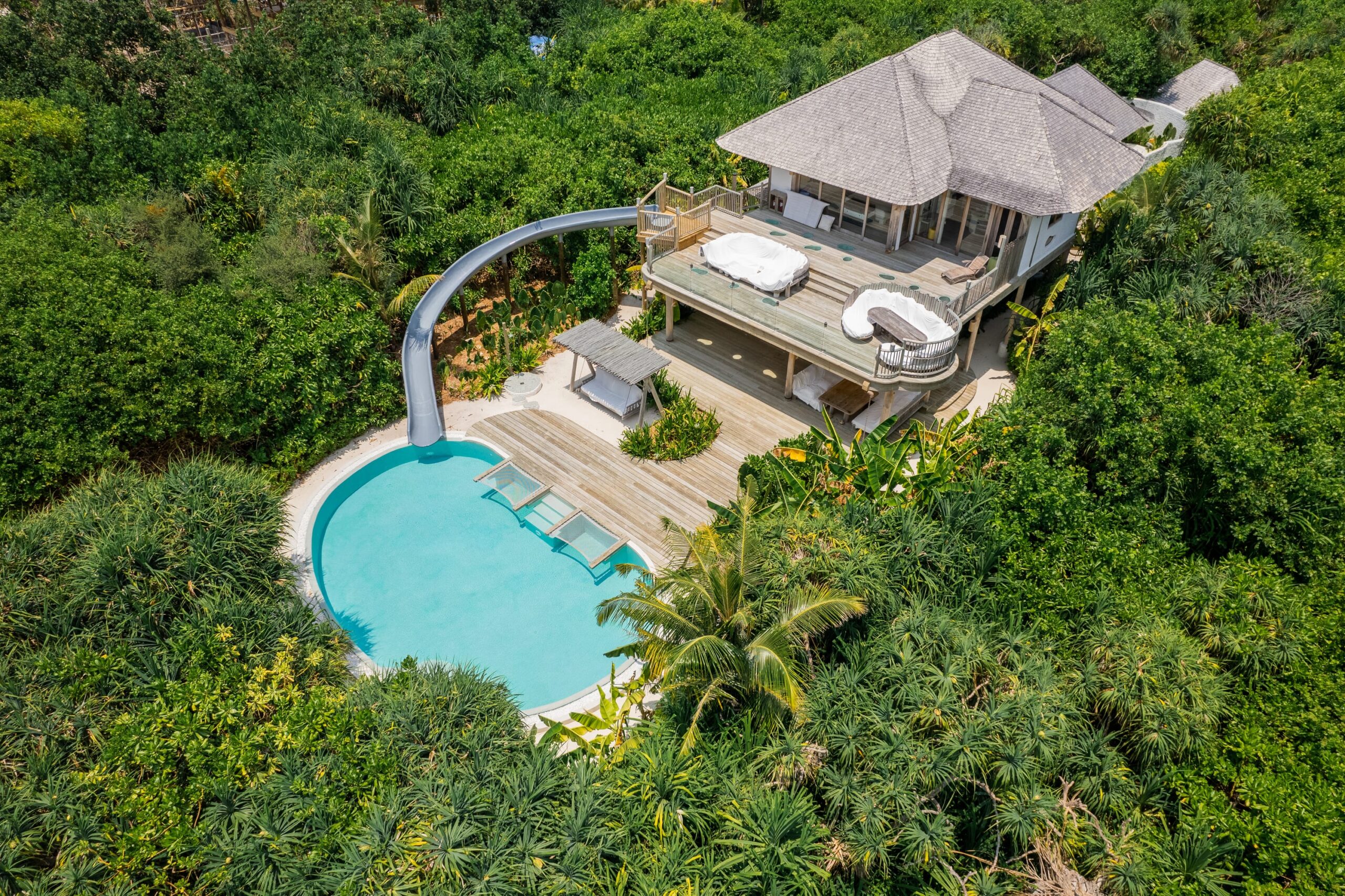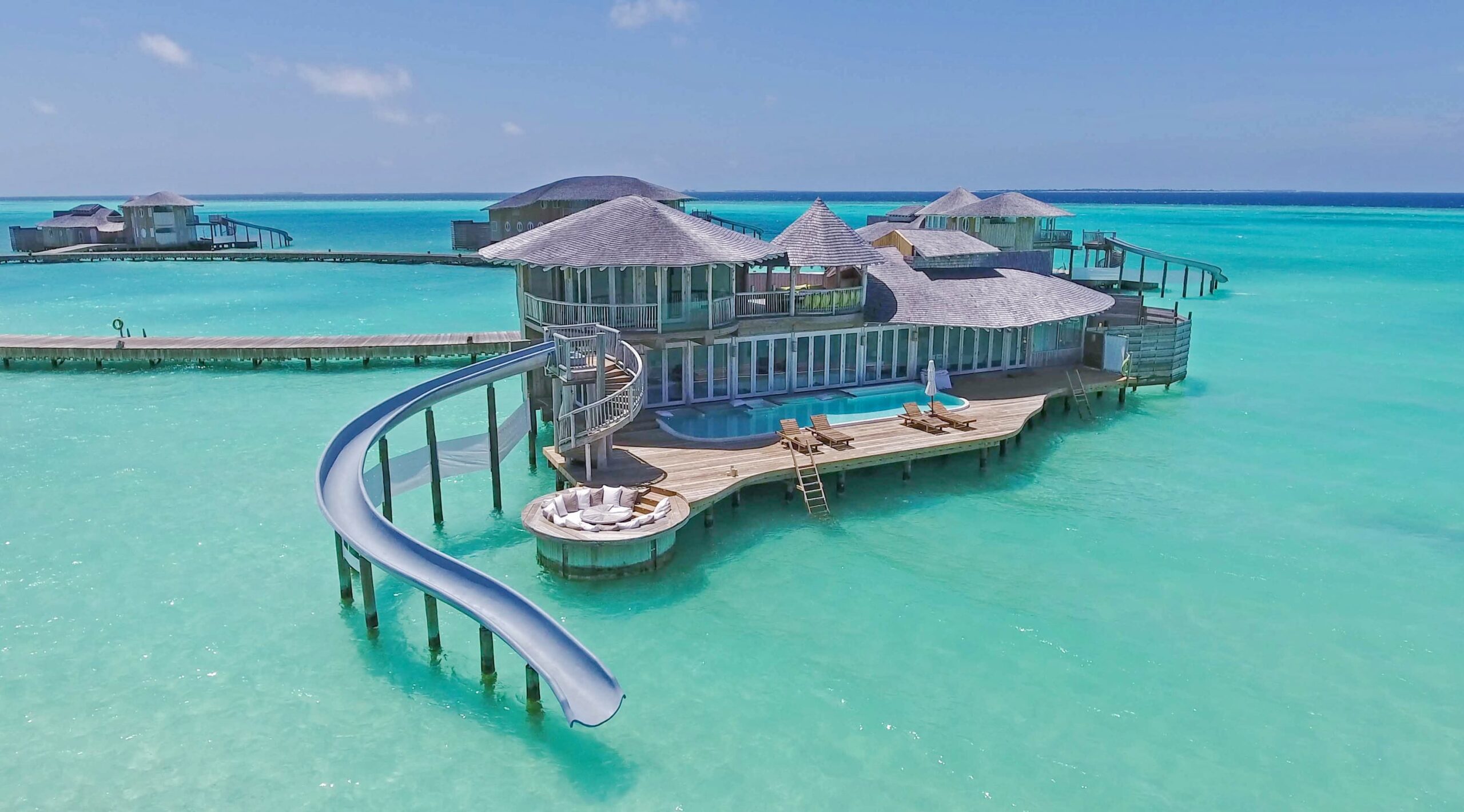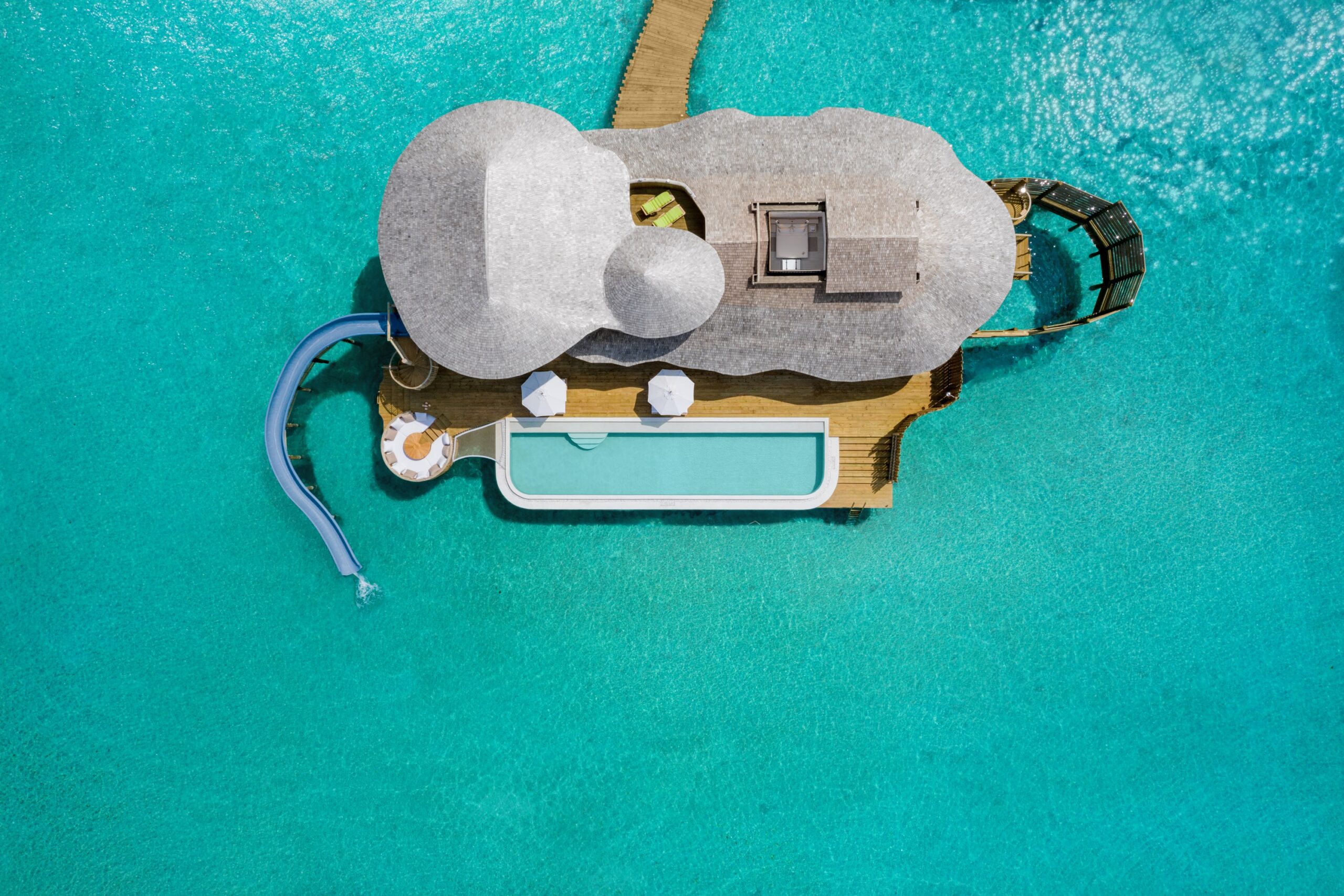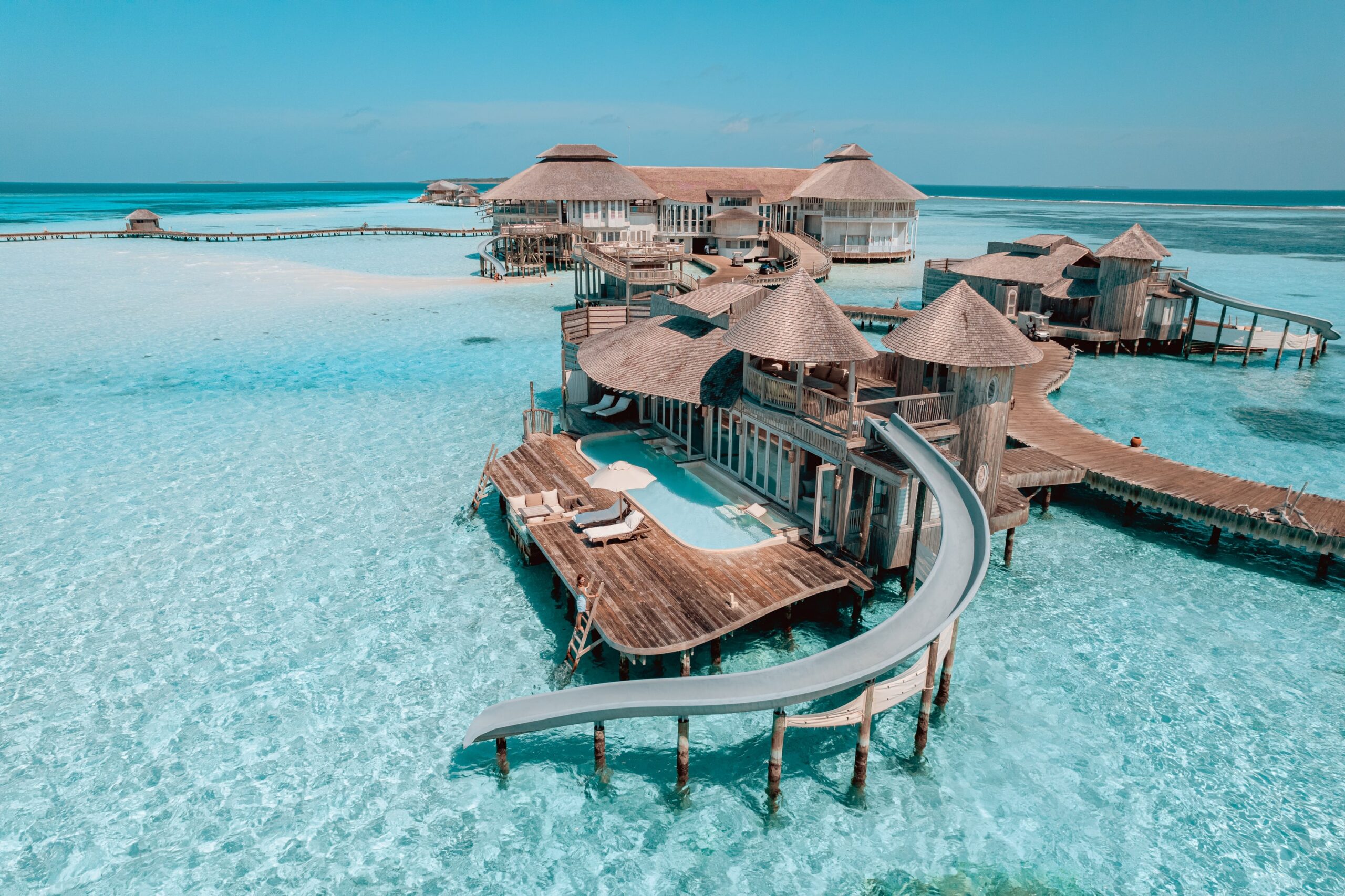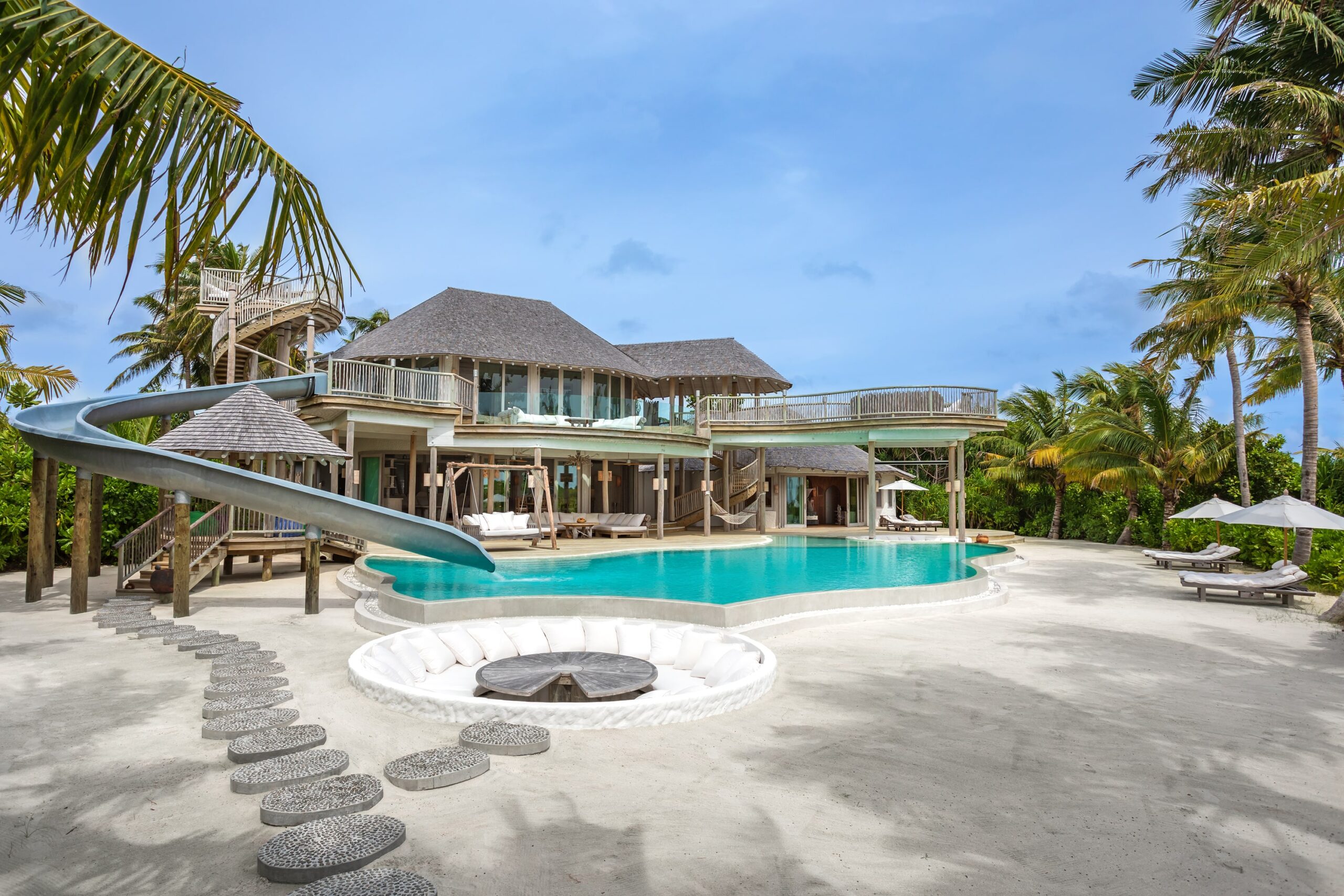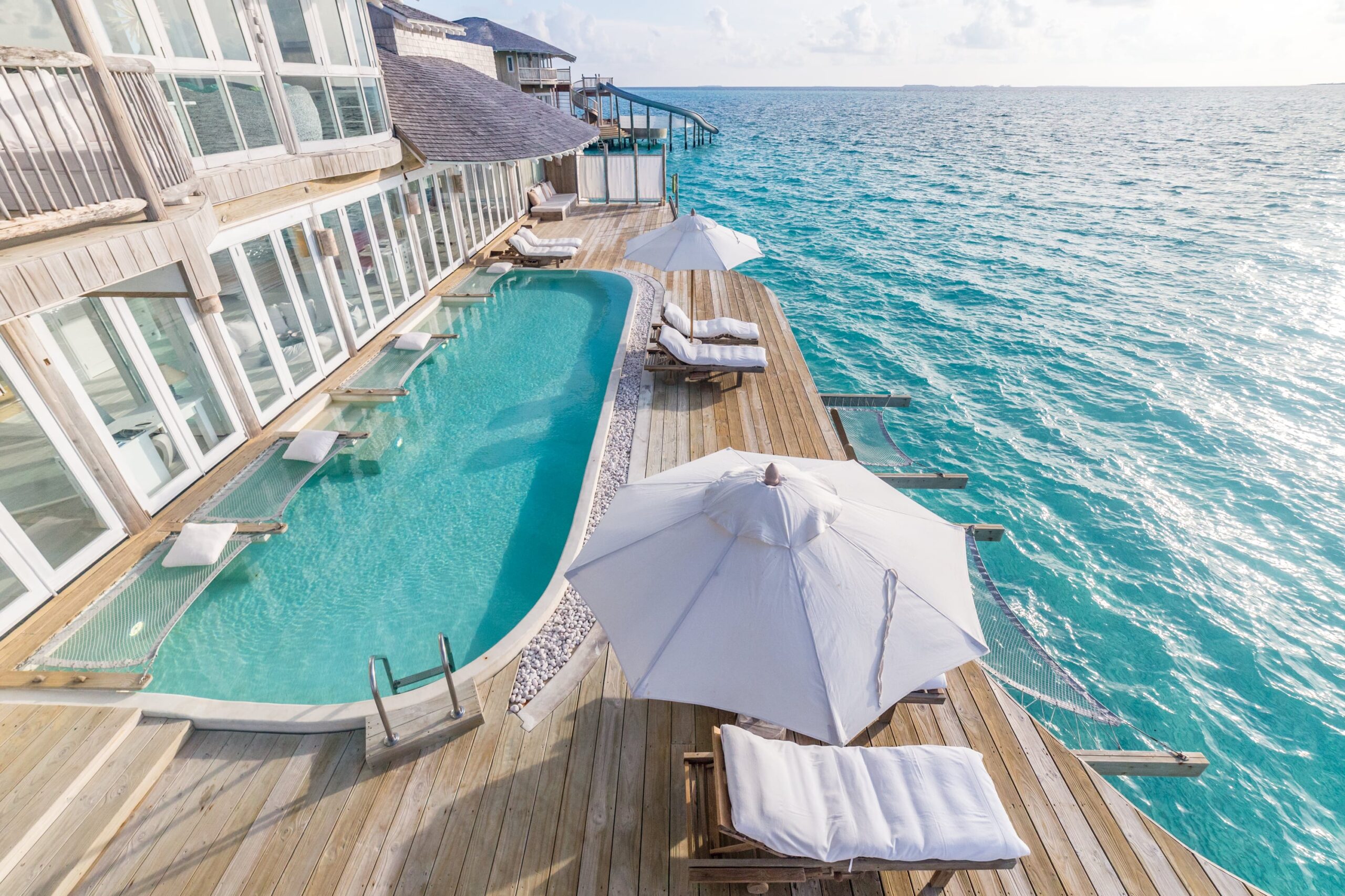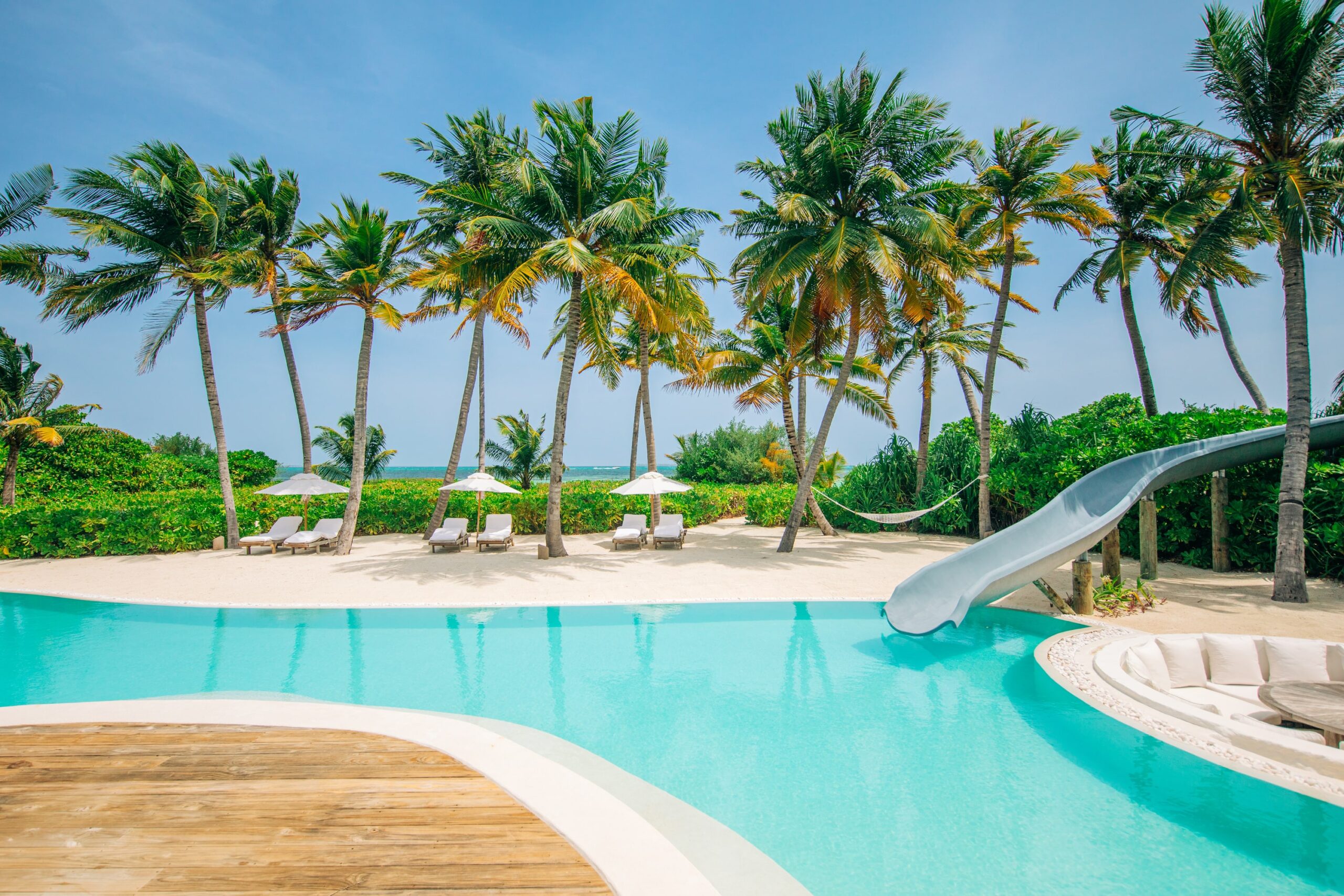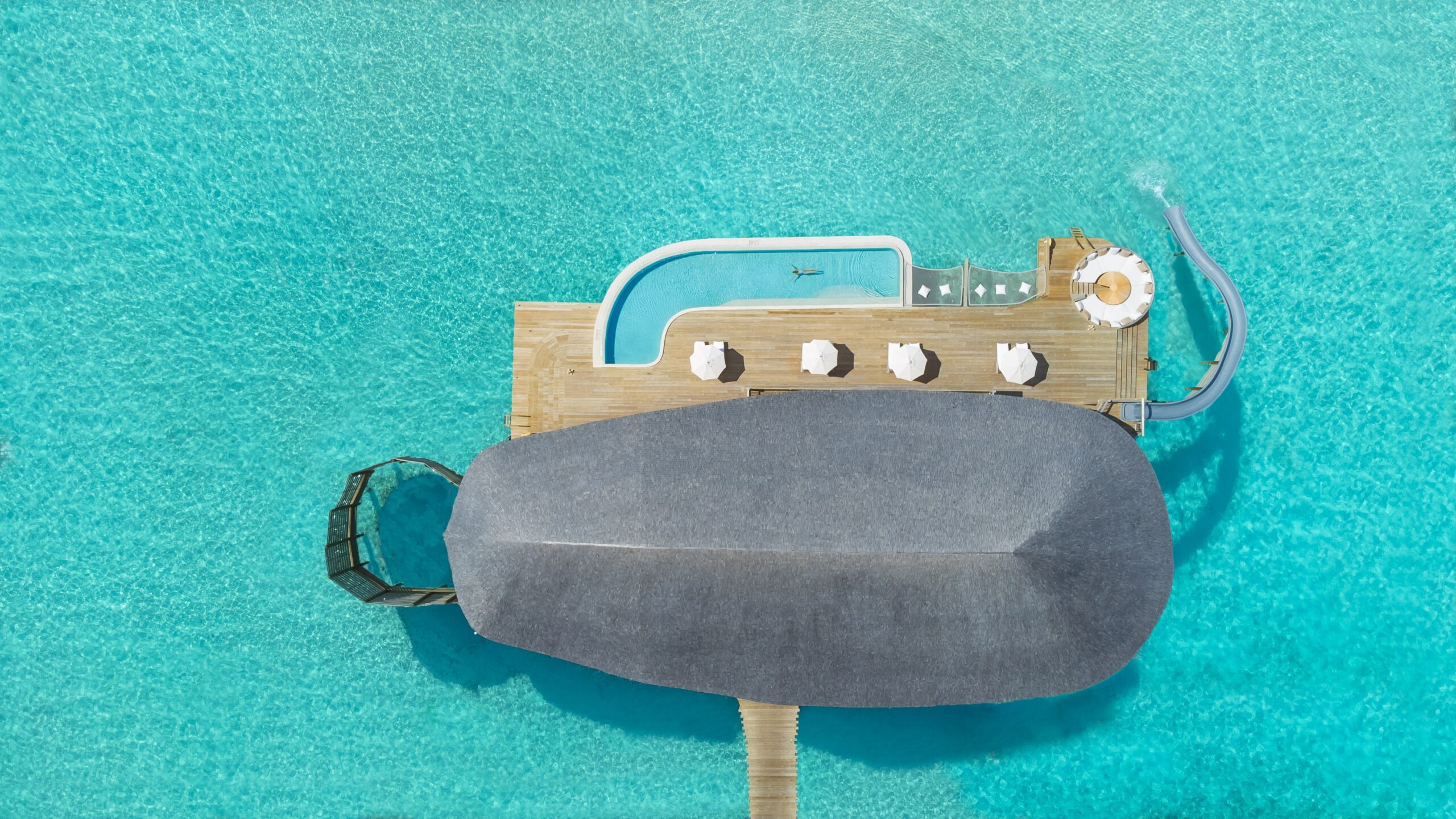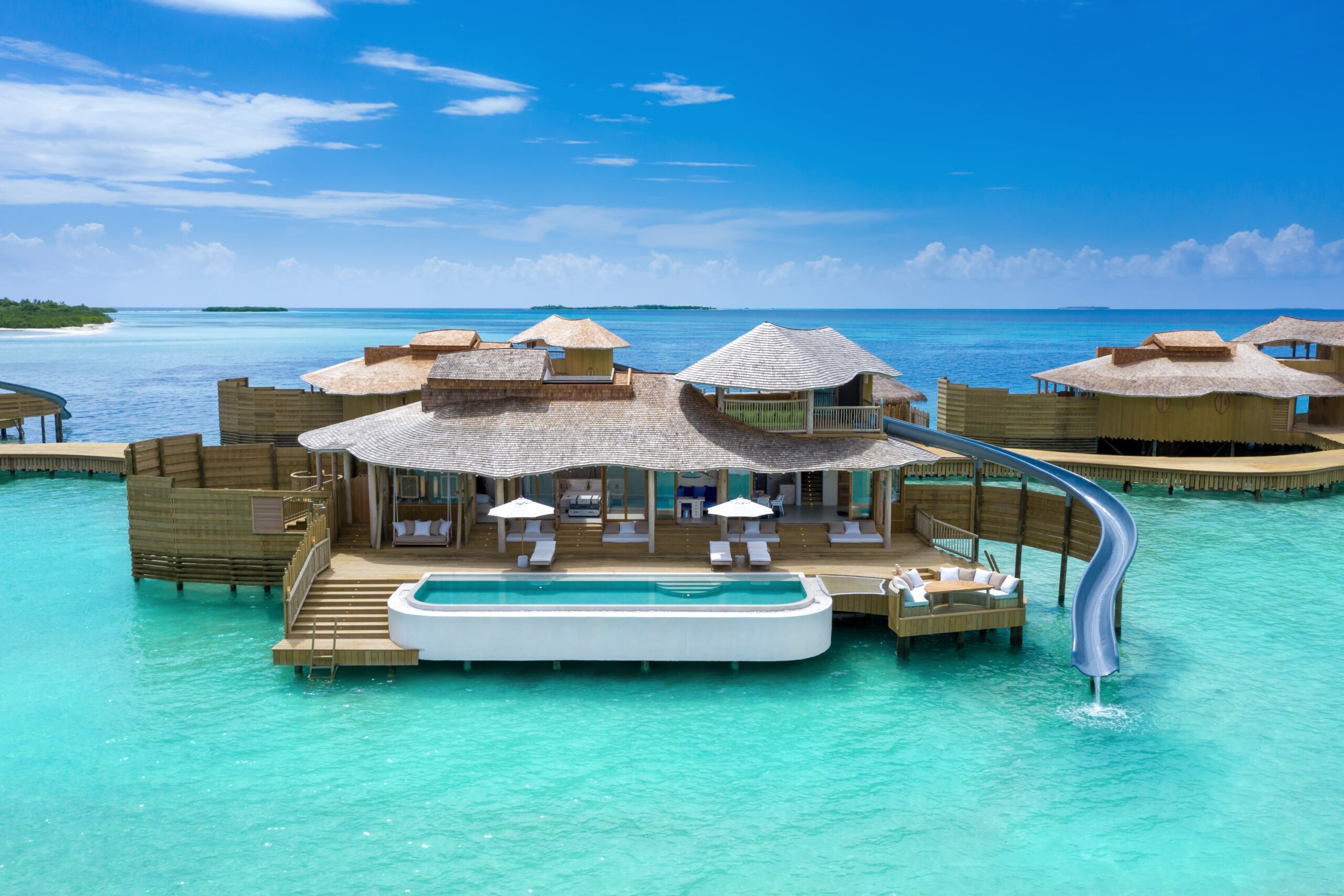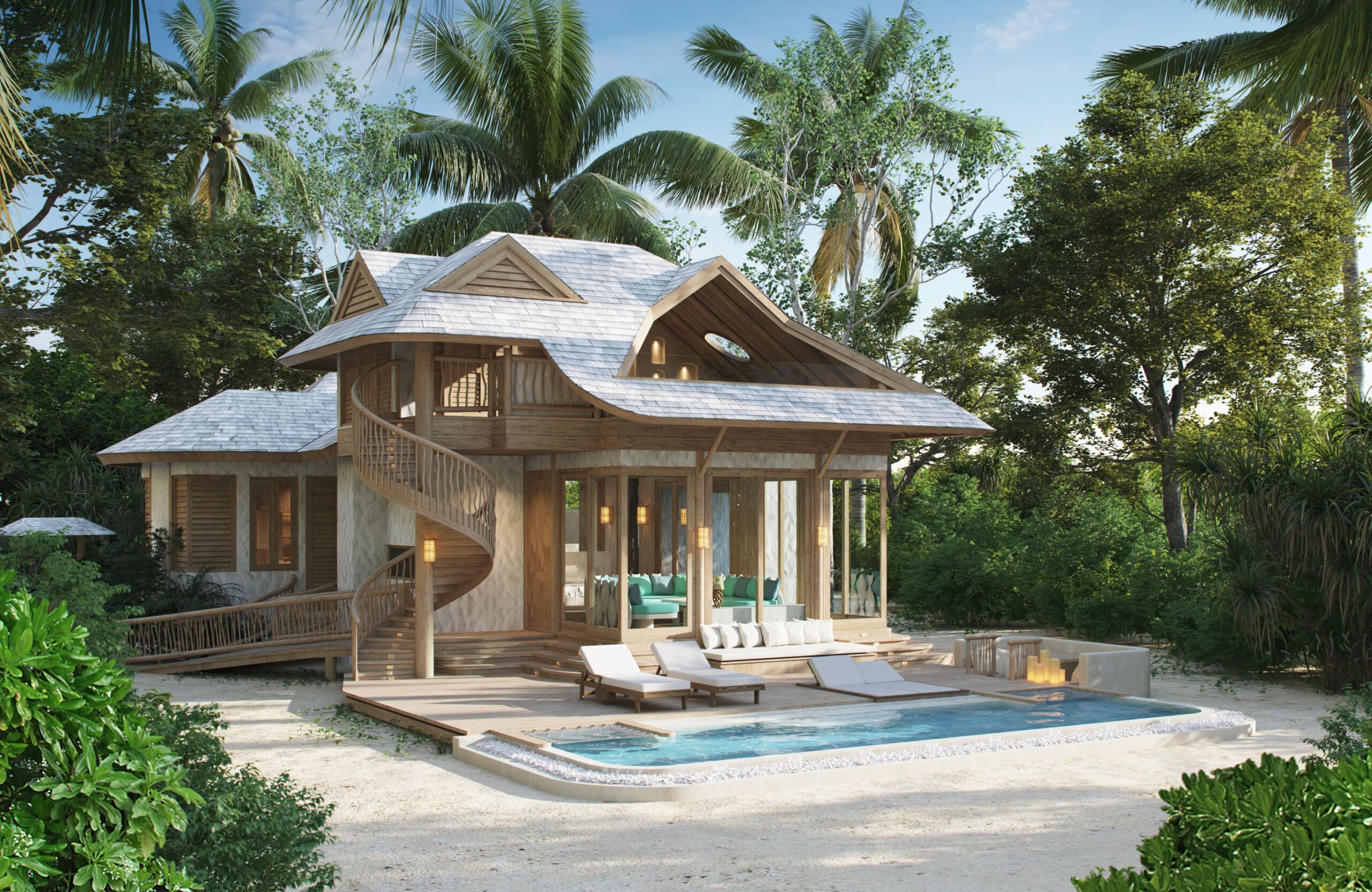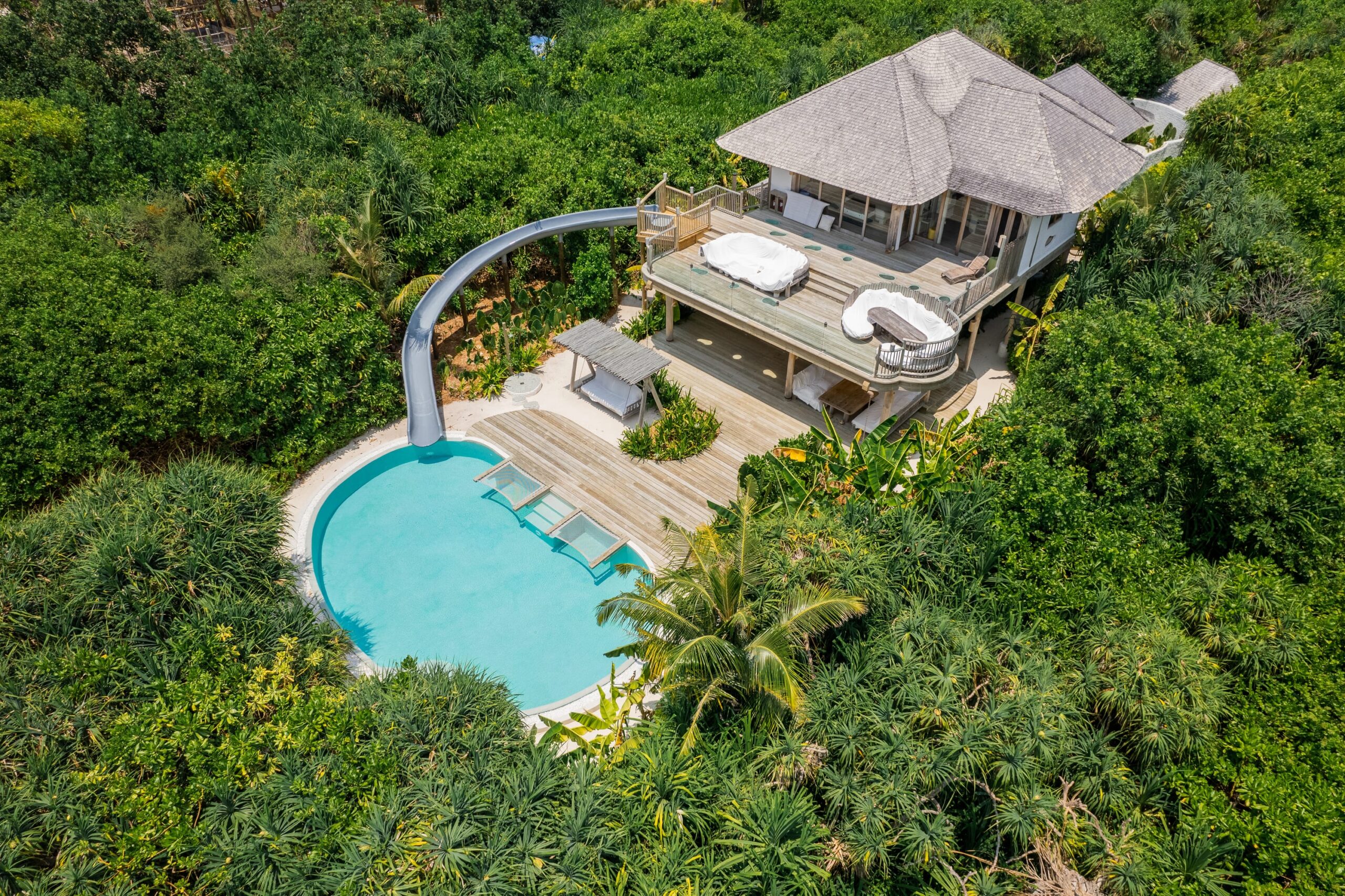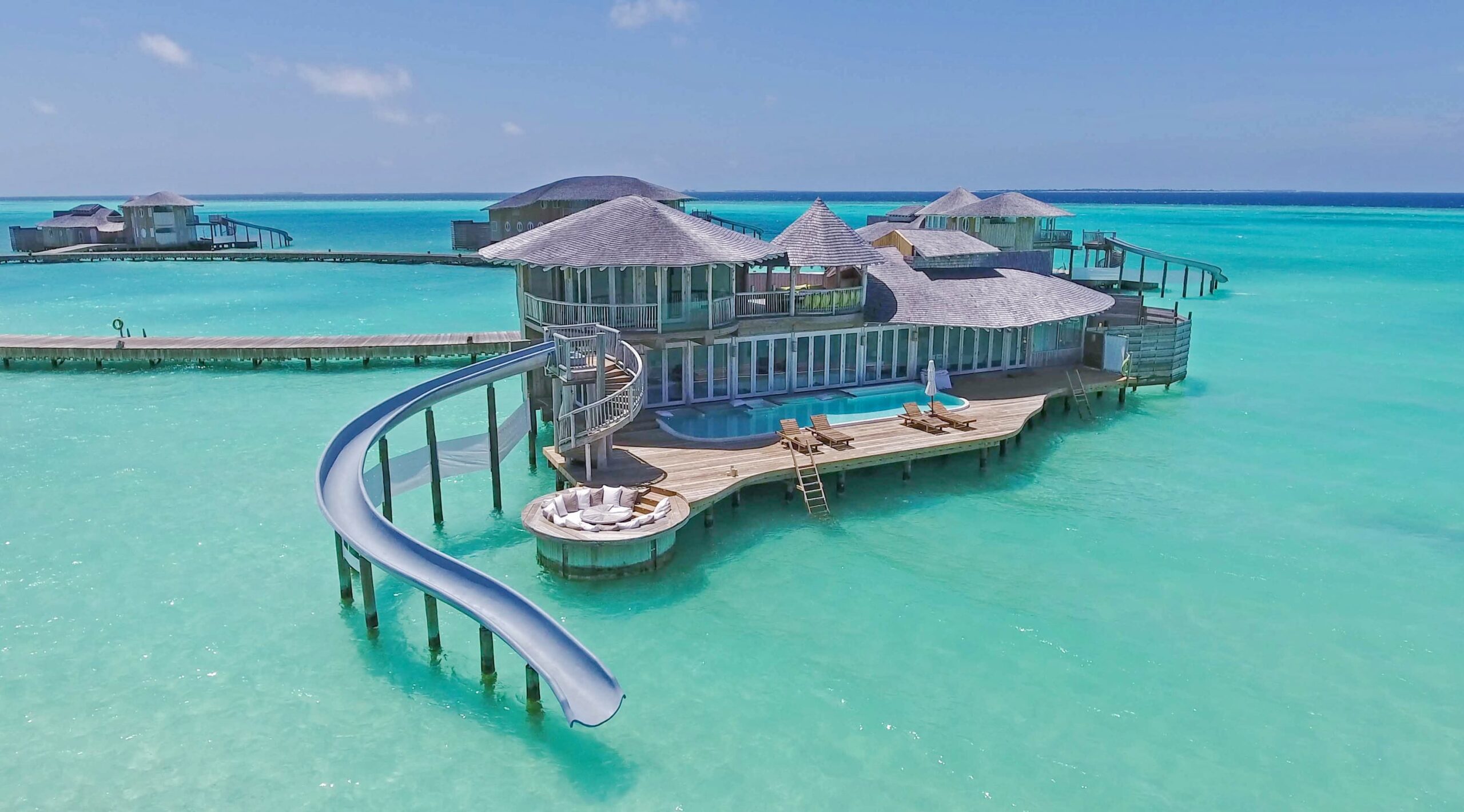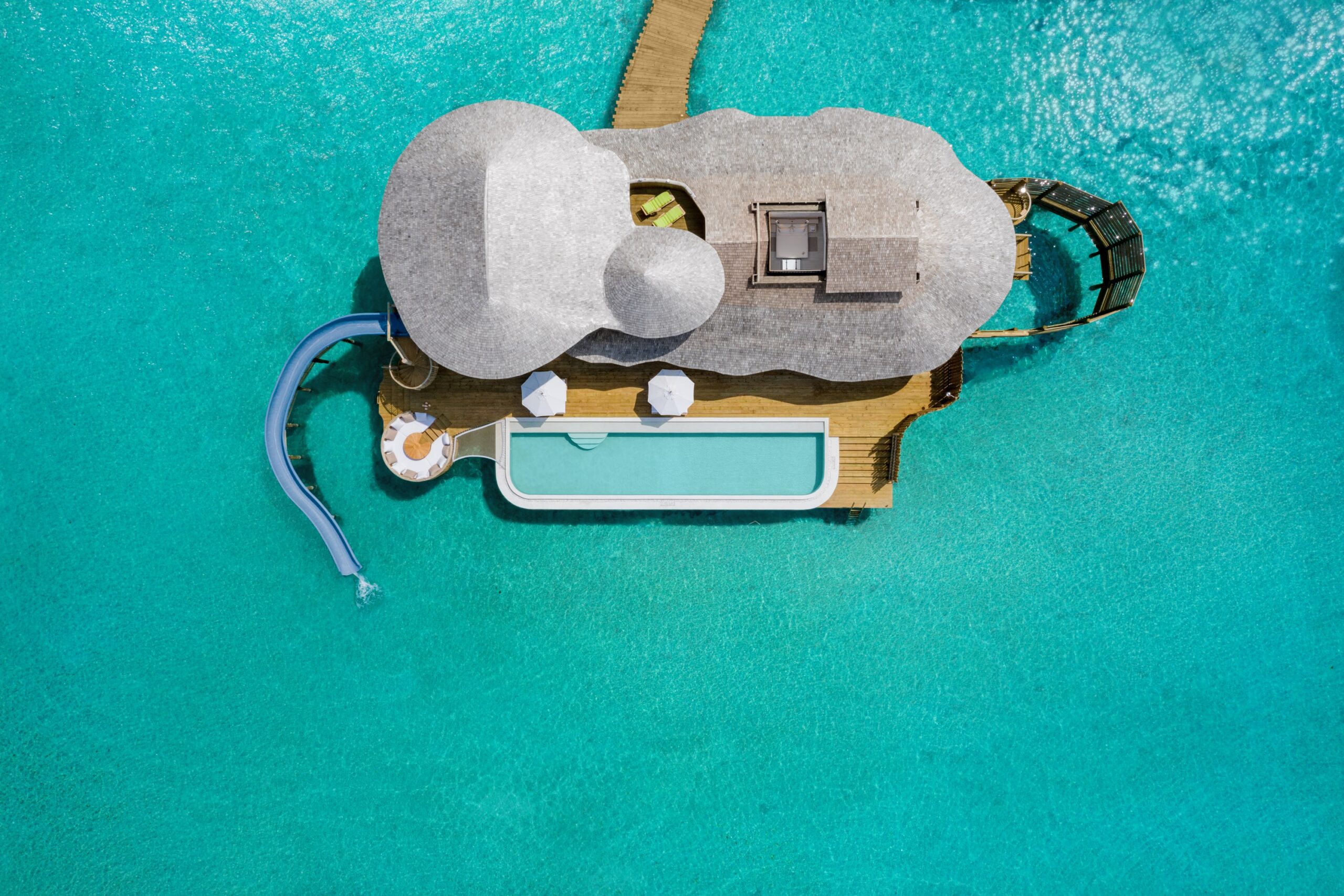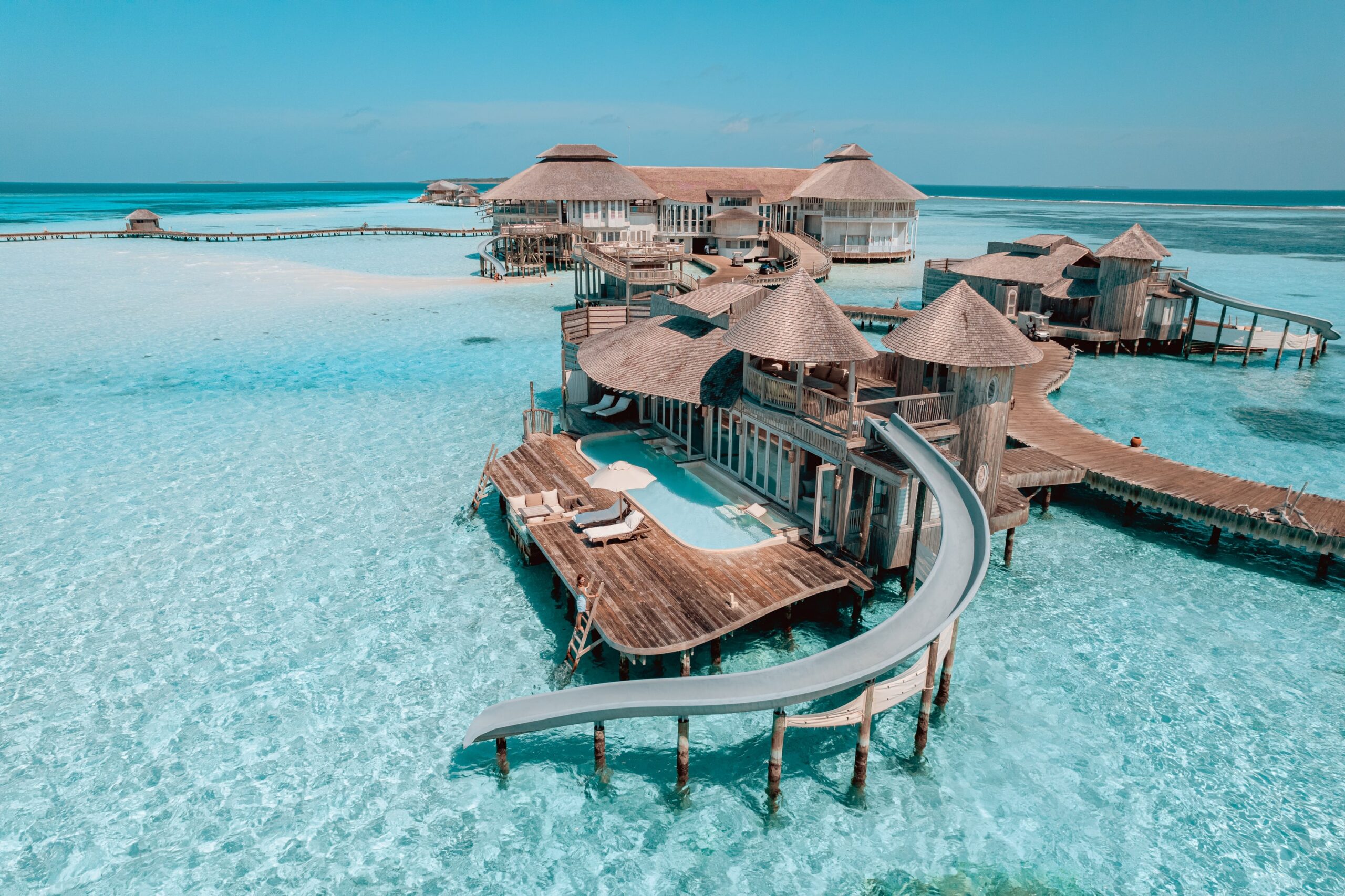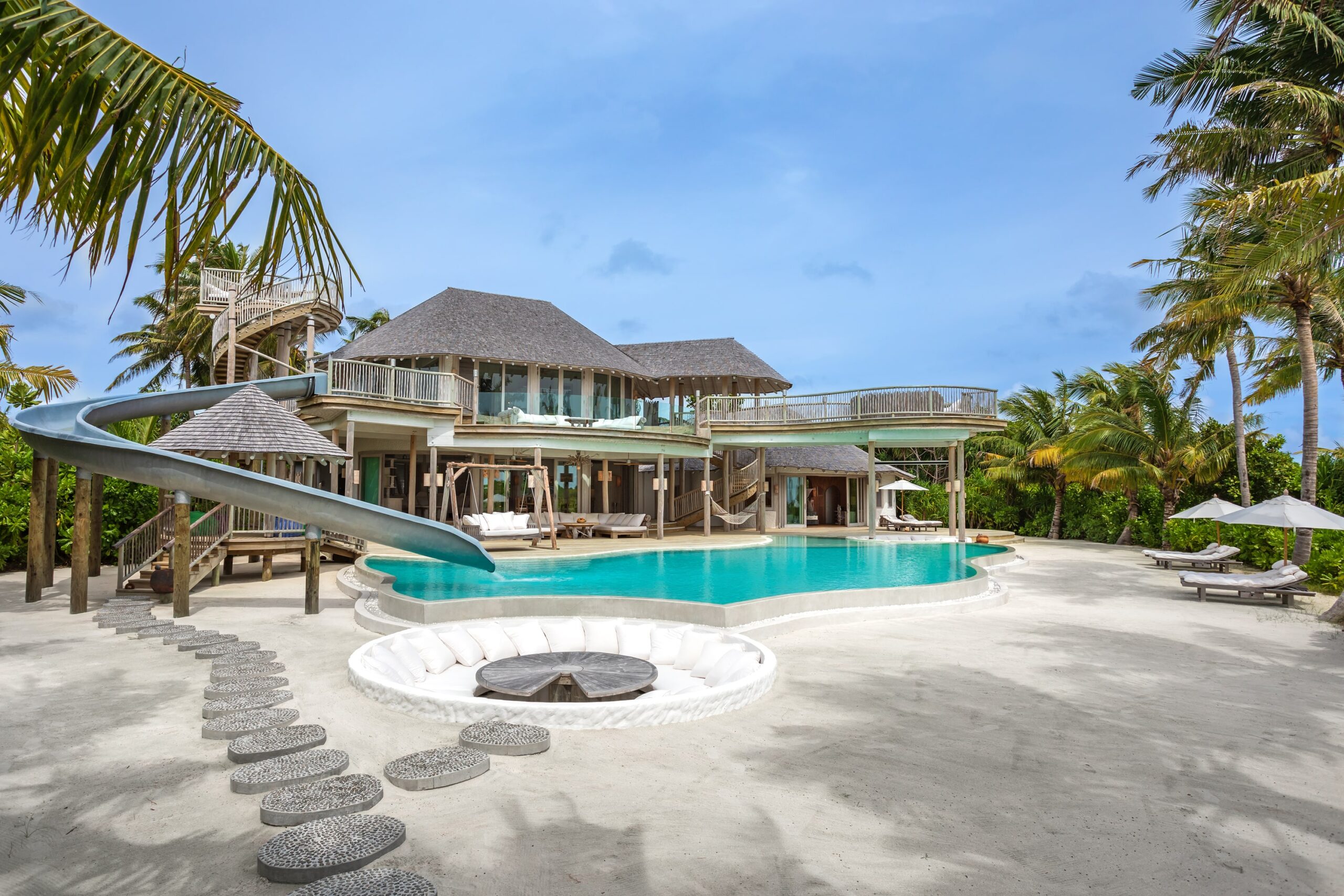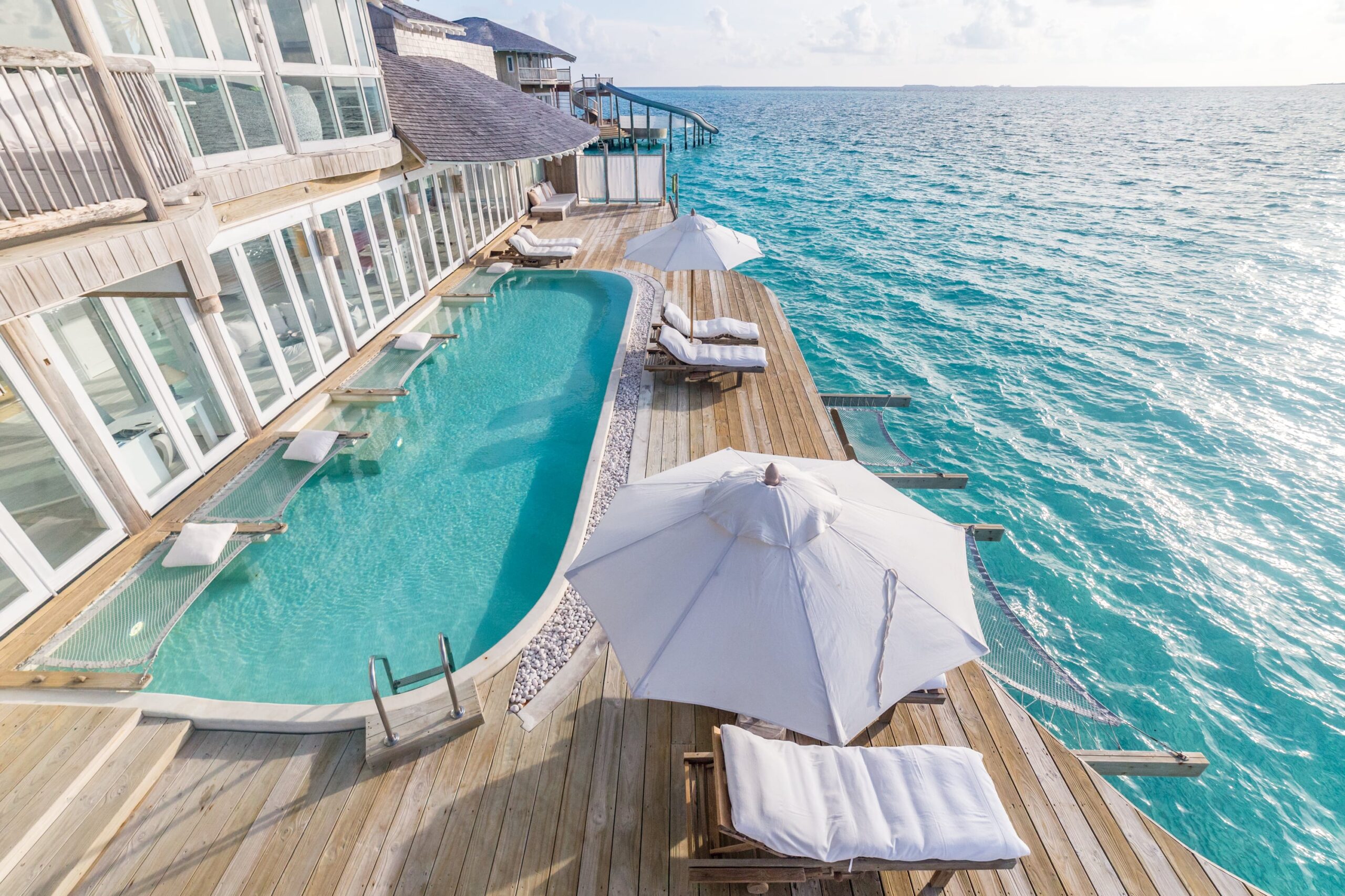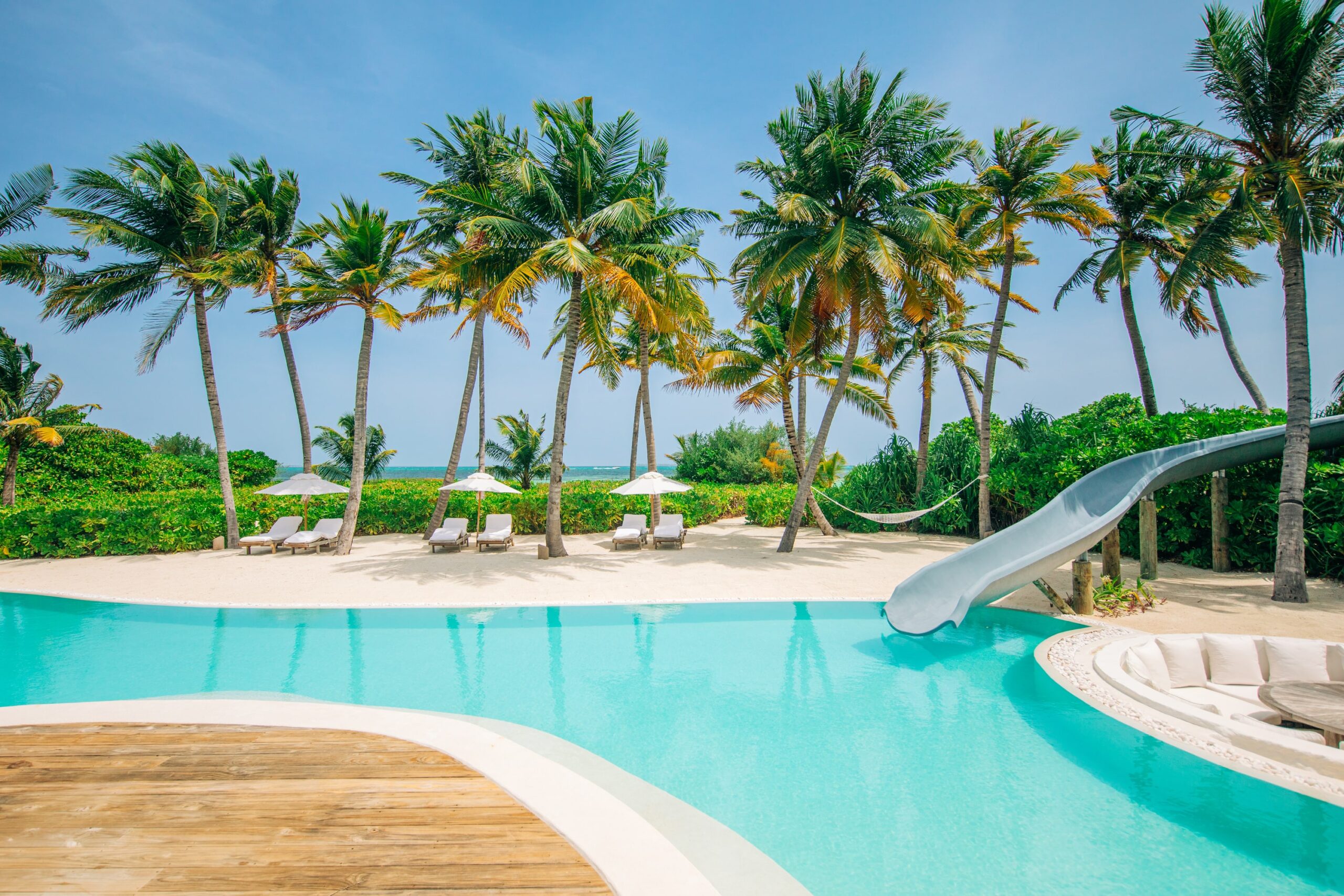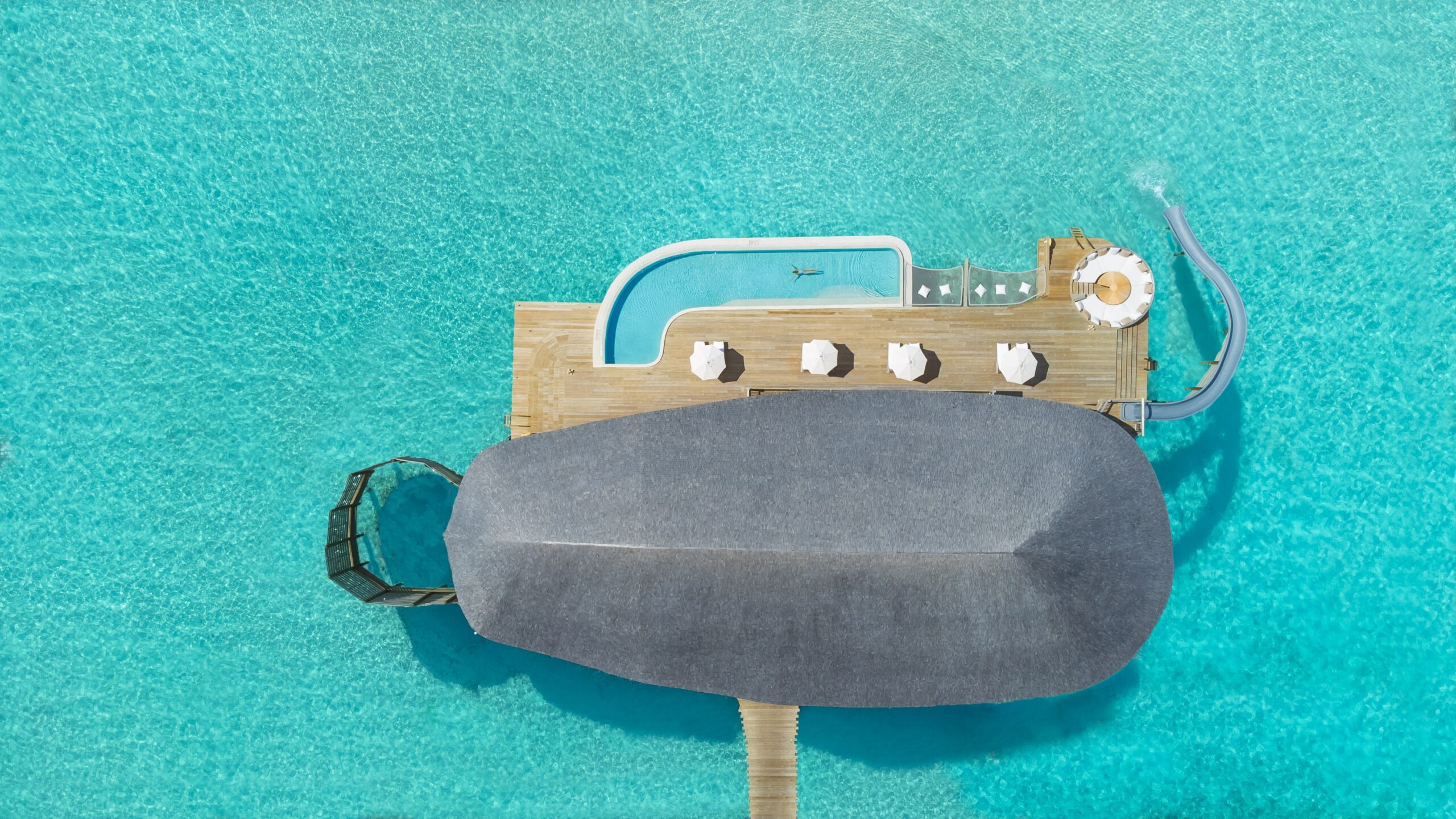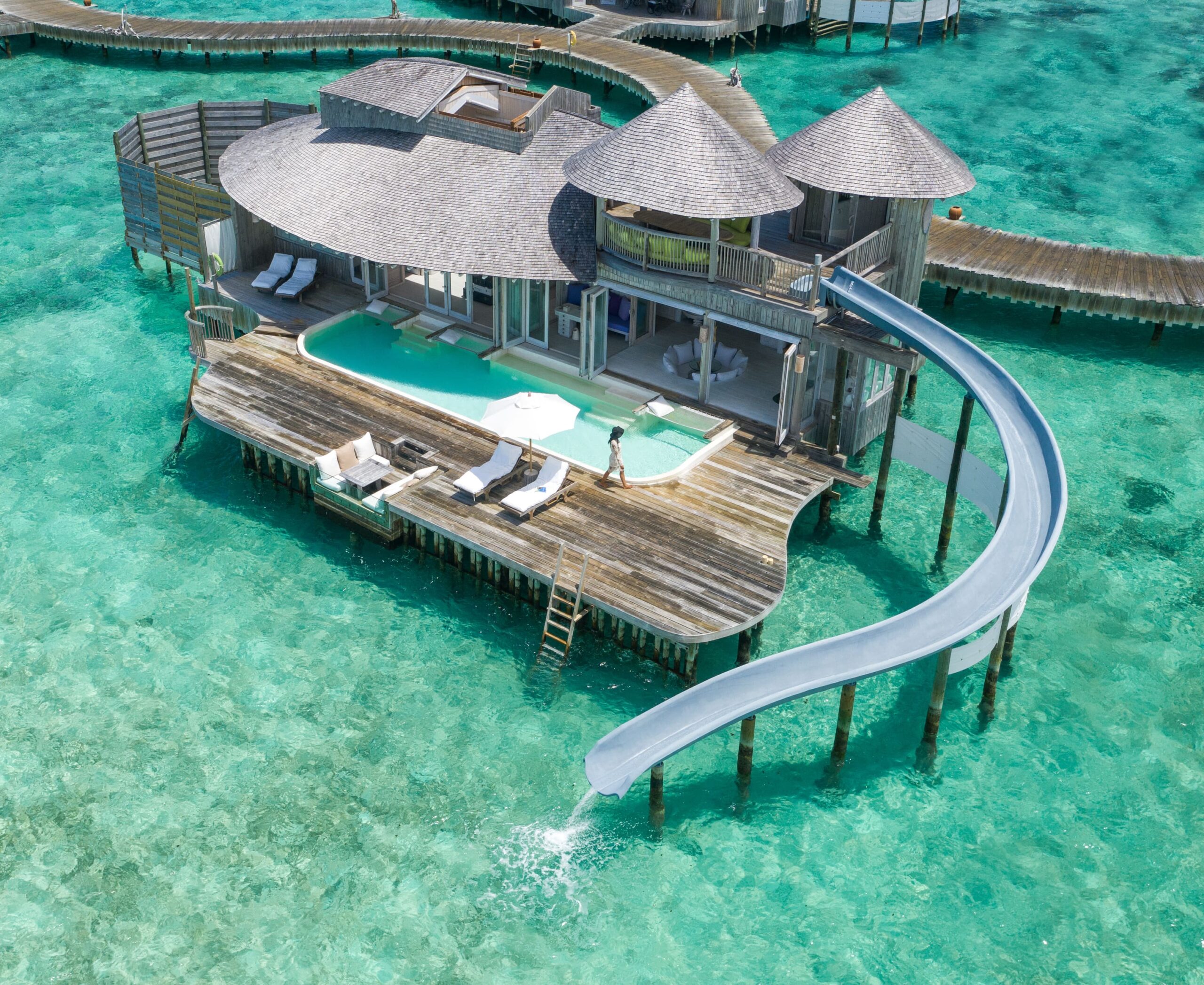 1 BEDROOM WATER RETREAT (WITH SLIDE & POOL)
18 villaer / 411 m2
One Bedroom Water Retreat er fordelt på to etager og har en privat pool omgivet af et stort område, hvor man kan solbade og nyde udsigten over havet. Se stjernerne fra det store soveværelse med villaens fjernstyrede tag.
1 BEDROOM WATER RESERVE (WITH SLIDE & POOL)
20 villaer / 555 m2
Denne rummelige villa over vandet har et fjernstyret tag over soveværelset, der kan skydes tilbage ved et tryk på en knap og vise den smukke stjernehimmel. Det karakteristiske udendørs badeværelse har direkte adgang til lagunen og er udstyret med brusebad og sænket badekar. Den store udendørs terrasse har en privat ferskvandspool, en nedsænket spiseplads, daybeds, gynge og katamarannet.
1 BEDROOM ISLAND FAMILY RETREAT (WITH POOL)
3 villaer / 480 m2
Dette 1 Bedroom Island Family Retreat er en privat beliggende villa, der er ideel for små familier eller par, og er omgivet af uberørte mangrover og ligger få skridt fra det azurblå Indiske Ocean. En træterrasse omfavner den private swimmingpool og giver rigelig plads til afslapning under det evige solskin. Det luksuriøse soveværelse, der ligger på bagsiden af villaen, har et udendørs badeværelse med badekar og to brusere.
2 BEDROOM ISLAND RETREAT (WITH SLIDE & POOL)
3 villaer / 446 m2
Disse rummelige Island Retreats er omgivet af tropiske haver og har en privat swimmingpool, vandrutsjebane og terrasser, hvor man kan slappe af i Maldivernes solskin. Med direkte adgang til stranden og fordelt på to etager har dette luksuriøse retreat soveværelser både ovenpå og nedenunder, et frodigt udendørs badeværelse, et udvalg af udendørs spiseområder, tv-stue og mere.
2 BEDROOM WATER RETREAT (WITH SLIDE & POOL)
4 villaer / 520 m2
Med en kæmpe pool, katamarannet, nedsænkede siddepladser og daybeds, giver 2 Bedroom Water Retreat with Slide et væld af tropiske afslapningsmuligheder. I stueetagen er der et rummeligt soveværelse med udtrækkeligt tag, badeværelse, udendørs bruser og badekar med privat adgang til lagunen. Pantry og minibar, tv-stue og børnenes soveområde er også placeret i stueetagen. Det andet soveværelse ligger på øverste etage sammen med et ekstra badeværelse, opholdsområde, vandrutsjebane og mere.
2 BEDROOM WATER RESERVE (WITH SLIDE & POOL)
6 villaer / 772 m2
Et stort dæk med liggestole, gynge og katamarannet omgiver den private ferskvandspool med en buet vandrutsjebane, der går direkte ned i lagunen, mens et nedsænket cirkulært liggeområde byder på panoramaudsigt over havet.
3 BEDROOM WATER RETREAT (WITH SLIDE & POOL)
1 villa / 625 m2
Vælg mellem den tropiske sol eller den kølige skygge med de to udendørs siddepladser, hvoraf den ene er beskyttet af et tag. Slap af ved poolen på liggestole eller på katamarannet. Plask ned i lagunen via din vandrutsjebane.
3 BEDROOM ISLAND RESERVE (WITH SLIDE & POOL)
1 villa / 1.796 m2
Villa 34's helt unikke design er inspireret af de bløde, bølgende kurver, som findes i naturen. Denne villa med tre soveværelser ved stranden er på 1.796 m2 og har ikke en eneste lige linje i sigte. Den har en ferskvandsswimmingpool og børnepool med egen vandrutsjebane. Der er også et træhus for børn ved poolen.
4 BEDROOM WATER RETREAT (WITH SLIDE & POOL)
1 villa / 1.291 m2
Dette 4 Bedroom Water Retreat med slide er vores idé om, hvordan det bør være at bo over vandet, med et stort luksuriøst opholdsrum og en uforstyrret udsigt, uanset hvor du kigger. Denne villa har fire private soveværelser og et ekstra soveværelse, hvor der kan sove børn eller voksne. Der er også et arbejdsværelse, et fitnesscenter, et udendørs brusebad og bad med privat adgang til lagunen, en tv-stue, et spisekammer, en minibar, en vinkælder i villaen samt en vandrutsjebane.
4 BEDROOM ISLAND RESERVE (WITH SLIDE & POOL)
1 villa / 1.788 m2
Dette store 4 Bedroom Island Reserve ligger ved stranden og byder på et væld af luksus og giver mulighed for at tilpasse den efter dine behov. Der er rummelige indendørs og udendørs opholdsområder i overflod, herunder dampbad, omklædningsrum, sauna, soveværelse, tv-stue, spisestue, privat pool, køkken og vinkælder. På anden sal er der yderligere tre soveværelser med badeværelser samt villaens private fitnesscenter. Poolen har sin egen vandrutsjebane samt en dedikeret børnepool.
4 BEDROOM WATER RESERVE (WITH SLIDE & POOL)
1 villa / 1.421 m2
Denne mega-villa er Soneva Jani's kronjuvel og er på hele 1.421 m2. Her kan du nyde en villa i 2 etager med alt hvad du drømmer om. Privat pool, water slide, enorm terrasse, adskillige opholdsområder, et slaraffenland af badeværelser og meget, meget mere.
MAKAI REALISERER
DIN REJSE TIL SONEVA JANI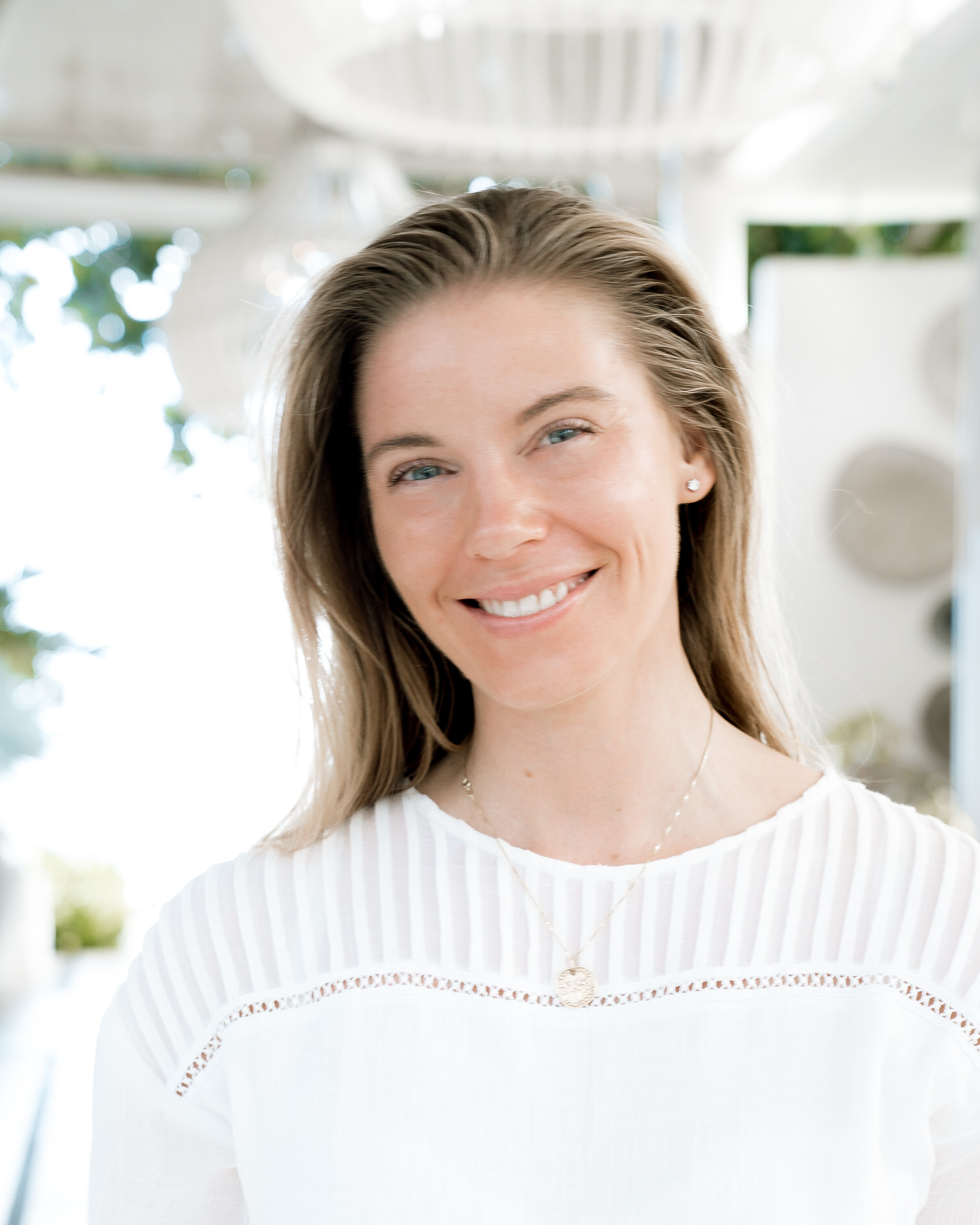 Soneva Jani er mit all-time favorit resort, og et af verdens bedste. Det er som at bo i det rene Narnia.
Her kan du få uforglemmelige kulinariske oplevelser, rende barfodet rundt 24/7, cykle rundt på e-bikes, suse ned af din private water slide, bade i både Det Indiske Ocean og din private pool, samt blive forkælet af resortets vidunderlige staff.
Lad os sammen realisere din rejse til Maldiverne.
WENDIE PEDERSEN
CO-FOUNDER & TRAVEL DESIGNER
Inspiration, eventyrlige rejseforslag og spændende nyheder, leveret direkte på mail.
FØLG MED PÅ INSTAGRAM
Enestående oplevelser er endnu bedre, når de deles med andre. Post dine rejseoplevelser med Makai på Instagram @makaitravels med hashtagget #makaitravels.
KONTAKT MAKAI TRAVELS
Har du brug for hjælp til at finde det helt rette rejsemål, det perfekte hotel eller kan du ikke finde det, som du søger, så er vi altid klar til at hjælpe dig. Hver eneste dag - 365 dage om året fra kl. 10-22.